Although Oahu has many popular tourist attractions, there is a lot more to see on the island than just Waikiki Beach and the other typical stops.
During your Oahu vacation, slip away from the usual attractions and try something off the beaten path. From interesting photo ops to stunning treks, here is your ultimate guide to incredible Honolulu adventures.
What to Pack? Before traveling to Oahu, make sure to read my Hawaii Packing List so you can know exactly what you need to bring to Hawaii.
Oahu Accommodation
We stayed in the Courtyard by Marriott Waikiki Beach Hotel. We ended up loving our hotel! The location was right by the beach and price was perfect! You can book and check out current prices here.
Staying right on Waikiki Beach was a dream!
Top Things to do on Oahu (You Probably Haven't Heard of)
Koko Crater Railway Trail, Honolulu, United States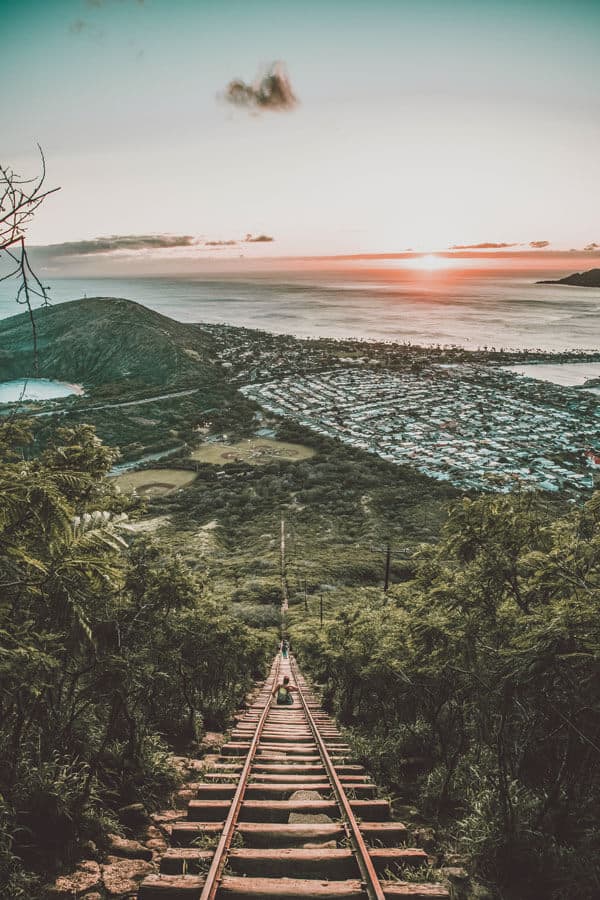 If you're looking for a challenging hike with a rewarding summit, then you should definitely make the trip to Koko Crater Railway Trail. Walk the thousand steps, made of railroad ties, to the top of the mountain for stunning panoramic views.
Not only will you get fabulous shots of the Hawaiian landscape, but you'll also have the chance to enjoy the Koko Crater Botanical Garden, which is located at the top of the crater.
Easter Island head on Kualoa Ranch Oahu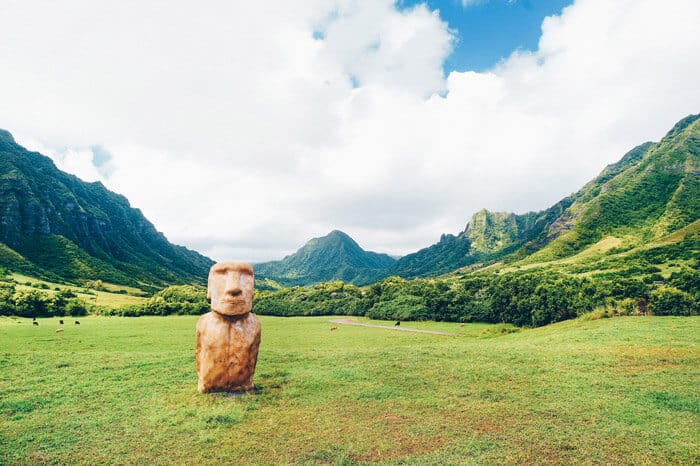 Although Kualoa Ranch is a pretty spectacular place all on its own (the working cattle ranch covers 4,000 acres of verdant tropical land), most people come to see the Easter Island Head. Although the head is a copy and has no historical significance, it's the perfect photo op for Instagrammers!
Don't miss the chance to enjoy the peaceful nature reserve on the ranch and get a good look at the impressive Easter Island head.
You can even ZIPLINE through Kualoa Ranch! This area is one of the most beautiful places in Oahu and has even been th backdrop for multiple movie sets.
Click here to book your tour on the booking website.
Below are a few more of the most popular tours available on Kuala Ranch:
Book your tour: Kualoa Ranch – Horseback Walking Tour
Book your tour: Kualoa Ranch – ATV Raptor Tour
Banyan Tree on Oahu, Hawaii, United States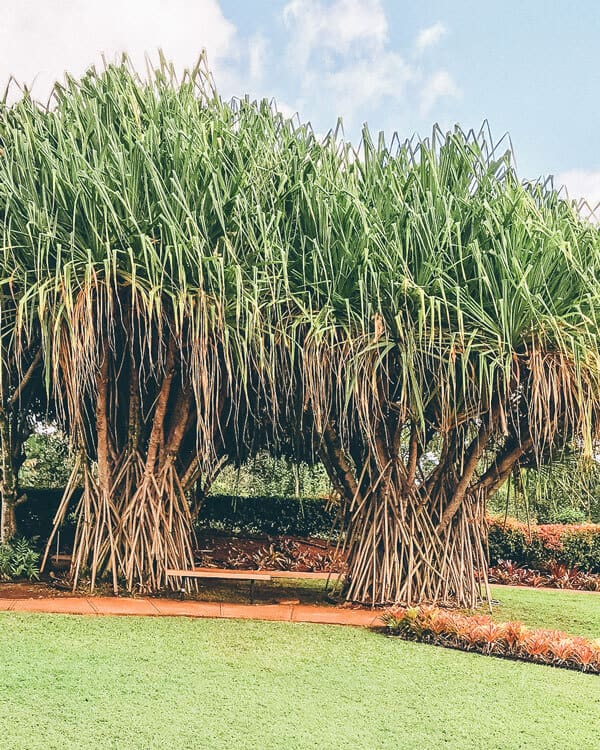 Although you'll see frequent house-sized banyan trees sprawling at the corners of streets during your vacation in Hawaii, these stunning trees are not actually native to Hawaii. They were brought from India to the islands by early European settlers, and have thrived there ever since. While you're on Oahu, be sure to stop and see one!
One of the most magnificent banyan trees can be found at the Moana Hotel, Oahu's oldest accommodations. The tree at the Moana was planted in the early 1900s, and it has grown to a height of 75 feet and a width of 150 feet. Incredible!
Aerial of Tantalus Mountain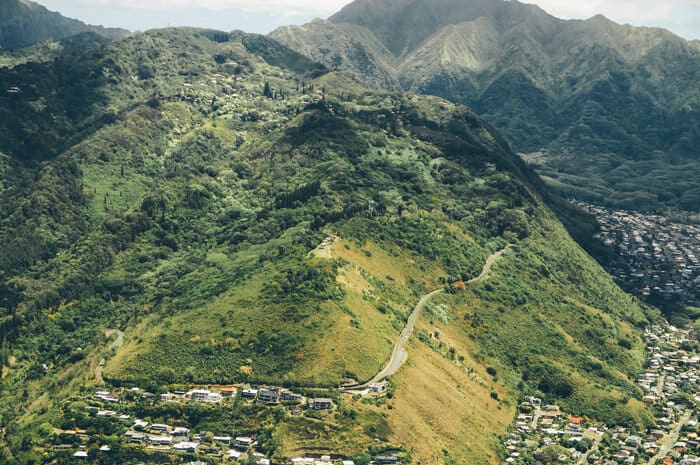 You could literally drive through Hawaii for years and never see all the beautiful scenery. However, some drives should definitely make it to the top of your Oahu bucket list. Aerial of Tantalus Mountain in Puu Ualakaa State Park is one such place. Take Round Top Drive, a road that will take you winding up the hill past beautiful private homes and views of Moana.
If you can't make a hike for whatever reason, this is a perfectly acceptable alternative.
Hike Kuliouou Ridge Trail (South Oahu)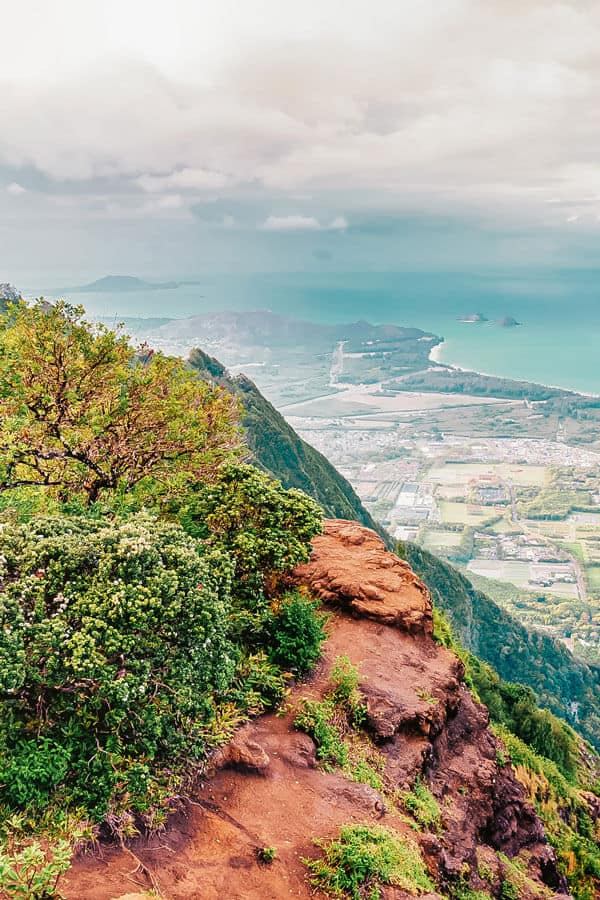 Hawaii has a surprising number of biomes, from tropical rainforests to drier areas with a completely different feel. The Kuliouou Ridge Trail begins as a relatively dry coniferous forest, but as you take the steep climb upward, you'll find yourself trekking through the tropical overgrowth.
As the trail becomes steeper, it mercifully changes from a dirt path to a series of rough steps. As you climb out of the thick vegetation, you'll emerge into the open air, with the azure dome of the Hawaiian sky overhead and views of the south shore of Oahu. However, you won't get to the truly stunning views until you get to the top of the sparsely-vegetated Kuliouou Ridge. There, you'll find a clear panorama of Oahu, from Koko Head Crater to Waimanalo.
Visit the Sunflower Fields Oahu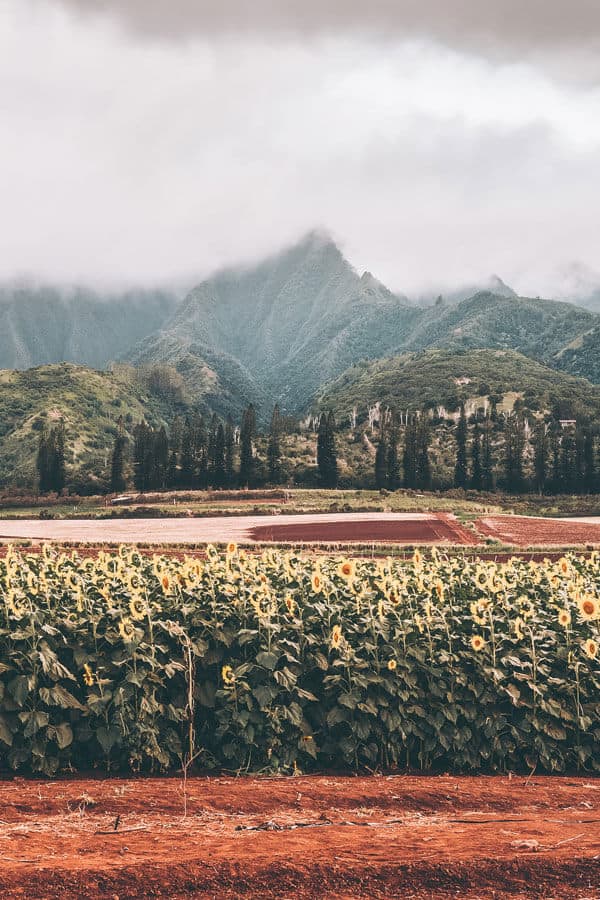 When you think of Hawaiian flowers, you probably think of hibiscus, not sunflowers. However, the autumn season brings fields of yellow throughout Oahu. The sunflower fields here typically bloom in July and October (and November) for up to 10 days.
One of the best places to see the spectacular sight is Kaena Point National Park. This park is located on the northern shore of Oahu, one of the loveliest places on the island.
If you take a hike through the park, you can enjoy endless fields of bright yellow flowers. The sunflowers here are so big that they are the height of an adult and have centers the size of your face! Be ready to snap photos with sunflowers in the foreground and the ocean in the background.
Where is the best place to see the Sunflower fields in Oahu?
There are 3 locations in Waialua, Waimanalo, and Kapolei where you can see the sunflower fields.
Aloun Farms in Kapolei typically has sunflower fields between October – November. While you are their you should check out the Kapolei pumpkin patch as well.
You can find sunflowers in Waialua, near Waialua High School on the North Shore of Oahu.
Located on the East side of Oahu the Waimanalo County Farms has sunflower fields that typically bloom in July and October. It is a beautiful site with the Koolau Mountains in the background.
Kaneohe, Oahu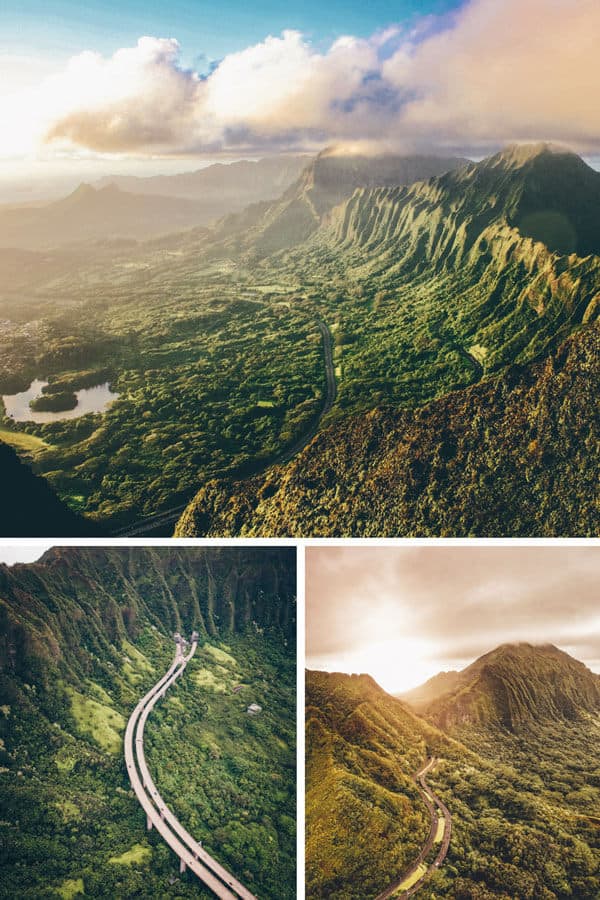 Beautiful Kaneohe is a paradise of tropical nature. Thanks to frequent rainfall, this part of the island is startlingly green. You can enjoy beautiful views of the mountains here, or wander through the nature reserves and wild places of the island. Beside Ho'omaluhia Botanical Garden, there are many places you can go to immerse yourself in the stunning outdoor world of Oahu.
He'eia State park is one such place, and beautiful Hanauma Bay is another. If you want to experience the best of Kaneohe, take the aptly-named Stairway to Heaven hike.
Ho'omaluhia Botanical Garden, Kaneohe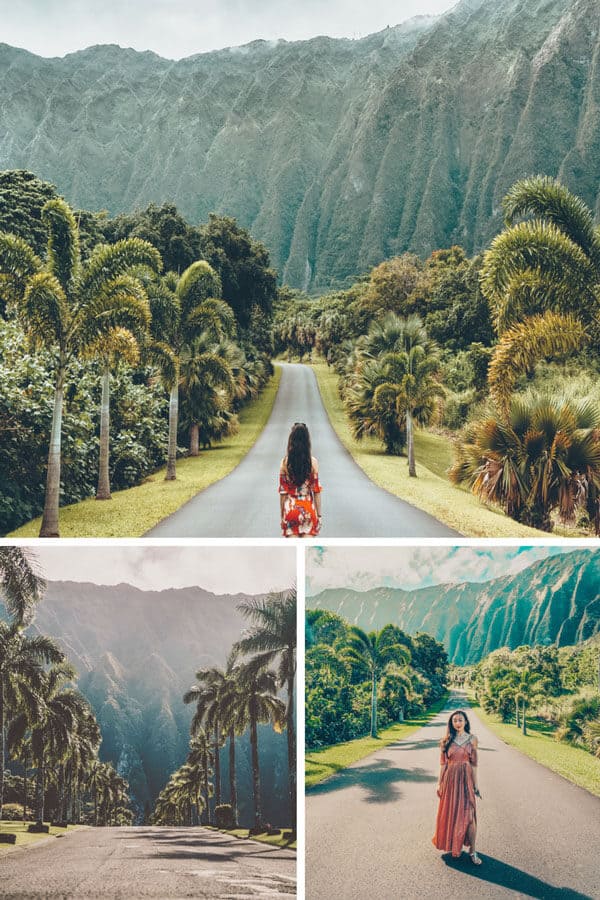 Hawaiian flora is stunning anywhere you go on the islands, but you can see a particularly incredible diversity on display when you visit the Ho'omaluhia Botanical Garden.
Wander through 400 acres of gardens ringed by rugged green cliffs. The many displays in the garden include plants from tropical locations such as Philippines, Malaysia, Tropical America, India and Sri Lanka, Melanesia, Hawaii, Polynesia, and Africa. If you need a quiet and peaceful place to escape the noise of Oahu's tourism, this is the place to do it.
Enjoy the view (in Palolo) from some of the best hotels, Oahu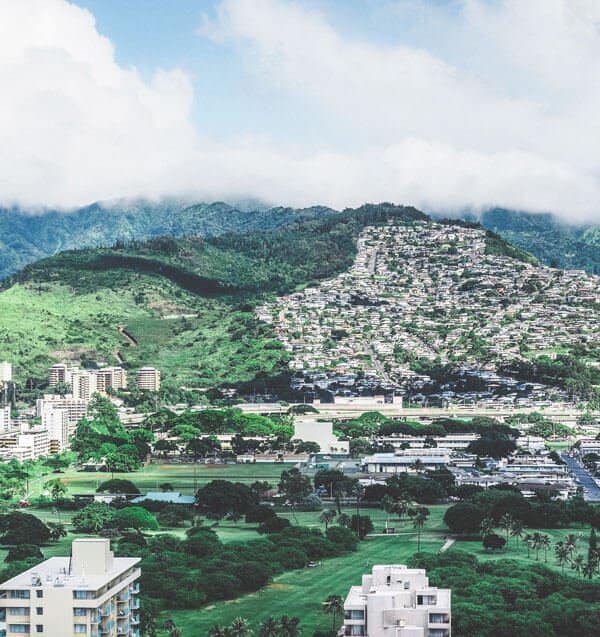 Palolo is a neighborhood just outside of Honolulu. The neighborhood lies entirely in a valley. I'm jealous of the residents being surrounded by beautiful mountains and oceans.
The views from many of the hotels are famous. (Image taken on the 30th floor of the Hyatt Regency Hotel.) If you are looking to stay here the area is less than a mile from the famous Diamond Head hike.
Byodo-In Temple, Oahu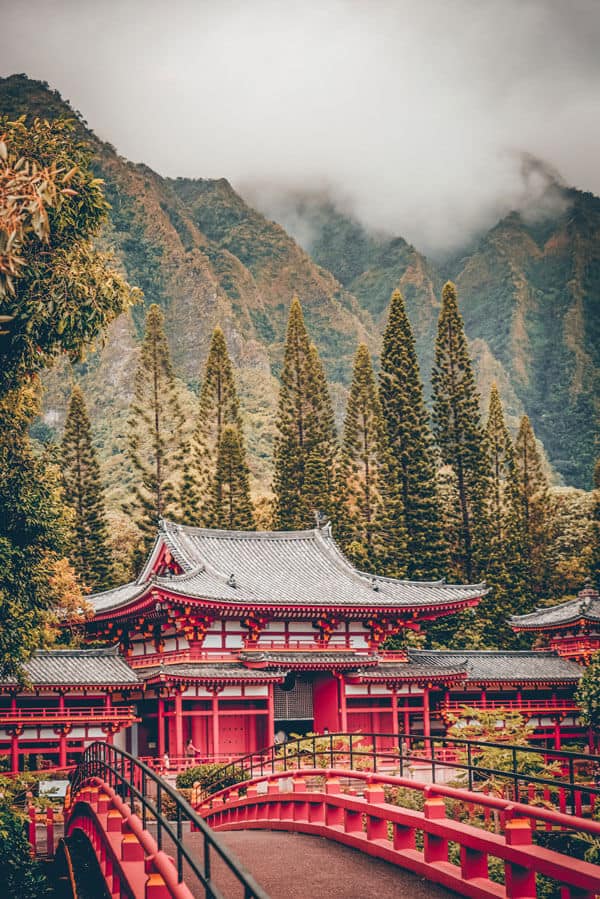 This temple was built to commemorate the 100 year anniversary of the first Japanese immigrants to Hawaii, is a replica of another from Kyoto, Japan, and is a perfect way to pay homage to Hawaii's Japanese influence.
This beautiful temple is surrounded by lush Japanese gardens and koi ponds. It is also featured in a few tv series including Hawaii Five-O, Magnum, Lost and House of the Rising Sun.
Hike at Kaena Point National Park on the north shore of Oahu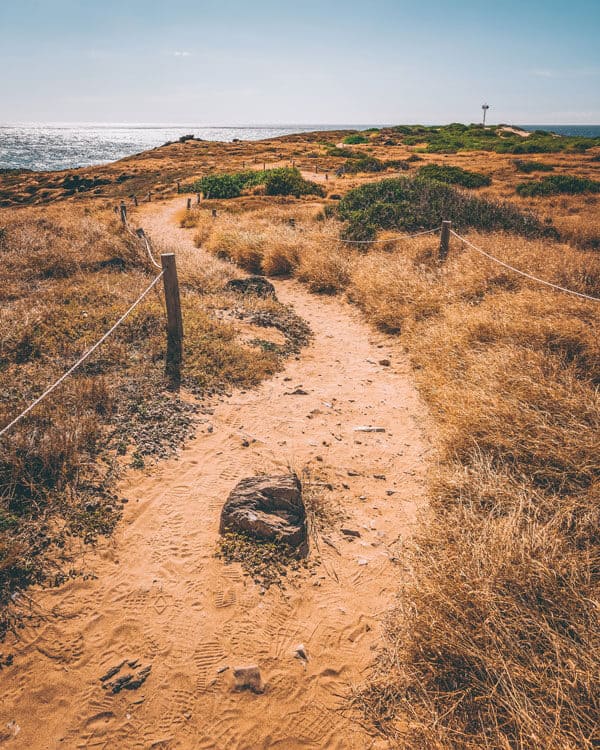 Hawaii has more than its fair share of amazing experiences, and Oahu is home to many of them! Make this the best vacation ever with these off-the-beaten-path activities.
Which one do you want to try first? Let us know in the comments, or share your favorite little-known Oahu excursion.
Thank you so much for reading.
Hover over the image below to save it to Pinterest for later!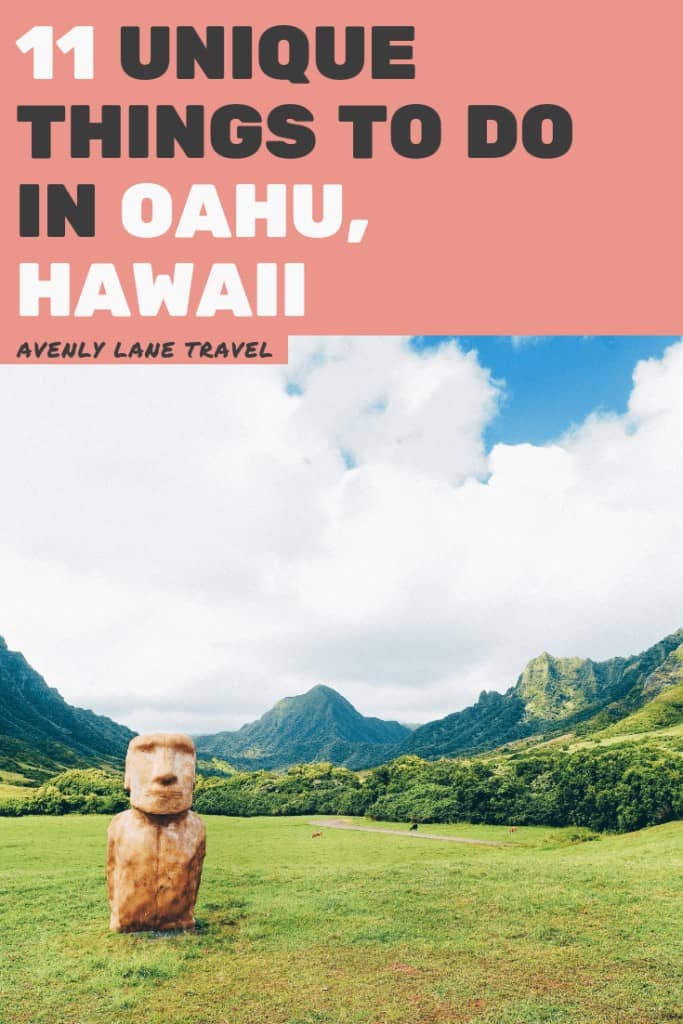 By Breana Johnson & Claire
MORE HAWAII BLOG POSTS
My husband and I have been to Hawaii many times and have written up more blog posts to help you plan your trip. These are my most popular blog posts and Hawaii travel guides to help you plan your trip.
The top things to see on Oahu (Our most popular Hawaii post) – 15 Places you Can't Miss in Hawaii (Oahu)
The best places to see on all the Hawaiian Islands – 27 Incredible Places To Visit In Hawaii
What to Pack for Hawaii: The Ultimate Hawaii Packing List
Best Things to do in Maui: 10 Cool Things to do in Maui Hawaii
Guide to visiting one of the best beaches Maui offers – Red Sand Beach: Guide to Visiting the Red Sand Beach in Maui
The Ultimate Guide to Visiting the Hawaiian Islands – and what to expect on each island: What To Expect On Each Of The Hawaiian Islands
The Best and Most Easily Accessible Maui Waterfalls: 6 Easily Accessible Maui Waterfalls