Abraham Lake is known for its Methane bubbles and ice formations. It is honestly one of the most underrated things to do in Alberta.
How to see the Abraham Lake Methane Bubbles
in order to see them you definitely need a tour guide. You can go by yourself and try to find them, but good luck.
The Abraham Lake bubbles do not cover the entire lake (and the lake is huge). In the winter snow can cover the lake making it even harder to find the methane bubbles on your own.
A tour guide will know exactly where to go, saving you so much time and ensuring you actually get to see what you came there for.
Me and my husband are definitely "go and explore on our own" type of people. And initially, that was what we had planned for Abraham Lake.
But after extensive research I discovered that it would be best to book a tour. I was not in the mood to walk around on a frozen lake, in the Canadian winter, with the wind and snow searching for bubbles.
A tour is definitely the way to go.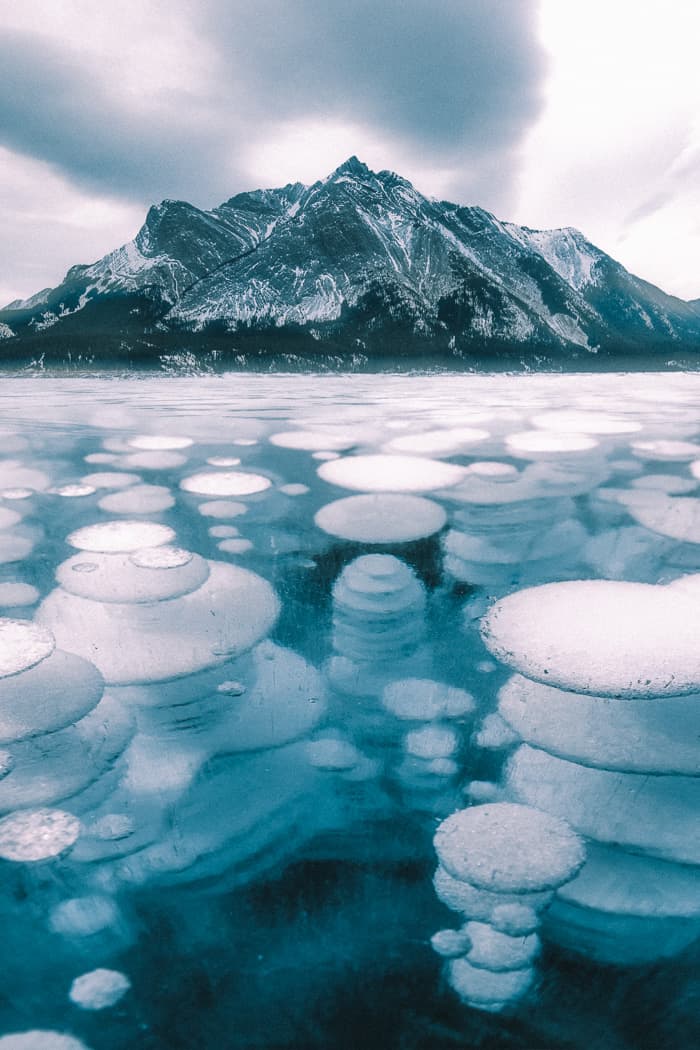 Where is Abraham Lake?
When can you see the Abraham Lake Bubbles
The best time to see the Abraham Lake ice bubbles is typically from mid-January to early February.
The lake is usually frozen by late December and a few weeks later the bubbles are at their best, having had some time to layer and freeze in thick ice.
Another factor that affects the visibility of the bubbles is snow. If there's been a recent snowfall the ice will be covered, especially if there hasn't been a significant amount of wind.
Abraham Lake Ice Bubbles Tours
There are a number of seasonal tours that will take you directly to the Methane lake bubbles.
Icefields Parkway Explorer tour – Includes frozen Methane bubbles, glaciers & more
Which ice bubble tour should you choose?
When I was searching for a tour there were a few things I wanted.
I wanted as close to a guarantee as you can get to make sure I would see them.
I wanted to make sure there was lots of time to take photos.
There are a few I recommend.
This is the one I recommend for those that rented a car and can drive to Abraham Lake on their own.
The other is the Banff National Park Guided Tour with Snowshoeing Hike. This tour is 8 hours total and Abraham Lake is only one of the stops.
Besides from seeing the frozen ice bubbles of Abraham Lake, you will also snowshoe to the jaw-dropping Peyto Lake viewpoint and much more.
Check out this page for more details.
Abraham Lake Ice Bubbles Viewpoint
Here are a few of the best Abraham Lake ice bubbles viewpoints.
18032 David Thompson Hwy #17562, Clearwater County, AB T0M 2H0, Canada
Tips for visiting the ice bubbles on your own
Make sure you have a full tank of gas and snacks as it's 2.5 from Canmore and nothing's happening after Lake Louise in terms of amenities.
Prepare for the freezing cold! It will be very cold and windy so bundle up as if you're going skiing!
Bring hot hands! Trust me, it helps.
Abraham Lake Map
Below is a map of Abraham Lake.
What Causes Methane Bubbles?
Abraham Lake's Methane bubbles are caused when the plants and tree branches located on the bottom of the lake begin to decay. During this process methane gas is released, creating bubbles in the water.
Where to Stay Near Abraham Lake
If you don't want to have to worry about a long drive I highly recommend staying at least one night to get the most out of your trip.
Abraham Lake Hikes
There are a number of Abraham Lake hikes you can take. I have listed a few out below.
Vision Quest Ridge Scramble – difficult
Crescent Falls & Bighorn Canyon – easy
Allstones Lake Trail – difficult
Lake of the Falls- difficult
Siffleur Falls Trail – moderate
Whirlpool Point West Side Trail – easy
Abraham Lake Camping
If you decide you would like to camp at Abraham Lake you do not need a reservation and can basically just camp anywhere for free.
MORE ALBERTA CANADA BLOG POSTS
My husband is from Alberta and totally has me drinking the Canadian Kool-Aid! I love everything from the mountains to the gorgeous turquoise lakes. These are my most popular blog posts and guides from Alberta to help you plan your trip.
Places you Can't Miss in Alberta: 10 Amazing Places to Visit in Alberta, Canada
Best Places to See in Jasper: Top 10 Things to do in Jasper National Park
The Best Waterfall in Jasper: Sunwapta Falls Travel Guide
Guide to Visiting the Columbia Icefield Skywalk: Why you Should Visit the Columbia Icefield Skywalk
Guide to visiting the Miette Hot Springs in Jasper: Relax in the Jasper Hot Springs
Check out the most Most Underrated of All Jasper Attractions: Mount Edith Cavell (My favorite place in Jasper)
Which is better? Banff or Jasper: Should You Go From Banff to Jasper in Alberta Canada?