Looking for a quick but amazing hike that has a multi-beach payoff? The Lind Point Trail is an amazing choice when you are on the island of St. John in the US Virgin Islands.
The hike itself is beautiful, not too long, and takes you by two great beaches. The hardest part about this hike is getting to the island of St. John since there aren't direct flights there.
If you do find your way there (absolutely worth the effort) you should absolutely take the time to hike the Lind Point Trail.
Also remember, if you are on St. John and don't feel like hiking, you are directly next door to some of the best beaches on earth – the most popular that is less than 10 minutes away is Trunk Bay.
Quick Facts
Distance: just over 1 mile each way
Difficulty: Moderate to easy, though you shoes and not flip flops
Time: about 30 minutes each way
Cost: Free
Beaches: passes Salomon Beach and finishes at Honeymoon Beach
Drive Option: None
Crowds: you will be people, but not crowded
Starting Point
This trail starts at the National Park Visitor's Center. If you don't know where that is, it is right by the ferry terminal where you are very likely to come onto the island of St. John on.
If you don't rent a car or want to pay for a taxi, you can easily walk to the trail head from the ferry terminal.
Side note, the entire area gets referred to as the Cruze Bay Ferry terminal but there are officially two terminals, the one for passengers and the other is the car ferry drop off.
That being said, they are each pretty close, with the car drop off spot being a further distance from the trailhead.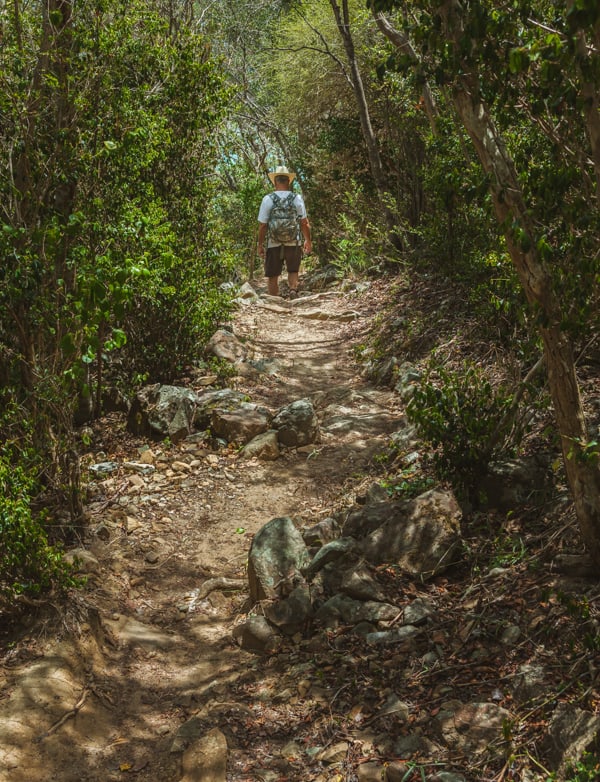 Parking
There are two gravel lots for parking that are free, BUT you need to go inside the visitors center to request a parking pass. This is a bit of a pain, but it is simple enough.
Trail Location
The actual trail goes along the north east side of the island of St John. The trail goes through the forest or follows the north shore.
The Actual Hike
The trail is well marked. There are a couple forks, but you shouldn't have any difficulty figuring out which way is correct since they both meet up again. You can choose to go through more of the forest or more along the rocky shore.
Lind Point Trail Difficulty
While the hike isn't difficult, there are definitely some elevation changes and rocky areas. You do not want to hike this in flip flops. I wouldn't say you need full on hiking boots, just don't expect it to be totally easy.
Crowds
When there we definitely saw other travelers, but given the proximity of other beaches that don't require a hike, it was substantially less crowded than other choices.
If you want to enjoy amazing beaches with less crowds, read up on what you can expect at both here – Salomon Beach and Honeymoon Beach.
Close To
This is super close to a lot of other amazing beaches that don't require hikes. Hawksnest Beach, Trunk Bay, and Maho Bay are a few of the closest.
Conclusion
If you are in the mood for a hike that isn't too grueling but will be enjoyable along the way that rewards you with a beach devoid of the crowds, then take the Lind Point trail to Honeymoon Beach!
We have visited almost every beach on St. John and St. Thomas. Below are a list of our favorites.