Maniniowali Beach (AKA Kua Bay)
Maniniowali Beach is one of the most popular of all the Big Island Hawaii beaches. It's almost a mile long and features a lot of soft white sand.
The big island has many more miles of lava rock shores, so the soft white sand and generally calm clear blue waters make this beach quite popular.
Even with the crowds you shouldn't have a problem getting to Kua Bay (other name). A coral reef generally protects the shores from the strongest waves and help create a place that even the kiddos can swim in, or you can venture out and snorkel.
Things to know before going to Kua Bay:
Good for: generally calm waters, snorkeling, suntanning
Facilities: restrooms and showers
Parking: small lot, but street parking available nearby
Cost: free
Other: 5 minute walk required from parking lot through lava field
Other Names: Kua Bay, Maniniowali Beach
Where is Kua Bay located?
Maniniowali Beach is only about 15 minutes north of the Kona airport. If you are coming from the Kona area itself it is closer to a 25 minute drive. There are still a lot of resorts in this area though.
Many Big Island beaches are hard to access due to fields of lava rock blocking access to the shores. This isn't the case here and there is a paved rod going directly through and to the sand.
The beach is on the west side of the island, which means that it is in a perfect location to watch sunsets!
Tip: When in Hawaii I highly recommend renting a car to get the most out of your experience. It would be difficult to see all the beautiful places in Hawaii without a car. Reserve a car here.
What can you expect at Maniniowali Beach
Known for: wide stretch of white sand and generally calm waters
Water Color: clear blue
Lifeguards: yes, though the tower isn't always manned
First off, you will have a short walk in from the parking lot. It will take you about 5 minutes to pass through the final fields of lava rock.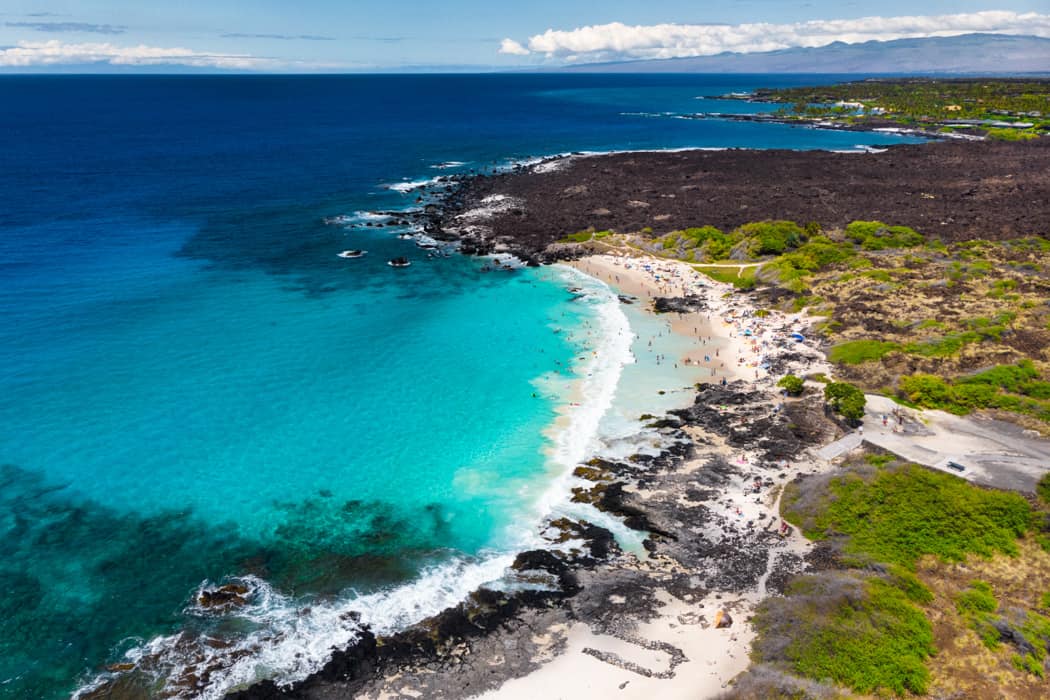 Maniniowali Snorkeling
Once you are on the beach you will see that the waters are generally quite calm and beautiful. There is a reef protecting the shores from the biggest waves. This should allow the kids to swim or snorkeling to see the sea creatures.
Facilities
There is a lifeguards tower that often has lifeguards staffing it, showers, as well as restrooms. Unfortunately there isn't a beachside bar or restaurant.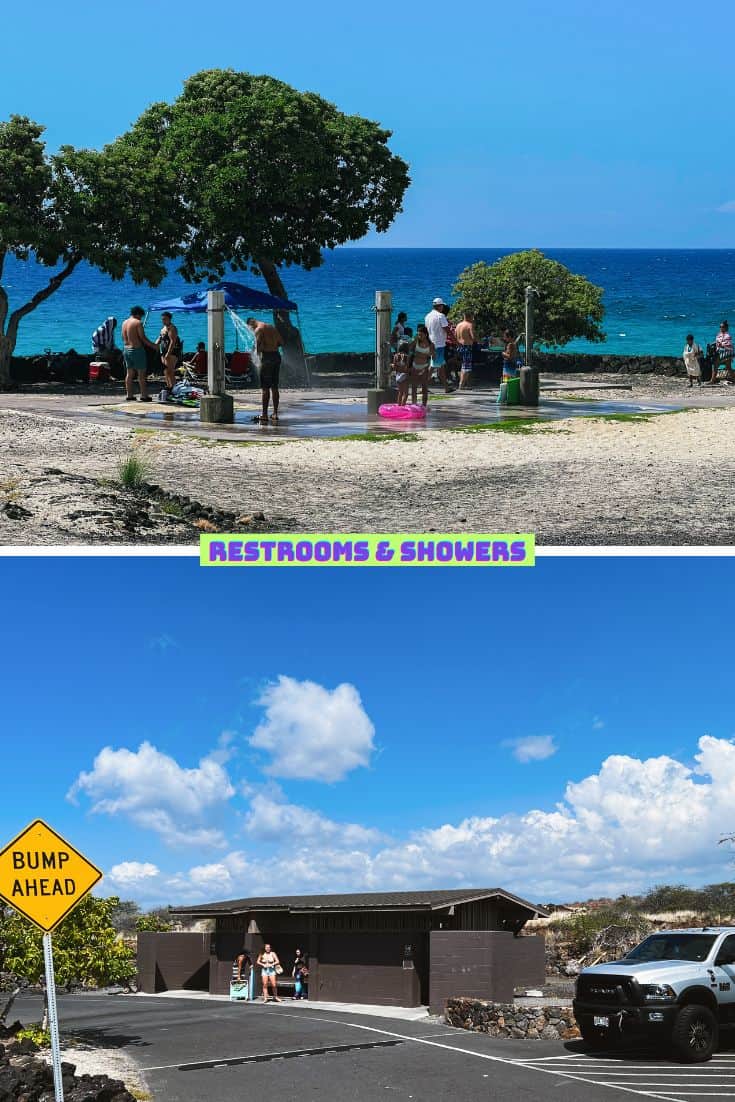 Biggest Negative: Crowds
This beach is popular! You most definitely can expect to have a good number of people on the beach when you go. This is because it is a lot easier to access than a lot of other Big Island beaches.
Even though hth parking lot will fill up, there is additional street parking on the approach. If you can't find a spot you will just have to make your walk a little bit longer.
Nearby Big Island Beaches:
Kikaua Point Park – 2 minute drive (3.5 mi)
Makalawena Beach – 6 minute drive (2.2 mi)
Kukio Beach – 12 minute drive (4.6 mi)
Makolea Beach – ONLY black sand beach around Kona. 22 minute drive (5.5 mi)
Kua Bay Conclusion
Kua Bay really is a great beach. However, I love having a beach to myself, or at least a lot more space to spread out on. While the crowds on this beach are NOTHING like the crowds on Waikiki Beach on Oahu, it was still enough to keep me looking for other spots.
Other Big Island Beaches I recommend checking out: