Laie Point Cliff Jumping
Cliff jumping at Laie Point is a must see for thrill seekers in Hawaii.
There are a lot of places where you can go cliff jumping in Hawaii, but my favorite is the Laie Point cliff jump.
The cliff is approximately 35-40 feet high. That might not sound that high, but in person it is plenty to give your stomach butterflies!
This famous Oahu cliff jumping spot might even look familiar as it is featured in the movie Forgetting Sarah Marshall.
Even if you don't want to jump, you can still enjoy the views and watch the adrenaline junkies at one of the best Oahu cliff jumping spots. Check out a video of this exact spot on YouTube.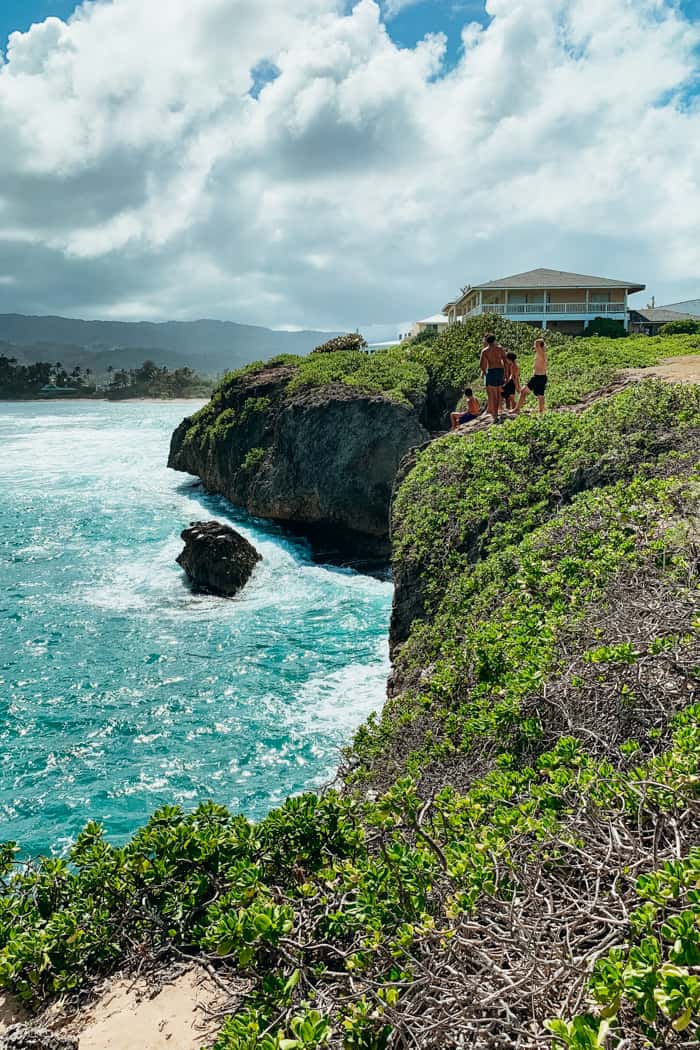 Cliff Jumping in Hawaii Disclaimer
Once again, it isn't safe to go cliff jumping in Hawaii! Just because you've seen other people do it doesn't mean that conditions will be safe when you are there. I watched others do the Laie cliff jump before I did it myself, and even then I knew I was taking a huge risk. Proceed at your own risk!
If you are the type that still wants to partake in the cliff jumping Oahu offers then read on to see how to best minimize the risk.
Laie Cliff Jump Location
The Laie cliff jump is located at Laie Point on the North Shore of Oahu. Laie Point is about a one hour drive from Honolulu.
Don't want to deal with the hassle of renting a car on Oahu? I recommend renting out a Hawaiian Style Moped for the Day! (Much easier to find parking.)
The North Shore is famous for its enormous and world class waves in the winter. That means that in the winter you are probably better suited to watching the surfers than trying to jump in this area.
Cliff jumping at Laie Point is also close to the Polynesian Cultural Center. The PCC is one of the most popular activities on all of Oahu where you can experience a real luau. Read more here.
It is also fairly close to some amazing snorkeling along the North Shore at Sharks Cove. Read more about Sharks Cove and why you should plan to visit there while on the North Shore as well.
In the movie Forgetting Sarah Marshall they imply this cliff is right next to the Turtle Bay Resort. While it is close, it is still a quick drive away. Watch the clip below!
Finding the Cliff Jumping at Laie Point
Once you get to Laie Point you can look out at the amazing view of Mokualai Island, a State Wildlife Refuge. If you want to jump, when facing straight off the end of the road and into the ocean, you veer off to the right. You only need to walk about 30 feet to see the cliff that is best for jumping.
You will see that there is a table rock that the waves crash on and off of (shown in the included video). Make sure you jump to the left of this table, but ultimately use that table to climb out of the water.
Following that table into the cliff you can see a crevice that is perfect to climb back up the cliff from. The lava rock is super sharp though, so you may want to wear shoes to keep you from getting cut up.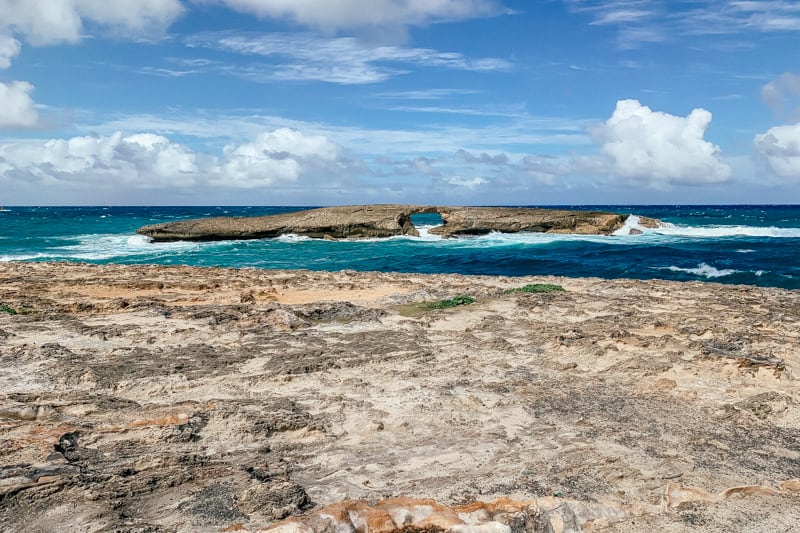 Best Cliff Jumping on Oahu
Parking
There isn't a set parking lot, but you are allowed to park along the sides of the road. The last time I was there it wasn't hard to find parking, even though there were a number of other people there.
Even if there are a lot of people the road is long enough that there should be plenty of parking spaces.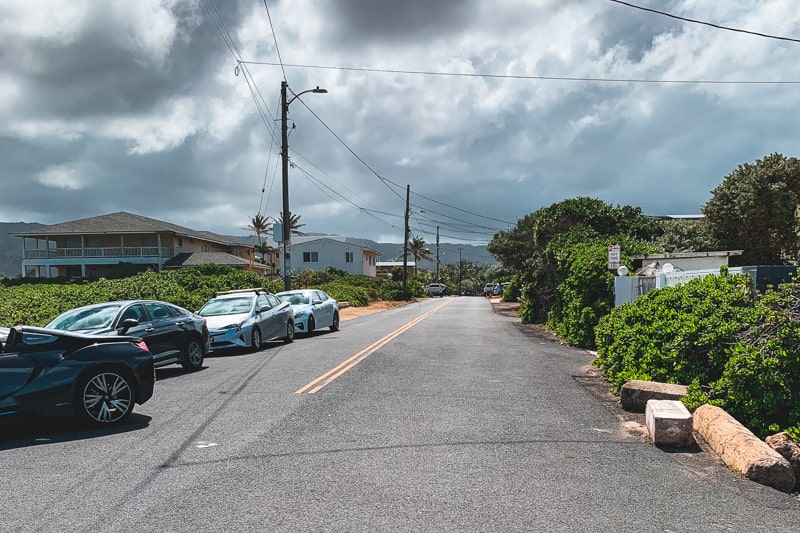 Safety Advice for Oahu Cliff Jumping
Once again, don't jump without being 100% sure that conditions are safe. You can't trust that it will be safe when you go there, even though it was for me.
Don't jump if the water isn't calm. I've been there and seen waves that were really intense. Even if you safely make it into the water, the waves could end up smashing you into the rocks if you aren't careful.
Make sure you aren't jumping into the area where the rock table is! When I was there the waves would crash over it, but the water would soon run off showing the table again. I worry that if the tides are different the table might stay submerged. Before you jump, you should climb down the cliff to test the waters depth yourself.
Avoid this area in the winter when the waves of the North Shore are the most intense.
Watch someone else jump first to make sure they safely get in and out of the water.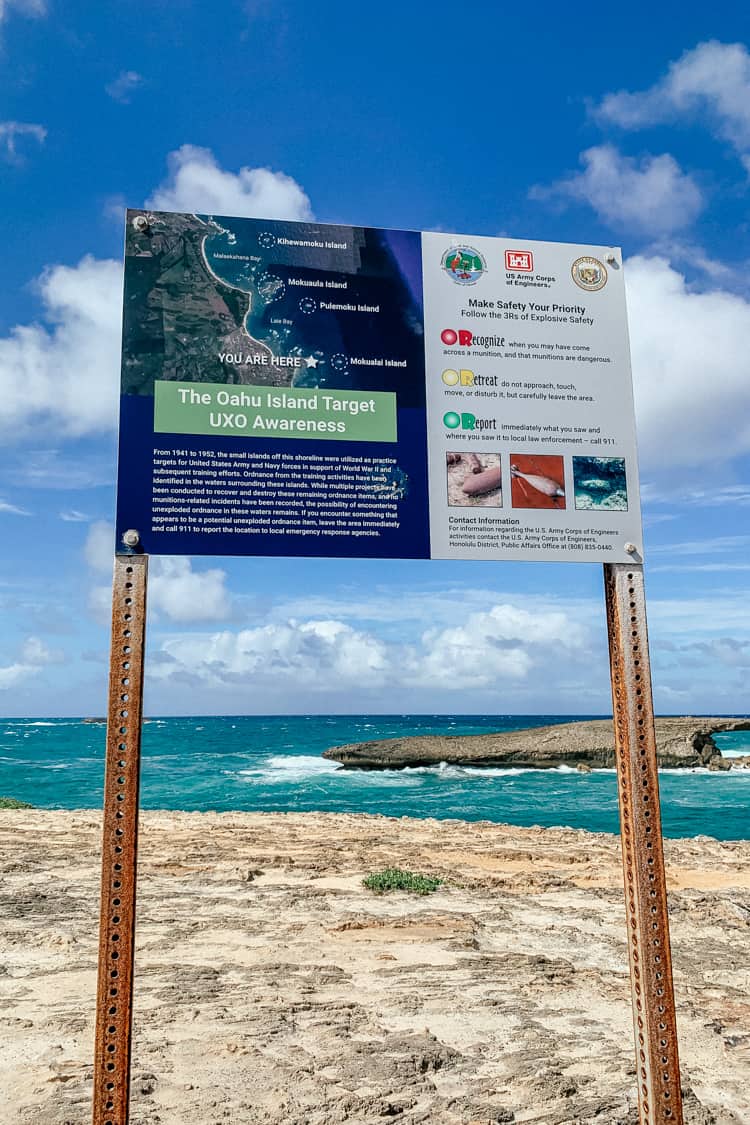 Laie Point: My Favorite Cliff Jumping Oahu Offers
I loved cliff jumping at Laie Point. The height was high enough to make me nervous, but not so high that it hurt to enter the water. Even though it was risky I couldn't resist the rush!
What to pack for Oahu
Quick Dry Travel Towel – This quick dry towel is amazing to travel with. We honestly usually travel with 2 of them. It really will come in handy when you need extra room in your suitcase.
Snorkeling gear – for obvious reasons.
Sandals – LOVE these Tevas sandals. You can actually hike in them which is perfect for hawaii if you don't want to bother with hiking boots.
Hiking Boots – The hikes in Hawaii are MUDDY. Make sure to pack a nice pair of waterproof hiking boots so trekking through the mud and puddles doesn't make you miserable. Nothing worse than wet socks. These are my favorite hiking boots. They are cute and comfortable. I never go hiking without them! Buy them from DSW here.
Tank tops – Free people is my go to place to buy cute and affordable tank tops (Depending on the style of course). I have this tighten up tank in almost every color.
Shorts – Anyone who is traveling to Hawaii needs a good pair of shorts. Khakis are great for guys. For women, cute athletic shorts or denim shorts are perfect for a breezy summertime look.
Dresses for Hawaii – Packing a few good dresses is essential for Hawaii. Dresses have become my go to on trips to help quickly put an outfit together.
Tennis Shoes – I guess you could wear sandals hiking this trail but I would recommend tennis shoes. It can get narrow and slippery in parts. I never go anywhere without my white Air force ones. They are the most versatile shoe I own.
Beach cover-up – Having at least one good cover-up is essential on any beach trip. Amazon actually has amazing ones at really affordable prices. If you aren't a fan of buying clothes off Amazon I recommend ASOS, Nordstrom and Revolve as well.
Camera Gear – The iPhone 13 Pro is amazing and probably all that most people need. BUT, if you want something more I can't recommend the Sony A7IV mirrorless camera enough. It is AMAZING. If you are more into video than taking photos I recommend the Sony A7SIII or the Canon R5 for you Canon lovers.
Travel tripod – This Peak Design travel tripod is the best I have ever used. It is so easy to carry around because it is literally the size of a water bottle. Fits perfectly in a backpack. I have never seen a tripod so compact. It's life changing. You can check it out here if you're interested. Note – It isn't cheap, but that's why I bought it from backcountry.com. They frequently have 15% off sales so I was luckily able to purchase during a sale.
Planning a trip to Oahu? Read more of our Oahu blog posts below!
My husband and I have been to Oahu many times and have written up more blog posts to help you plan your trip. These are my most popular blog posts and Hawaii travel guides to help you plan your trip.
Best Things to do in Oahu
Oahu Beaches
Best Cliff Jumping in Oahu
Best Snorkeling in Oahu
More Hawaii Blog posts: