This post will cover all the best things to do in Banff winter as well as some essential winter travel tips for Banff National Park.
If you've ever been on Instagram or Pinterest then I would basically guarantee that you've seen pictures of Banff. Banff, Alberta, Canada features stunning mountainscapes behind perfectly turquoise/clear lakes. Lake Louise, one of the lakes in Banff is so famous that it often gets called "Instagram Lake." Spoiler alert, it lives up to the hype – read more about a summer trip to Banff here.
What often doesn't get considered is that Banff can be a year round destination. I know it sounds absurd to recommend a Canadian destination in the winter, but so many people don't consider the possibility and miss out on a winter wonderland.
We just returned from a winter/Thanksgiving getaway to Banff. We've previously visited Banff and Jasper a couple of times, but this was our first time to do it in the winter. I'll admit that I was nervous, and it does require some unique preparations, but it is 100% worth it! Visiting Banff in the winter is almost like visiting a different destination entirely.
Key Advantages to visiting Banff in Winter
Once again I know it sounds crazy to visit Canada in the winter, but read on to see why you should consider it.
Less Crowds
One of the few downfalls of Banff that people complain about is that it can get crowded. It's big enough that even in the heart of summer you can find secluded mountain spots to get away, but if you want to see some of the most popular spots you are going to have company.
If you've ever been in the painfully long Lake Louise shuttle bus line you understand.
Costs are way cheaper
The throngs of people visiting in the summer obviously drive up cost. If you go in the winter, the crowds are gone, the expense is gone, but the amazing scenery remains.
We booked a hotel in downtown Banff (the name of a small city as well as the national park) that normally books for over $300 a night in season for only $49 USD. Aside from being within walking distance of all the best shops and restaurants, it featured heated underground parking, a hot tub, steam sauna, and dry sauna for free.
Also, our 4×4 rental car was only $18 dollars a day! Good luck finding that deal in the summer!
Skiing
Want to ski or snowboard? There are three world class resorts in the Banff area. They are named the Banff Sunshine, Norquay, and Lake Louise Ski Resort. The resorts usually open late November and stay open until May-ish.
We didn't ski at any of them, but our hotel was full of skiers raving about the quality of the early season snow.
Benefits to winter travel – less crowded. Cheaper! Way cheaper. We booked our hotel in downtown banff for $54 per night. That included a hot tub, steam sauna and dry sauna for free. Also free wifi and underground parking.
You will want 4-wheel drive and warm clothes.
You can see Northern Lights (If you get lucky)
One advantage of going to such a northern latitude in the winter is that you have a really great shot at seeing the northern lights. While it is far from a guarantee, if you do get to experience them with the backdrop of the Banff mountain scene you will think you are in heaven.
I use this app to track the probability of seeing them in any specific geographic location.
15 Things to do in Banff in Winter
Starting to wonder if you would actually like to visit Banff in the winter? Here are 15 of the top things you can do in Banff in the winter…
1. Visit Lake Louise
Unless you go really early in the winter do not expect to see the beautiful turquoise waters. The lake freezes and gets covered in snow. Even with the snow and ice the mountain scene is breathtaking. We went two different times on our trip to enjoy the peaceful shores.
Once the ice is thick enough part of the snow gets cleared and you can ice skate on it. The ice wasn't thick enough for us to skate on while there, otherwise I know my husband would have been dying to show off his moves.
Because most people won't travel with ice skates (I could see a TSA agent having a heart attack seeing skates in a suitcase) you will need to rent them. The closet place to rent them is at Wilson Mountain Sports. It is only a 5 minute drive from the lake and it only costs about $10 USD for a pair.
2. Johnston Canyon Icewalk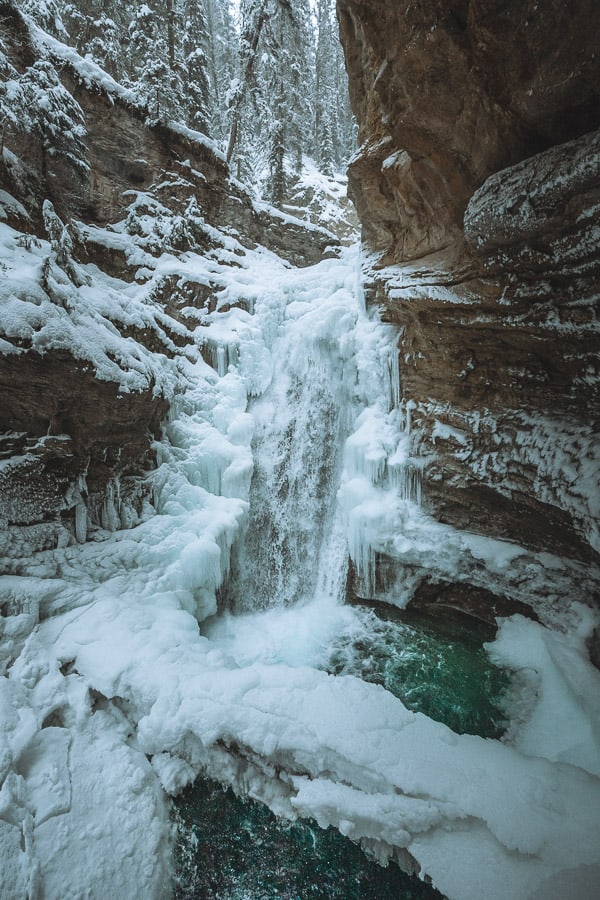 This hike is awesome in the summer. In the winter, I worried that it wouldn't have the same allure yet we did it again anyway. Thank goodness we did because I think the hike is even more incredible. Read more about the hike here.
The well-built trail and causeways stretch along a canyon above a meandering river. The river won't completely freeze until further into the winter season, which allowed us to enjoy the running river and snow capped mountains.
You do not need anything more than regular winter gear to complete the hike to the Lower Falls. We even saw a couple people trudging through the snow in sneakers instead of boots. While I wouldn't recommend it, if you just want to go to the Lower Falls you are probably fine. If you want to go on to the Upper Falls or Ink Pots, you likely are going to want some snowshoes or at least cramp-ons.
Tour
Worried about trudging through the snow without an experience guide? You can easily and affordably book a tour. The Johnston Canyon Icewalk tour goes all the way up to the Johnston Canyon Upper Falls. You can leave at 8:30 am or early in the afternoon.
3. Ink Pots Hike at Johnston Canyon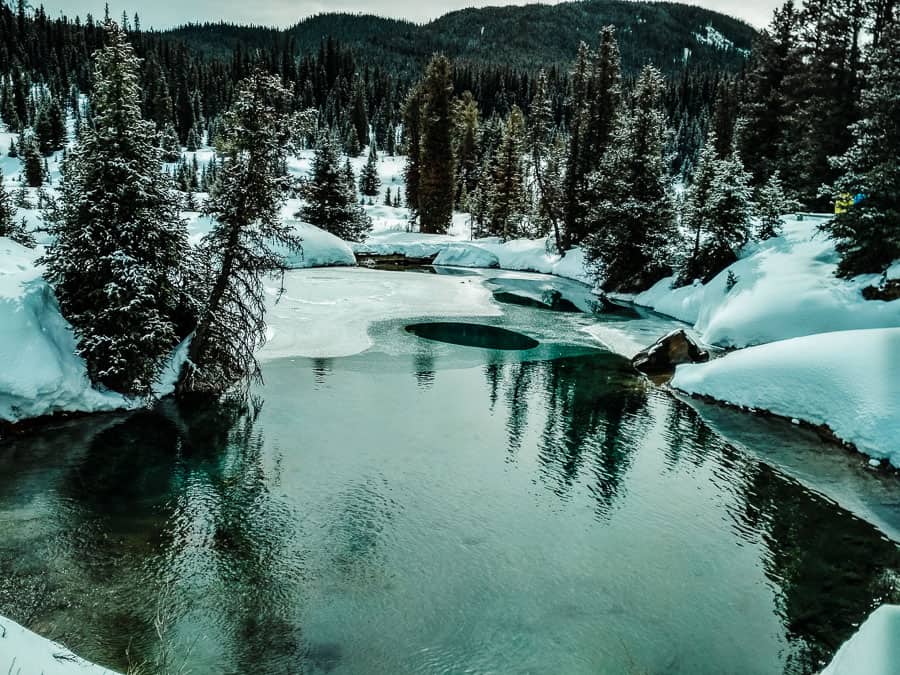 4. Peyto Lake
Peyto Lake is another gorgeous mountain lake that shows off turquoise water in the summer. It is still great to explore the upper viewpoint in the winter, though I don't recommend it on a windy day!
5. Methane Bubbles at Abraham Lake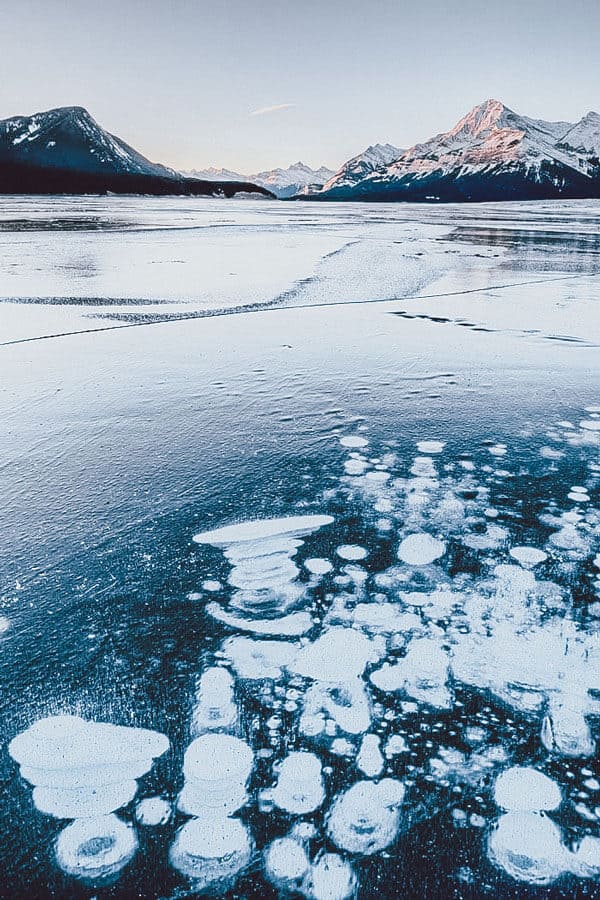 Yes! Those really are frozen bubbles in the middle of the lake. Methane seeps up from the ground and gets caught in the lake. This is one of the few places on earth where you can view this phenomenon. If you want to see the methane bubbles I HIGHLY RECOMMEND you book a tour.
Without and experienced guide you won't know where to look on the lake, will likely have to clear snow off the ice, and run the risk of falling through cracks in the ice.
This tour is highly recommended. You will get the chance to explore Abraham Lake and hopefully get your own photos of the eerie yet amazing frozen methane bubbles.
Feeling extra adventurous? Take the Abraham Lake helicopter tour!
6. Go Ice Climbing
There are a few different places that you can go ice climbing. I've still never been, but if you want to go there are numerous tours you can book, lots of shops that rent gear, and lots of spots to choose from. Some of the most popular are around Lake Louise or the Johnston Canyon Upper Falls.
If you book one of the most popular ice climbing tours in Banff all the equipment you need is already included. They provide experienced instructors so even the beginners (me) can have an amazing experience while staying safe. Ice climbing is a once in a lifetime activity that I honestly can't wait to do! If you take this tour let me know how you like it.
Book your tour: Experience Ice Climbing
7. Explore Downtown Banff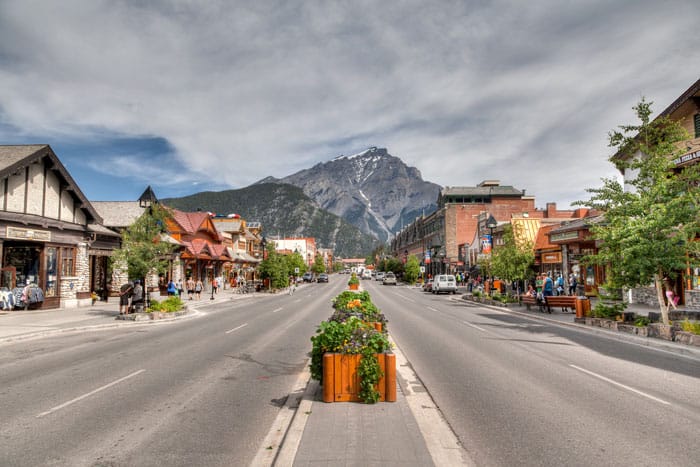 Downtown Banff isn't large, but it is a picturesque mountain town. Many people enjoy going for a stroll down the main street. You will find all kinds of restaurants to satisfy your cravings. There are also all kinds of shops showcasing local artists or offering every kind of winter gear you could need. My favorite was the year round Christmas store!
8. Banff Christmas Market
Fan of the European Christmas Markets? Want to visit a miniature version of the same thing in Banff? Starting in November and going through December you can do just that. Our tickets were only $6 per person, but they did have to be purchased in advance. The market was only open certain days of the week so make sure you check ahead of time.
9. Take the Banff Gondola up Sulphur Mountain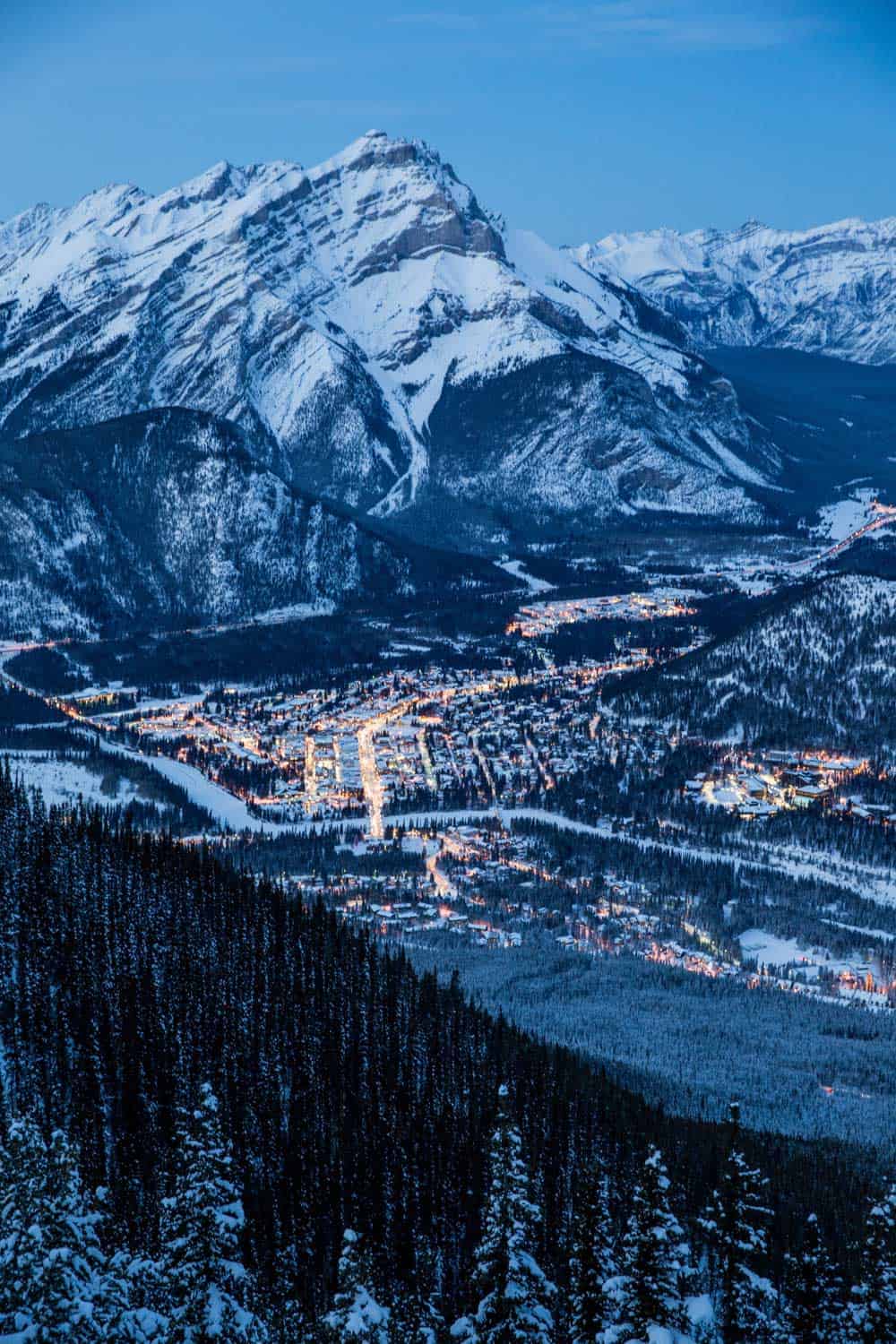 There are a lot of great viewpoints in Banff, but I think the absolute best is from the top of Sulphur Mountain after taking the Gondola up. Not only can you see insane mountain views, but as the day shortens you will also be able to view the twinkle of the downtown Banff lights.
Make sure you book your tickets in advance here!
Book your tour: Banff Area 1-Day Tour from Calgary or Banff (Perfect for those who don't have a car or don't want to bother navigating through potentially icy roads)
10. Take a Dip in the Banff Upper Hot Springs
There is nothing better than soaking in warm water after hiking around in the cold. The Banff Upper Hot Springs offer you this exact luxury. I love soaking in hot tubs, and doing it in a gigantic one in the middle of the mountains is even better.
Thankfully, they are open later into the day so you can visit after completing your morning adventures. Make sure to check the hours ahead of time. Tickets were only about $6 USD. Check out more on the Banff Hot Springs website.
11. Take a Horse-Drawn Sleigh Ride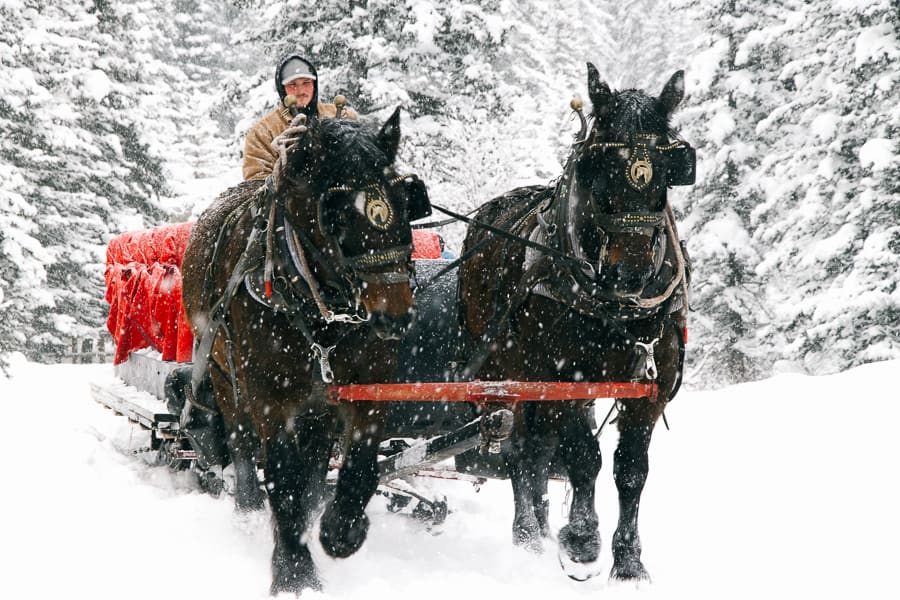 Have dreams of fulfilling the winter fantasy of being pulled by a one-horse open sleigh? That is another thing that you can do in downtown Banff!
The experience can be a riot for the family, or the perfect excursion for a romantic couple. Book your horse-drawn sleigh ride here.
Book your tour: Family Friendly Horse-Drawn Sleigh Ride
Book your tour: Private Horse-Drawn Sleigh Ride In Banff (Perfect for those who prefer a more private experience)
12. Take Pictures at Morant's Curve
Are you a railfan? If yes, then you will have to photograph a passing train at Morant's Curve. Even if you aren't a super train buff, this viewpoint is worth a visit. The viewpoint looks exactly like it came from a storybook.
It's easy to access, with it being only about 15 minutes from Lake Louise. It features its own parking lot and doesn't require a hike, you only have to cross the street. Warning though, I was never able to find a train schedule.
13. Fairmont Banff Springs Hotel on this small-group tasting tour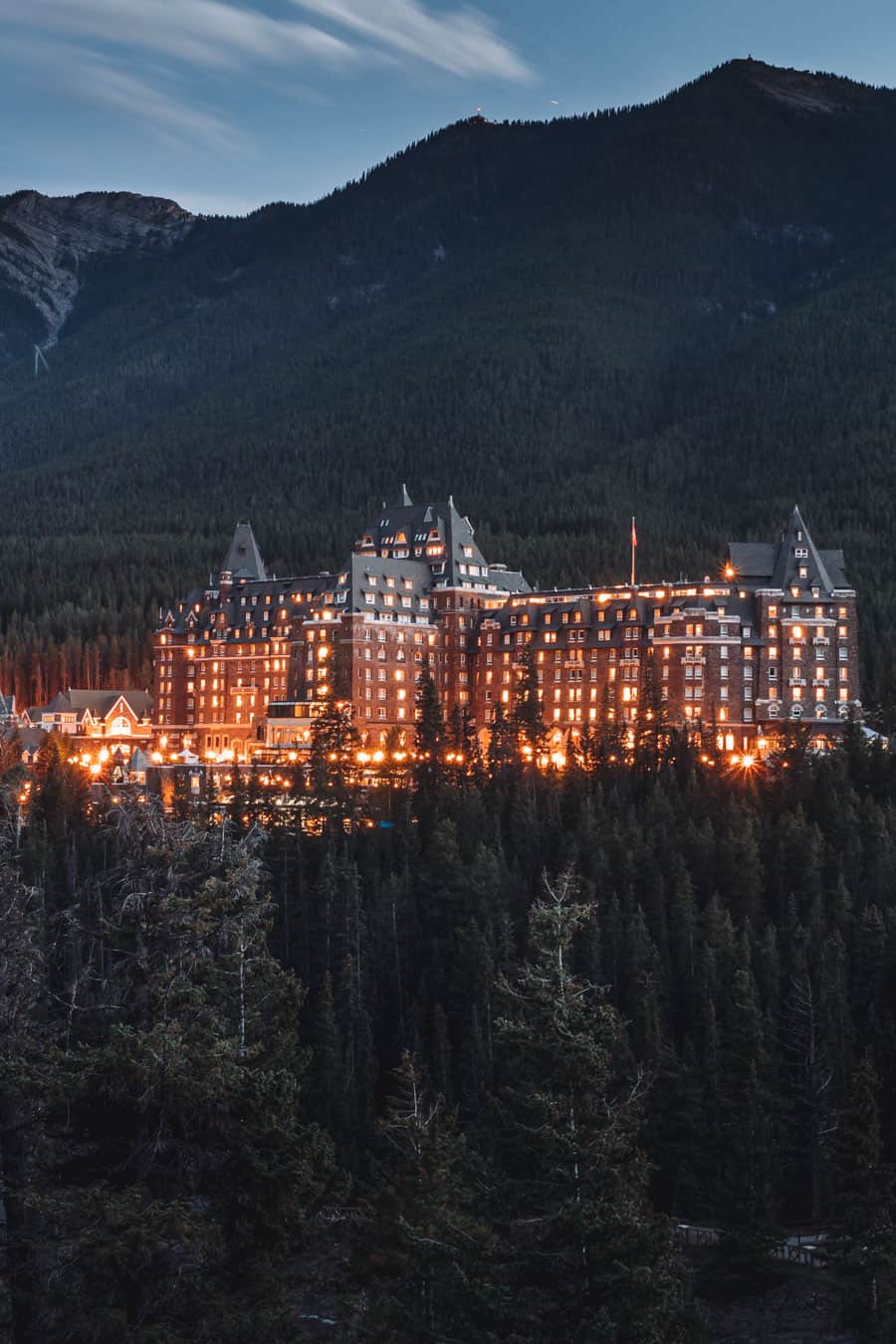 Are you a foodie? Want to to a taste tour in one of Banff's most iconic hotels? This is another popular tour that you can book at the famous Fairmont Banff Springs Hotel. Note, this is a different hotel than the Fairmont Chateau at Lake Louise (another iconic hotel).
Book your Banff food tour at the Castle here.
You might also be interested in: Mt Edith Cavell: The most stunning glacier lake in Jasper National Park
14. Grotto Canyon Icewalk
There are so many amazing hikes that it is hard to just pick a couple, but the Grotto Canyon Icewalk is another specific one worth mentioning.
You trek along a frozen creek, navigate through steep rock canyons, and will see frozen waterfalls. The tour only lasts about 2 to 3 hours, but has nonstop sights packed in.
Book the Grotto Canyon Icewalk tour here.
15. Visit the Snow Days Festival
If you are lucky enough to visit during the Snow Days Festival, make sure to not miss it. You will get to see exquisite ice carvings, snow sculptures, attractions for the kids, and skijoring. If you are like me and have no idea what skijoring is, it is skiing while being pulled by a horse. You can get more information on the exact dates they will be running not the Banff Lake Louise website.
16. Book a Private Photographer for Family Photos
Make fun of this if you want, but if you think about it I bet that many of you would love to have family photos commemorating your getaway in the Canadian rockies. The best way to make sure you get the perfect shot (and local knowledge on where that site is) is to book a private photography session.
This photography session gets you 30 images from multiple sites within 5 days! Their quality is stunning.
17. Spot the Wildlife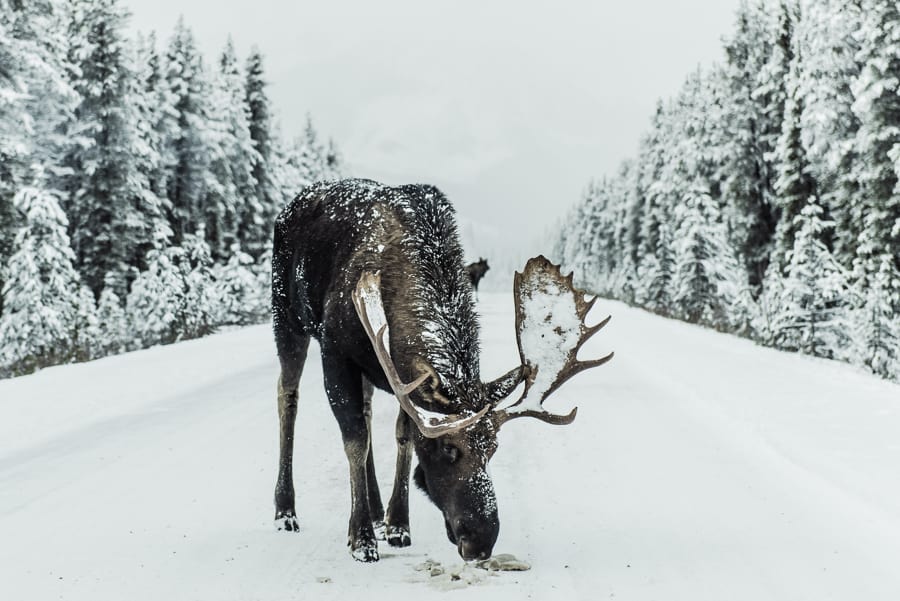 Banff National Park is home to countless animals. The first time we visited Banff we saw a bear off the side of the road (thank goodness we didn't run into one on a trail).
Yes it is cold, but if you bundle up you can still enjoy Banff in the winter. Winter opens up all new types of adventures. Which one would you most want to try?
Read our most popular posts on Alberta Canada:
The Best things to see in Alberta – 10 Places you can't miss in Alberta, Canada
The Best Things to see in Jasper National Park – Top 10 Things to do in Jasper National Park
Hot springs in Jasper – Miette Hot Springs: Mountain Retreat in Jasper National Park
Not sure which national park to visit in Alberta? Check out this post – Which is Better? Banff or Jasper National Parks