Vegas is getting expensive! Hotels on the Strip can be pricey, the table minimums seem to increase, the buffets are no longer $2 and all and the good shows all feel like they are over $100. Getting discouraged? Don't! You still can have a great time in Vegas while saving money, you just have to plan ahead of time.
You can still sip free drinks while gambling a few bucks a hand at the tables, but remember that there are always way more losers than winners when gambling. Vegas has to pay to keep the lights on somehow.
This list will give you 45 fun and cheap things to do in Vegas that aren't going to break the bank. Of course, the definition of cheap varies depending on what you are talking about. $35 for a flight would be a great deal while $35 for a banana would be terrible.
This list attempts to highlight things that are a good value, even if they aren't $2.
As a Las Vegas local, I learned the best way to still have a great time taking advantage of what Vegas has to offer while not overdrafting my bank account.
SAVE MONEY – BUY AN ALL-INCLUSIVE PASS!
Don't skip this section like I normally do.
Most all-inclusive passes suck! They don't actually include things you would want to do, or you need to visit 10,000 attractions in a short amount of time to make it worth their while. The Go City Las Vegas Pass is different; it is a huge cost savings and includes things you actually want to do!
Seriously – if you want to see a Cirque du Soleil show alone the pass basically pays for itself.
Some of the other big ticket items included are a ride on the High Roller, LINQ Zipline, and Illuminarium at Area 15.
Some of the things that I think are coolest are the LINQ Zipline, the High Roller, SkyPod at the Strat, Area15 Illuminarium, and the New York New York Big Apple roller coaster.
There are 35 different things you can choose from.
They include other show tickets, museums, bar crawls, as well as things like go-cart racing and escape rooms. If you don't want to see a Cirque show you can switch out those tickets for a Strip Helicopter tour instead.
This deal literally can't be beat if you are looking to do more than just gamble while in Vegas. There is a day time limit though so to get your money's worth you have to keep moving, though there isn't a more affordable way to cover so much ground in Vegas.
T-Moble Arena for a Golden Knights Game
Tickets to watch Vegas' NHL hockey team are expensive, but the block party in front of the T-Mobile arena ahead of lots of the home games isn't. It's free to show up. There is often a DJ and various sorts of giveaways involving the mascot and the ice girls.
Visit M&M World
Interested in a mausoleum to everything M&M? Visit the gigantic store next to the MGM grand. You can custom design your own M&M to say exactly what you want. You could even propose with them?
Hike the Fire Wave Trail at the Valley of Fire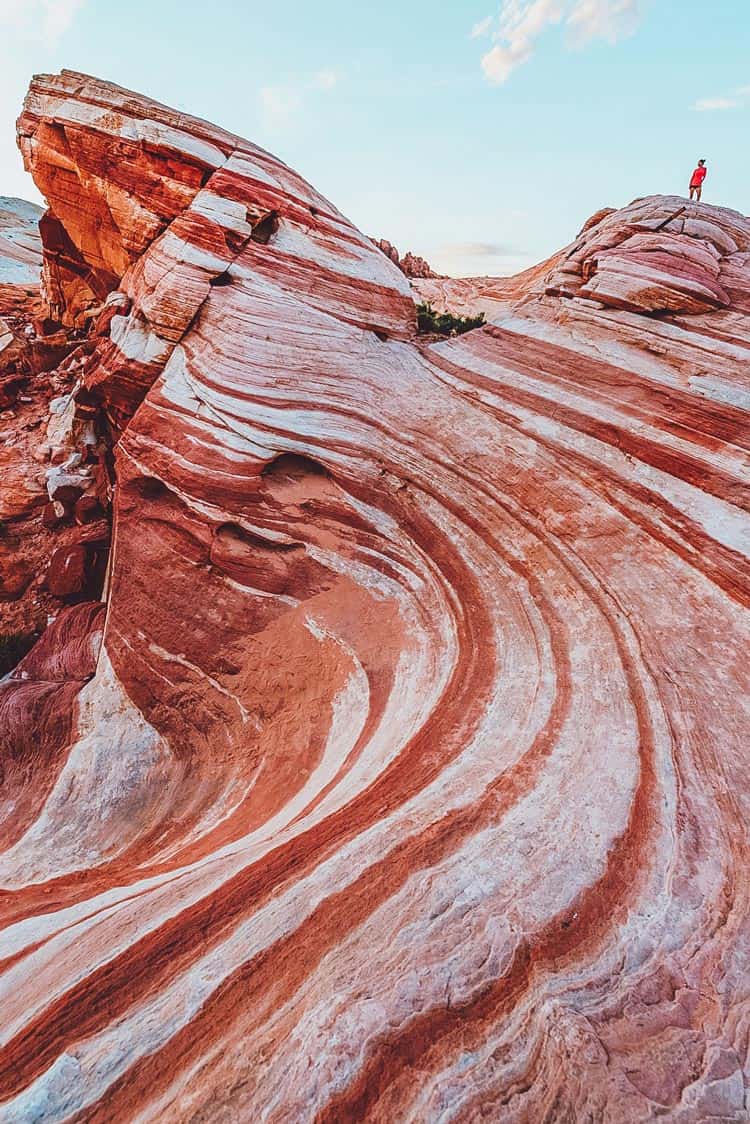 The Valley of Fire State Park is only about 1 hour from Las Vegas. This park features the famous fire wave rocks. A quick hike may be the perfect break from the craziness of the Strip. It costs $10 per car to get in.
Read the full article here.
Visit the Eiffel Tower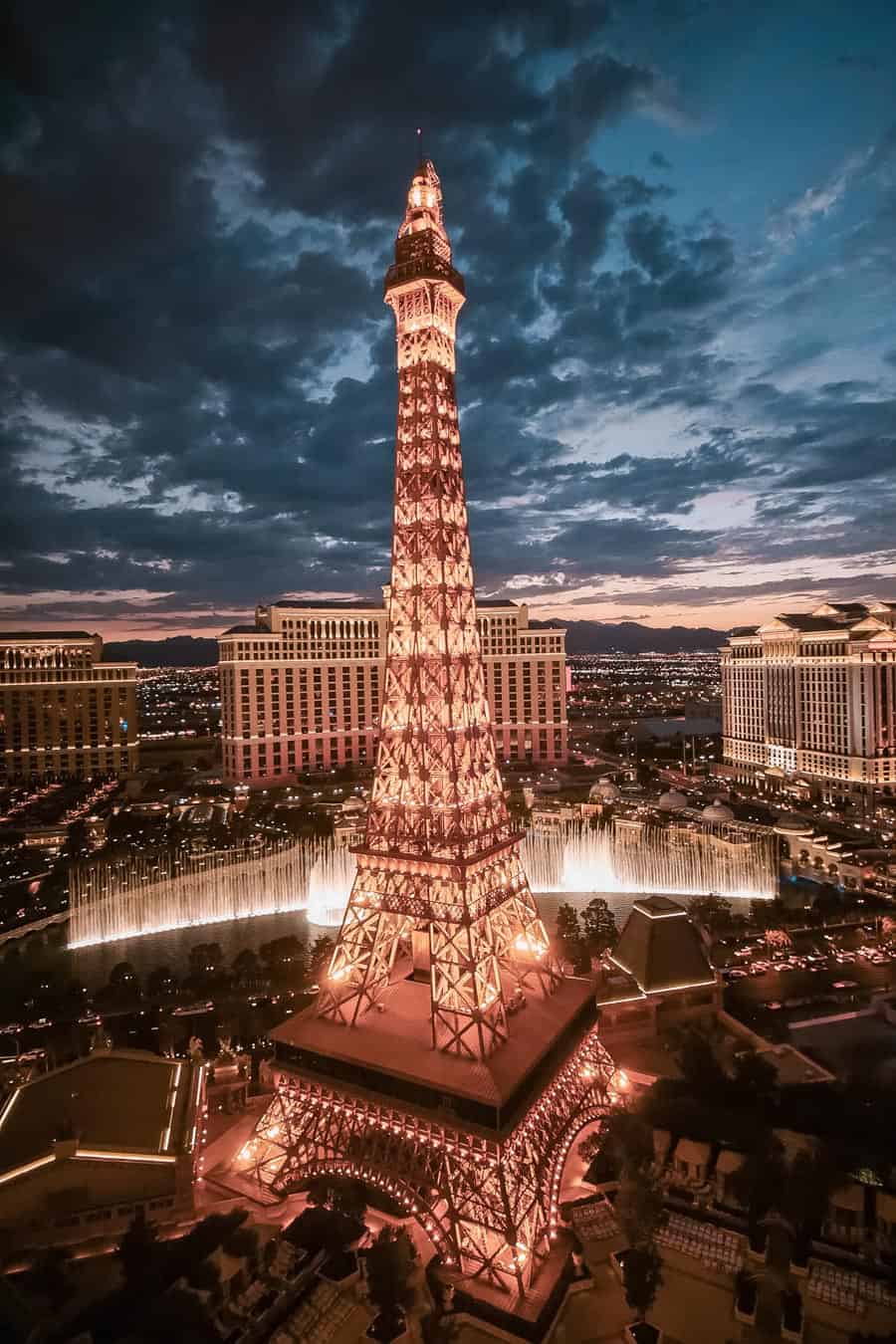 Vegas does have its own Eiffel Tower. It costs about $25 to go up, but from the top you have the absolute best views of the Bellagio Water Fountains.
If you do want to go, I recommend skipping the line and buying your tickets in advance – Las Vegas: Eiffel Tower Viewing Deck Entrance Ticket
Visit Area 15 Las Vegas
Area 15 is best described as a futuristic shopping center and art museum inside a gigantic warehouse. I know that still leaves you with a lot of questions, but trust me, it is worth checking out for free entertainment (entry pass required ahead of time).
Many of the displays require you to purchase a ticket, but you can get a flavor of a lot of them by walking by.
Walk around Town Square Las Vegas
Town Square is an outdoor leisure shopping mall. Aside from the usual stores you would expect to see, there are a number of local bars and restaurants around the property you can enjoy.
There are also playgrounds and fountains in the middle for kids.
Spend a day at Lake Las Vegas
Lake Las Vegas is an upscale retreat about 40 minutes from the Strip. This man made lake features golf course, fancy hotels, but my favorite attractions are when they play free movies in the park, or paddleboarding for only $25.
Check out the Shark Tank at the Golden Nugget
I love the waterslide that goes through a real live shark tank at the Golden Nugget. You won't actually be in danger, but you will be inches away from a shark if you go down it. Even seeing it is exciting.
Visit the Pawn Stars Filming Location
Want to see Rick or Chum-Lee? If you liked the show you will enjoy going to the actual store in downtown Las Vegas.
The Forum Shops at Caesars Palace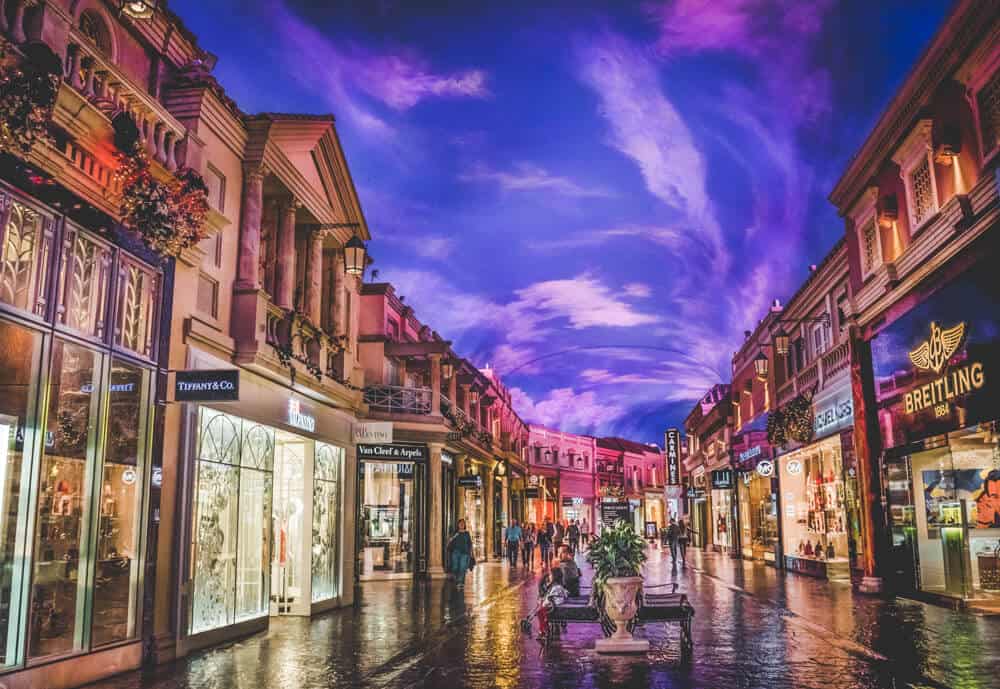 Another awesome mall off the Strip. It is attached to Caesar's Palace and the theme continues throughout the mall. There are gorgeous Roman styled fountains. My favorite is the ceiling that is painted to look like the sky.
Ride the Las Vegas Tram
The monorail costs money, but the tram doesn't. The Aria Express Tram connects various hotels along the Strip and is free to get on.
Watch the free circus show at Circus Circus
Appreciate acrobats? Jugglers? Want to watch them for free? You can at Circus Circus. Starting in the afternoon there is usually a free performance every hour.
Ethel M Chocolates and Cactus Garden
Free tour through a cactus garden and chocolate making process. Seeing the desert landscaping is cool, but the free samples of chocolate are truly great.
Watch the Mirage Volcano Erupt
You can watch this volcano erupt in front of the Mirage at night on the hour starting at 7 pm.
Relax at Lake Mead
The lake made by the Hoover Dam is named Lake Mead. It is a great spot to go waterskiing, have a picnic, or lounge on the small "beaches". Don't expect Cabo, but it is nice for less than $20.
Visit the Bellagio Gardens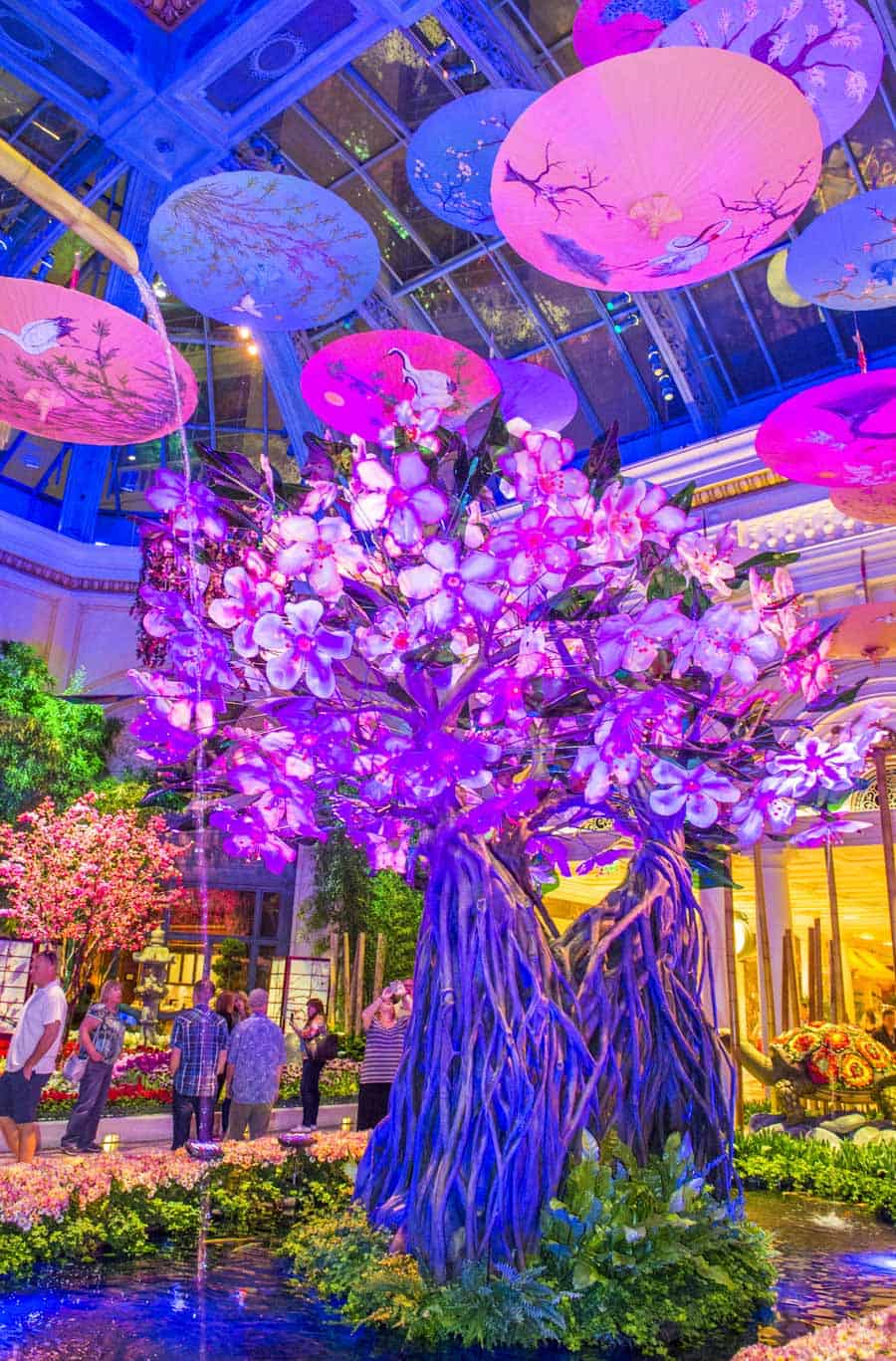 The Bellagio Gardens are another can't miss free attraction. They are constantly re-decorated for each season. My favorite is the Christmas season. I walk through it every year!
Rides on Top of the Stratosphere (Strat)
It costs $25 to go up to the top of the Stratosphere (now renamed the Strat), but even if you don't pay for any of the other rides it is exhilarating even being up that high!
Enjoy the World's Largest Chocolate Fountain (Bellagio)
Also in the Bellagio is the world's largest chocolate fountain. This was one of those joys that I didn't know I needed to see until I passed by it! Warning, it will make your mouth water.
Dive-in Movies at the Cosmopolitan Pool
Want to swim in one of the best hotel pools in Las Vegas but aren't a hotel guest? On Monday nights in the summer the Cosmopolitan plays movies on a gigantic screen that you can watch from the pool. It costs $15 to get in.
Explore Seven Magic Mountains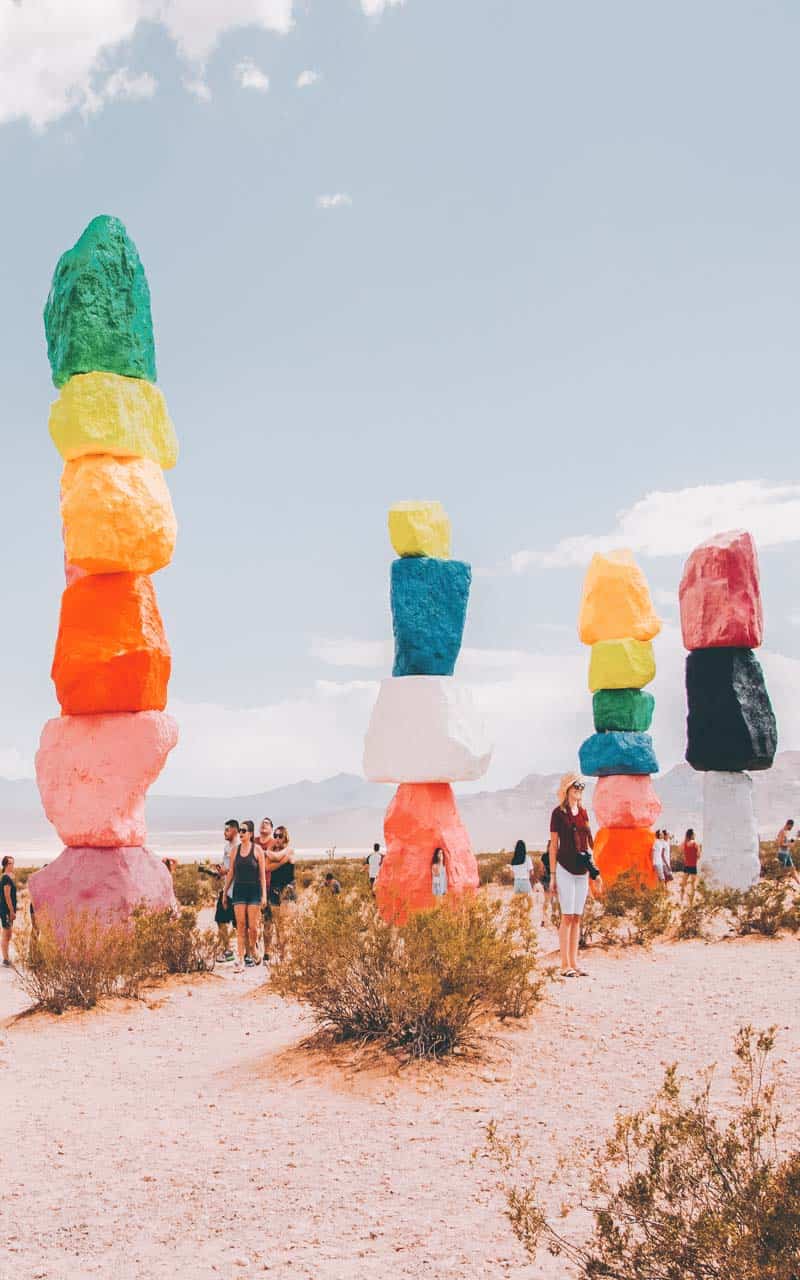 Seven Magic Mountains is modern art just south of the Strip. Yes it's just a bunch of colorful rocks in Vegas stacked on top of each other, but with the backdrop it creates a really cool effect and some of the most unique photos ever. It's also free to visit.
Street Performers on Fremont Street
Fremont Street has organized street performers. You will likely see cosplay of your favorite superhero, scandalous showgirls, contortionists, talented musicians, and many more hoping for your attention and tips.
Flamingo Wildlife Habitat
For the grand total of absolutely nothing you can visit the Flamingo Wildlife Habitat. The entire complex is over 4 acres and features waterways, waterfalls, exotic birds, and various forms of aquatic life.
Fremont Street Light Show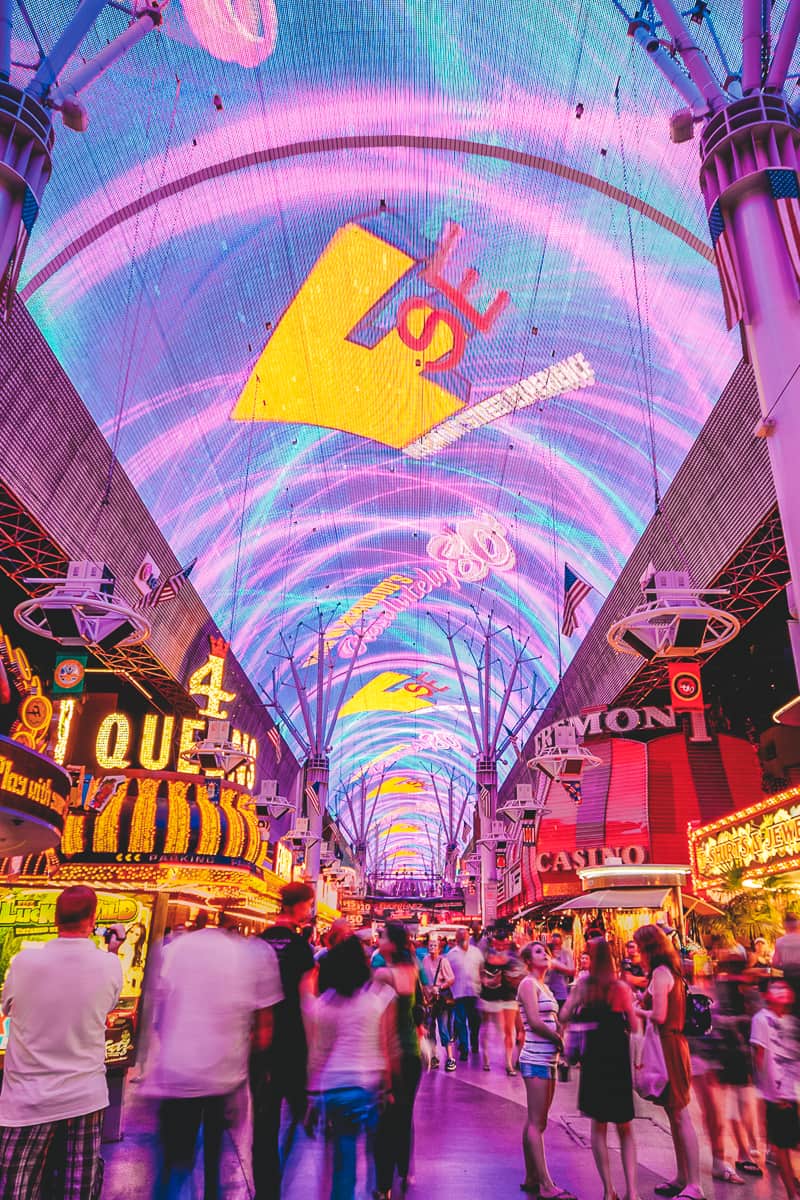 The entirety of Fremont Street has a massive screen covering it and connecting to casinos on either side. This screen is 1,375 feet long. Every hour on the hour they start a show that plays on this massive screen. This incredible light show is one of the best free things to do in Vegas.
Fremont Street Concerts
There are multiple stages as you walk along Fremont Street that feature all types of live music and dancers. On the weekends, you can get in for free and enjoy.
Feel free to stop at one of the sidewalk bars to get a drink that is going to be much cheaper than other places as well.
Neon Museum/Graveyard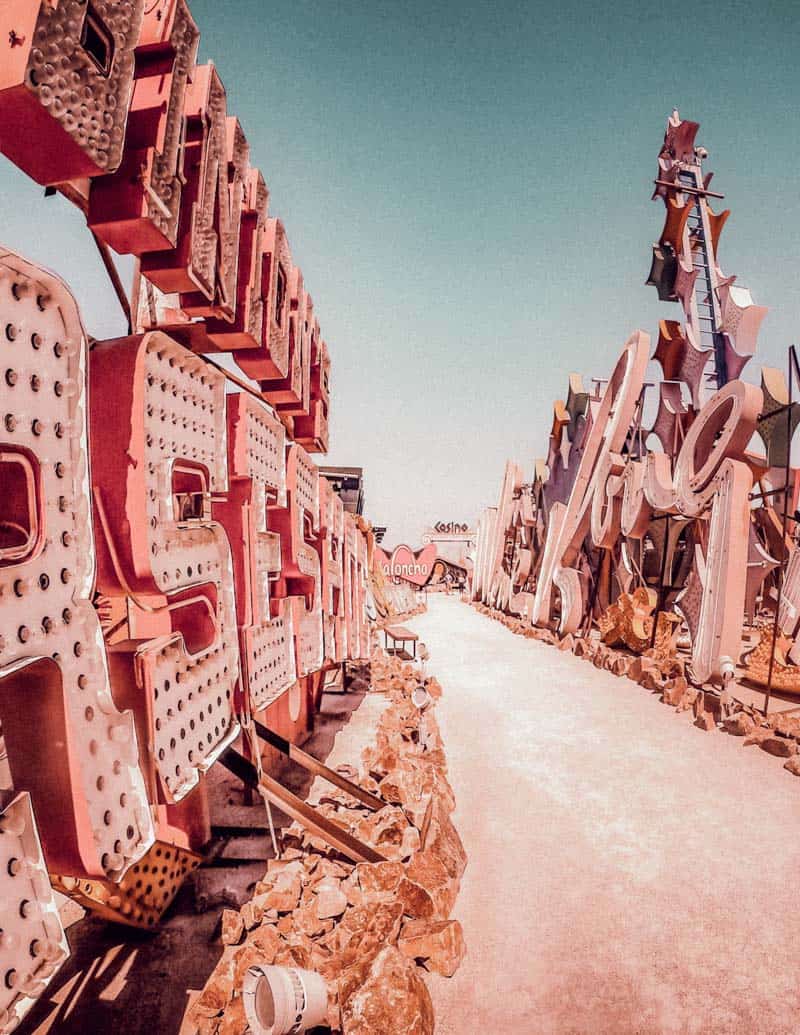 Want to see the neon lights of Vegas past? The Neon Museum is $20 to get into, but is incredibly appealing for anyone looking for a cool photo spot or that is big on Vegas history.
Aria Shopping Center
The Aria features a super unique shopping center that you can walk through. My favorite store is the blown glass art gallery/store.
See the Great Pyramid at the Luxor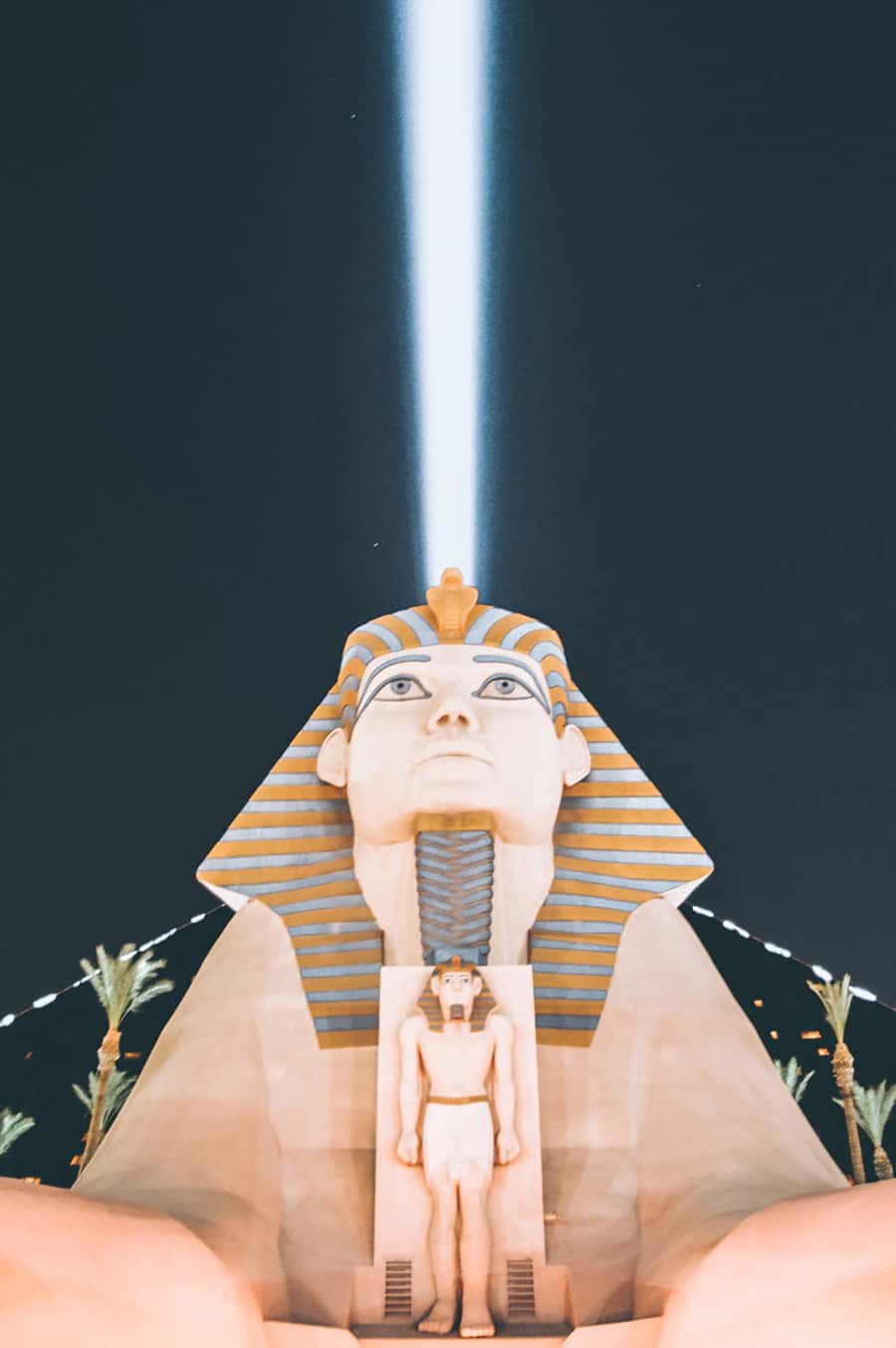 Even if you don't stay at the Luxor, the Egyptian themed hotel is cool to walk through. They carry the theme throughout the entire property. My favorite are the elevators that diagonally go up the side of the pyramid.
Bellagio Fountain Show – Best Free show in Vegas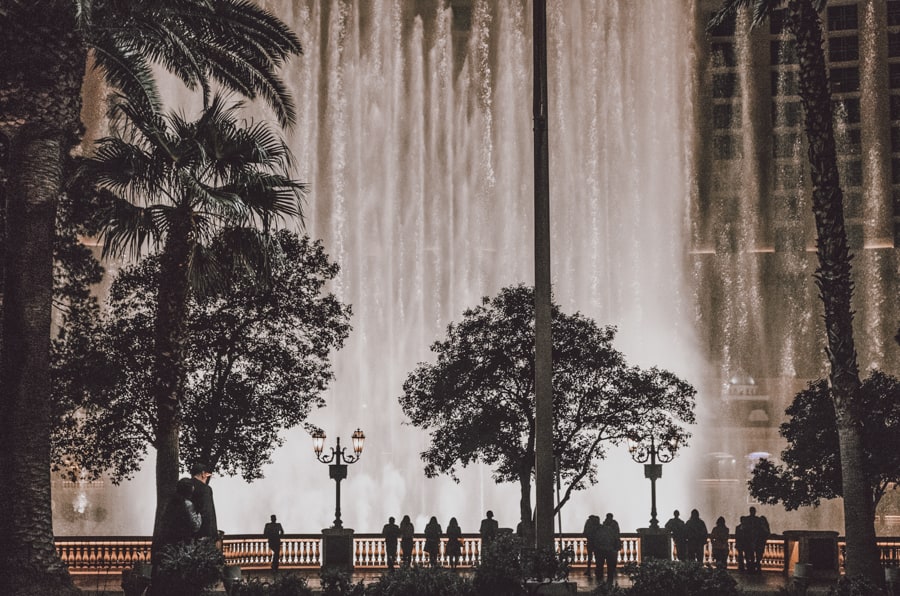 Many people think that the Bellagio Water Show is the best free show in Vegas. At night every 15 minutes this 8 acre lake rhythmically squirts water that sashays to popular music.
The effect really is quite enchanting. Even though I've seen it tons of times, I can't help but stare when I pass.
Ride the Roller Coaster at New York New York (The Big Apple)
Another themed casino is the New York New York casino. It is fun to explore how they carry this theme throughout, but my favorite is the Big Apple roller coaster ride.
Yes, it's a real roller coaster that will actually make your stomach rise. It costs about $14 if you go during the day. I highly recommend buying your tickets in advance so you can skip the line! The line can get quite long.
Lake of Dreams at the Wynn Las Vegas
This free show includes over 5,000 LED lights, a gigantic waterfall, music and enormous puppets.
Sprinkles: The cupcake ATM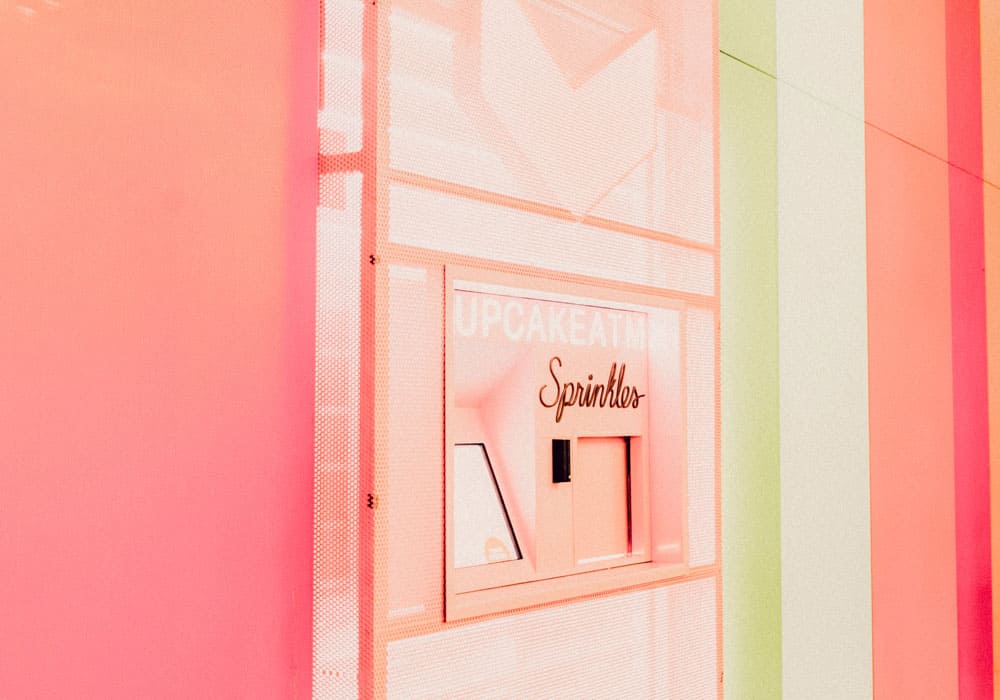 So it's really just a glorified vending machine, but come on, who doesn't love the idea of a Cupcake ATM? It is located at the Linq and is part of the Sprinkles Bakery that is famous for ice cream, cookies, and cakes!
The Linq Promenade
This outdoor attraction leads up to the gigantic Linq ferris wheel. It features shops, bars, music venues, and restaurants. It also features free live performances of musicians as well as daners.
Read more – 10 Best Things to do at the Linq Promenade
Visit the Art Installations at the Cosmopolitan Hotel
The displays are routinely changed but go by to see the modern displays.
Cowabunga Water Park
This water park is $40. While that does seem expensive, when it is 110 degrees outside that may feel like a bargain to be able to escape into a lazy river, down a slide, or into a wave pool.
Street Performers on the Strip
You can find a lot of the same street performers on the Strip as well as downtown Las Vegas. They are most commonly in front of the Ballagio, though the ones downtown are less tame.
The Aquarium at The Silverton Hotel
Yes, they set this over 117,000 gallon aquarium up to serve as a free show! Aside from being able to see all kinds of unique aquatic life, check the show time to see real live mermaids! Yes, you read that correctly.
Outlet Malls
Looking for big discounts? There are two different outlet malls in Las Vegas where you can find designer goods at slashed prices. They are the Las Vegas Premium Outlet Malls named North and South.
Visit Hoover Dam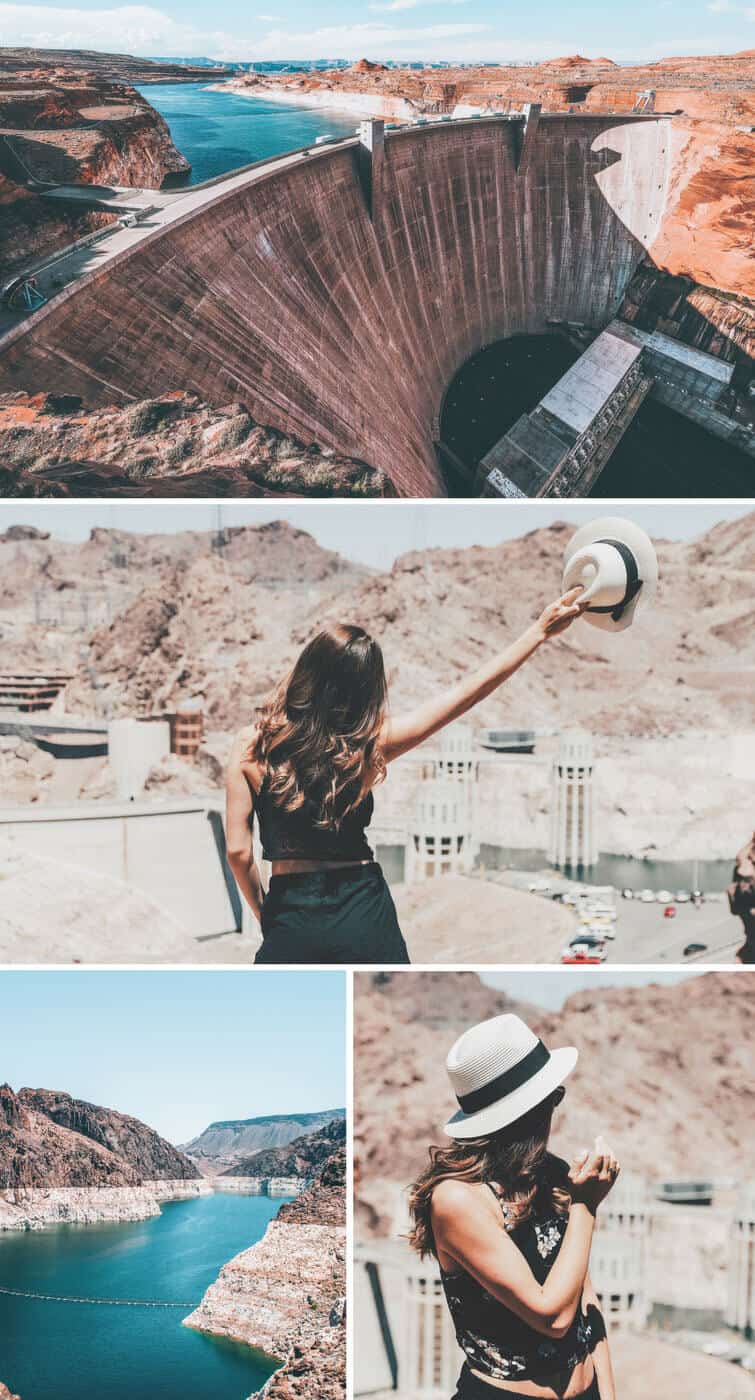 It may sound lame to go see a dam that serves as the border between Nevada and Arizona, but trust me. The dam is massive and is super impressive to look at.
If you really like it you can pay for the tour, but even just walking across it for free is enjoyable.
Visit the Container Park
The Container Park was created by the founder of Zappos. The mission of the container park is to recycle shipping containers. You will see tons of shipping containers repurposed as restaurants, stores, and even a stage where you can enjoy free concerts.
Mob Museuem
History buff? If yes, you have to visit the Mob Museum to see the connections between Las Vegas and organized crime. It costs $29, but if you are interested in Vegas' dirty history you cannot miss it.
Take Selfies in front of the Welcome to Las Vegas Sign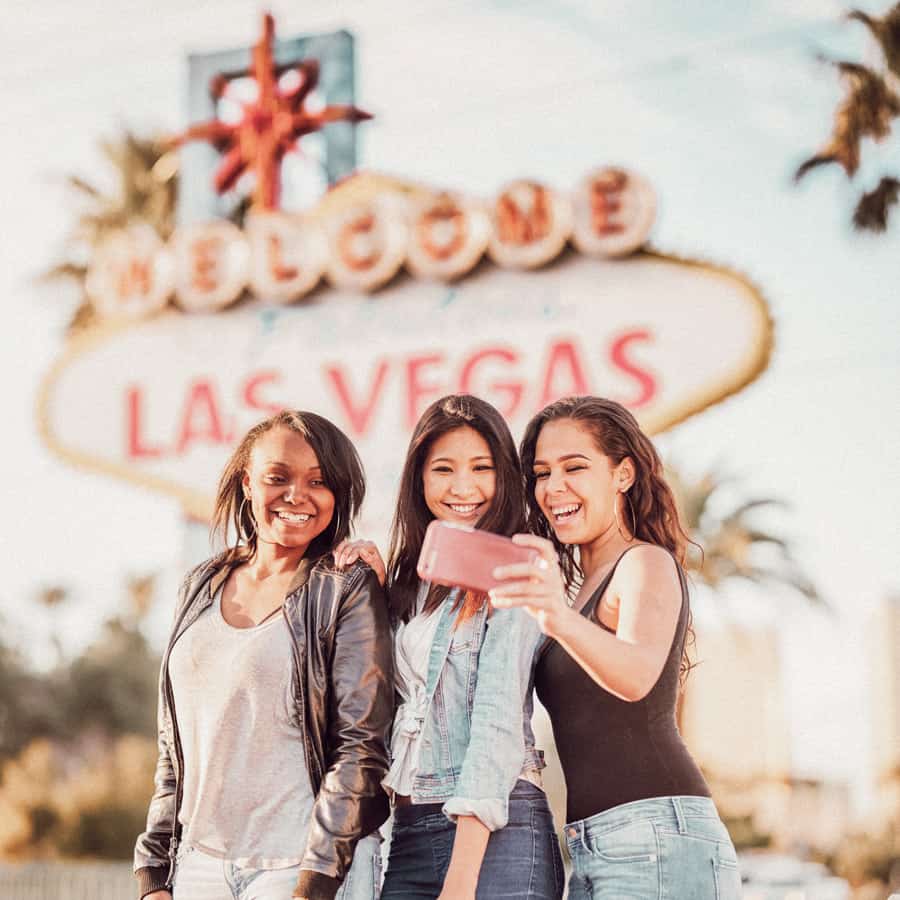 This free attraction is a rite of passage. Everyone has to stop by the Welcome to Las Vegas sign to take a picture. It is located at the south end of the Strip by the airport.
Relax by your hotel pool (or another hotel pool)
A swimming pool in Vegas is not like your backyard. They often feature swim up bars, live music, and gambling. You do not have to be a hotel guest to be able to get into a lot of the best pools.
You can pay a daytime entrance fee to get in instead. One of my favorites is Mandalay Beach at Mandalay Bay. Their man made beach is a ton of fun!, The last time I went it cost $25 to get in.
Red Rock Canyon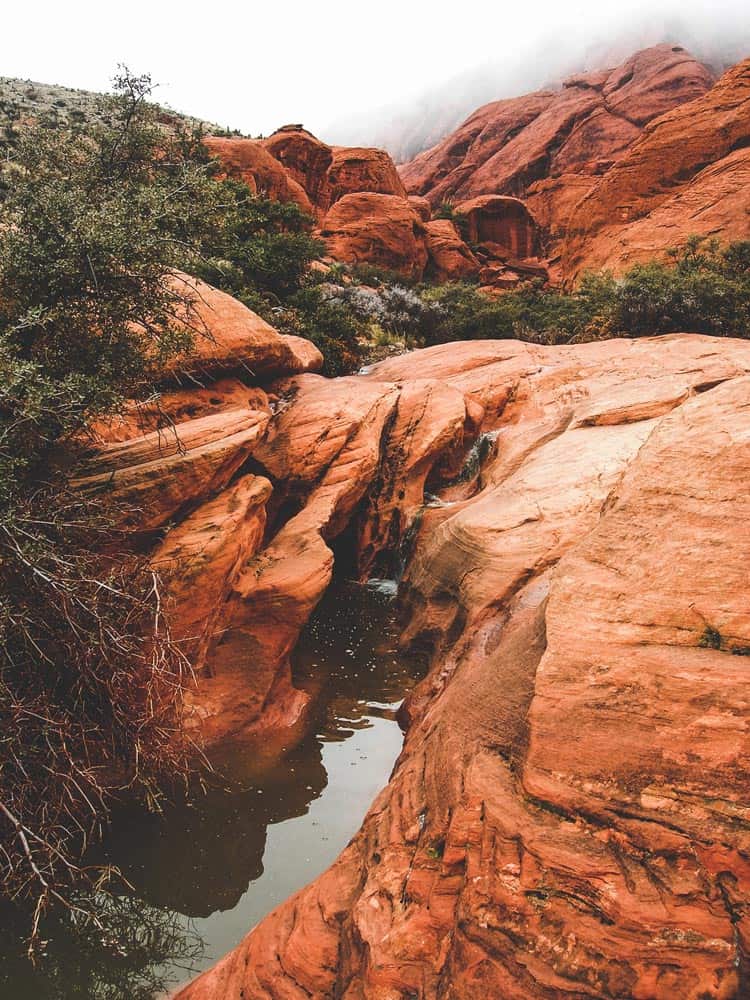 A gorgeous canyon of red rock is so close to the Strip. With only a 20 minute drive you can escape the Strip and tour Red Rock Canyon.
Pro-tip, go and visit Calico Basin in Red Rock Canyon. You don't even have to pay the park admission fee to get into this part!
Shark Reef Aquarium at Mandalay Bay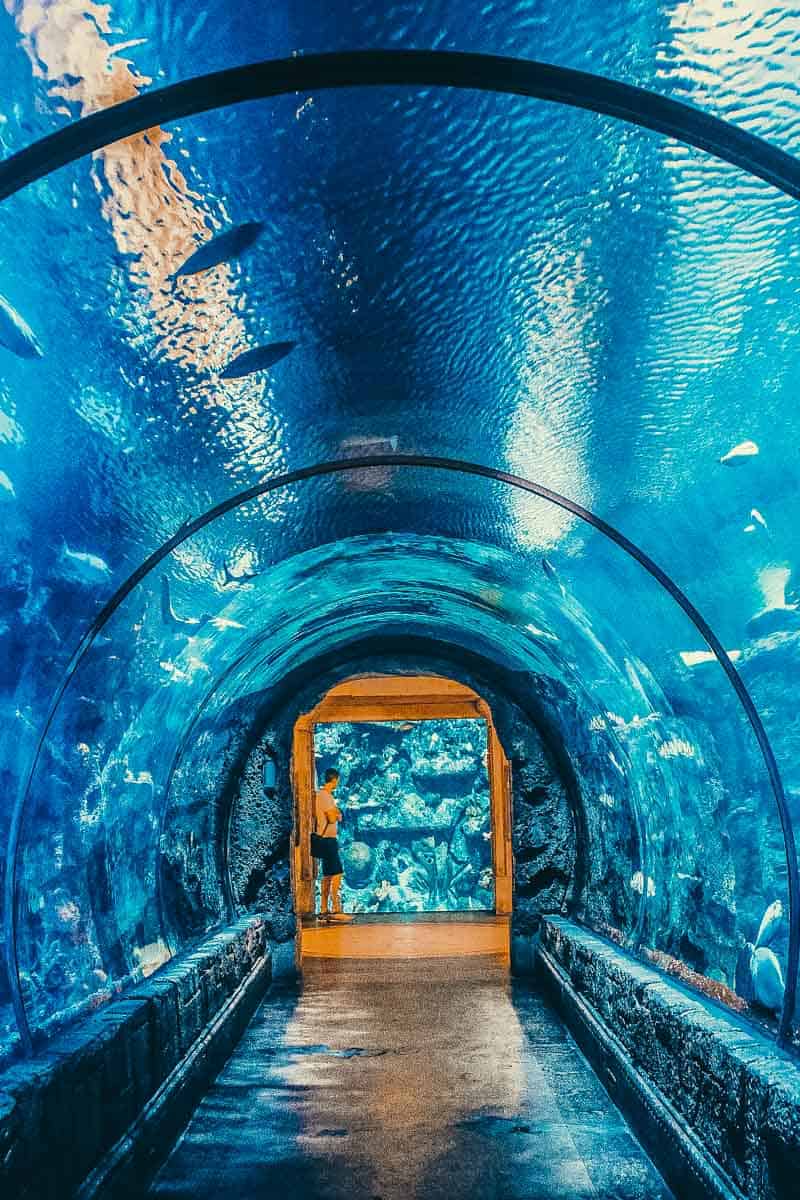 While it does cost around $25 to get into this aquarium, I do think it is still worth it.
It is ideal for families. You will see all types of exotic sea life and even have the option to touch various creatures as well as watch a shark feed.
It's about $25 to get in, but if you pre-buy it is usually cheaper. Pre-buy Shark Reef Aquarium Entry Ticket at Mandalay Bay tickets.
Symphony Park Colorful Pipe Dream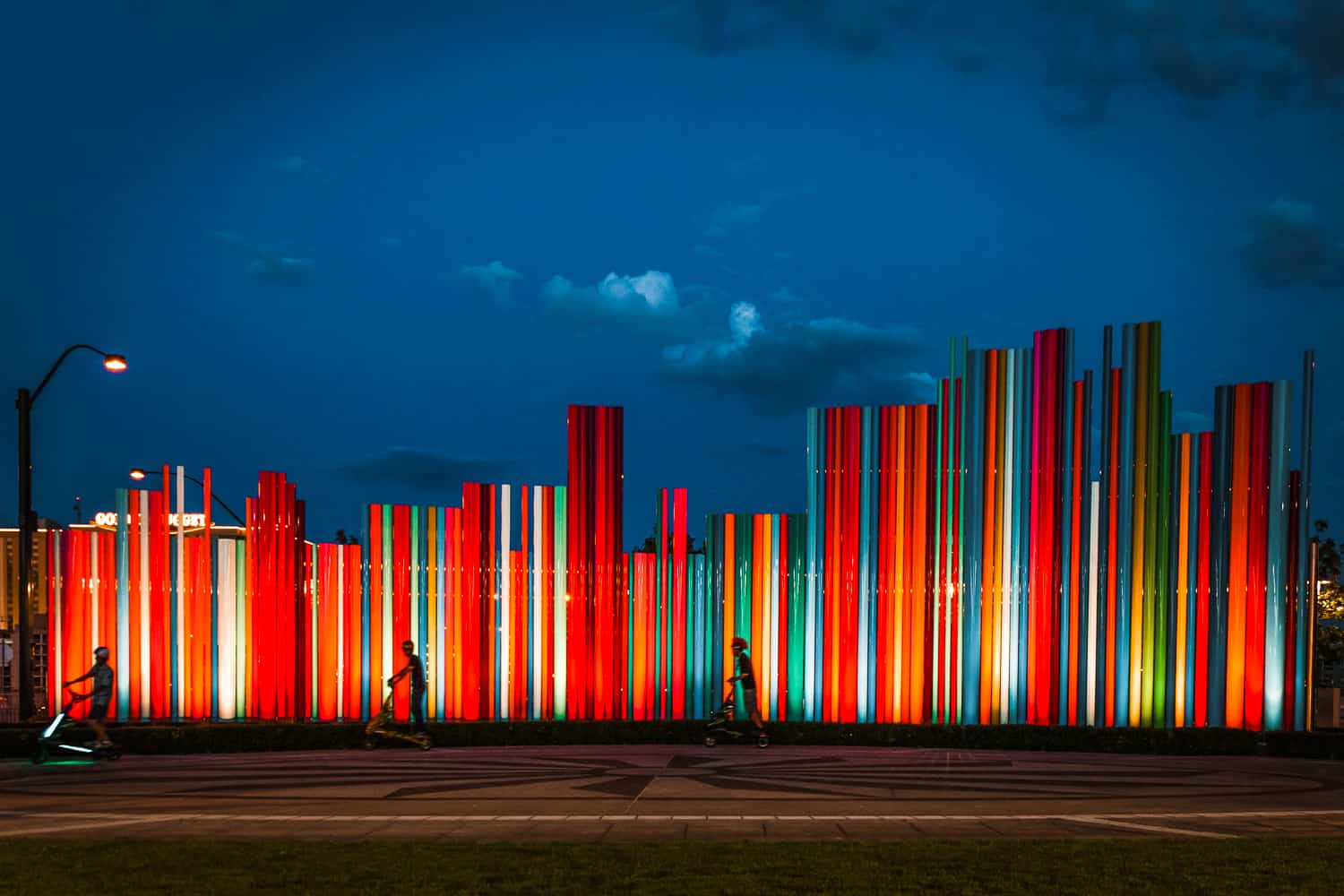 View the Symphony Park Pipe Sculpture for free. It is located just off the side of the road a little ways down from Fremont Street.
What would you add to the list of cheap things to do in Vegas? Let us know in the comments below!
More posts on Las Vegas:
I lived in Las Vegas for almost 10 years and loved it there! Here are a few of our most popular Las Vegas posts that will help you plan your trip.