Electric Beach Oahu
Electric beach at the Kahe Point Beach Park is my favorite place of all the snorkeling spots Oahu offers!
There really are a lot of great snorkeling beaches in Oahu, but the combination of the awesome sea creatures, ease of access, lack of crowds (comparatively speaking), and the site being beginner friendly make it truly special.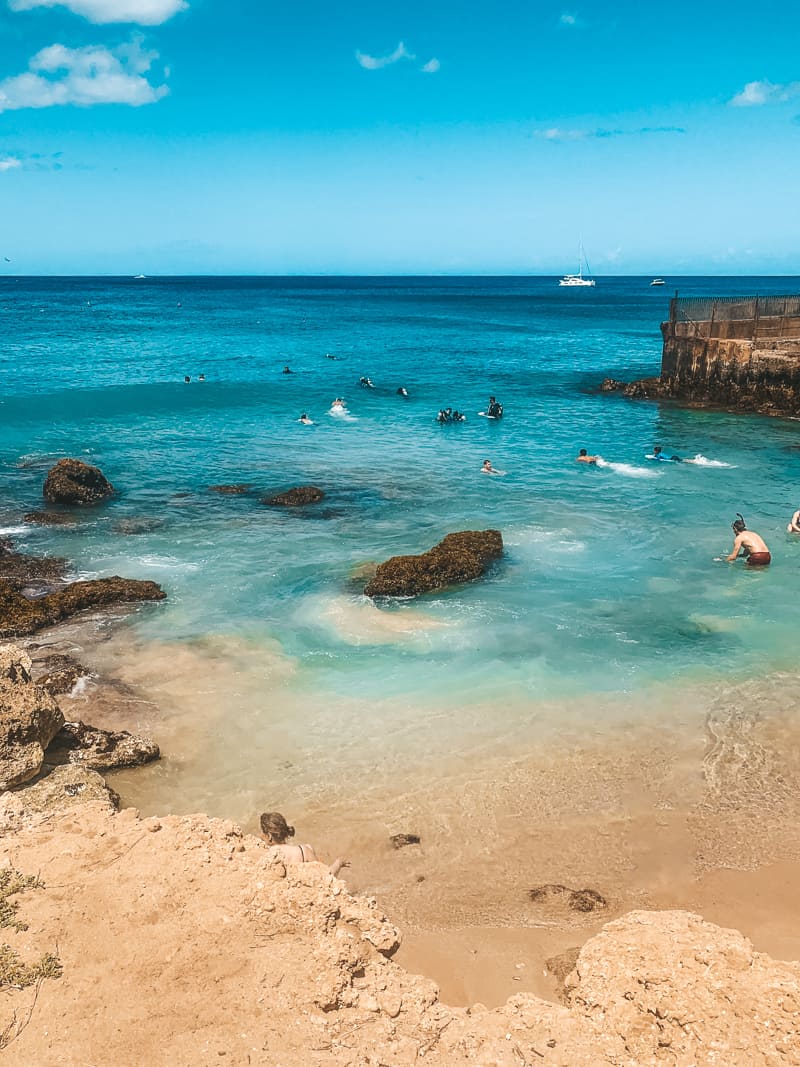 Why is it called the Electric Beach Oahu?
The Electric Beach Oahu offers earned its name due to its immediate proximity to a power plant. Supposedly, this power plant discharges hot water into the ocean (I've been assured it's pure water and not toxic runoff in any way). The warmer water actually attracts a unique variety of sea life that would otherwise not be gathered in a single location.
It really is bizarre to see the contrast of the perfect nature scene with gigantic concrete smokestacks.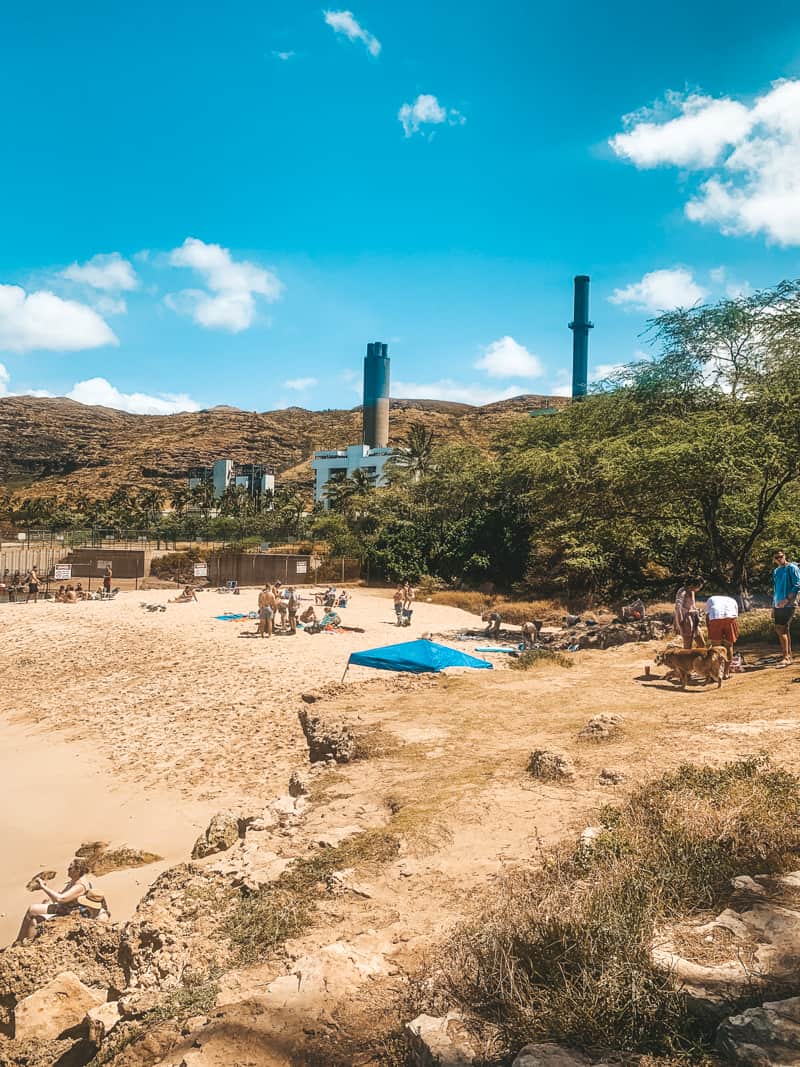 Electric Beach Hawaii Location
Electric Beach Oahu is on the west side of the island. It is about a 40 minute drive from Waikiki. On the drive from Waikiki you have to go through Honolulu, so beware that there could be traffic that slows you down.
The west side of the island is generally not as developed, and is the leeward (dryer) side of the island. That being said, it's still Hawaii so there are going to be visitors all over the area as well.
Kahe Point Beach Park
The Kahe Point Beach Park is right next to the Electric Beach snorkeling spot. You can park at either and make your way to the beach to swim out to the reefs.
Other Nearby Attractions
Even though the west side of Oahu does not have as many big resorts, it now features the new Disney Aulani Resort. It is just south of this Honolulu snorkeling hotspot.
The area is very close to the secret Mermaid Caves that not very many people know about. I highly recommend including a stop here while you are in the area.
Read more about how to get to the Mermaid Caves here.
Parking
When looking at the best beaches in Oahu for snorkeling you have to consider parking. Unfortunately it just gets expensive or difficult at a lot of the other spots.
It may sound silly, but the parking situation helps make the Electric Beach the best snorkeling in Oahu. A huge benefit is that there are spots in an accompanying parking lot, and even when it fills up there are additional parking spots along the railroad tracks just off the main highway.
I went on a Saturday afternoon and even though the lot was full, there were tons of available spots along the tracks just off of the main road.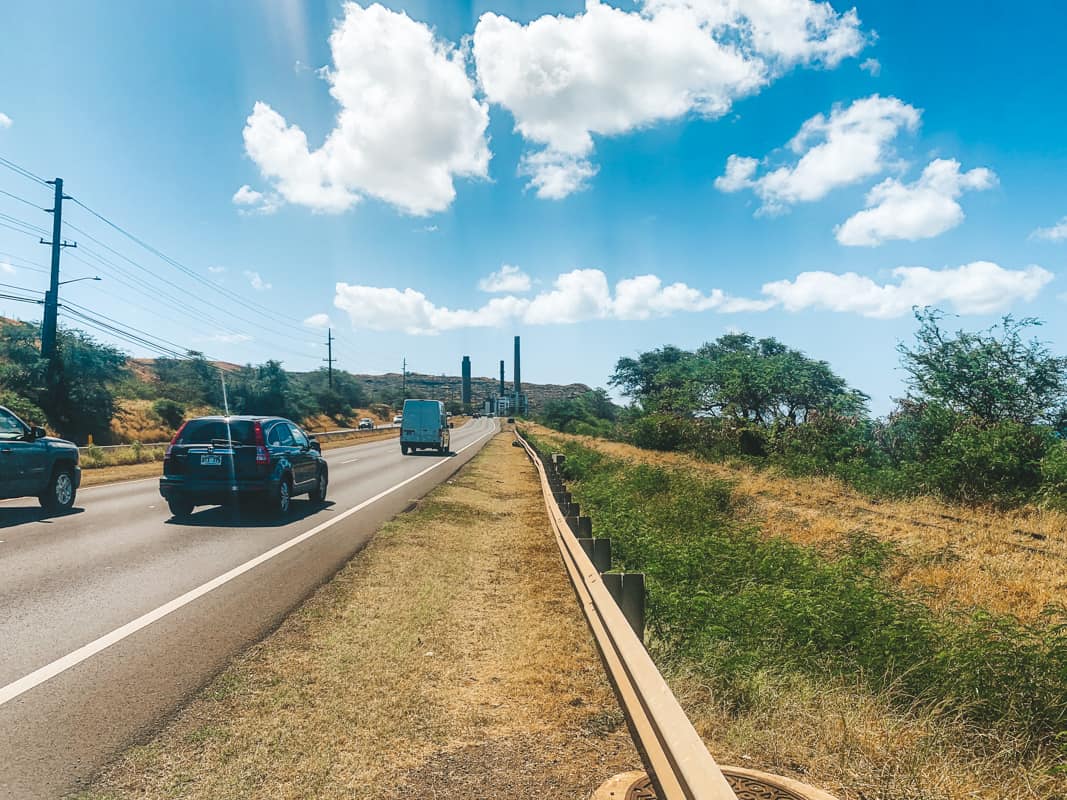 Best Snorkeling Oahu Offers? Hanauma Bay or Electric Beach?
Trying to find the best snorkeling Oahu offers? I've snorkeled at each of these amazing snorkel spots and realistically, you can't go wrong either way. Both sites are some of the best snorkeling beaches Oahu has and are packed with gorgeous reefs and sea life.
The reefs at Hanauma Bay are bigger and closer to the shore. This means that they are ultimately easier to access. This is a huge advantage if you have kids who you want to snorkeling. The Oahu Electric Beach snorkeling requires a short swim out from the shore to get to the best action.
While the proximity of the reefs to the shore is better at Hanauma Bay, there are a lot of other difficulties that make it much less convenient.
If you aren't taking kids I ultimately recommend Electric Beach Hawaii because you get to see the same type of animals, it is easier to access, less crowded, and free.
POST COVID 2022 Hanauma Bay Update
To get into Hanauma Bay you need a reservation. There are a finite number of slots at various times released each day, and they sell out really quick.
Even if you can get a reservation it costs $25 per person. Once there, you have to watch a 10 minute safety video, though this really isn't bad.
You can read more about the Hanauma Bay booking process here.
How to Access
From the parking lot you will walk a very short distance to the right (about 100 feet). You will soon see a small cove and a mini beach. You've now arrived at the beach access for some of the best snorkeling in Oahu.
You need to swim out about 50 yards. When I was there it was easy to tell where the most vibrant reefs were since there were a few people circling in the area. This was one instance where the other people were actually helpful.
Though I'm not the strongest swimmer, it was relatively easy for me to complete the swim. Some of the best beaches in Oahu for snorkeling require difficult swims and thankfully it wasn't the case here, but remember that currents are always changing so be careful.
Conclusion: Best Snorkeling in Oahu
When considering the Best places to snorkel in Oahu, you can't just consider the sea life. You have to take ease of access, crowds, and cost into account.
When taking everything into account As I've already said, the Oahu Electric Beach is my favorite snorkel spot.
Benefits
Extra sea life drawn to the uniquely warm waters
No reservations required
Free
Ample parking
Drawbacks
Requires a short swim from shore to the reefs
Very small beach – not a lot of lounge space
Odd to snorkel in the shadow of a giant power plant
No lifeguards on duty
What to pack for Oahu
Quick Dry Travel Towel – This quick dry towel is amazing to travel with. We honestly usually travel with 2 of them. It really will come in handy when you need extra room in your suitcase.
Sandals – LOVE these Tevas sandals. You can actually hike in them which is perfect for hawaii if you don't want to bother with hiking boots.
Hiking Boots – The hikes in Hawaii are MUDDY. Make sure to pack a nice pair of waterproof hiking boots so trekking through the mud and puddles doesn't make you miserable. Nothing worse than wet socks. These are my favorite hiking boots. They are cute and comfortable. I never go hiking without them! Buy them from DSW here.
Tank tops – Free people is my go to place to buy cute and affordable tank tops (Depending on the style of course). I have this tighten up tank in almost every color.
Shorts – Anyone who is traveling to Hawaii needs a good pair of shorts. Khakis are great for guys. For women, cute athletic shorts or denim shorts are perfect for a breezy summertime look.
Dresses for Hawaii – Packing a few good dresses is essential for Hawaii. Dresses have become my go to on trips to help quickly put an outfit together.
Tennis Shoes – I guess you could wear sandals hiking this trail but I would recommend tennis shoes. It can get narrow and slippery in parts. I never go anywhere without my white Air force ones. They are the most versatile shoe I own.
Beach cover-up – Having at least one good cover-up is essential on any beach trip. Amazon actually has amazing ones at really affordable prices. If you aren't a fan of buying clothes off Amazon I recommend ASOS, Nordstrom and Revolve as well.
Snorkeling gear – for obvious reasons.
Camera Gear – The iPhone 13 Pro is amazing and probably all that most people need. BUT, if you want something more I can't recommend the Sony A7IV mirrorless camera enough. It is AMAZING. If you are more into video than taking photos I recommend the Sony A7SIII or the Canon R5 for you Canon lovers.
Travel tripod – This Peak Design travel tripod is the best I have ever used. It is so easy to carry around because it is literally the size of a water bottle. Fits perfectly in a backpack. I have never seen a tripod so compact. It's life changing. You can check it out here if you're interested. Note – It isn't cheap, but that's why I bought it from backcountry.com. They frequently have 15% off sales so I was luckily able to purchase during a sale.
Planning a trip to Oahu? Read more of our Oahu blog posts below!
My husband and I have been to Oahu many times and have written up more blog posts to help you plan your trip. These are my most popular blog posts and Hawaii travel guides to help you plan your trip.
Best Things to do in Oahu
Oahu Beaches
Best Cliff Jumping in Oahu
Best Snorkeling in Oahu
Best Hikes on Oahu
More Hawaii Blog posts:
Booking Hotels: Booking.com offers the best pricing worldwide. | Booking
Rental Cars: When we rent a car while traveling, we routinely use Rental Cars for best value and most options | Rental Cars