Waimea Bay Cliff Jumping
Mountain volcanos jutting out of the Pacific Ocean help make Hawaii an awesome tropical paradise. They also help create some amazing Oahu cliff jumping opportunities.
There are lots of spots where you can go cliff jumping in Hawaii. Some of them are small while others are scary and intense.
One of the best places that provides a thrill but isn't sketchy like some of the others is Waimea Bay Cliff Jumping.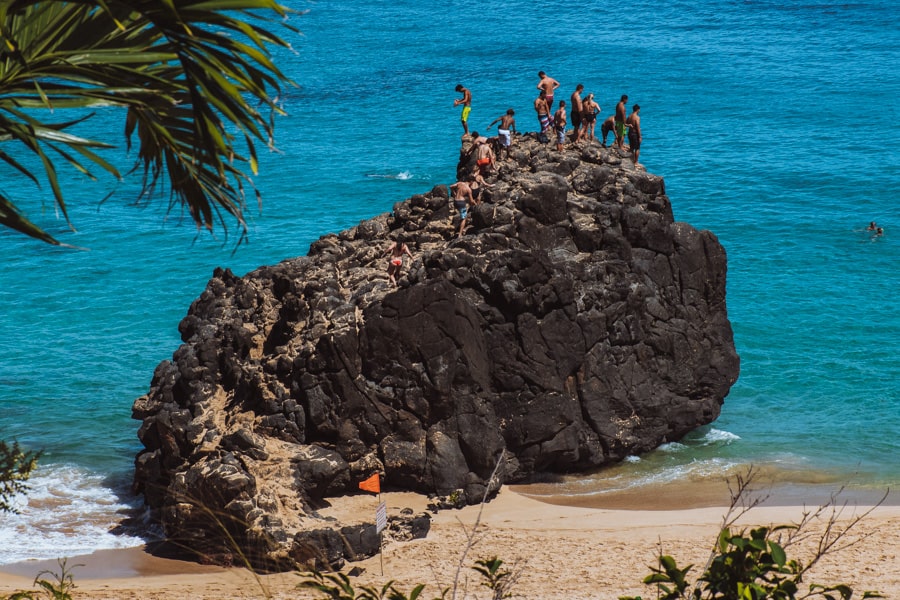 Safety Precautions When Cliff Jumping In Hawaii
There are a few safety precautions that you HAVE TO take when cliff jumping in Hawaii. First off, you must make sure the water is deep enough where you are going to enter it. I don't think I have to explain what terrible things could happen if you land on rocks.
Not only do you need to make sure that the water is deep enough, but you need to make sure the water is calm enough to allow you to ultimately get out of it. Some of the Oahu cliff jumping spots have huge waves that crash so hard that you could get tossed into the rocks over and over again.
Obviously I'm not an expert on safety. Just because it was safe to jump when I did doesn't mean you should. If there are signs saying not to or conditions look sketchy, don't jump.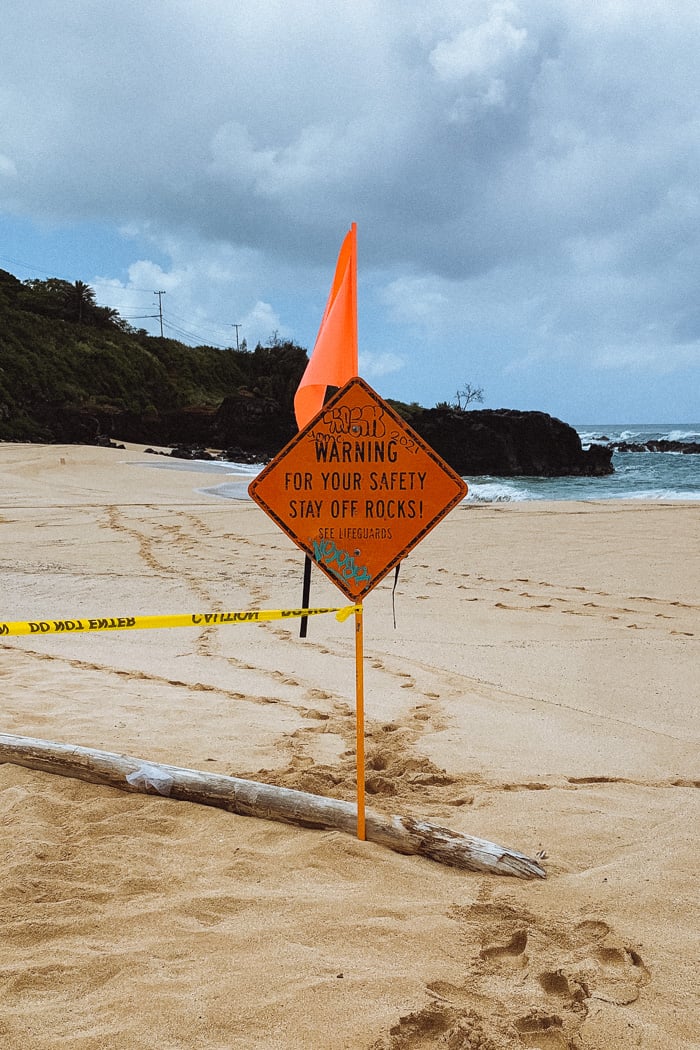 Waimea Bay Rock Jump
The cliff jump is off the side of a gigantic rock that is sitting in the middle of the Waimea Bay Beach. Seriously, it looks a bizarre look to see a massive rock plopped in the middle of the beach. It is a ton of fun to climb to the top and dive into the water.
What I love about the Waimea Bay rock jump is that it is one of the cliff jumping spots where I felt the safest. This doesn't mean that the jump is the lowest. The combination of many others jumping, the visible landing and water depth, and a bay that generally keeps the intense waves out helped make me feel comfortable.
I've been there three different times and the first two times there were tons of people jumping. The third time no one was jumping because the waves were too intense and people worried they wouldn't be able to safely get out of the water.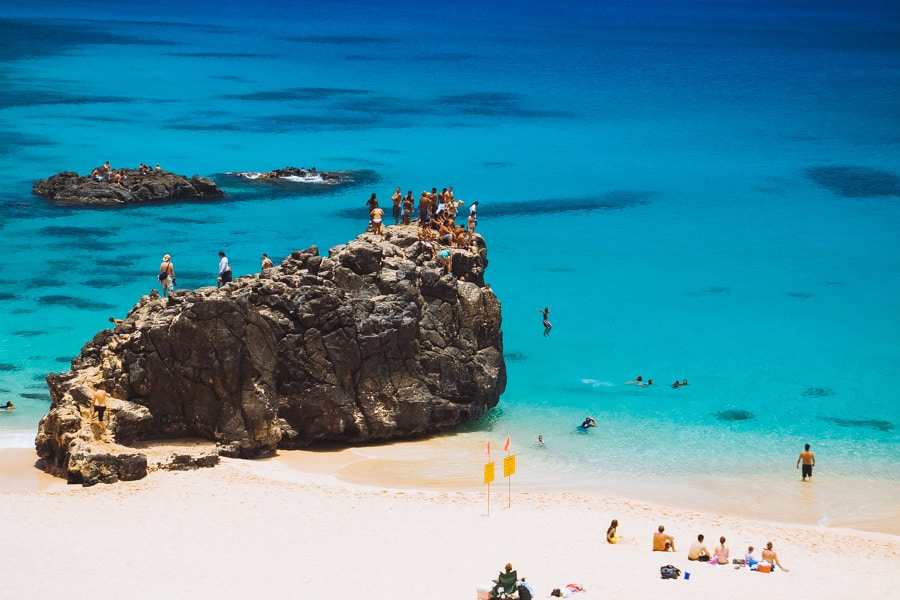 Waimea Bay Cliff Jump Height
The Waimea cliff jump is about 30 feet. While this isn't as high as some of the others, it was enough to make my stomach a little bit queasy.
Waimea Rock Jump Location
The Waimea rock jump is located in the middle of the Waimea Beach Park on the North Shore of Oahu. Without any traffic it is about a 30 minute drive from Waikiki.
That being said, you should plan extra time for your drive since you are very likely to encounter traffic.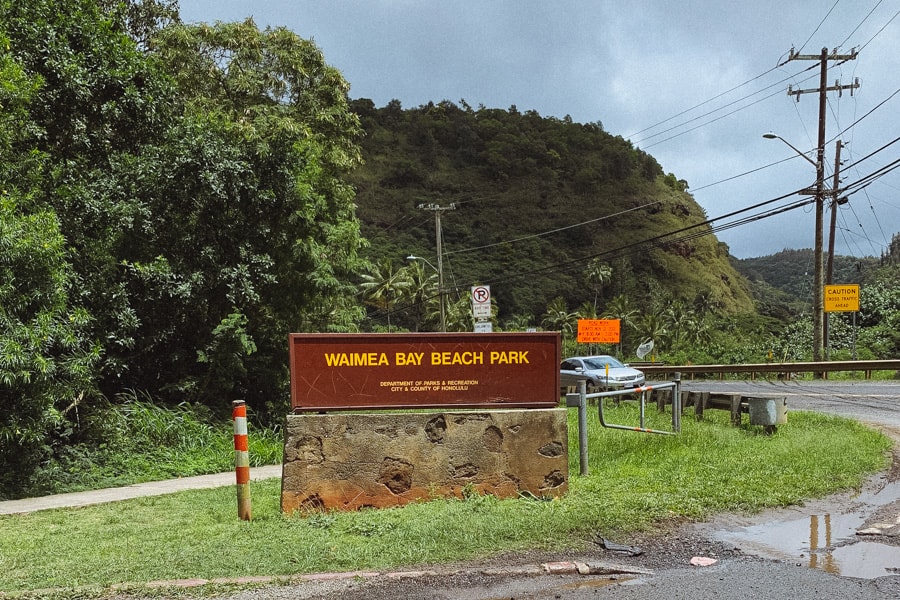 Waimea Bay Beach Park vs Waimea Valley
It is worth noting that Waimea Bay Beach Park is different from Waimea Valley. They are right across the street from each other, but Waimea Valley is a botanical garden, hike, and waterfall swim spot.
Previously you could jump off of a small cliff at Waimea Valley, but they no longer allow it. The Waimea Bay rock is now the only place in the area that you are allowed to jump from.
Waimea Bay Beach Park Facilities
There are restrooms, a picnic area, and even a sand volleyball court for you to enjoy.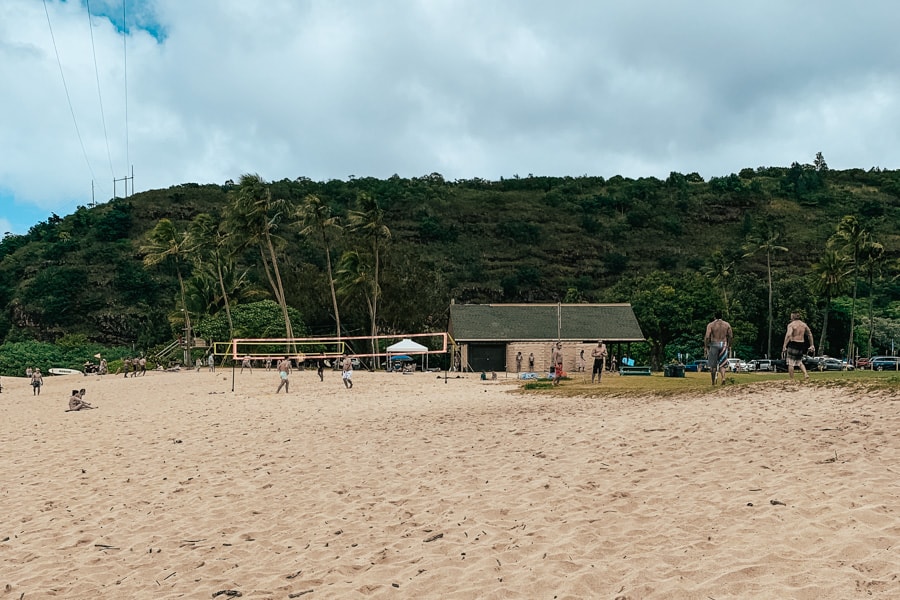 Parking at the Waimea Rock Jump
Full disclosure, parking at the Waimea Beach Park sucks! There are more people that want to go there than there are parking spots for. You can park along the road before you get there (when coming from Honolulu) so start looking as soon as you get close.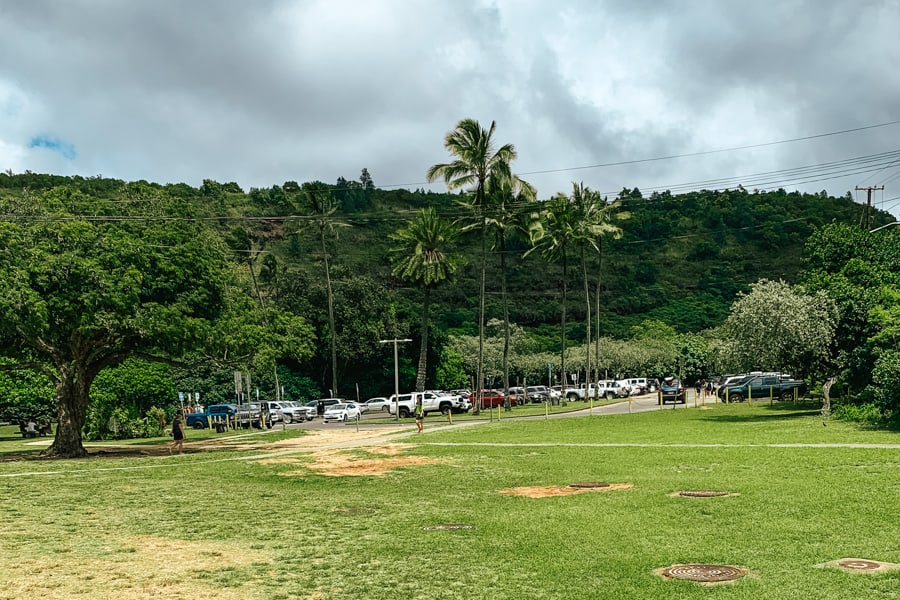 Conclusion: A Great Place to Start Oahu Cliff Jumping
I love the cliff jumping that Oahu offers. The Waimea Bay jump rock is the perfect location to get a taste of what it's like without being too extreme!