Planning a trip to Las Vegas? You definitely should.
When coming to Vegas most people have their night plans basically figured out. Most people want to see a show, gamble, and go to a nightclub. You may wonder though, what fun things are there to do during the day?
Most people think the only fun things you can do in Vegas during the day are to sleep in and nurse a hangover. Given the type of partying that lots of people do in Vegas, this may be a good idea, but for the rest of us there are a ton of other fun things to do during the day.
Vegas is known for being a 24 hour city, and when they say 24 hours a day, they don't just mean through the night.
Keep reading to find the best things to do in Las Vegas during the day.
10 Best Things to do During the Day in Las Vegas
1. Party at the Vegas Day Clubs
Yes, this exactly what you are thinking… pool day clubs in Las Vegas are just like nightclubs, except you go during the day and hang out in and around a pool. Pool day clubs in Las Vegas are extremely popular.
DJs play music, people dance, but most people will just mingle in the pool, lounge in a cabana, and order drinks from a regular or swim up bar.
While this isn't really my scene, casinos compete to throw the best parties at their pool.
Some of the wildest pool clubs are Drai's (located in The Cromwell Las Vegas Hotel & Casino), Tao (located in the Venetian Hotel), and Wet Republic (located in the MGM Grand Hotel).
There are also slower paced pool parties that can be great for relaxing. I always love the Golden Nugget's pool with a water slide going through a shark tank, or Mandalay Bay's man made beach and lazy river.
Heading to Vegas for the first time? Check out our Las Vegas tips and must do's for first timers.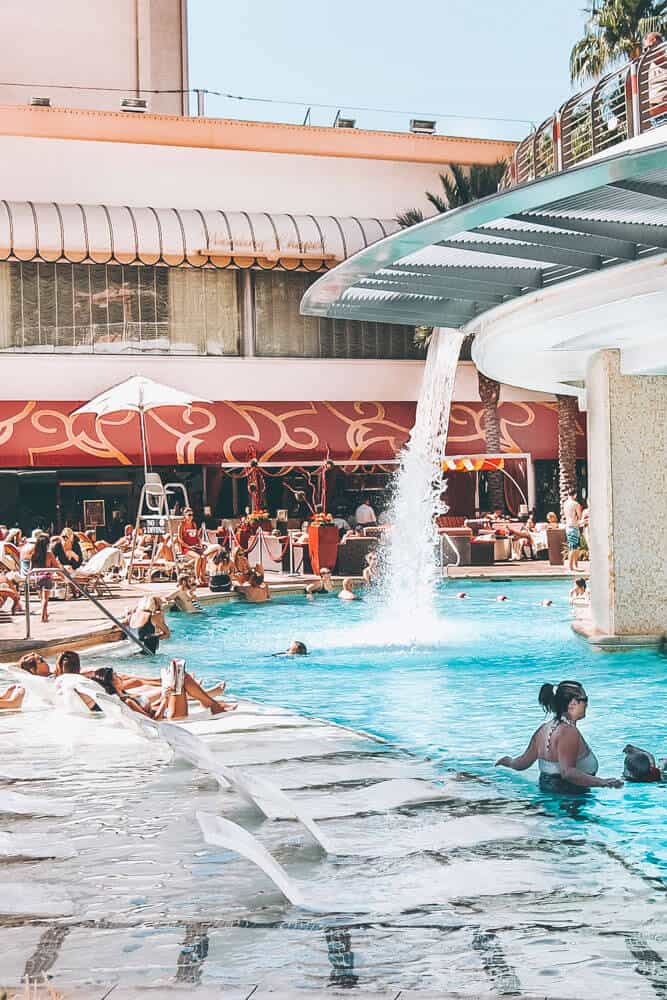 2. Pawn Stars Las Vegas
Fan of the TV show Pawn Stars? Want to see if you can meet Chumlee and the gang? Interested in checking out some of the products from the show?
If you are a superfan and want to check out the Pawn Stars Las Vegas tour, and be guaranteed to meet one of the stars, you can book a VIP tour here.
The Pawn Stars Las Vegas address is 713 S Las Vegas Blvd, Las Vegas, NV.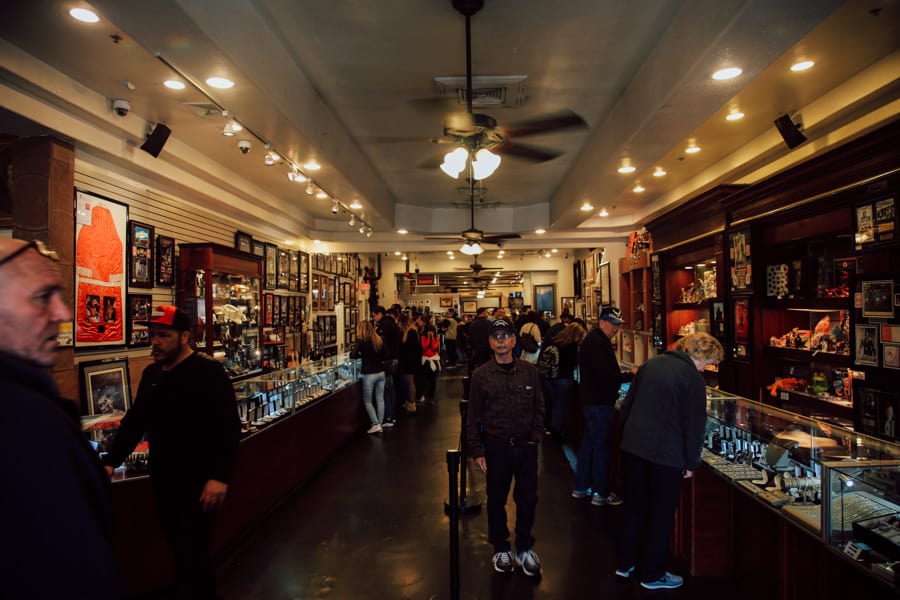 3. Take a Helicopter Tour to the Grand Canyon
First off yes, the Grand Canyon is relatively close to Las Vegas. If you drive, it will take you about 4 hours to get there. Long drives suck though, even though seeing the Grand Canyon is actually worth it.
Rather than braving the desert drive though, how about you take a 40 minute helicopter ride instead! It's amazing to transition from fancy casino buildings to the natural wonder of the Grand Canyon.
Seriously, one of the best things to do in Vegas during the day is taking a helicopter tour from Las Vegas to the Grand Canyon! One tour operator I recommend is the Grand Canyon Deluxe Helicopter tours. It is one of the most popular and highest rated options. Definitely worth checking out.
Check out this page for more details.
If you want a Helicopter tour that is slightly more romantic and "boujee" I highly recommend checking out the Grand Canyon Helicopter Tour with Champagne & a light picnic. What more could you ask for?!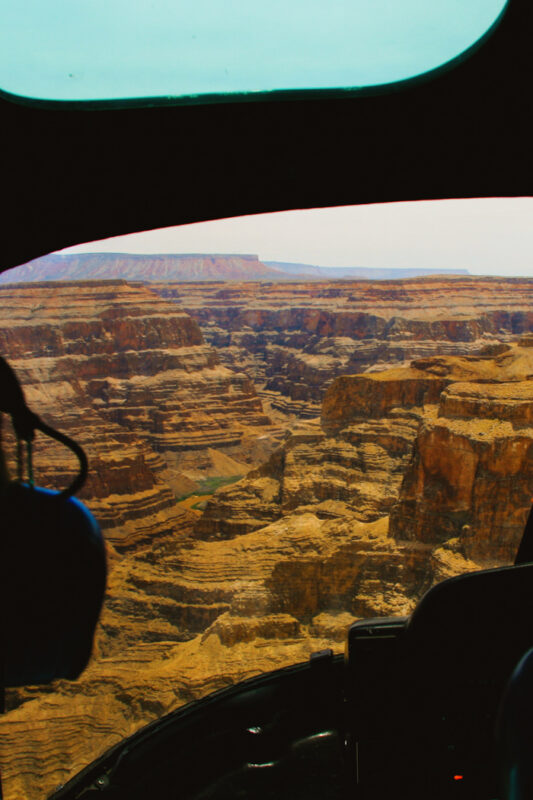 Grand Canyon Helicopter tour from Las Vegas
4. Exotics Racing/Race car driving Experience
Want to own a Ferrari? Lamborghini? Aston Martin? Porsche? How about at least race around in one of them for a day? At Exotics Racing you can literally you can go to racing school where you learn to drive these amazing machines to their limits. Packages are shockingly affordable; if you are into fancy cars you have to check it out here.
Book your tour: Two Hour Exotic Car Driving Experience Package in Las Vegas
Tip – If you have already been to Vegas or are planning a trip here you may also want to check out 19 Unique Things to do in Las Vegas. It will give you some ideas of what to do and see in Vegas I promise you have never heard of before!
5. Shopping
For a shopaholic Vegas is probably not a safe space! There are tons of shopping malls with every kind of store imaginable. There are multiple high end shopping malls to extremely affordable outlet malls.
You can't help but find cheap shopping in Las Vegas as you canvas the Strip. My favorites are the Forum Shops (located inside Caesars Palace) and Fashion Show Mall.
To get a little more detailed here Fashion Show Mall has pretty much every store you can ever dream of. The location is right off the strip and you can shop stores like Zara, Topshop (yes, Topshop!!), Lululemon and pretty much the largest multilevelForever 21 I have ever seen.
I am not ashamed to say I have had to make multiple trips to the dressing room in one visit because I couldn't even carry all of the clothes I wanted to try on.
You may want to leave your husbands in the casino for this one. You may be a while.
If you are looking to shop the largest H&M store I have ever seen (it is pure gold) then that one is in Caesars Palace Hotel & Casino. You can thank me later.
Related: The 5 Best Hotels in Las Vegas You Have to See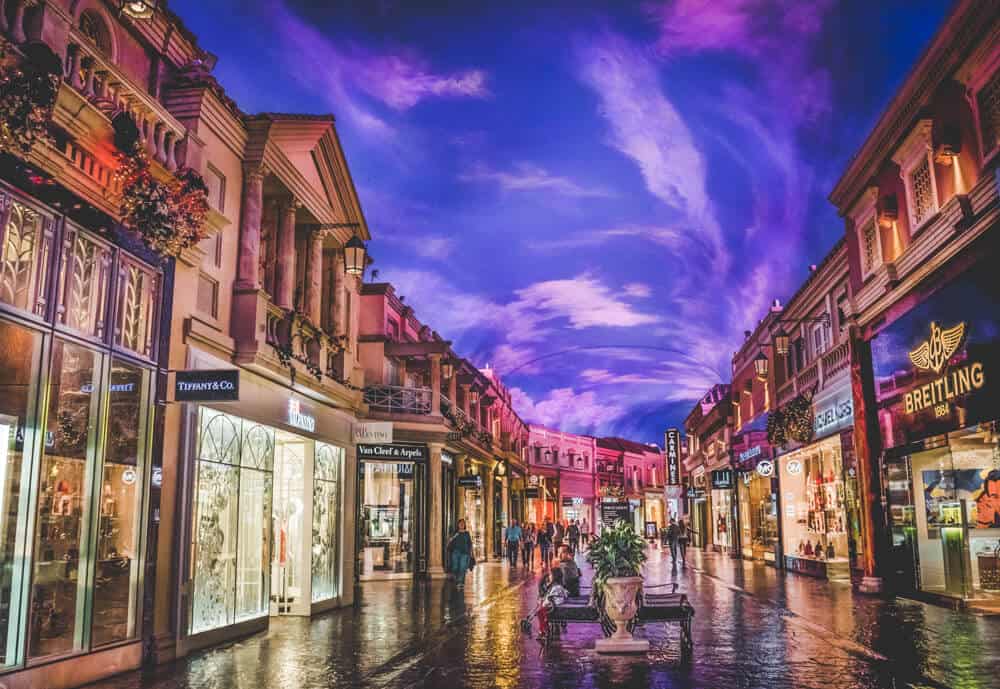 6. Wet'n'Wild
Some people think that water parks are just for little kids, but if you are looking for a refreshing escape from Vegas' punishing heat, this water park could be the exact way you should fill your afternoon.
Related – 10 Attractions You Can't Miss in Las Vegas
7. Lunch Buffets / Restaurants
If you didn't drink yourself sick the night before, how about eating yourself sick the next day. Most casino properties have a lunch buffet option.
When you hear buffet in Vegas do NOT think of Golden Corral quality food, but genuinely think of a fine restaurant, just with unlimited food…i.e. snow crab, prime rib, tiramisu, sushi, etc. Literally the selections can be endless.
My favorite is the buffet at The ARIA Hotel. This is also the hotel we stayed at on my honeymoon. Highly recommend.
Vegas has a bevy of fine dining restaurants, a wide array of ethnic options, and even eclectic mixes for all budgets (even a Taco Bell that serves booze).
My favorite restaurant chain is Hash House a Go Go (weird name). It's now branching out beyond Vegas, but Vegas alone has about half of the restaurants. They are famous for large portions of affordable food, as well the most unique delivery ever.
8. Nature Excursions
When I first moved to Vegas I didn't realize it was surrounded by incredibly gorgeous mountains. By not knowing about Vegas' natural attractions, I missed some the best things to do.
Just west of Vegas is the Red Rock Canyon featuring Calico Basin. This area features gorgeous red rock sandstone formations which create some of the best hikes and incredible rock climbing. The rocks attract climbers from all around the world, and consistently get rated as a top 5 climbing spot in the US.
Just 45 minutes north of Vegas is the Valley of Fire, which is another absurdly beautiful and unique natural formation. This park gets its name because the rocks look on fire when sun hits them right. The valley was used by the Anasazi and some of their petroglyphs remain.
Coming when it's not super hot? How about hiking Gold Strike by the Hoover Dam to the natural hot springs? Get to the springs and spend a few hours soaking in the warmth!
You can also take an incredible helicopter tour from Las Vegas to the Grand Canyon! Check out the top rated tours here.
Book your tour: Grand Canyon Deluxe Helicopter Tour from Las Vegas
Book your tour: Grand Canyon Helicopter Tour from Las Vegas with Champagne & Light Picnic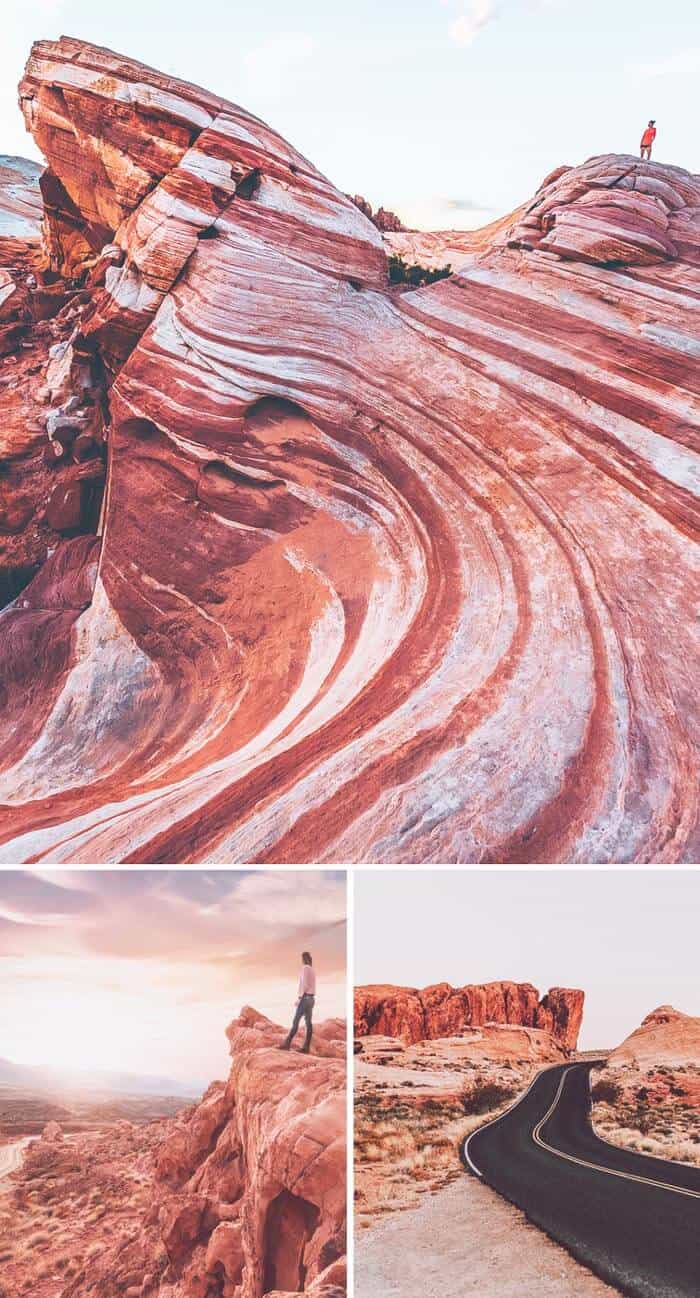 9. Hoover Dam Tour
The Hoover Dam and Lake Mead are surprisingly pretty cool to see. I'm not one who would typically advocate for a dam tour, but finding out that the dam's generators are what is powering Vegas' neon lights was actually fascinating.
The dam is on the border between Nevada and Arizona, and only about 30 minutes from The Strip. It is MUCH bigger than it looks in pictures. Also, the reservoir creates an awesome place to rent a boat and go waterskiing or wakeboarding.
Book your tour: Vegas – Grand Canyon, Hoover Dam & Route 66 Small-Group Tour
Book your tour: Grand Canyon West Rim: Skywalk, Helicopter, and Boat Add-Ons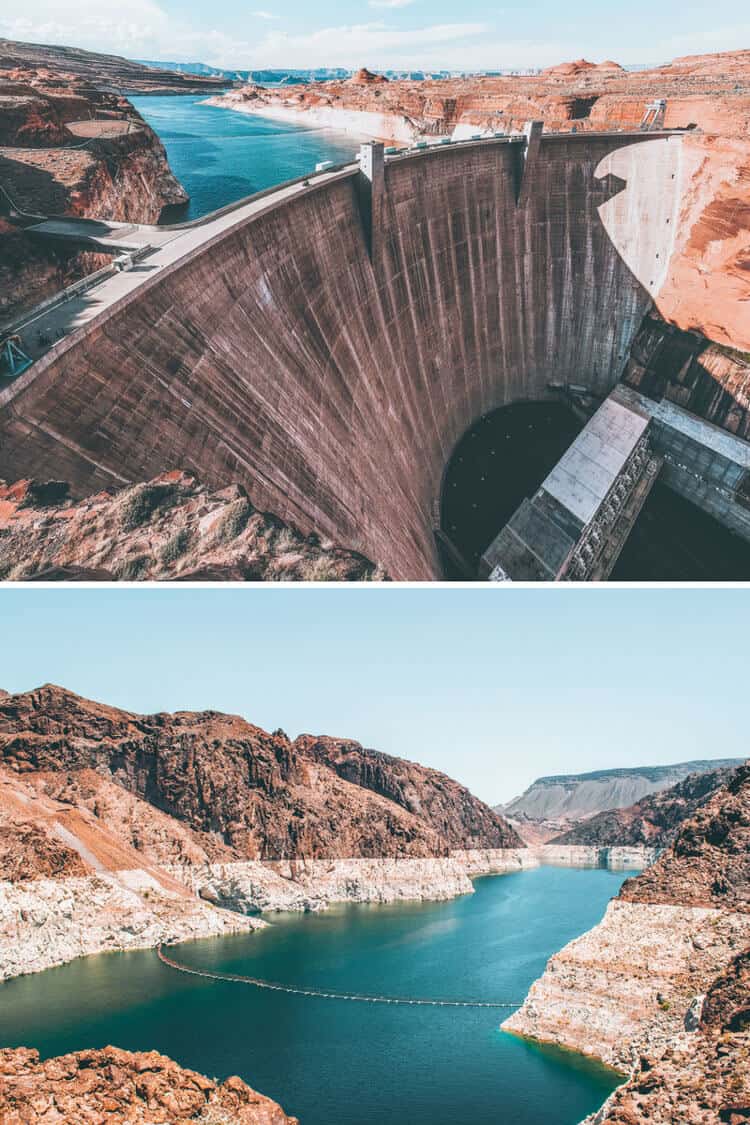 10. Sportsbook
Though I'm not a gambler, I recognize that spending a morning or afternoon in a sportsbook after betting on some sporting event attracts a ton of people.
Are you one of those fans that enjoys watching 13 different college football games at once? Super easy to find in most strip properties!
Does betting $20 on the result of a game make you somehow interested in the team from across the country? Want to meet and cheer with other ludicrous sports fans as well? Then check out your hotel property's sportsbook and place your bets!
SAVE MONEY – BUY AN ALL-INCLUSIVE PASS!
Don't skip this section like I normally do.
Most all-inclusive passes suck! They don't actually include things you would want to do, or you need to visit 10,000 attractions in a short amount of time to make it worth their while. The Go City Las Vegas Pass is different; it is a huge cost savings and includes things you actually want to do!
Seriously – if you want to see a Cirque du Soleil show alone the pass basically pays for itself.
Some of the other big ticket items included are a ride on the High Roller, LINQ Zipline, and Illuminarium at Area 15.
Some of the things that I think are coolest are the LINQ Zipline, the High Roller, SkyPod at the Strat, Area15 Illuminarium, and the New York New York Big Apple roller coaster.
There are 35 different things you can choose from.
They include other show tickets, museums, bar crawls, as well as things like go-cart racing and escape rooms. If you don't want to see a Cirque show you can switch out those tickets for a Strip Helicopter tour instead.
This deal literally can't be beat if you are looking to do more than just gamble while in Vegas.
There is a day time limit though so to get your money's worth you have to keep moving, though there isn't a more affordable way to cover so much ground in Vegas.
Where to Stay in Las Vegas
Overall Favorite: Bellagio Hotel & Casino – A Luxury resort with five pools in a courtyard setting. The rooms are the ultimate luxury. This hotel features a free water show with fountains synchronized to music is right in the middle of the Strip. The inspiration for this property was Lake Como in Bellagio, Italy.
Most Luxurious – Aria Resort and Casino (Our honeymoon hotel) – One of the newer hotels on the strip (opened December 2009). This was the hotel that my husband and I chose to stay in the night we got married, before heading out on our honeymoon to Iceland. It can be pricey, so if you are going to stay here make sure to take advantage of all the features of City Center has to offer. The shopping, restaurants, pools, and spas cannot be beat.
Budget Choice: The Golden Nugget – Located off of Fremont Street, or what many people now call Old Vegas. This hotel recently received a complete renovation, and now the rooms feel brand new, and are beautiful. My favorite feature of this hotel (other than the price) is the waterslide that goes straight through a shark tank. Seriously, a water slide that goes within inches of huge sharks! I have literally booked this hotel for friends at a rate of $25 per night, though in high season and on weekends it is more expensive.
What would you guys add to the list?
If you enjoyed this post don't forget to share it to Pinterest for later! (Hover over the image below to share the image to Pinterest)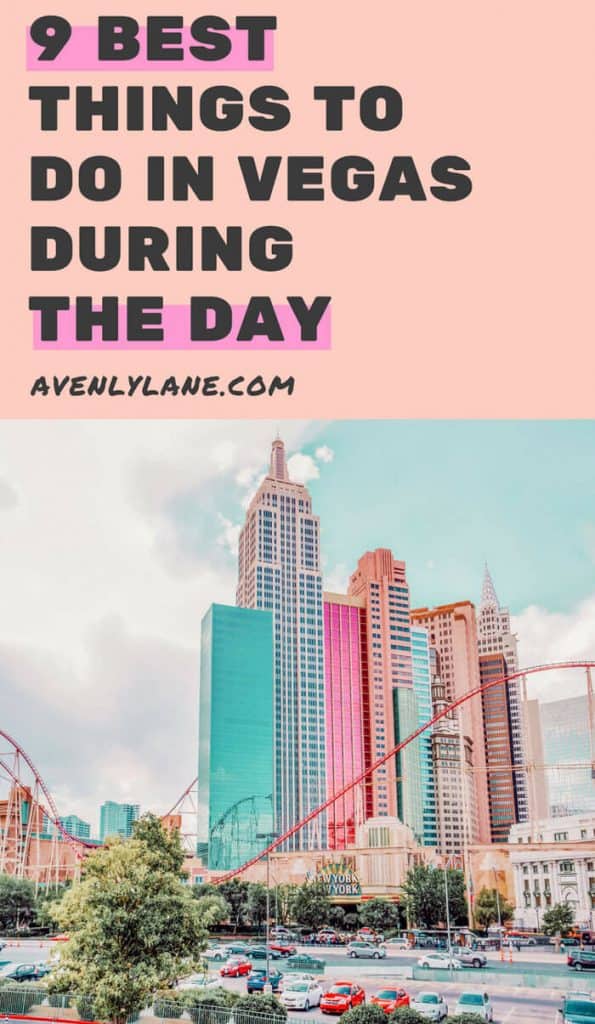 More posts on Las Vegas:
I lived in Las Vegas for almost 10 years and loved it there! Here are a few of our most popular Las Vegas posts that will help you plan your trip.