Most people know Banff for the absolutely gorgeous turquoise lakes like Lake Louise or Moraine Lake. When you actually get to see those lakes in person, they 100% deliver. The look is somehow even more striking in person. What many people don't realize is that in Banff the amazing turquoise water isn't just in a couple of lakes…
The combination of rugged mountains and melting glaciers create the magical water all over. The waters chalky blue-green hues come from melting glaciers. The water melting from the glaciers carries some glacier silt or rock flour along with it. The sun reflects off of these particles causing the water to look absolutely stunning.
One of the most under-appreciated aspects of Banff is the waterfalls. The newly melted water running ends up running over some super unique mountain terrain forming waterfalls. This special color of the water often doesn't show in pictures, but in person will blow you away.
Below are 8 waterfalls that you can only appreciate in Banff. Trust me, if you are a sucker for a perfect mountain lake vista, the accompanying waterfalls will only make you even more giddy. There is reason I've actually visited Alberta, Canada four times in the last 4 years.
8 Best Waterfalls in Banff
Tip – Make sure when hiking in Banff you have a good pair of waterproof hiking shoes. These are my absolute favorite! They are affordable, comfortable, fashionable (love the red laces), and 100% waterproof. Buy here.
Panther Falls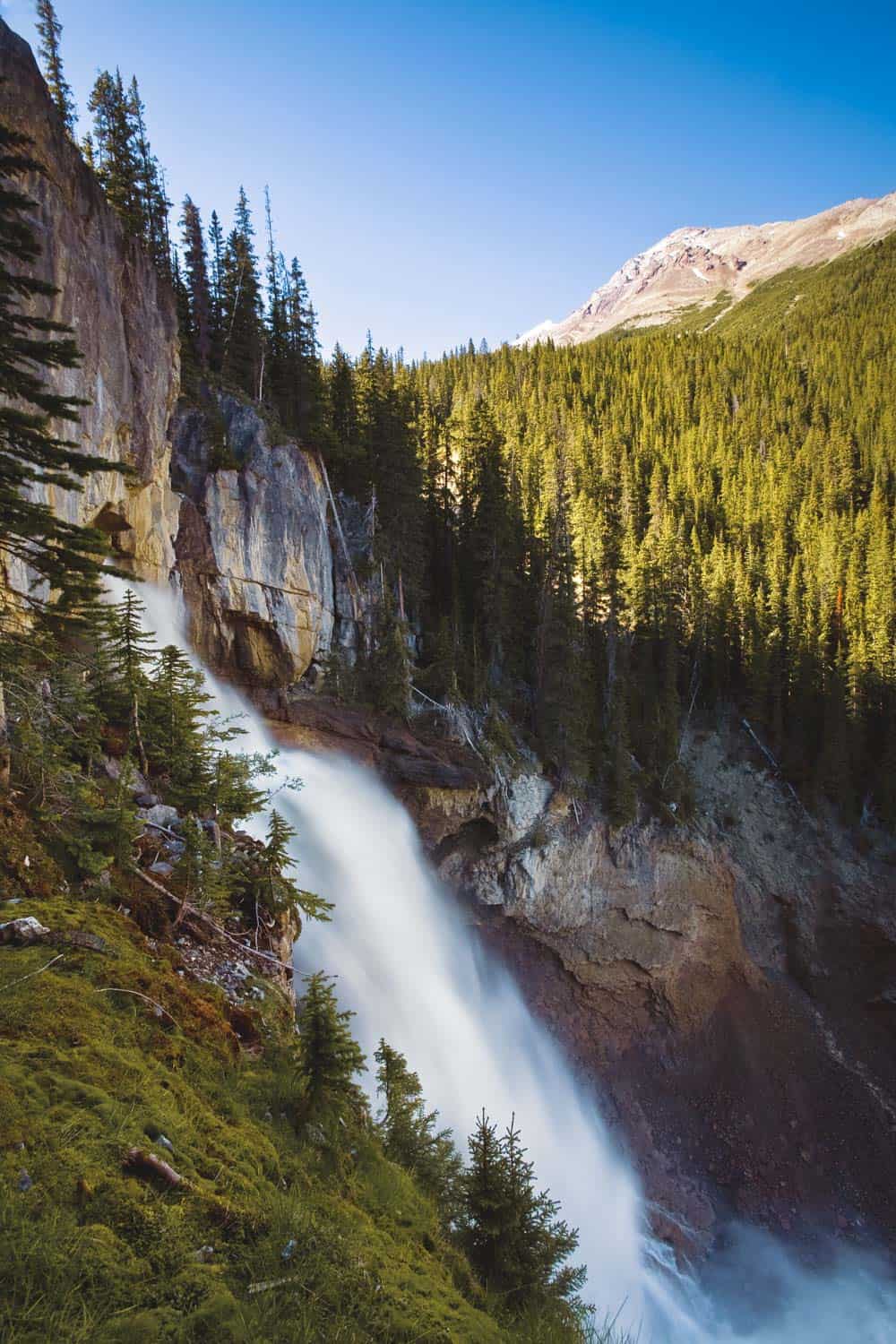 Bridal Veil Falls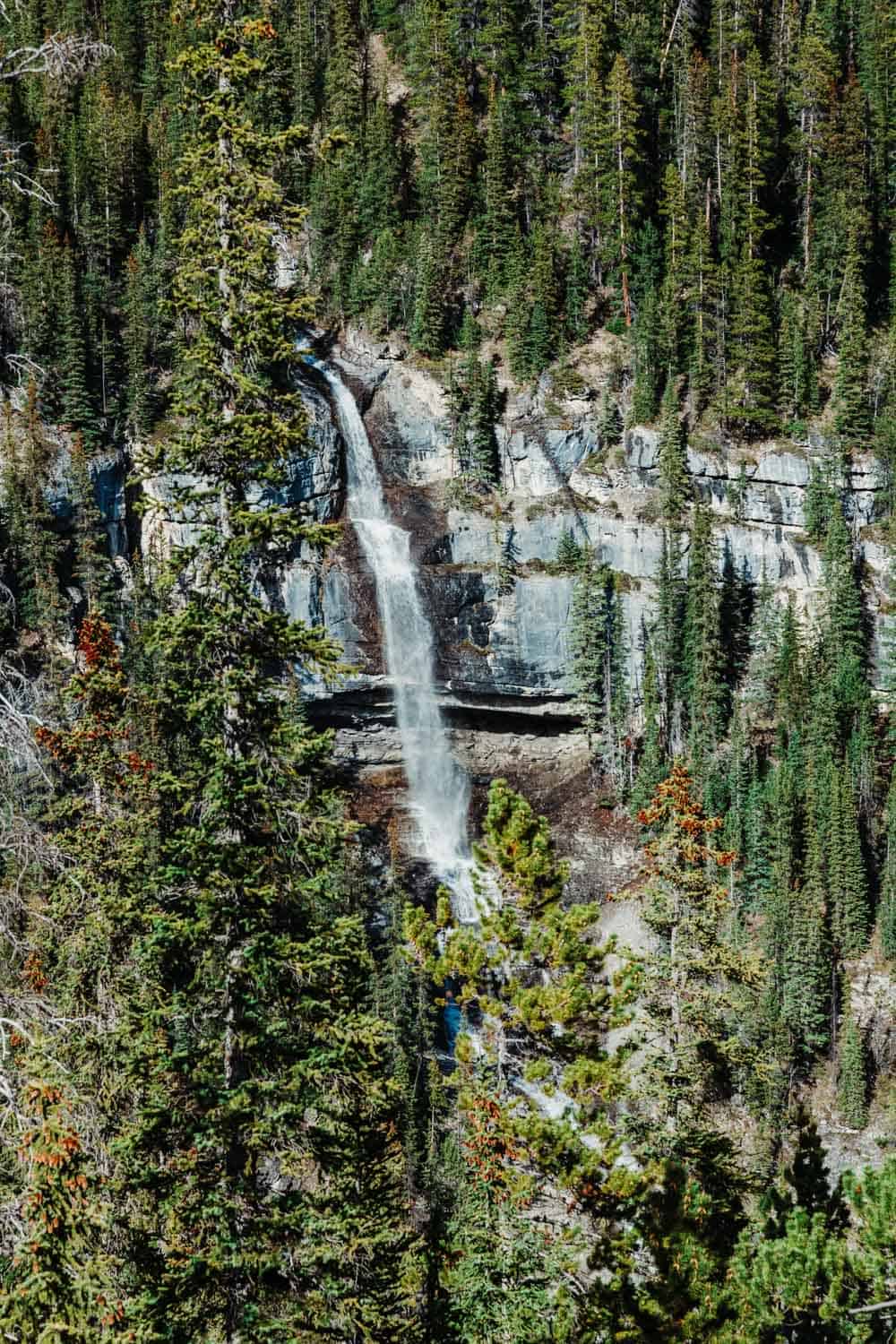 The Weeping Wall – ice climbing in winter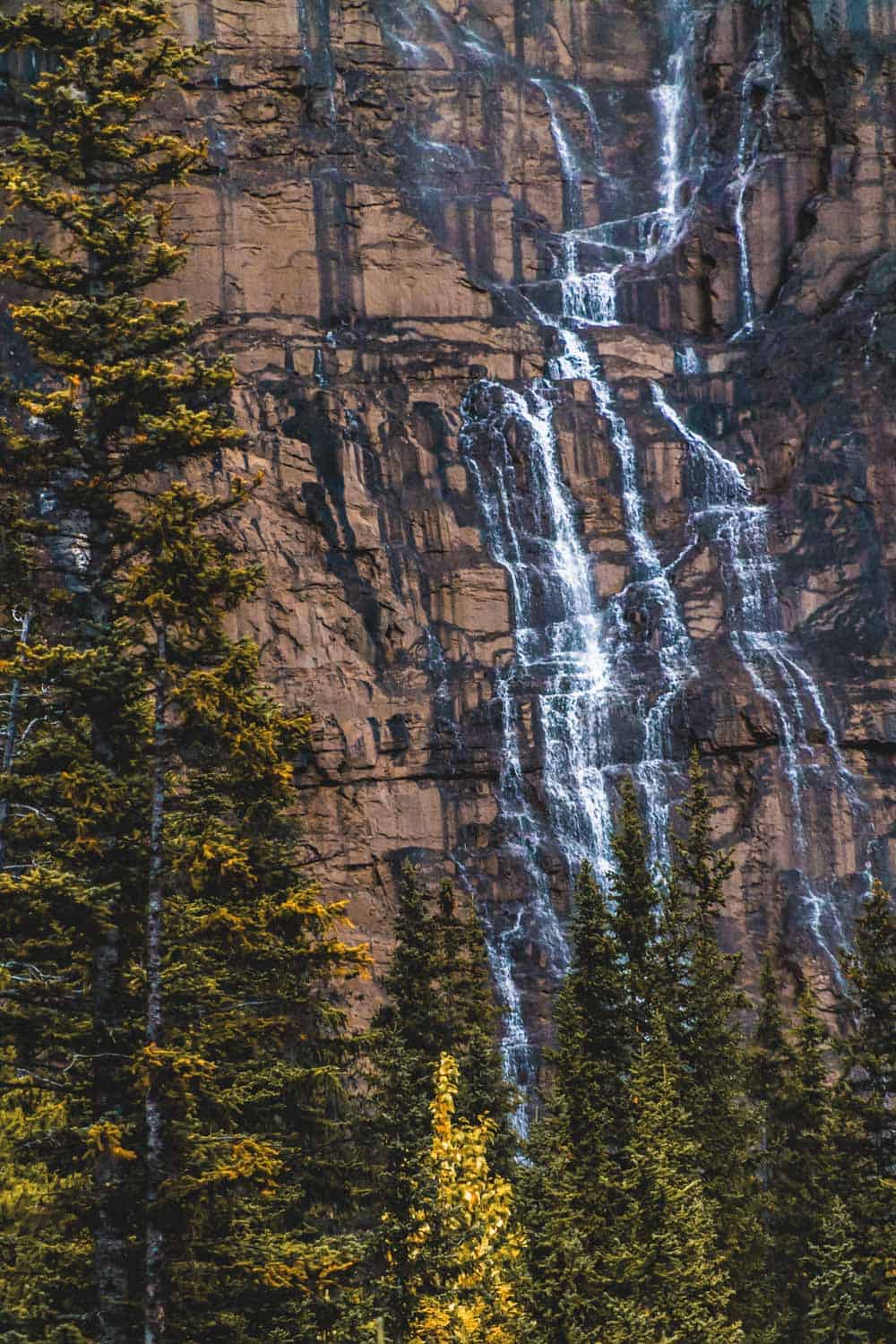 Bow Glacier Falls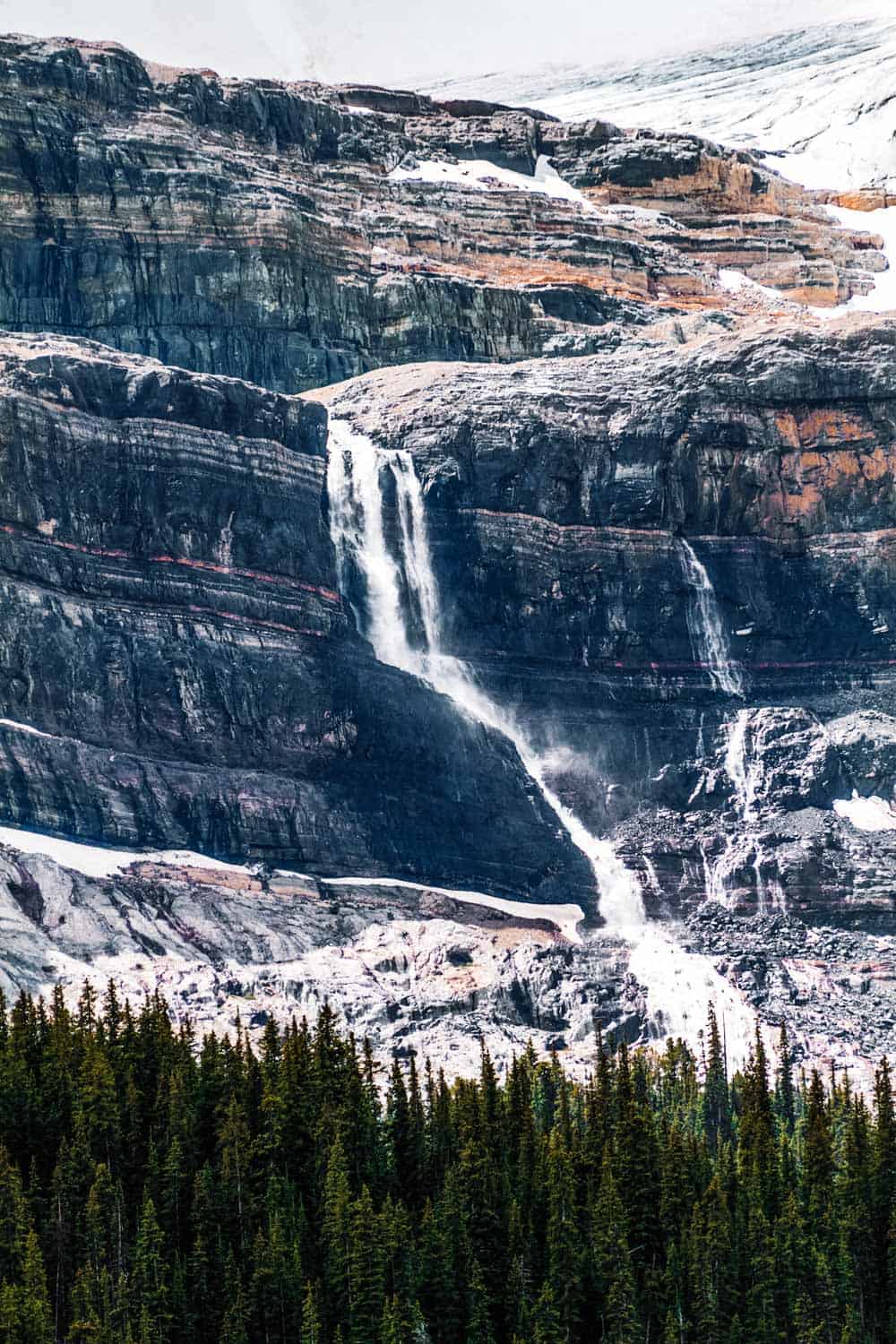 Bow Falls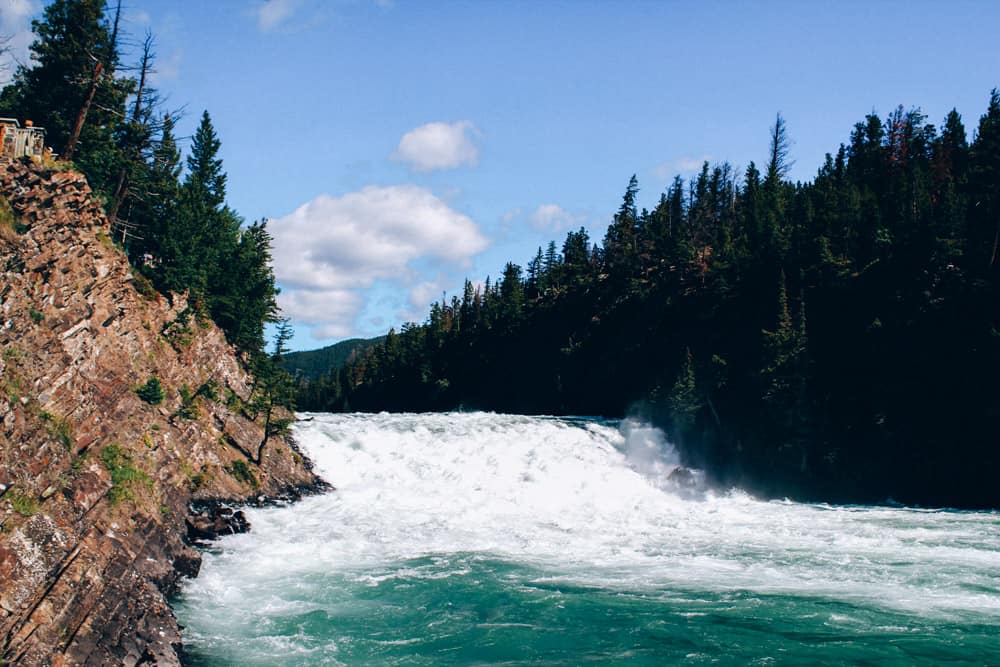 Tangle Falls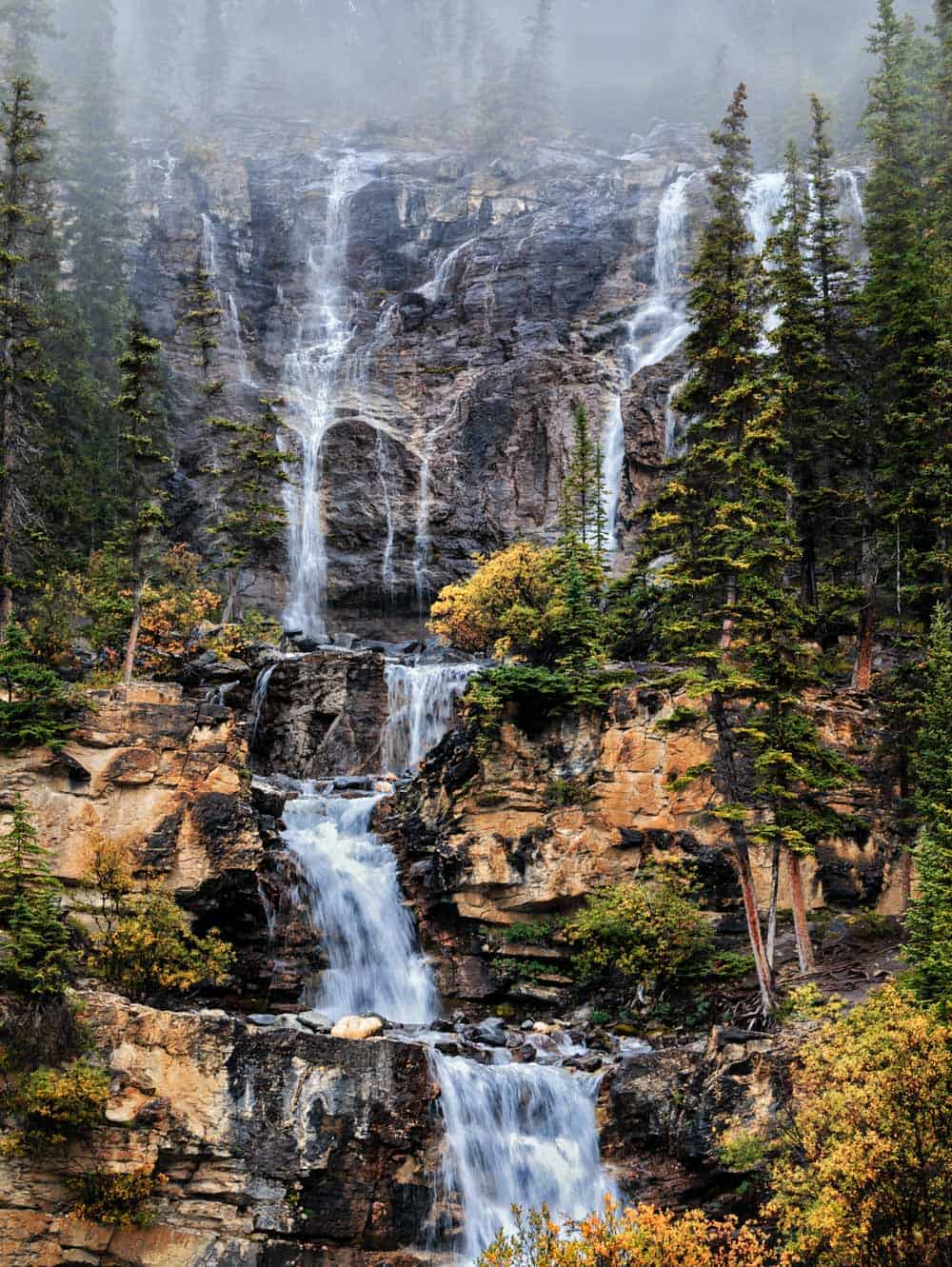 Johnston Canyon Waterfalls
There are two different waterfalls at Johnston Canyon in Banff. Johnston Canyon lower falls and upper falls.
Johnston Canyon Lower Falls
Along the Johnston Canyon Trail are the Lower Falls. It is a 30 min hike to reach the falls or about ¾ mile/1.1 km.
This is a hike appropriate for all ages and a wide range of abilities. It winds through an amazing canyon and along a river/creek.
As you approach the waterfall you will cross a bridge directly in front of the waterfall in full-force spray, and there's a fun cave you can duck into that brings you out directly in front of the falls where you will get wet.
Book your tour: Banff: 4.5-Hour E-Bike and Walking Tour in Johnston Canyon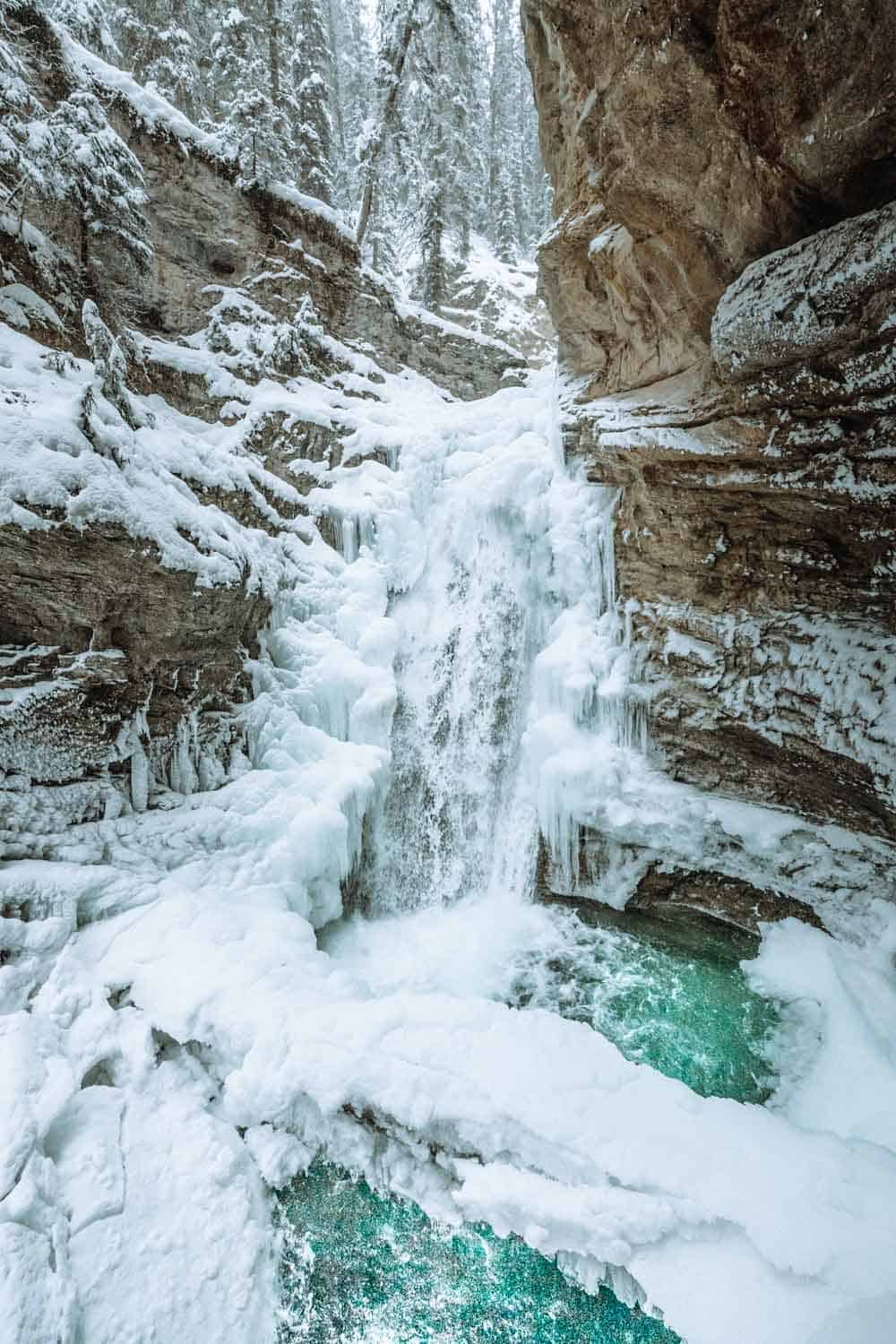 Johnston Canyon Upper Falls
After Lower Falls, you have the option to turn around and head back to the parking lot or continue on to the Upper Falls. Hiking to the Johnston Canyon Upper Falls will make your hike a total of 1.5 miles (2.6km).
In my opinion, it is totally worth the extra hike!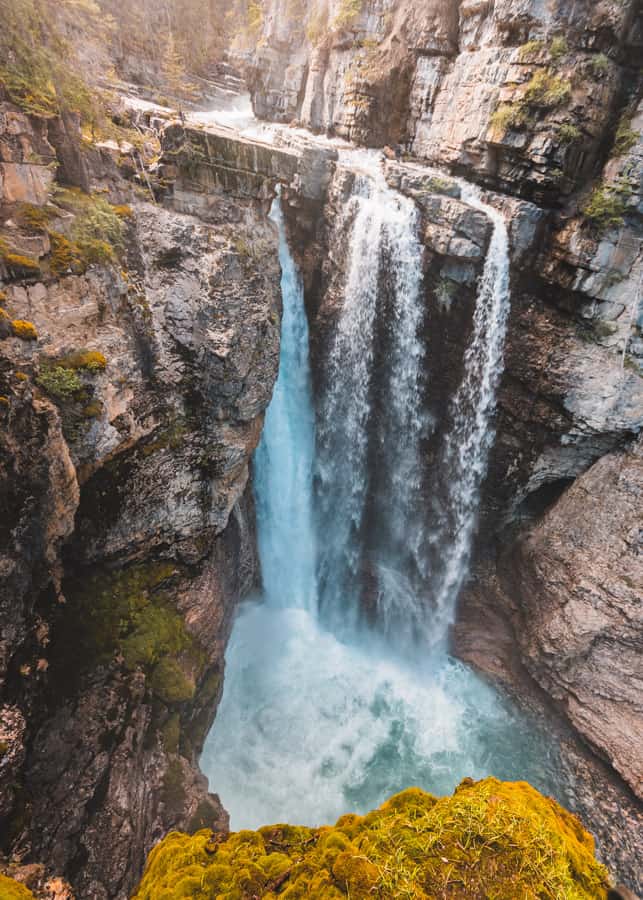 What is your favorite waterfall in Banff? Let me know in the comments below.
MORE ALBERTA CANADA BLOG POSTS
My husband is from Alberta and totally has me drinking the Canadian Kool-Aid! I love everything from the mountains to the gorgeous turquoise lakes. These are my most popular blog posts and guides from Alberta to help you plan your trip.
Places you Can't Miss in Alberta: 10 Amazing Places to Visit in Alberta, Canada
Best Places to See in Jasper: Top 10 Things to do in Jasper National Park
The Best Waterfall in Jasper: Sunwapta Falls Travel Guide
Guide to Visiting the Columbia Icefield Skywalk: Why you Should Visit the Columbia Icefield Skywalk
Guide to visiting the Miette Hot Springs in Jasper: Relax in the Jasper Hot Springs
Check out the most Most Underrated of All Jasper Attractions: Mount Edith Cavell (My favorite place in Jasper)
Which is better? Banff or Jasper: Should You Go From Banff to Jasper in Alberta Canada?