The Linq Promenade is an awesome place to hang out while on your next Vegas vacation. It's free to explore. Once there, there are so many unique attractions that will draw you in. The crown jewel of the Linq Promenade is the High Roller, a gigantic observation wheel with breathtaking views of the Strip.
Even if you don't want to ride the enormous observation wheel, there are still a ton of other attractions.This outdoor entertainment district attracts visitors all day, but is especially popular at night. You can see a show, eat in famous restaurants, go on a thrill ride, get a drink, or even people-watch some of the performers that hang out in the area.
Confusing History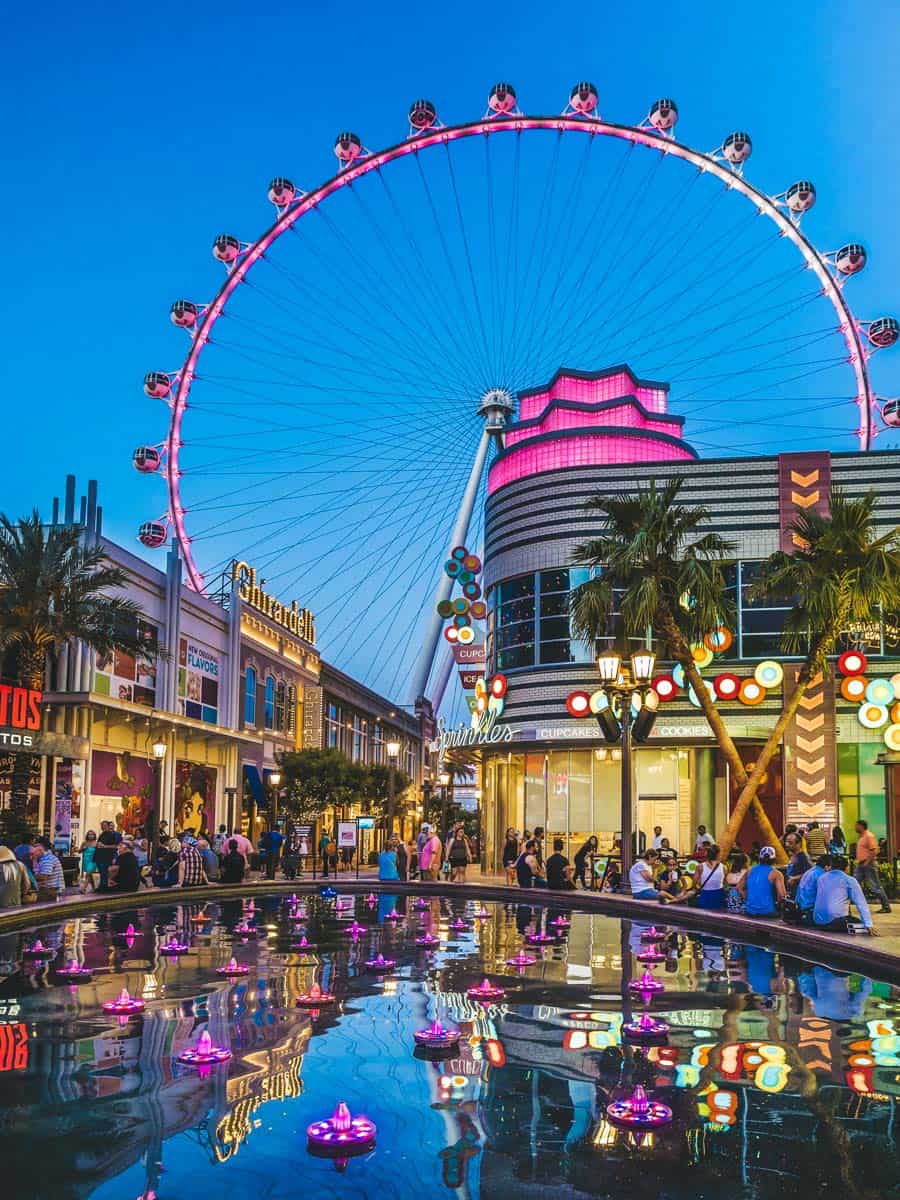 If you've been to Vegas before you might be confused when people refer to the Linq Promenade. This might be due to the fact that this area has gone through a lot of different evolutions and name changes. Thankfully, the resultant effect today is a pretty amazing attraction that is likely to stick around for a long time.
The Linq is now the name of a casino that backs up onto the Linq Promenade. This casino is located right in the middle of the Strip. It is an awesome location to make it easy to explore all parts of the Strip. What gets so confusing is that the casino has had a lot of different names (even in recent history). It previously used to be named the Flamingo Capri, Imperial Palace, and even The Quad. The hotel has been called the Linq since the end of 2014, with the Linq Promenade opening about then as well.
What Actually is the Linq Promenade
The Linq Promenade is an outdoor walking entertainment district. It is over 1,200 feet long and it is lined with restaurants, shops, bars, shows, and other attractions. Cars can't drive along it, which helps create a great place to hang out and explore.
Location
The Linq Promenade is located in the middle of the Strip on the east side. Many don't need a Linq Promenade Map since it's almost impossible to miss the High Roller, which sits at the end of the Promenade. A Las Vegas Linq Map will show you the Linq casino and 1,200 ft walkway coming east from it.
The address is 3545 Las Vegas Blvd S, Las Vegas, NV 89109. Click on the link to see the Las Vegas Linq map. If you have your own car you can park just east of the High Roller. The sprawling parking lot rarely fills to capacity and isn't too expensive. You can also park in the Linq garage.
10 Things to do at the Linq Promenade
There are a lot of different things when hanging out on the Linq Promenade, but some of the most popular are highlighted below.
The Linq Zipline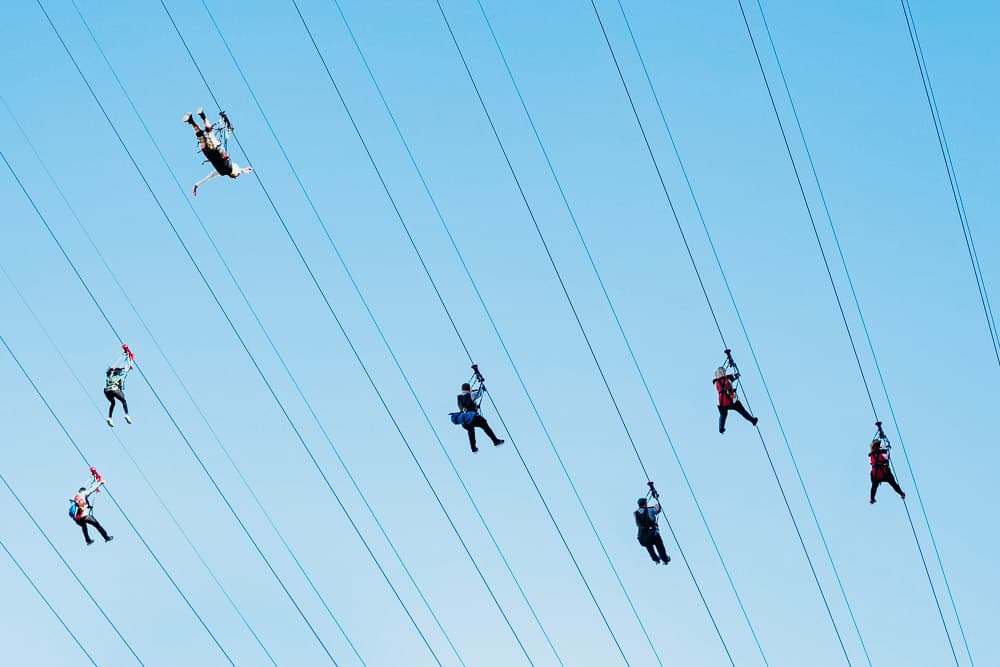 FlyLinq advertises themselves as the only zipline on the Strip. I feel the Zipline at the Linq is being a little disingenuous as there are other Ziplines just off the Strip. The Rio Zipline is just off the Strip and my favorite one is on Fremont Street. Regardless of the marketing, the Linq Zipline is still pretty amazing.
On the zipline at the Linq you launch from a 12th story and zoom over 1,000 feet. You plunge down and finish near the High Roller.
Linq Zipline Tickets
Get Linq Zipline tickets ahead of time by booking HERE. They generally cost about $25 per person. It is also worth noting that small kids and people over 6'8 can't go (sorry Shaq).
Or you can get a Linq Zipline ticket as part of the Go-City All-Inclusive Pass. Shockingly this All-Inclusive Pass is actually a great deal including attractions you want.
VR Adventures
Itching to try a fully immersive virtual reality experience? VR Adventures offers just that. This VR experience is unique because it requires hand movements, walking, as well as jumping to get through the gaming experience. There are 4 different game settings available.
Brooklyn Bowl
There are multiple Brooklyn Bowls, but Las Vegas has a pretty cool version. You can see concerts at this venue, have a drink, or go bowling.
The venue attracts a lot of well known artists that aren't quite as popular currently. I like that it's not a mega venue, and the smaller size allows you to have a pretty intimate show. Some upcoming shows are Coheed and Cambria, Empire Records, and the Hanson reunion tour.
The High Roller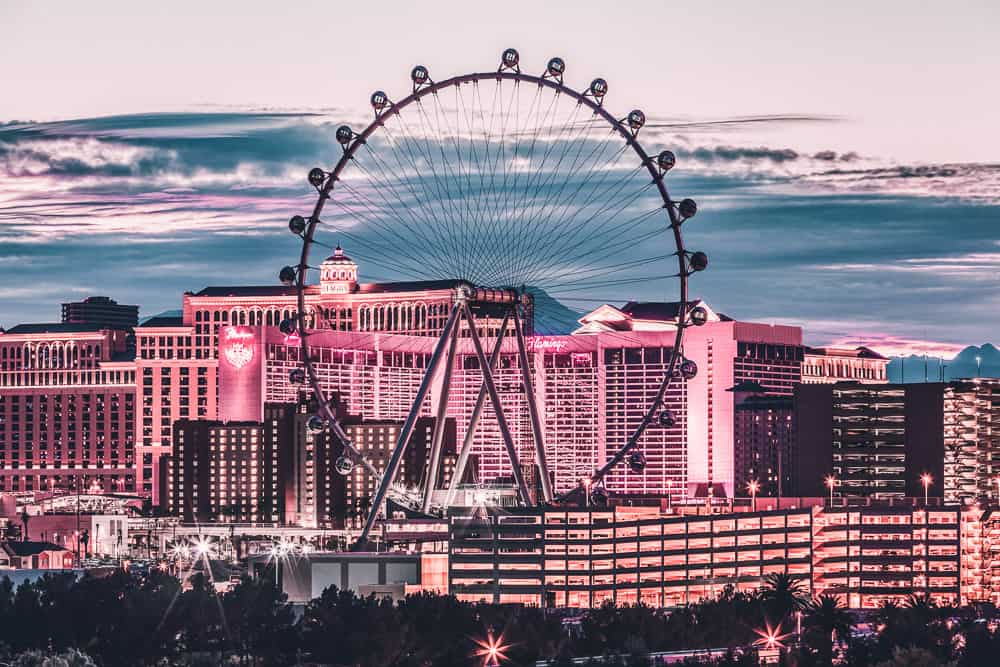 The gigantic observation wheel is probably a lot more fun than you would expect. While it isn't a thrill ride, the experience can be exhilarating. You spin around while taking in amazing views of the Las Vegas Strip. What makes the experience extra unique is that the pods are big enough for your entire group to go in, and you can book tickets with an open bar for the entire ride. Skip the long lines by reserving your spot in advance here.
Read more about the High Roller experience here! Or book your tickets immediately so that you can make sure to actually get a spot.
If you are looking to see a lot of the top attractions in Vegas, you should consider this All-Inclusive Pass that includes admission to over 30 attractions, one of them being the High Roller. Seriously, if you are looking to see a number of the top sites/shows this pass will save you a ton of money.
The Linq Promenade Restaurants and Bars
There are a lot of different restaurant options. You can try Guy Fieri's Vegas Kitchen and Bar, Gordon Ramsay's Fish and Chips, the wild style of Hash House A Go Go or many others.
I highlighted a few of my favorites below.
In-N-Out Burger
Before moving to the western United States I heard about In-N-Out Burger endlessly. People raved about it being fast-food done right. Tons of people are dying to try for themselves, and the Linq Promenade gives them the opportunity.
There are a number of other locations in Las Vegas, but the one at the Linq Promenade is supposedly the very first to be directly on the Las Vegas Strip.
ameriCAN Beer
Want to sample cans of beer from each of the 50 states? Hopefully this means you will be visiting across a number of different nights, but that's exactly what's available at ameriCAN Beer.
Minus5 Icebar
Want to experience the frozen tundra in the middle of the desert heat? Entrance to this bar comes with your own parka and gloves. They will definitely be necessary as it is literally freezing inside. This helps make for some unique cocktails that you drink from ice glasses.
Linq Promenade Shops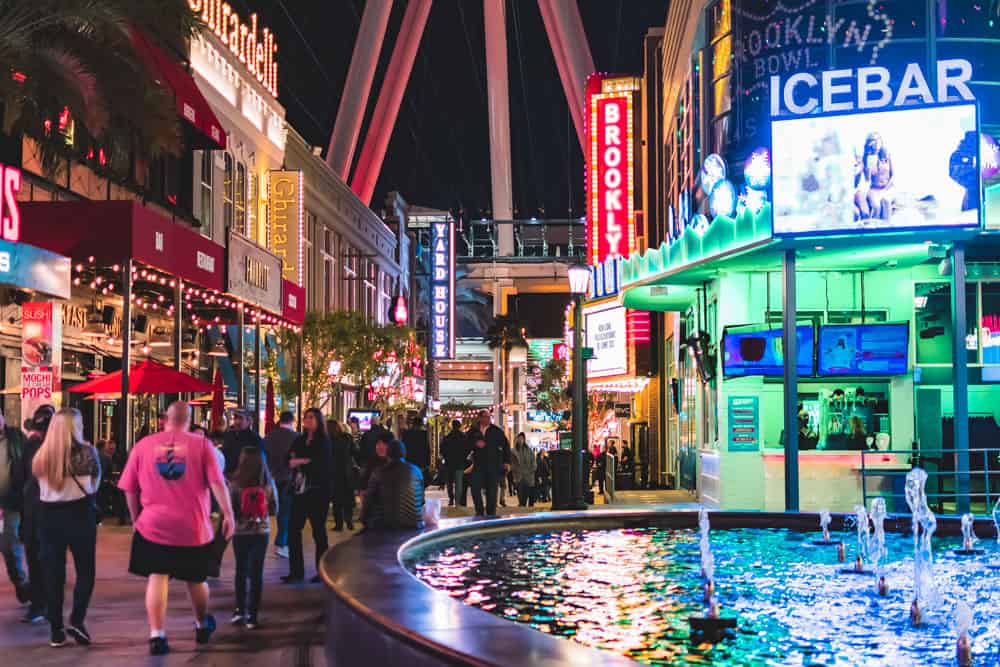 At the Linq Promenade shops you can get a tattoo, buy your Harley Davidson gear, or my favorite, feed your sweet tooth at I Love Sugar candy store. There are a ton of other novelty shops; you can see the full list here.
Linq Holidays and Special Events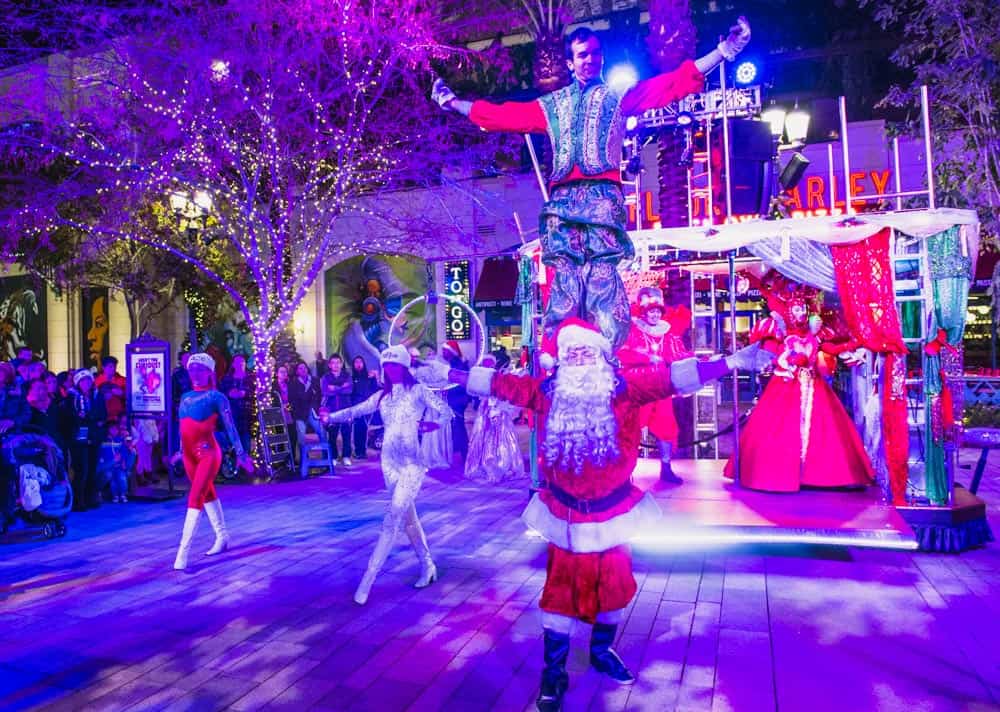 Another great thing about the Linq Promenade is that they set up special events for holidays. During Halloween they set up a trick or treat option for the kids, and if you continue into the night you will find an amazing place to see some of the most creative adult costumes.
You can also see special Christmas shows and performers that are hired to walk down the entertainment district periodically dancing and singing.
There are even unofficial performers or characters that you can pose for pictures with. You will almost always find a set of showgirls or muscle men to pose for a picture with at the entrance if you like. Warning, they do charge for pictures though!
Winter Warning
Many people don't realize that Vegas actually gets cold in the winter. At times it can suck walking around Las Vegas, but thankfully at the Linq Promenade they put up space heaters in the winter to make the area much more comfortable!
More posts on Las Vegas:
I lived in Las Vegas for almost 10 years and loved it there! Here are a few of our most popular Las Vegas posts that will help you plan your trip.