Nakalele blowhole is a must see site at the northwestern tip of the island of Maui.
Once there you can then hike the Acid War Zone trail to the famous Nakalele Blowhole. Previously but devastatingly not anymore, you could also see the Maui Heart Rock here.
This underrated spot is a perfect island excursion. Being that it is a little ways away from the biggest resort areas, you can expect to avoid the biggest of the Maui crowds.
Nakalele Blowhole (100 foot Maui blowhole)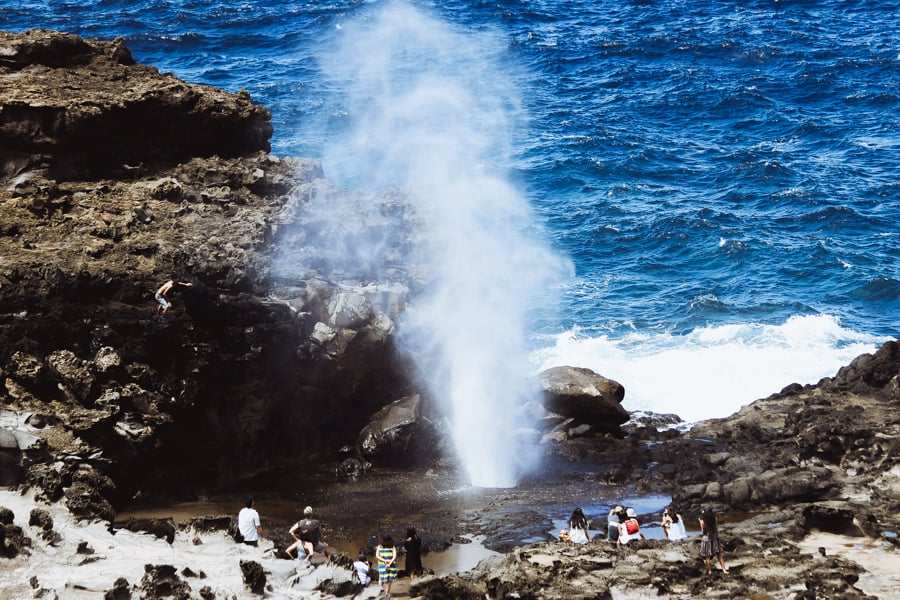 Nakalele Blowhole in Maui
Acid War Zone Trail
This trail is a 1.3 mile out and back trail. Rather than it being one set trail, think of it as a spider web of trails that wind back and forth down the cliffs to the Nakalele blowhole.
You will be hiking down craggy lava rock, so even though it isn't far you probably want a pair of shoes or sandals that allow you to get a sure footing. You can take kids on this trail, but be extra careful that they take care and don't fall down as those rocks are sharp!
The name "Acid War Zone" evokes some pretty vivid imagery. This intense name is likely earned because of the gnarly look of the dried lava rocks with patches eaten away by salt water.
If you don't want to hike all the way down you need not fear. Almost immediately once starting on the trail you will have views of the ocean and Nakalele blowhole. Many people only go part way down to catch a peak and then ultimately turn around.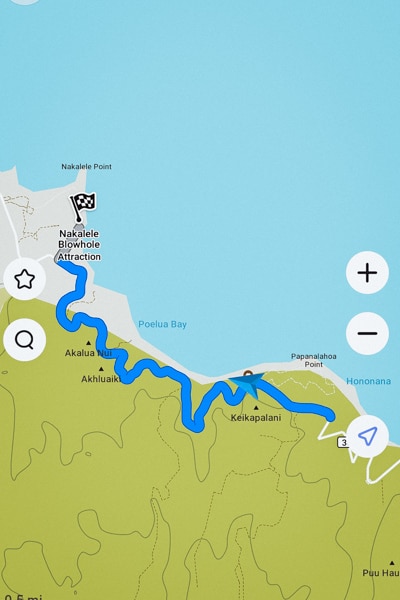 What exactly is a blowhole?
The first thing I think of is what a dolphin breathes out of. The concept of Maui blow holes is similar, but completely different. In geography (and this is probably a bit of an oversimplification so sorry geologists) a blowhole is the result of cliffs eroding away allowing ocean waves to crash beneath. The force of the waves crashing beneath ultimately causes the water to shoot up and through various holes.
Depending on the power of the waves, the water can ultimately get shot up pretty stinking high. It has to be said that while it seems like it is a well controlled experience, can actually be quite dangerous. Don't get sucked in or shot onto the razor sharp lava rocks.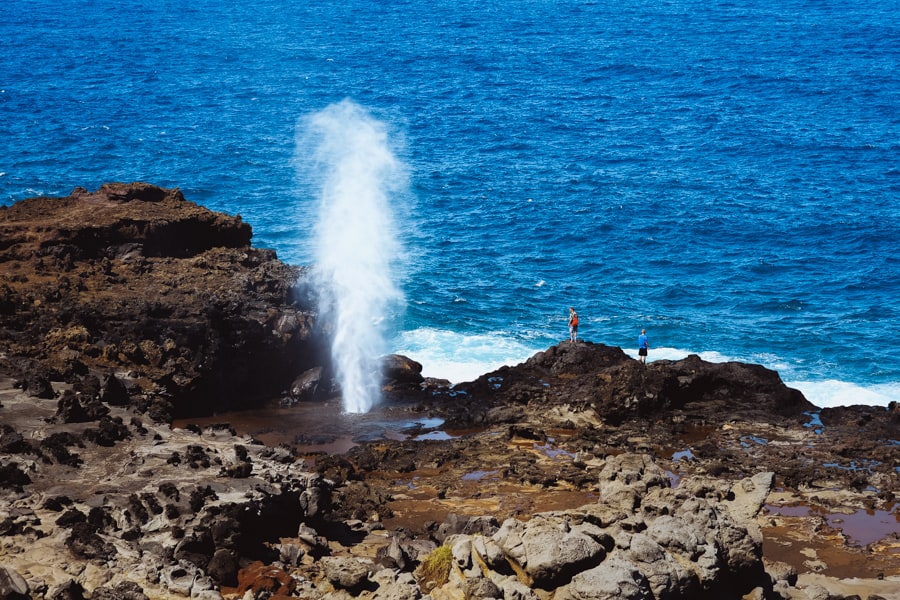 Nakalele Blowhole
At the point of the island of Maui there is a really powerful blowhole. Supposedly the waves crashing underneath can get water to shot up through a hole to a height of 100 feet. I didn't see it get anywhere close to that high, but I still saw water shooting really high.
The powerful display and accompanying mist is just plain neat to watch. Be careful as you approach to inspect it though. Sometimes the water coming through will be a lot more powerful than the previous waves were and you risk getting dashed against the rocks.
You also need to worry about a rogue wave crashing over the cliff and knocking you onto or off of the lava rocks.
What Happened to the Maui Heart Rock? 2022 UPDATE!
The gorgeous rock with the heart shape cutout is unfortunately no more. The bottom half of the rock broke off and fell into the ocean.
From what I've been able to gather, it was a natural process of erosion caused by the ocean rather than an idiot tourist acting inappropriately.
Previously the rock cutout in a heart shape was a romantic spot that couples often trekked to. One of my favorite bloggers dubbed the development "The Heart Shaped Rock becoming heartbroken."
Even without the heart rock of Maui Nakalele Point is still an amazing site. That being said, I understand if it now gets knocked down a peg or two in the romanticism category.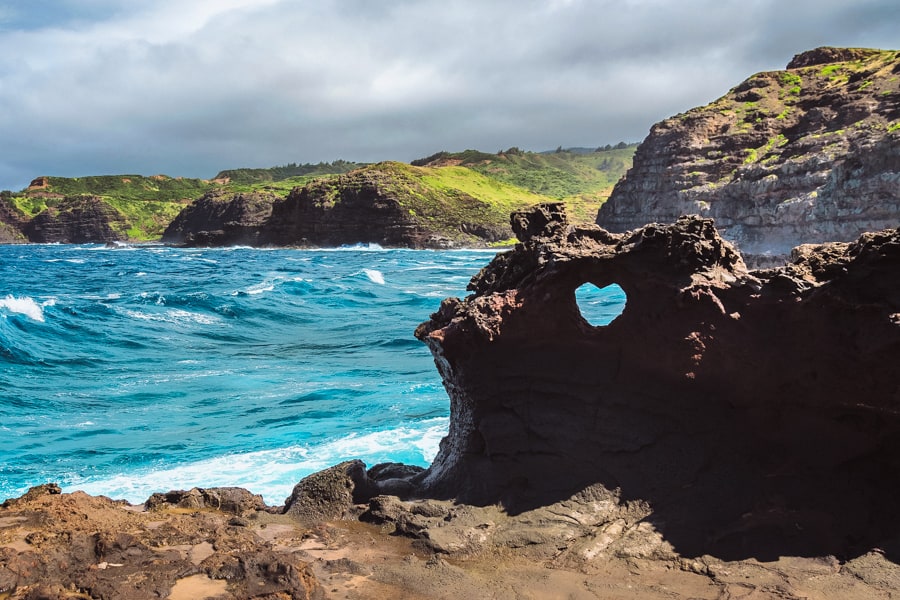 Heart Shaped rock at Nakalele point (What it used to look like before was destroyed)
Nakalele Point Lighthouse
You will also see the Nakalele Point Lighthouse along the shore. It was built over 100 years ago to mark the most northern tip of the western portion of Maui.
When you see the intensity of the waves in this area it makes perfect sense why you would want a lighthouse to warn ships so they don't get slammed into the cliffs!
Nakalele Point Location
Nakalele Point is at the top of Maui. It is about a 40 minute drive from the Kaanapali resort area, and about a 1 hour drive from the airport if you are coming around the island the other way.
I've seen it incorrectly labeled online where it says that the Ohai Trail leads to the Nakalele blowhole. The Ohai trail is close, but is not the one that leads down the mountain to the blowhole.
While in the area, I do recommend also visiting the Ohai Trail and the Olivine Pools.
What to Pack for Maui
Quick Dry Travel Towel – This quick dry towel is amazing to travel with. It really will come in handy when you need extra room in your suitcase.
Snorkeling gear – for obvious reasons.
Sandals – LOVE these Birkenstocks.
Tank tops – Free people is my go to place to buy cute and affordable tank tops (Depending on the style of course). I have this tighten up tank in almost every color.
Hat – essential. Shop the newest hats at Nordstrom.
Shorts – Anyone who is traveling to Hawaii needs a good pair of shorts. Khakis are great for guys. For women, cute athletic shorts or denim shorts are perfect for a breezy summertime look. These denim shorts are my current favorites! These high waisted athletic shorts have gone viral on instagram and for good reason, they are AMAZING.
Dresses– Packing a few good dresses is essential for Hawaii. Dresses have become my go to on trips to help quickly put an outfit together.
Beach cover-up – Having at least one good cover-up is essential on any beach trip. I recommend ASOS, Nordstrom and Revolve as well.
Tennis Shoes – I guess you could wear sandals hiking this trail but I would recommend tennis shoes. It can get narrow and slippery in parts. These Nike high tops are my current favs. They look so cute with shorts too!
OUR MOST POPULAR POSTS ON MAUI HAWAII
My husband and I have been to Hawaii many times and have written up more blog posts to help you plan your trip. These are my most popular Maui blog posts and Hawaii travel guides to help you plan your trip.
Best Things to do in Maui: 10 Cool Things to do in Maui Hawaii
The Best and Most Easily Accessible Maui Waterfalls: 6 Easily Accessible Maui Waterfalls
The Best Beach in Maui!: Guide to Visiting the Red Sand Beach, Maui
What to Pack for Hawaii: The Ultimate Hawaii Packing List
The Ultimate Guide to Visiting the Hawaiian Islands – and what to expect on each island: What To Expect On Each Of The Hawaiian Islands
OUR MOST POPULAR POSTS ON MAUI HAWAII
My husband and I have been to Hawaii many times and have written up more blog posts to help you plan your trip. These are my most popular Maui blog posts and Hawaii travel guides to help you plan your trip.
Best Things to do in Maui: 10 Cool Things to do in Maui Hawaii
The Best and Most Easily Accessible Maui Waterfalls: 6 Easily Accessible Maui Waterfalls
The Best Beach in Maui!: Guide to Visiting the Red Sand Beach, Maui
What to Pack for Hawaii: The Ultimate Hawaii Packing List
The Ultimate Guide to Visiting the Hawaiian Islands – and what to expect on each island: What To Expect On Each Of The Hawaiian Islands