7 Best Waterfalls in Maui that you can swim in
There is something so peaceful about waterfalls. Many people can remain transfixed one one for hours at a time. Hawaii's unique geography of mountains and heavy rains help create some of the most amazing waterfalls on earth. With so many to choose from, you can explore waterfalls for days.
What makes these Maui waterfalls even more amazing is that you can actually swim in the pools at the bottom of them. The water is clear and safe enough to enjoy.
The experience of swimming in a waterfall can be incredibly peaceful, or as you will see below exhilarating. Truly Hawaii waterfalls offer something for everyone!
1. Upper Waikani Falls
Don't want to have to do a ten mile hike but still want to enjoy swimming in a waterfall?
The Upper Waikani Falls (also known as the Three Bears Falls) are immediately off the Hana Highway by mile marker 19. The most difficult part about accessing these falls is the parking.
There is limited parking once you pass the falls (about 1/10th of a mile after). Also, make sure you wear proper footwear as you hike down to the falls as there are some pretty steep drops.
There aren't likely to be a ton of people swimming since most pass up due to the lack of parking, but there will be a lot of people briefly stopping along the highway to snap pictures. Also, this isn't a waterfall where you will want to cliff jump since the water isn't that deep.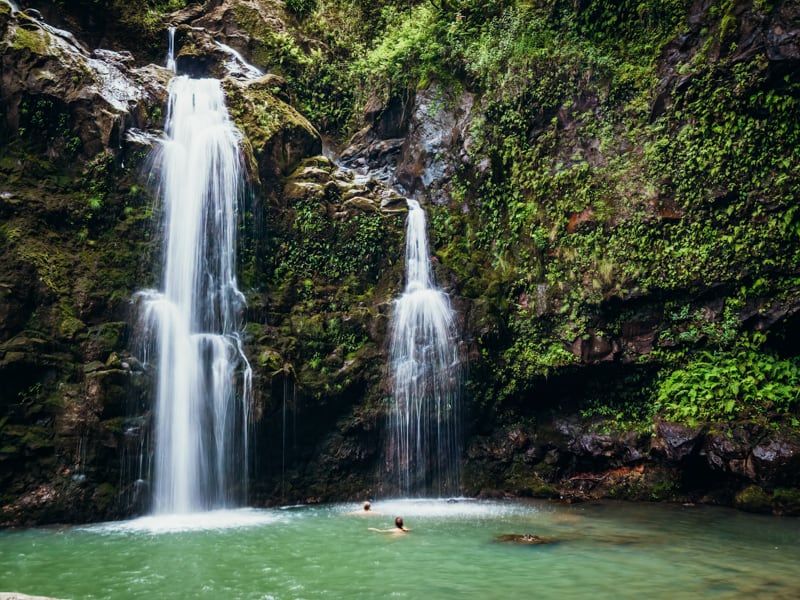 2. Hanawi Falls
Hanawi Falls is another one that is easy to access from the Road to Hana just after mile marker 24!
It is located just off of the highway, so once again you won't need to prepare for a 10 mile hike to be able to see them.
Compared to some of the others, Upper Hanawi Falls is even easier to access since there are parking spots ahead of and after the falls.
It's an easy hike to get down to the pool at the bottom of the falls. While it isn't pictured, these falls are extra picturesque due to the way the falls diverge and split and reconvene coming down the mountain.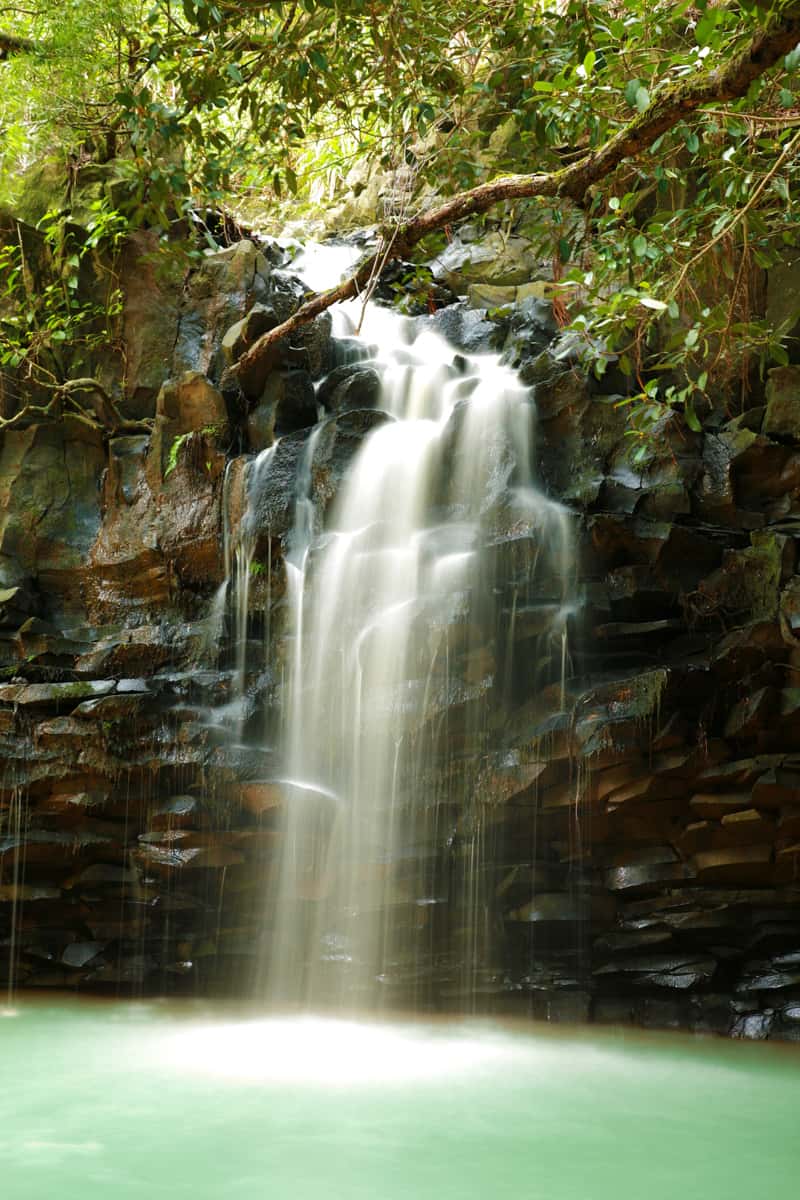 3. Twin Falls
Twin Falls Maui is another gem located off the Hana Highway. This waterfall does require a bit of a hike, though it is extremely easy. It is less than 2 miles out and back, so you can probably even do it with kids. There are parking spots, but they do fill up and the charge about $10.
While the hike isn't anything special, it is a peaceful forest excursion and the pool and waterfall at the end of it make it all worth while. This is one waterfall where you can cliff jump from various heights into the pool!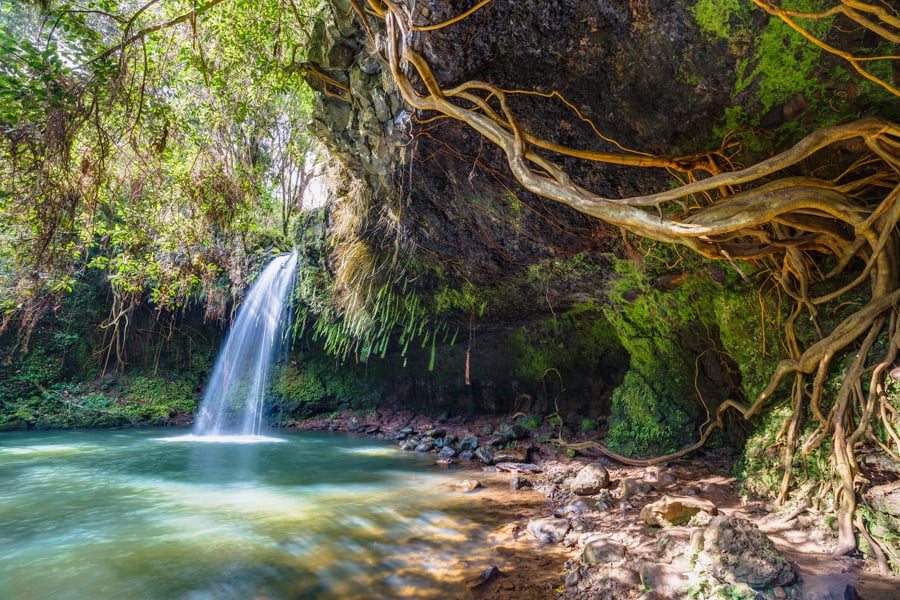 4. Pools of Ohe'o (Seven Sacred Pools)
This is one of the best waterfalls in Maui that you can swim in.
As the name suggests these falls ultimately create seven different pools. The beautiful result is that this waterfall is one of the most popular on the Road to Hana, and even all of Maui. With it being so popular you can expect crowds, though the park itself offers a whole lot more to explore than just the Seven Sacred Pools.
Once you complete the .3 mile hike to the pools you will see two things 1. signs saying no cliff jumping and 2. tons of people cliff jumping. It feels like Hawaii posts the signs to avoid liability, but they don't actually care about tons of people jumping. Even if you don't want to jump, the falls are a perfect place for a swim!
To get into the park (and the falls) you will have to pay an admission fee that is $15. While it is a pain to pay when many other waterfalls are free, the fact that there is an abundance of parking here will make it easier to swallow.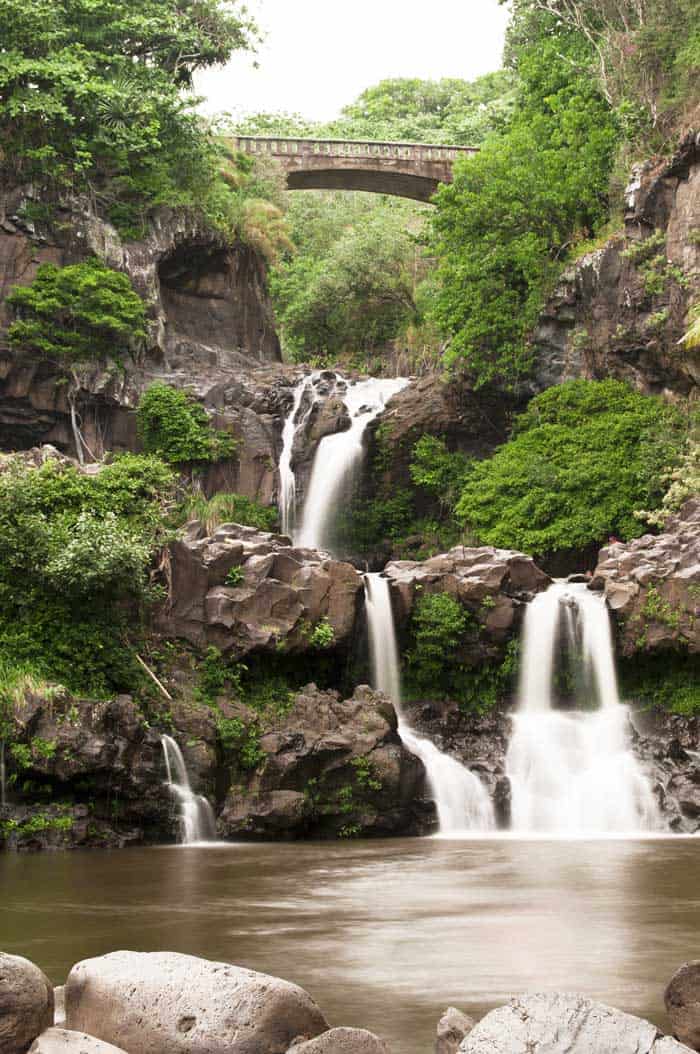 5. Pua'a Ka'a Falls
Pua'a Ka'a Falls are yet another amazing site off of the Road to Hana. If you haven't figured it out yet, this trek is absolutely worth taking! The required hike is only .4 miles long, so expect to be at the falls in under 10 minutes.
Once at the falls you will find one of the best places ever to swim up and under the actual waterfall. It is located about halfway down the Road to Hana. This is another waterfall with ample parking and available bathrooms.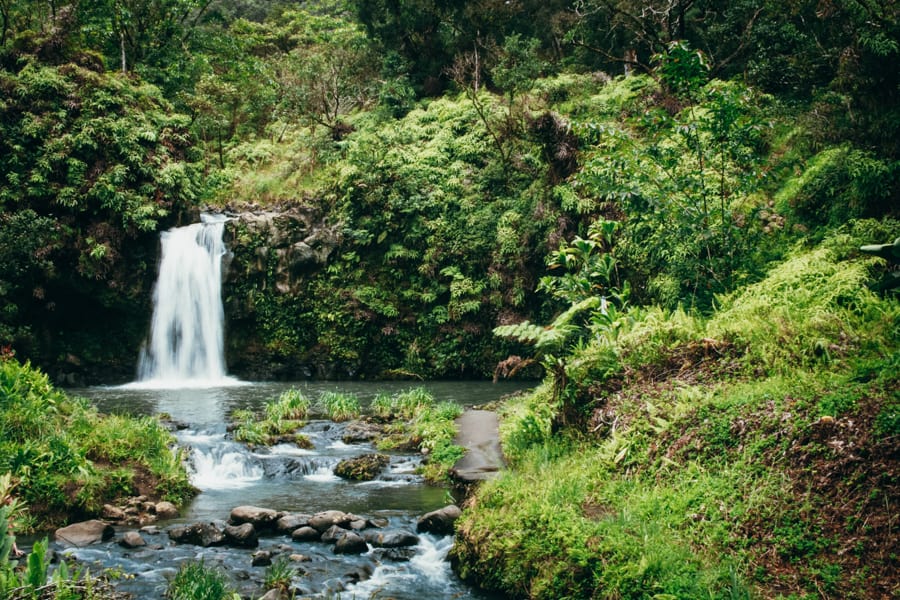 6. Wailua Falls
Wailua Falls is visible from the Hana Highway just beyond mile marker 45. Given its proximity to the roadway and ample parking it is popular. When I say popular, I mean really popular as it is sometimes called the most photographed waterfall in Hawaii. Even with the crowds this waterfall is still stunning.
While crowds gather along the roadway to snap photos, most don't make it down to the water to swim. This means that so long as you are okay with spectators, you may have most of the swimming experience to yourself. The trail to the pool is easy but mushy.
7. Upper Puohokamoa Falls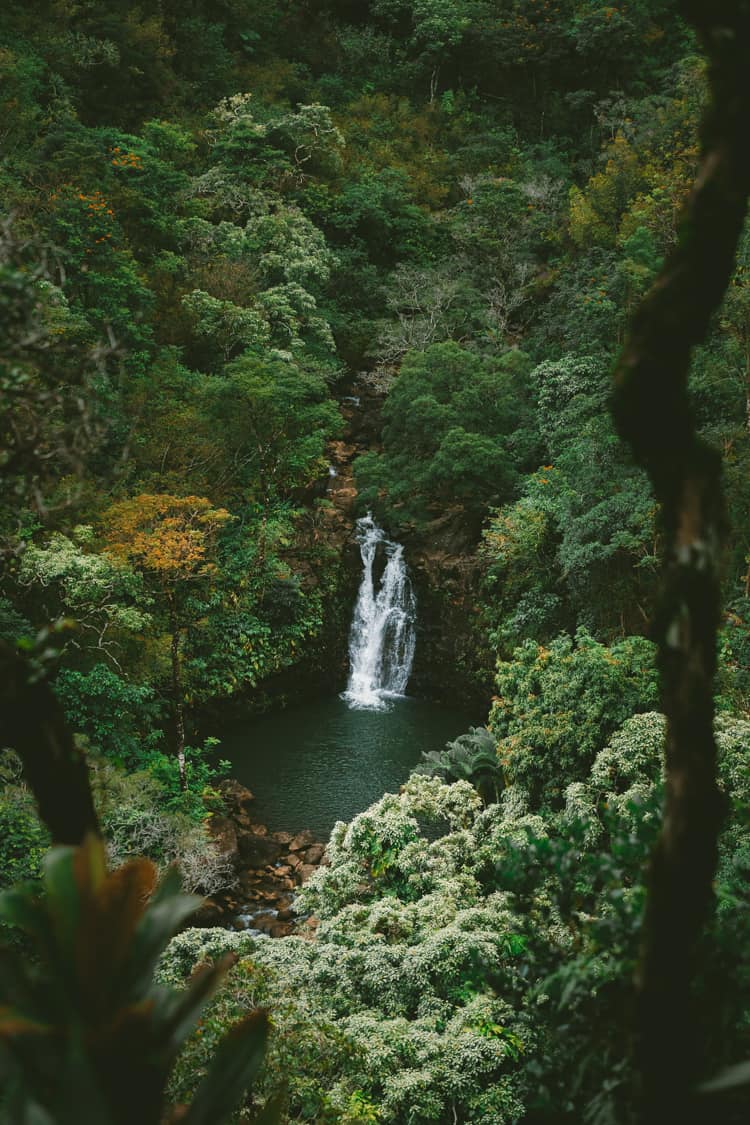 UPDATE – the Upper and Lower Puohokamoa Falls are now closed to the public. They were on private land and supposedly due to liability issues they are now closed to the public.
I keep this on the list so that you know that these falls used to be a great swimming spot, but they are now just able to be seen from lookouts, and not actually swam in anymore. Make sure you note this to be respectful of the Hawaiian rules.
There are so many beautiful waterfalls for you to swim in. Which is your favorite?
What to Pack for Maui
Planning a trip to Maui? Here are our best MAUI BLOG POSTS:
My husband and I have been to Maui a couple times and have written up more blog posts to help you plan your trip. These are my most popular blog posts and Hawaii travel guides to help you plan your trip. I hope it helps!
Maui general trip planning
Maui Beaches
Maui Hikes & Lookouts
Maui Waterfalls
Everything else