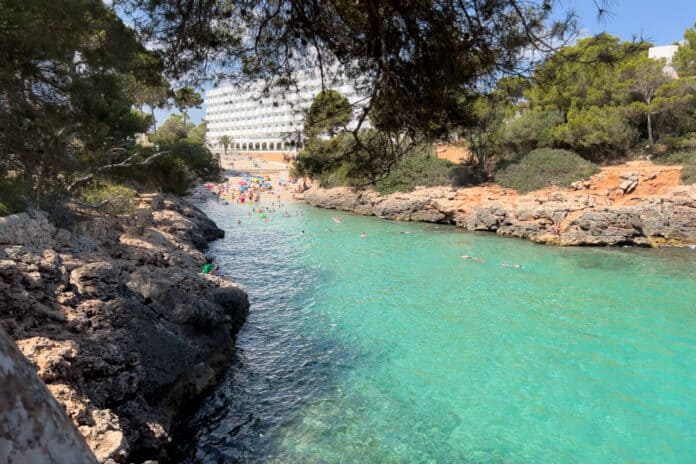 Cala Egos Mallorca – A Relatively Unknown Beach
We stayed in the Cala D'or resort area of Mallorca. This little resort town is known for being home to 5 amazing cove beaches. These calas are gorgeous and perfect for lounging on the limited amount of sand or swimming in their perfect temperature waters.
What we didn't realize was that there was an additional cove beach just steps away from our hotel. By complete chance we happened to walk by and decided to explore. We discovered Cala Egos Mallorca, which was so amazing it could easily be considered a 6th amazing beach in the resort area.
You can fly under the radar here and still experience rugged cliff walls winding into a gorgeous beach of soft sand. I loved spending time at this mini cove beach.
Quick Facts
Other Names: Cala D'egos, Cala De Egos, Calo, (formerly known as Caló de ses Egües,
Known For: calm waters, cliff jumping, mini beach, "less crowds"
Facilities: mainly for hotel guests, no showers or bathrooms, but in city can find a spot, no rentals in area
Lifeguards: No
Parking: easy, street parking nearby
Cost: Free
Other: Way less known than other Cala D'or beaches
What You Will Find at Cala Egos Majorca
Cala Egos Majorca features a relatively deep stretch of sand for a cala. While it is still pretty thing at the water, it goes deep enough that you are much more likely to be able to find a stretch of sand to spread out on.
Cliff walls wind into the beach and help protect the water from getting choppy, which helps create the clear blue effect that is so alluring. If you want to do some mild cliff jumping this beach features rock walls that will allow it. The highest spot you can safely jump from is only about 20 feet, but we still enjoye dit.
Check out the most popular tours in Mallorca
Location
This beach is in Cala d'Or resort area, which is in the Santanyi area of Mallorca. If you imagine the island of Mallorca as a clock, it would be on the coast at about 5 o'clock.
Parking
Parking at this beach is way easier than most other calas, even other ones in city areas. There is plenty of street parking just steps away from the stairs that lead down to the beach. We visited multiple times and each time had no problem finding free parking.
I think the parking is so easy because most of the guests on the beach simply walk there from their nearby hotels.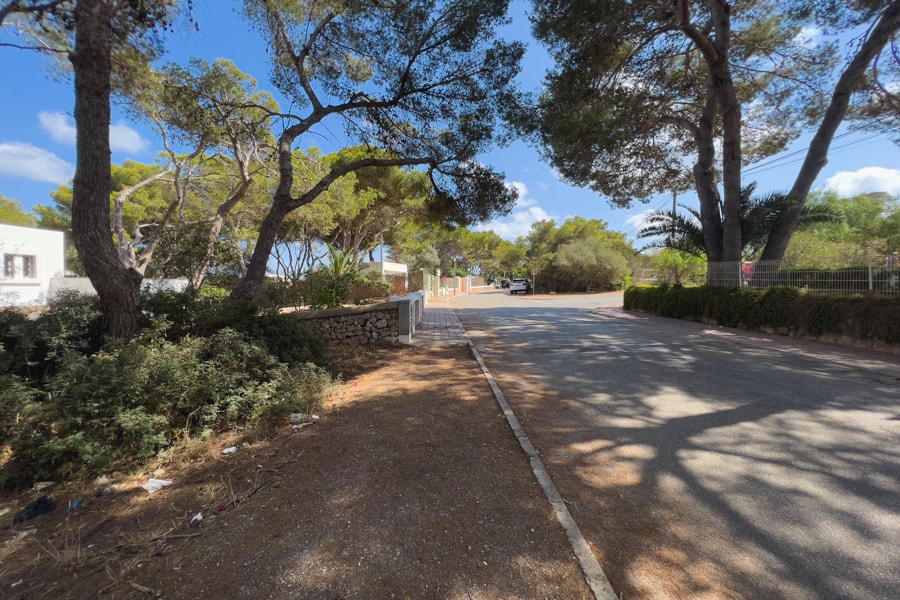 Facilities
The biggest downfall of this beach is that there aren't really any facilities. There are no bathrooms or showers, as well as no lifeguards.
The good news is that you are in the town so virtually everything you would need is within walking distance.
Crowds
In general you can expect Mallorca to be overflowing with people all summer. This beach has less of those crowds, but don't expect to have it to yourself unless you go out of season or super early in the morning.
The great news is that even at the busy times there were still wide stretches of sand that we could call our own. On a relative scale, this beach is substantially less crowded.
Conclusion
Cala Egos Mallorca delivers exactly what you would imagine a Mallorca cove beach to. The clear water is perfect for swimming and the sand is soft for lounging. These are framed by cliffs lining each side of the beach. While there aren't the creature comfort facilities at this beach, you can still enjoy it with less crowding than you will find on most other beaches.