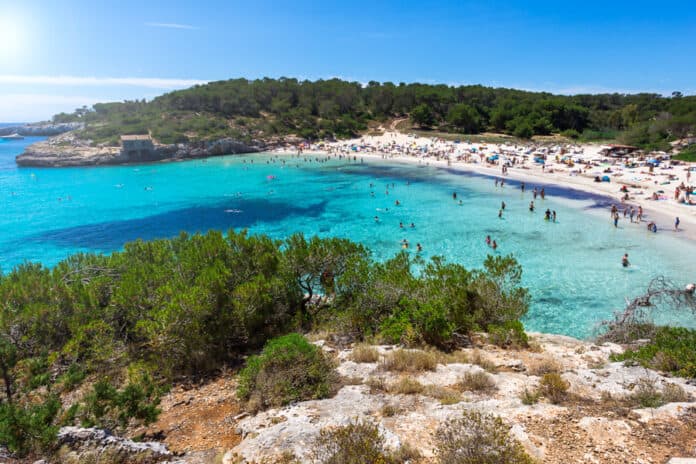 Cala Mondrago Mallorca = Worth The Extra Effort
Cala Mondrago is another of Mallorca's phenomenal cove beaches. Going to a cove beach like Cala Mondrago involves some tradeoffs from a traditional beach though. There is less available sand which results in a more condensed crowd.
Cala Mondrago makes up for these negatives by providing even more stunning views and a perfect swimming experience. The rugged cliffs lining the sides of the cove protect the shores from intense waves. Being protected from the waves helps.
This beach isn't in a popular resort area, but is still quite reachable so long as you have a car. It requires a drive and a hike, but is worth the effort.
Cala Mondrago Quick Tips
Other names: Parc de Cala Mondrago, Cala Modrago (sp), Cala de sa Font, Cala de n Alis
Best for: Swimming, snorkeling, photos, and relaxing
Day & time I visited: Saturday at noon (crowded)
Facilities: No showers, bathrooms at parking lot
Lifeguard: Yes
Cost: Free
Parking: Lot for 5 euros and some free street parking
Other: 10 minute walk required
Location
Cala Mondrago Mallorca is on the southeastern coast of the island. If you are coming from Palma it is about a 50 minute drive.
If you are coming from the Cala D'or resort area the drive only takes about 10 minutes.
First Tip – Cala Mondrago, Not Cala Modrago
To help you find it in your GPS, note the common misspelling, Cala Modrago is not correct.
There is an additional N, so make sure you spell it Cala Mondrago to be able to find it.
Parking
There is a generously sized parking lot at Cala Mondrago.
They charged 5 euros to park there. Even though it is generously sized we did see it fill up during a peak season weekend.
There is some additional street parking just ahead of the lot that you can park in for free, but those spots fill up quick.
Beyond the parking is a residential area that says the road is closed except for residents. While you can't park there you can pull all the way up and drop people off if you like.
10 Minute Hike Required
Once you are parking you still aren't at the beach. You need to walk for about 10 minutes to get there.
The first part of the walk goes through a residential neighborhood. It's an easy walk down a paved road.
The last little bit is on an easy to follow dirt path that takes you down to the beach. It only took 3 minutes and while there were a couple of steep steps it was easy to complete in flip flops.
Access to A Second Beach and Third Beach
On the hike you will see signage pointing to two other beaches.
If you head the opposite direction out of the parking lot you will see a small sign that directs you to Cala Des Borgit.
When walking through the residential area to Cala Mondrago you turn off onto a dirt path to get to the beach. If you continue on the paved street to the end you will run straight into Cala S'Aamador.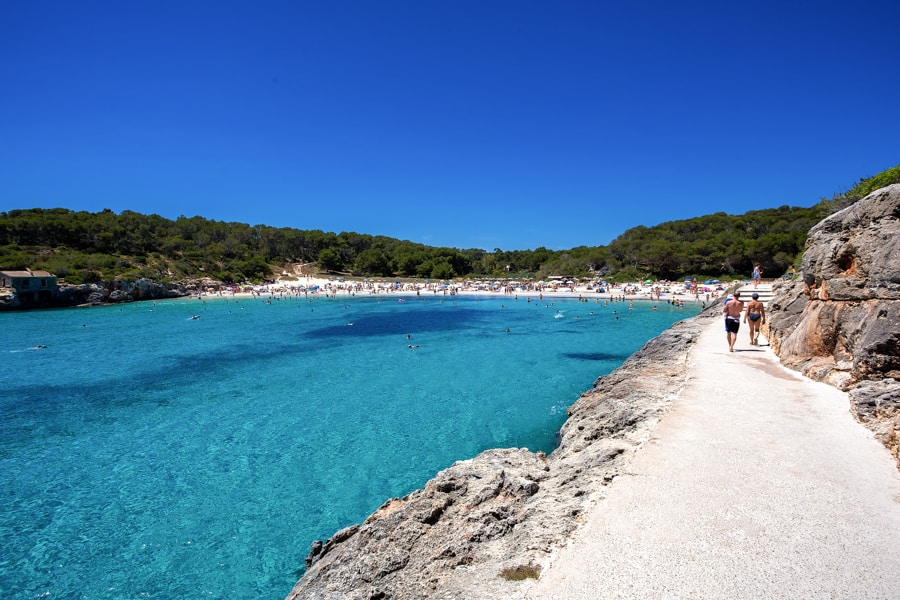 Pros and Cons
Pro – This stunning beach is a bit bigger than a lot of the other urban calas.
Con – even though it's not in a resort area, it's still popular enough to get quite crowded.
Pro – the beach is even more stunning than pictures show, and with a additional hiking trails around it is easy to spend a full day here.
Con – this beach does not have all the facilities you would want. There aren't showers and the only bathrooms are porta potties at the parking lot.
Pro – there are 2 other beaches are able to be accessed with a quick walk.
Conclusion
This beach has a ton to offer. While I wish it had more facilities the natural beauty and ability to explore 2 additional beaches makes it even more appealing.
Full guides on my favorite Mallorca beaches
I have visited over 30 Calas (or beaches) in Mallorca and have full guides about all of them. From which ones are best to the parking (it can be a nightmare) to how to get down to the actually beach as a lot of them require hikes.
CALO DES MORO – This is probably the most beautiful cove beach I have ever seen. It was crowded when we went (high season) but if you go during the spring or early fall it won't be nearly as crowded.
CALA S'ALMUNIA – Amazing cliff jumping spots here. Not too high, not too small. It was just perfect in my opinion. This beach is literally a 5 minute walk from Calo des Moro. Don't miss it! It's beautiful!
CALA DES BORGIT – Amazing, lesser known beach. This may have been my favorite Cala we visited. It is much lesser known and wasn't nearly as crowded as the others.
ES TRENC – Lesser known but amazing! Es Trenc is more of a traditional beach than the others on the list (no rocks or cliffs around) but more out of the way from most of the touristy things. It was another one of my favorite beaches. The water was so blue, and the sand so white! Trust me, you don't want to miss this hidden gem.
Other Mallorca beaches we loved:
Note: We have been to every single one of these beaches. It was A LOT of work but we love it! Mallorca is one of our favorite spots to vacation in the summer. I hope you find this information helpful. Thanks so much for reading!