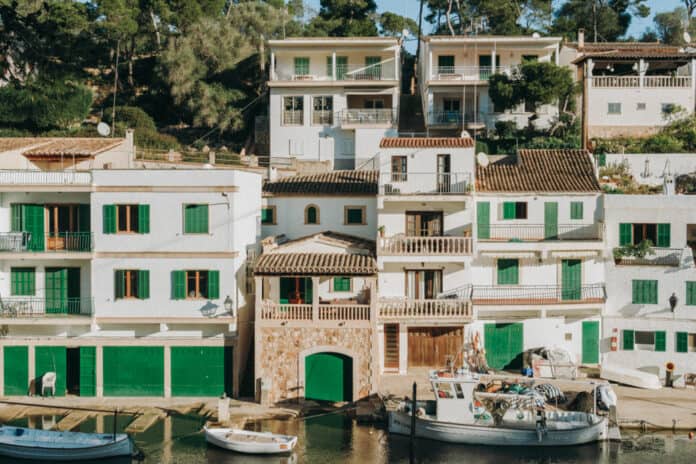 Cala Figuera
Cala Figuera is a small fishing village that doesn't have its own beach, so the visitors from there will head to the closest beach, which is Cala Santanyi.
While Cala Figuera doesn't have its own beach or swimming spots, it is known for its gorgeous, white washed traditional buildings and still being a fishing village used today.
Clearing up the "Cala Figuera" confusion
Two Cala's by the same name in Mallorca. Don't get them confused!
IMPORTANT: There are technically two Cala's in Mallorca by the name of Cala Figuera and it can get a little confusing. One is located the south east end of Mallorca (the one this post is covering) and one up north in Formentor. Two very different Cala's at opposite ends of the island.
To make matters worse when you google "Cala Figuera" half the results are of the one up north in Formentor and half the results were of the one in the south eastern end of the island. Be careful not to merge your research like I did at first.
Even the Mallorca.com website includes both places as if it were one, which is incorrect and only furthers the confusion.
Cala Figuera Quick Tips
Sand & water color: No sand or beach area, just a port. Blue water
Other names: Puerto de Cala Figuera
Best for: Shopping, eating, walking, enjoying the views
Known for: Charming fishing village (still active today)
Swimming conditions: Lots of boats in the water since it is a port. No beach.
Lifeguard: none
Cost: Free
Parking: Free street parking.
Where is Cala Figuera located?
Cala Figuera is located in Santanyí, Mallorca. This town is on the east side of the island about 37 mi (60 km) to the south east of the main city of Palma.
Not surprisingly there is evidence of people enjoying this area and the gorgeous water for over a thousand years.
How to Get to Cala Figuera?
If you are staying in Palma its a 50 minute car ride to get there. It's not easy to reach Cala Figuera by public transportation so I recommend renting a car and driving.
52 minute drive from the airport in Palma.
24 minute drive from the Cala d'Or resort area.
10 minute drive from Santanyí.
Cala Figuera Parking
Plenty of street parking. Free!
What you can expect at Cala Figuera
No beach area but you can swim. Just beware there are a lot of boats in the area since it is technically a port.
Beautiful blue water
Fresh fish and seafood are served in the harbour restaurants, which are stocked with fresh catch from the local fishermen.
Charming fishing village at the end of the bay
One of the most charming ports in Mallorca. This scenic harbour is the main reason for visiting Cala Figuera.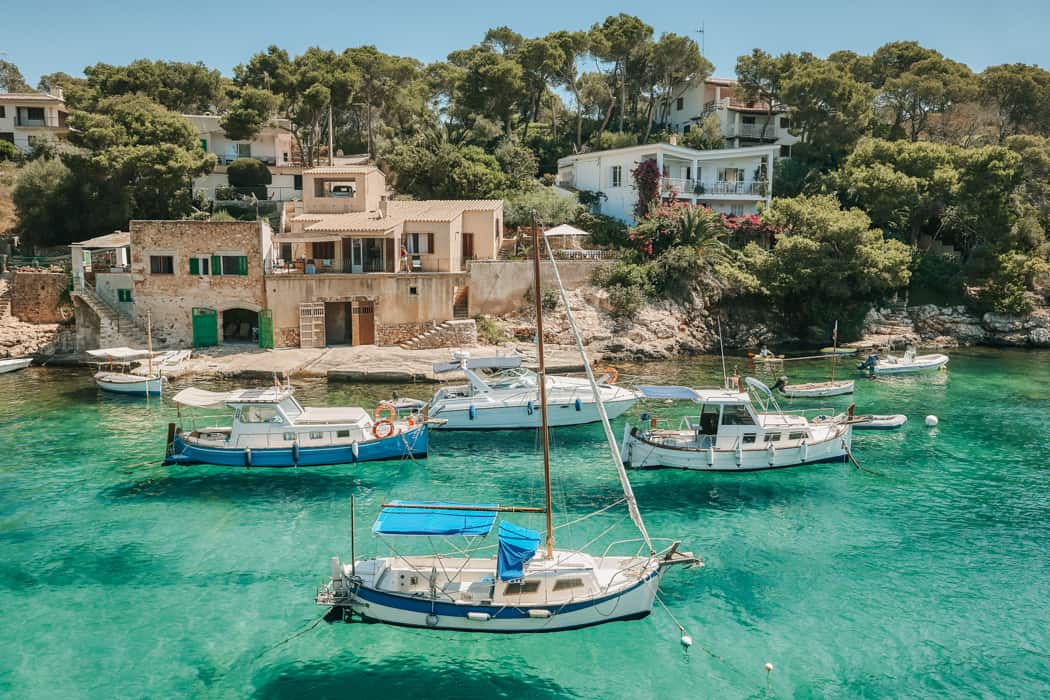 Can you swim in Cala Figuera?
There is a small area where to swim and dive in Cala Figuera, as the harbour is not a good place for bathing. In order to enjoy a good swim, you can drive to Cala Santanyí and s'Amarador, both very close to Cala Figuera.
Pros and Cons
Pros
Blue water
Great snorkeling and diving
Charming village
Cons
No beach
Lots of boats if you want to go swimming.
Conclusion: Is Cala Figuera worth visiting?
Yes! This little town was a highlight of our trip.
Things to do near Cala Figuera
South of Cala Figuera are Cala Santanyi and Cala Llombards.
S'Amarador beach is also nearby as well as Cala Mondragó.
Caló des Borgit is the perfect swimming spot close by.
Also close by – Caló des Moro – probably the most beautiful cove beach on the island.
There is so much to do in the Santanyí area. I was so happy we picked that spot to stay! Some of the best beaches in Mallorca are right there!
Full guides on my favorite Mallorca beaches
I have visited over 30 Calas (or beaches) in Mallorca and have full guides about all of them. From which ones are best to the parking (it can be a nightmare) to how to get down to the actually beach as a lot of them require hikes.
CALO DES MORO – This is probably the most beautiful cove beach I have ever seen. It was crowded when we went (high season) but if you go during the spring or early fall it won't be nearly as crowded.
CALA S'ALMUNIA – Amazing cliff jumping spots here. Not too high, not too small. It was just perfect in my opinion. This beach is literally a 5 minute walk from Calo des Moro. Don't miss it! It's beautiful!
CALA DES BORGIT – Amazing, lesser known beach. This may have been my favorite Cala we visited. It is much lesser known and wasn't nearly as crowded as the others.
ES TRENC – Lesser known but amazing! Es Trenc is more of a traditional beach than the others on the list (no rocks or cliffs around) but more out of the way from most of the touristy things. It was another one of my favorite beaches. The water was so blue, and the sand so white! Trust me, you don't want to miss this hidden gem.
Other Mallorca beaches we loved:
Note: We have been to every single one of these beaches. It was A LOT of work but we love it! Mallorca is one of our favorite spots to vacation in the summer. I hope you find this information helpful. Thanks so much for reading!