The Azores are a collection of nine islands out in the Atlantic Ocean. They feature acres of wild jungle, steamy hot springs, cascading waterfalls, mind blowing coastal hikes, and black sand beaches. Here are 20 of the best things to do in the Azores.
Where to stay in the Azores
We stayed at the Azoris Royal Garden Hotel; it turned out to be even better than expected. In fact, I loved it! The location was great. It was central to everything we wanted to see. We didn't want to be stuck on one side of the island.
Ponta Delgada is the main city on Sao Miguel Island and where we recommend staying if you are visiting. Check availability here to see hotel prices in Ponta Delgada.
20 Best things to do in the Azores
1. Visit Ponta do Sossego
Ponta Do Sossego is a beautiful botanical garden as well as a lookout point on Sao Miguel island. It is a 2 hour drive from Ponta Delgada. It is located in the Northeast part of the island and is undoubtedly worth the trip.
If you are into cliffside roads and mind blowing views (who isn't?), the 2 hour drive won't bother you one bit.
Since Ponta do Sossego is pretty isolated from the rest of the island few visitors make their way out there. The area is so big that even if a few tour buses stop there you will hardly notice them.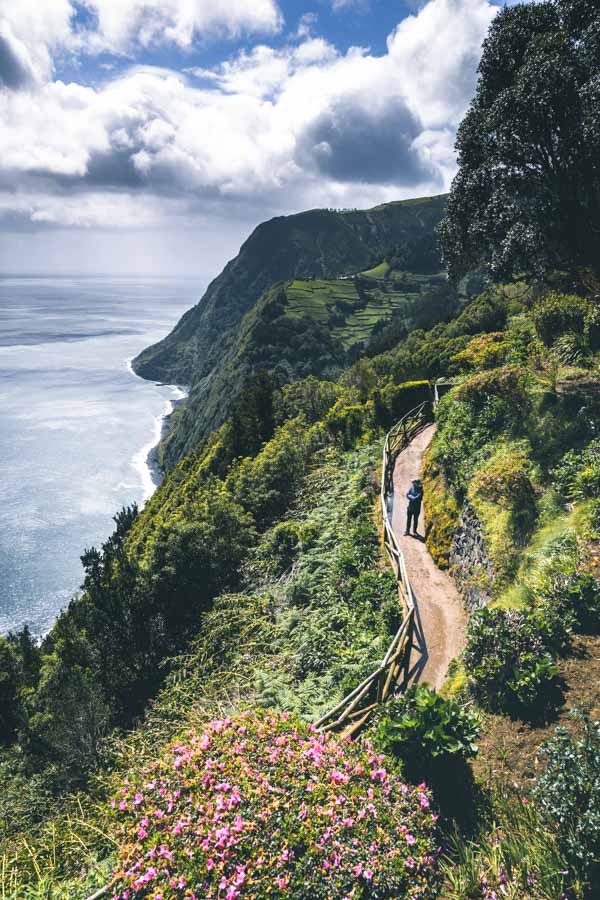 2. Lagoa Do Congro
Want to experience a peaceful hike and a beautiful green lake? Lagoa Do Congro is it! It is located on Sao Miguel island. The parking lot is right next to trail head which is easy to follow.
It is an easy hike through a forest to get to the lake (about 10-20min).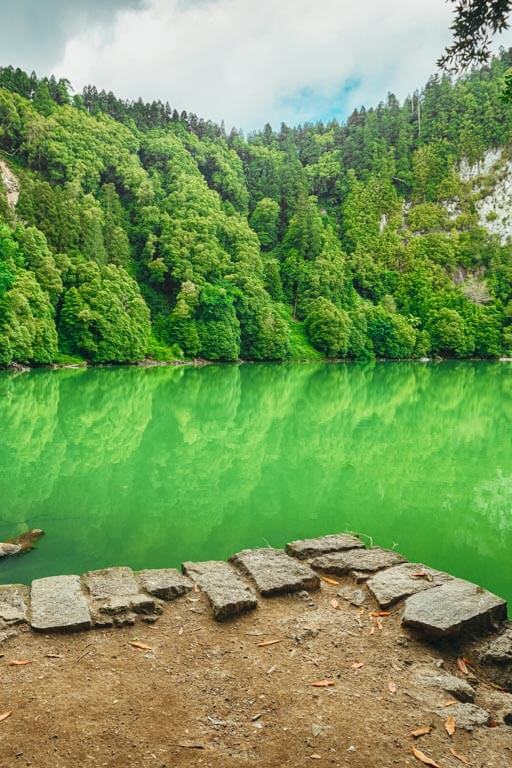 3. Mosteiros, São Miguel
Mosteiros is a small town in the Azores. The town of Mosteiros itself only has a population of just over 1,000 people.
In comparison, Ponta Delgada – the largest city on the island of Sao Miguel – has a population of around 70,000 people.
It is so small that it is often overlooked by tourists and very little information can even be found online.
What is there to see in the town of Mosteiros? For starters, Mosteiros Beach was my favorite beach on Sao Miguel island. Likely because it is unknown, we had the entire beach and surrounding area to ourselves.
Find all: Most popular hotels in the Mosteiros Azores
4. Visit the best beach in the Azores, Mosteiros Beach
The beaches in the Azores are beautiful. But what I didn't realize before going was that some of the Azores beaches were actually black sand beaches!
Not grey sand, but BLACK. The Mosteiros beaches and cliffs were one of the highlights of our vacation in the Azores. The entire area is gorgeous.
How to get to Mosteiros
Mosteiros is a 45-minute drive from Ponta Delgada; it is located on the far west side of Sao Miguel on the edge of the Atlantic Ocean.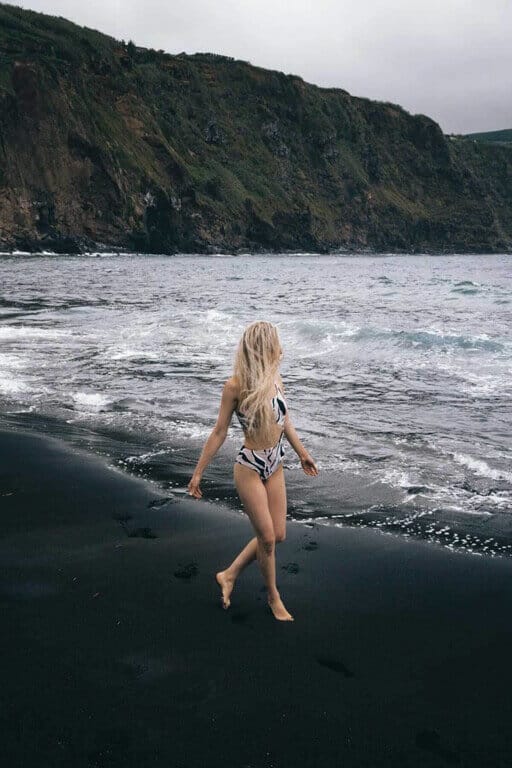 5. Go Whale Watching!
A key perk to being on an island in the middle of the ocean is that you are much closer to tons of amazing sea animals.
There are amazing tours that know where to take you so you are incredibly likely to be able to see whale, dolphins, turtles, and other sea life.
I highly recommend taking a boat tour out to see the sea life up close! It is truly incredible to see these animals up close and personal in their natural habitat. Check out this page for more details.
Book your space on a boat here to make sure you don't miss out on the opportunity. Unfortunately, spots fill up fast.
6. Ilhéu de Vila Franca, São Miguel Island
The islet offers some beautiful beaches as well as a large water park. Through the combined powers of the sea and the wind the surrounding rocks and cliffs eroded into strange shapes.
In order to preserve the valuable environment of this islet, it has become a nature reserve.
From June to September the Ilhéu can be reached by a regular boat service that leaves at Tagarete, Vila Franca do Campo's harbour.
There are a few ways you can explore this island:
Take a Full day boat tour – This incredible full day (8 hrs) boat tour includes dolphin/whale watching.
Glass Bottom Boat and Snorkeling Experience – I didn't get to do this Glass Bottom Boat and Snorkeling Experience in Vila Franca do Campo because it was not available when we went. But seriously, it looks so cool. I highly recommend checking it out here.
You can also find other options here.
---
Tours and Tickets to Experience Vila Franca do Campo
---
7. Visit Parque Terra Nostra
Terra Nostra Park is located in the small town of Furnas on Sao Miguel island. I absolutely loved our stop at Terra Nostra. It was a truly unique experience that I can't compare to anywhere else. Botanical gardens, wildlife, and natural hot springs are some of the main attractions.
The park costs €8 per person to get in (about $9 USD). Given that you can spend the better part of a day in the park, we found it to be good value.
Read more on Visiting Terra Nostra Park in the Azores, Portugal
What to see at Parque Terra Nostra?
Explore the botanical gardens – With over 300 different types of ferns the Terra Nostra Garden park is perfect for a romantic walk.
Take a swim in the geothermal hot pools – (my personal favorite!) These are not just any geothermal hot pools. In fact, the largest of the pools is bright orange. It was unlike anything I had ever seen before! It wasn't crowded and I was loved every minute of it. Read more about the Geothermal Hot Springs.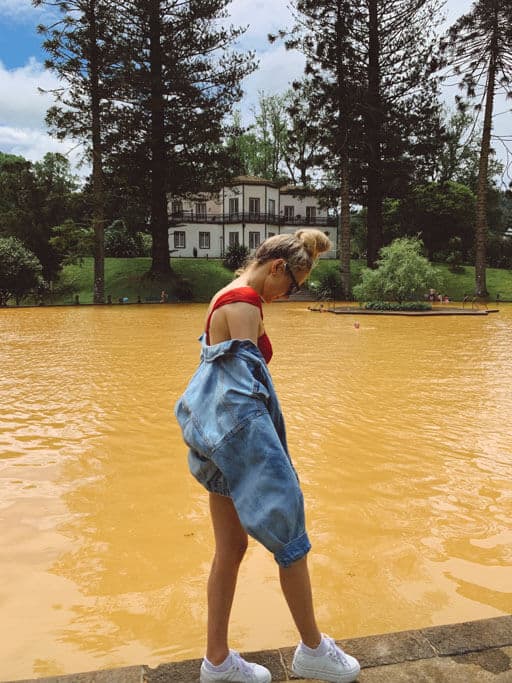 8. Stay at the Terra Nostra Garden Hotel
The Terra Nostra Garden Hotel is not only an award winning hotel for luxury, but also known as one of the best "green retreats" in all of the Azores. The Terra Nostra Garden Hotel and Spa on the grounds is one of the best places to relax after a day of hiking adventures.
A stay at the hotel places you in the heart of Furnas, so you are close to many other attractions. It also gives you free admission to Terra Nostra Park, so feel free to explore and soak in the geothermal pools as often as you like.
9. Sete Cidades Azores
If you are traveling to the Azores you have to make the trek to the remote village of Sete Cidades. This village is home to several of the Azores' main attractions!
The area around Sete Cidades is home to epic hikes, volcanic hot springs, curiously fantastic beaches, and two neighboring lakes of different colors (Lagoa Verde and Lagoa Azul) – one green, and one blue!
It is a 45 minute drive from Ponta Delgada (the main city on Sao Miguel Island and where we stayed). Book our exact hotel here.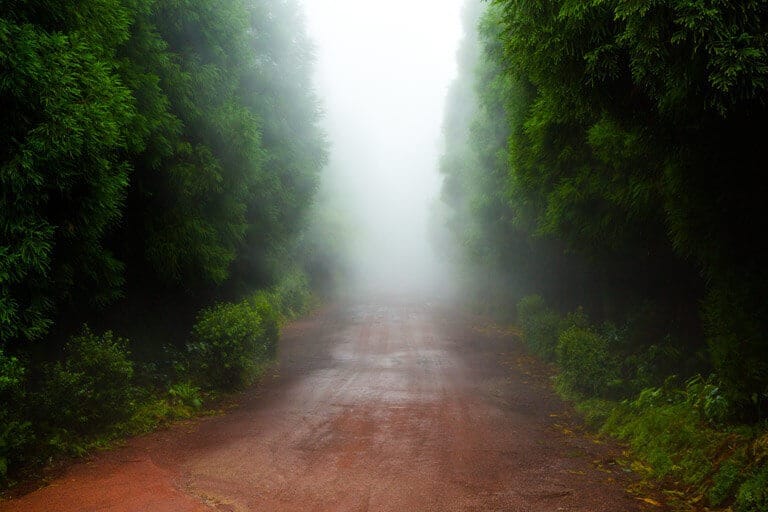 10. Visit the Miradouro do Boca de Inferno
Miradouro Boca do Inferno translates to 'the viewpoint of the mouth of hell.' Even though the name is intense, it is much closer to heaven than hell. Unlike many other Azores attractions, it doesn't even require a super long hike.
You can drive your car almost all the way up and then have a few hundred yards worth (about five minutes) of hiking through lush greenery to get there. Alternatively, you can park on the main road and walk (about 20 minutes).
Photos from Miradouro de Boca Infero are probably the most commonly seen from the Azores. You may recognize it from Google images, but be warned that the view is dependent on the weather.
It's often very foggy here. So, if you get a clear day, make sure this viewpoint is at the top of your list! Read more about the Azores weather here.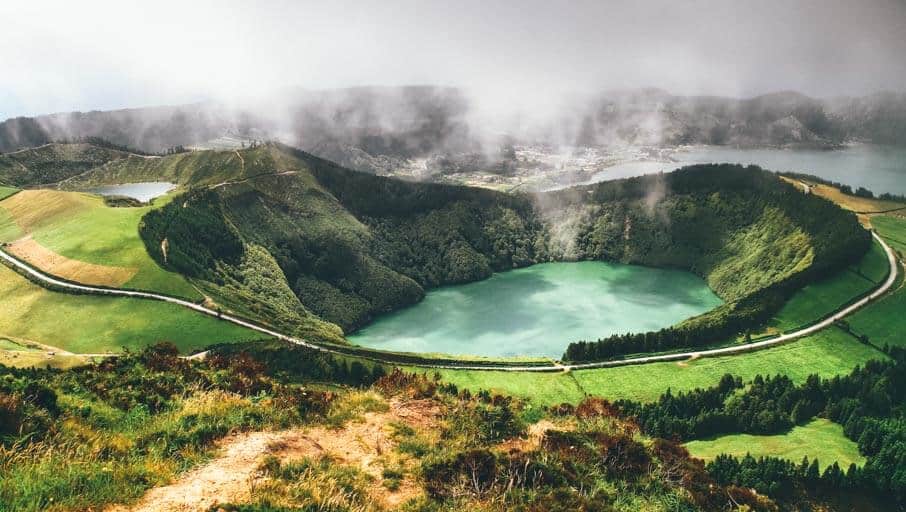 11. Furnas Azores
You must visit the picturesque village of Furnas on any trip to the Azores. Located on the Portuguese island of Sao Miguel Azores, this town is a natural hotspot of geothermal activity. It somehow feels completely different than the rest of the island.
Tucked away high in the mountains, the village of Furnas is home to only 1,500 people. It is also one of the best places to see and experience the effects of an active volcano.
Steaming hot springs, leafy fern-lined gardens, and natural thermal spas abound in Azores Furnas. This tropical paradise won't disappoint!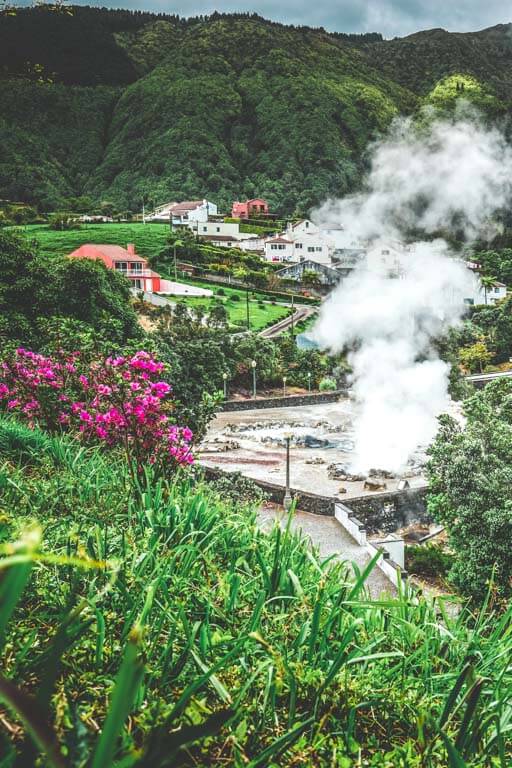 12. Witness the Steaming Caldeiras das Furnas
This spectacular thermal valley on the edge of Lake Furnas is something truly extraordinary. You can see the steam and water literally bubbling up out of the ground! A boardwalk leading around the northern side of Lake Furnas makes this otherwise scorching valley safe to explore.
The smell of sulfur is really strong around the caldera. I thought it would make me feel sick, but luckily it didn't. We'd recommend coming here later in the day when there are fewer crowds; we visited in the late afternoon and had the place pretty much all to ourselves! What bliss.
The boardwalk at Caldera Das Furnas is open 24 hours a day, and it supposedly costs €2 to park here. However, we pulled in and saw no gate and no one to collect money from us. Don't miss the opportunity to watch cozida being cooked by local chefs while you're here!
13. Lagoa Das Furnas (Furnas Lake)
Lake Furnas fills a natural volcano crater and is one of the most scenic spots in the village of Furnas. The area is made up of multiple geothermal springs, it's a real feast for the senses with its boiling water, sweltering steam, and mud spouting out of the holes in the ground just about everywhere you look.
There's plenty to do around Furnas Lake. You can walk or bike along the lake side trails or rent a boat for the perfect serene escape. My favorite spot was the caldera of steaming ground on the northern shore of the lake. Don't miss it!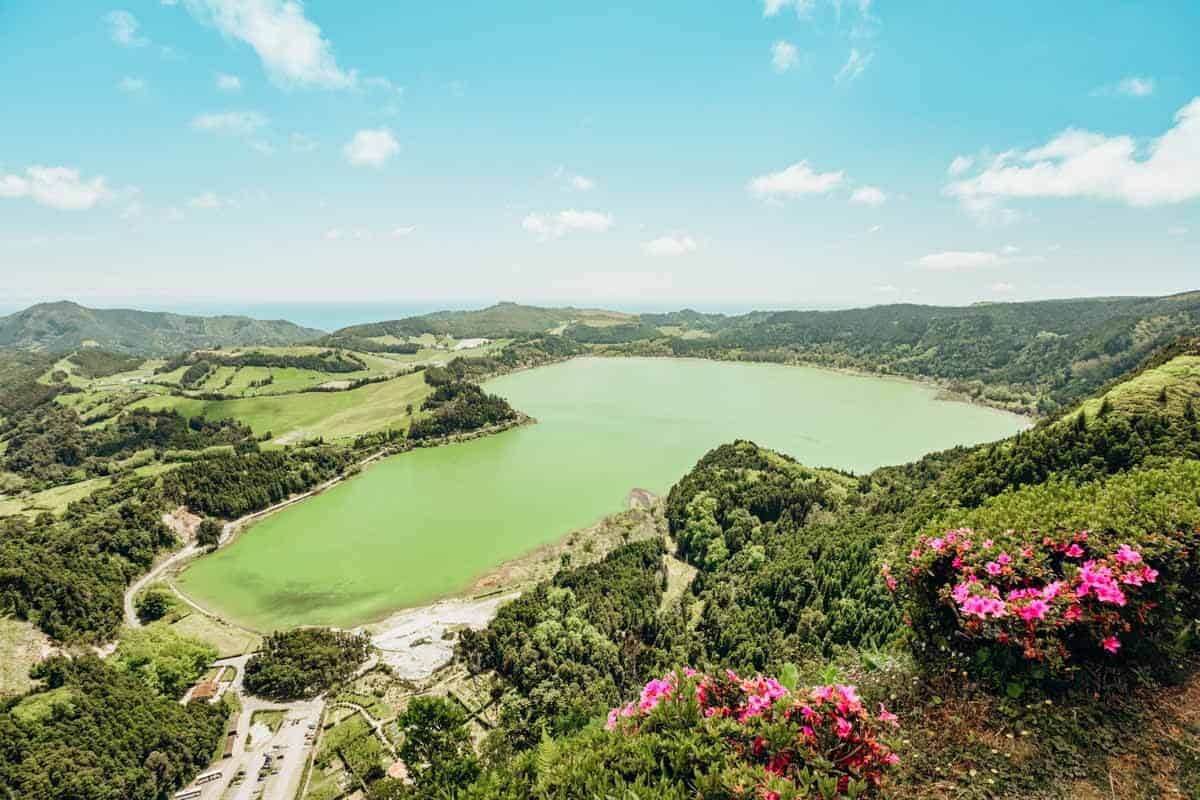 14. Relax at Poca Da Dona Beija (hot springs)
Poca Da Dona Beija is another awesome hot spring enabled by Furnas' geothermal activity. You'll find five different open-air hot tubs/geothermal pools of varying temperatures.
The tub's temperatures vary coldest to hottest. I enjoyed going back and forth between the different temperatures! These hot springs are a must on any trip to the Furnas.
Poca Da Dona Beija Hot Springs Hours – Open from 7:00 until 11:00 pm, it's the perfect late-night activity and costs just €6 per person to get in.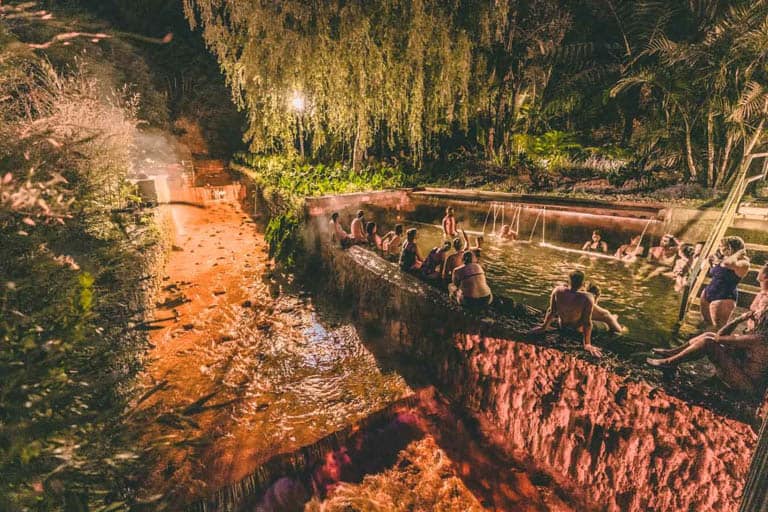 15. Visit Our Lady of Peace Chapel (Nossa Senhora Da Paz)
This gorgeous white chapel is located on a hilltop with panoramic views. It was built in the 18th century and was surprisingly one of my favorite stops on the island. The views from the top were hard to beat.
16. Taste Tea at Plantacoes De Cha Gorreana
The Plantacoes De Cha Gorreana, or the Gorreana tea plantation, is another amazing way to experience the unique aspects of the Azores. With this lush tea plantation you'd think you were in Asia.
The views are simply stunning.
Pro Tip: When passing by you can enjoy a free tour and a free tea tasting!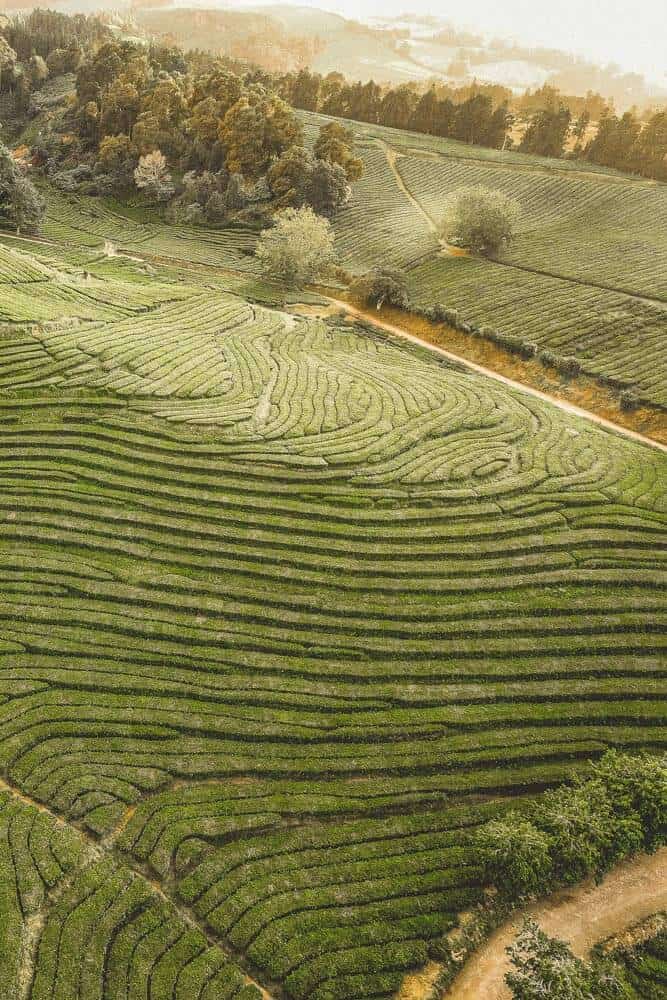 17. Ponta Da Ferraria Azores: A Natural Ocean Hot Spring
Ponta de Ferraria is a free geothermal spa and hot spring in the ocean – yes, you read that right. Set over a natural thermal spring, the lagoon waters are heated from below, making the temperature of the water extremely pleasant for swimming – especially at low tide.
This isn't just your average swimming hole though; it's where the cold ocean water and hot springs collide, so you should be prepared for some crashing waves.
How to get to Ponta da Ferraria
Ponta da Ferraria is located at the far western end of Sao Miguel Azores, about a 35 minute drive away from the Ponta Delgada Airport.
The best way to get there is by renting a car. You usually have to drive down an insane road of switchbacks to get there, but the road has been closed to vehicles recently due to a landslide (I've heard that it may be reopened now though).
More Tips to Know Before Going to Ponta da Ferraria
18. Salto Do Prego, Faial Da Terra Azores
Salto do Prego is a 2.3 mile moderately trafficked loop trail located near Faial da Terra, Azores, Portugal that features a waterfall. The trail is accessible year-round.
The drive in and out of Faial da Terra where this waterfall hike is located is a beautiful. The population in this small town is only 359!
Tip – Make sure to take the detour and explore the beautiful abandoned village Sanguinho. You won't regret it.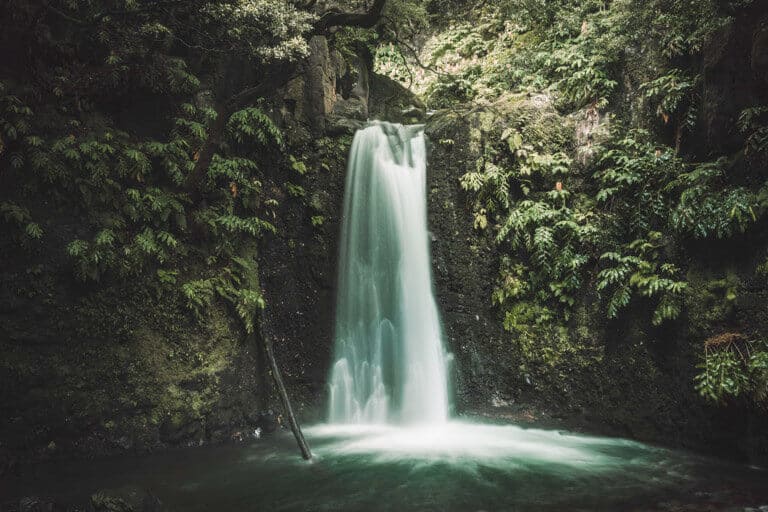 19. Visit Capelinhos on Faial island, Azores
The Capelinhos is a volcano located on the western coast of Faial Island in the Azores.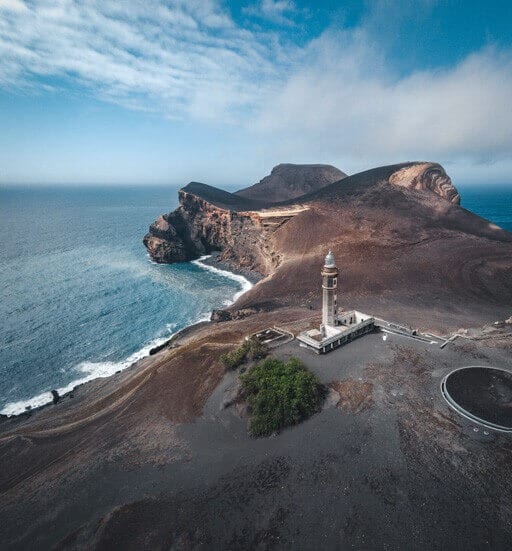 20. Lagoa das Sete Cidades
I already mentioned the viewpoint of these lakes, but make sure to journey down to their shores to explore. The two lakes combined are sometimes called Lagoa Das Sete Cidades.
They are two different colors, one is blue and one is green. Definitely a must see in the Azores.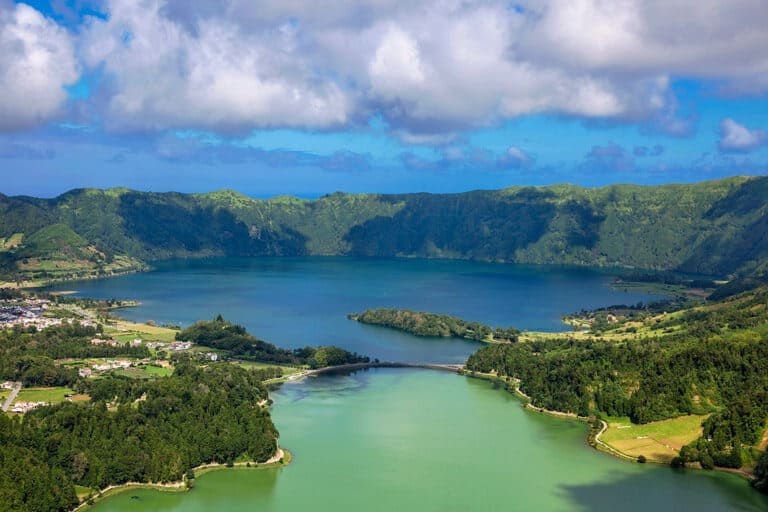 21. The Church of Saint Nicholas
I don't know why but I loved visiting this church. The trees leading up to the church just looked so beautiful!
Have you ever been to the Azores Islands? What would you add to this list of the top things to do in the Azores?