One of the coolest experiences you'll ever have in the Azores is a visit to Ponta da Ferraria (tip of Ferraria). Ponta da Ferraria is literally a volcanic hot spring located in an ocean lagoon!
Ponta Da Ferraria – A Natural Ocean Hot Spring!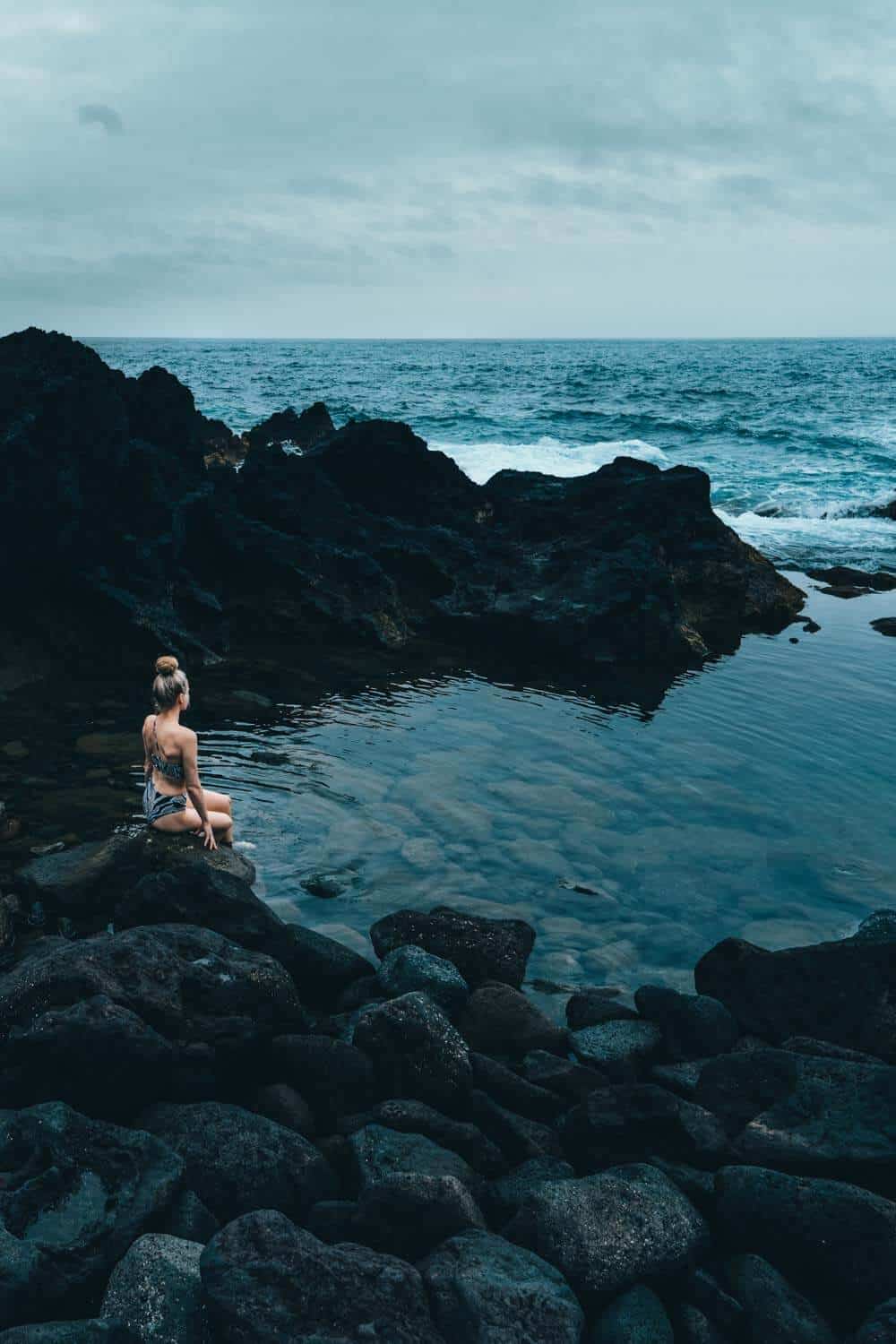 Located at Ponta da Ferraria (tip of Ferraria)
Situated on the westernmost tip of Sao Miguel (i.e. Ponta de Ferraria), the largest city in the Azores, Termas da Ferraria is surrounded by dramatic basalt cliffs and the azure waters of the Atlantic Ocean.
The nine islands that make up the Azores archipelago in Portugal have seen thousands of years of volcanic activity, so it's not all that surprising that one of the top tourist attractions in the Azores is a volcanic hot spring.
Dating back to the 15th century, the Spa of Ferraria thermal bath is situated along the rocky shoreline where the salt water of the ocean mixes with the gorgeous warm spring water celebrated for its fantastic health benefits.
Azores Hot Springs – my favorite!
While we managed to squeeze a lot into our trip, swimming in this naturally heated cove in the middle of the ocean was my favorite thing to do in the Azores.
Here's what you can look forward to:
Ferraria Hot Springs – A Geothermal Natural Pool
Ponta da Ferraria is a free geothermal spa and hot spring in the ocean – yes, you read that right. Set over a natural thermal spring, the lagoon waters are heated from below, making the temperature of the water extremely pleasant for swimming – especially at low tide.
This isn't just your average swimming hole though; it's where the cold ocean water and hot springs collide, so you should be prepared for some crashing waves.
How Warm is the Water?
You may be wondering how the pool can be warm with the ocean's cool waves continually crashing in. Well, the heat does come and go as the waves crash in and out, but the thermal waters can make the Atlantic Ocean – which is usually rather cold – lovely and warm.
In fact, at low tide, the waters of Termas de Ferraria can be so warm it's tough to stay in for long! While at high tide, when cooler ocean water comes in, the temperature difference can still be felt closer to shore.
I'd read that the water can sometimes get too hot at low tide, but the lagoon is big enough that even if this was the case, you could get away from the vents pouring hot water in and find a more suitable temperature for a leisurely swim.
Getting to Ferraria, from Ponta Delgada Azores
Ponta da Ferraria is located at the far western end of Sao Miguel Azores, about a 35 minute drive away from the Ponta Delgada Airport.
The best way to get there is by renting a car. You usually have to drive down an insane road of switchbacks to get there, but the road has been closed to vehicles recently due to a landslide (see June 2019 update below).
At the bottom of the hill, there is ALSO a manmade spa where you can relax in a pool or hot tub. After looking at the reviews, it sounds just like a normal spa with steam rooms and saunas. We recommend skipping it and going to the one nature created instead.
When to Go to Ferraria Azores
It depends on what kind of experience you're looking for and what water temperature you prefer to swim in. High tide offers cooler water from the Atlantic Ocean, making it just about manageable for a refreshing dip. In our opinion, the water at high tide is too cold to swim in, but many people still do.
We think the best time to go to Termas de Ferraria Azores is at low tide when the water is much warmer (sometimes a bit too warm!). Check out the tide forecast here to time your visit at low tide for a fantastic soak.
More Tips to Know Before Going to Termas da Ferraria
The waves at Ferraria Azores can get aggressive, so you need basic swimming skills – but even with kids, you can still enjoy it. We saw families with kids, and they have ropes strung across that you can hold on to help resist the waves.
Free changing rooms are available next to the pool should you need them.
You have to climb over some jagged rocks to access the pool, so bring water shoes as the rocks can hurt your feet.
The natural pool is surrounded by sharp rocks with a ladder that makes climbing in and out easy. However, if you're looking to sunbathe, you may be better off choosing one of the sandy Azores beaches.
The lagoon with its sulfurous water is believed to have therapeutic properties with great benefits for skin conditions, and other ailments such as arthritis and joint pain.
The pool is not super deep – depending on tides, your feet can usually touch the bottom.
While the Termas da Ferraria spa will cost you to enter, the natural pool is one of the best free things to do in the Azores.
2019 June Update
The winding road leading down to Ponta da Ferraria in San Miguel Azores was closed when we visited in June 2019 while they cleared the road from a recent landslide. You're still able to access the lagoon on foot; you just have to park at the top of the hill and hike down (it took us about 10 minutes to get down and 15 minutes to get back up).
The lagoon felt less crowded than normal, perhaps because of the road closure, so it was a bonus for us.
Even though we didn't plan to go to the manmade spa, we couldn't because it was closed while the road was being fixed. If you've been here and seen that it's opened up again, please let us know in the comments below.
We really enjoyed our swim in the natural lagoon, and if you're wondering what to do in the Azores, don't hesitate to go yourself! Check the tide forecast, pack some snacks, and have fun!