Cala Serena
Cala Serena is another awesome cove beach on the southeastern coast of the island of Mallorca.
This mini beach features vibrant turquoise waters, a small patch of soft sand, and cliffs jutting up and along the edges of the shore. When you walk down the steps into this mini beach you truly feel like you've escaped into a paradise.
Of all the gorgeous places you can stay in Mallorca, it is really hard to not select the Cala D'or resort area. I say this because the Cala D'or resort area features 5 different calas (cove beaches) that are all incredibly easy to access as they sit in the middle of the city area, Cala Serena being one of the 5.
Of the 5, Cala Serena is one of the smallest and has the least facilities. Trading those features generally results in there being less crowds when compared to the other calas in the area.
Remember, in season there are going to be crowds regardless, but less crowds means that you are likely to be able to find space on the sand to spread your towel out on.
Quick Facts
Other Names: Playa de Cala Serena, Cala D'or (resort area name)
Known For: A slightly less busy cove beach than its neighbor Cala Ferrera
Facilities: None
Lifeguards: No
Parking: plenty in city on side of roads
Cost: free
Other: Immediately next door to Cala Ferrera
Cala Serena Location
The Cala D'or resort area on the southeastern coast of Mallorca is home to a lot of serene cove beaches. Of the 5 calas in Cala D'or Cala Serena is the most north. It takes about an hour to drive here from the Palma airport.
What to Expect At Cala Serena Mallorca
Some of Mallorca's cove beaches are tricky to find and difficult to access. One of the best perks of Cala Serena is that neither of these is the case.
Cala Serena Parking Situation
Unlike a lot of calas, this one has parking that is relatively easy to find. Because the cala sits in the middle of an urban area, there is tons of FREE street parking around the Cala. I went on a busy weekend day and quickly found a spot that only required a short walk to the access point.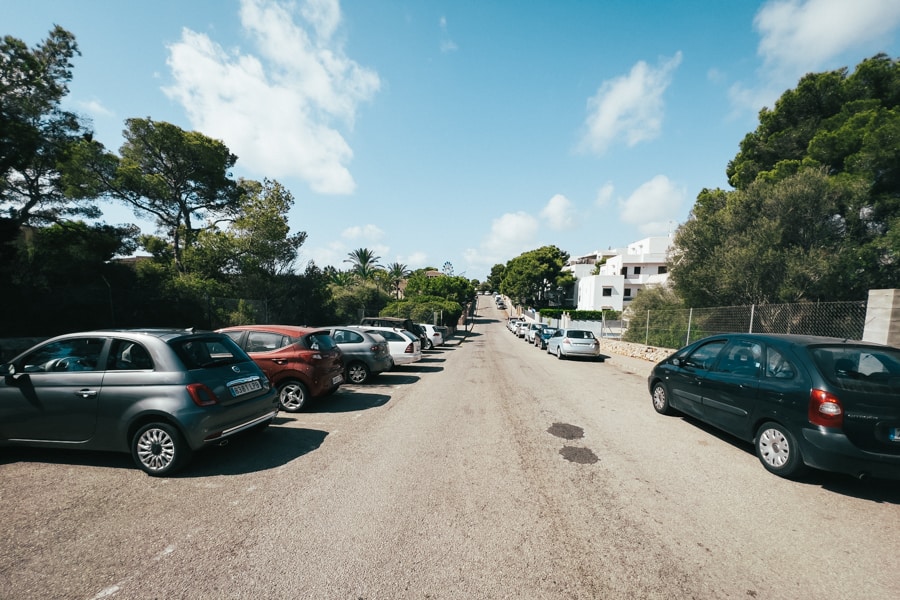 Steep Steps Down
Getting down to Playa de Cala Serena involves a brief walk of about 200 yards and 100 steps. The steps can be a little steep, so take your time!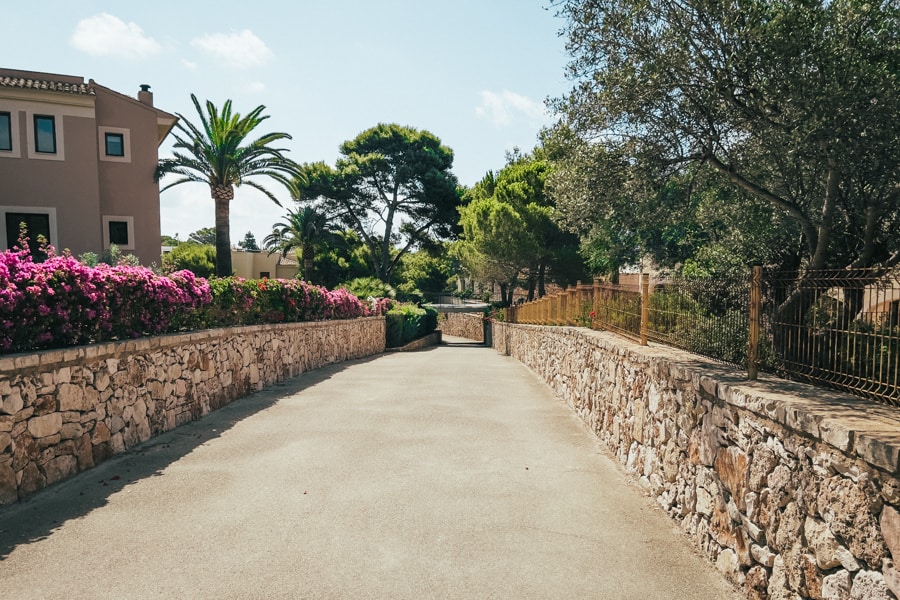 The walk down into Cala Serena
Playa de Cala Serena Facilities
Unlike its neighbor Cala Ferrera, there are not restrooms, showers, or lifeguards. You can walk back up the stairs and into the city to find restrooms, restaurants, and shops, but they aren't actually located on the beach.
If you do want to rent beach chairs and umbrellas they are offered on the beach though.
The cala's design provides a little bit more shade than some of the others if you are looking to find a place to lounge out of the most intense rays of the sun.
Crowds
Given the lack of facilities, inability to cliff jump, and smaller size of Cala Serena I think it keeps the worst of the crowds away.
There were still plenty of people on the beach, but it was in no way a competition for space to be able to sit down, spread out your towel, and relax.
What Else To Do In The Area
I love the next door beach of Cala Ferrera. It offers a full range of facilities as well the opportunity to do some cliff jumping!
Also, if you want to do a beautiful hike terminating at a remote beach you should consider Cala Sa Nau which is the starting point for an awesome hike that ends at Cala Mitjana.
Conclusion
While Cala Serena isn't my favorite of the Calo D'or calas in Mallorca, I would still in no way be disappointed to spend another day there!
Full guides on my favorite Mallorca beaches
I have visited over 30 Calas (or beaches) in Mallorca and have full guides about all of them. From which ones are best to the parking (it can be a nightmare) to how to get down to the actually beach as a lot of them require hikes.
CALO DES MORO – This is probably the most beautiful cove beach I have ever seen. It was crowded when we went (high season) but if you go during the spring or early fall it won't be nearly as crowded.
CALA S'ALMUNIA – Amazing cliff jumping spots here. Not too high, not too small. It was just perfect in my opinion. This beach is literally a 5 minute walk from Calo des Moro. Don't miss it! It's beautiful!
CALA DES BORGIT – Amazing, lesser known beach. This may have been my favorite Cala we visited. It is much lesser known and wasn't nearly as crowded as the others.
ES TRENC – Lesser known but amazing! Es Trenc is more of a traditional beach than the others on the list (no rocks or cliffs around) but more out of the way from most of the touristy things. It was another one of my favorite beaches. The water was so blue, and the sand so white! Trust me, you don't want to miss this hidden gem.
Other Mallorca beaches we loved:
Note: We have been to every single one of these beaches. It was A LOT of work but we love it! Mallorca is one of our favorite spots to vacation in the summer. I hope you find this information helpful. Thanks so much for reading!