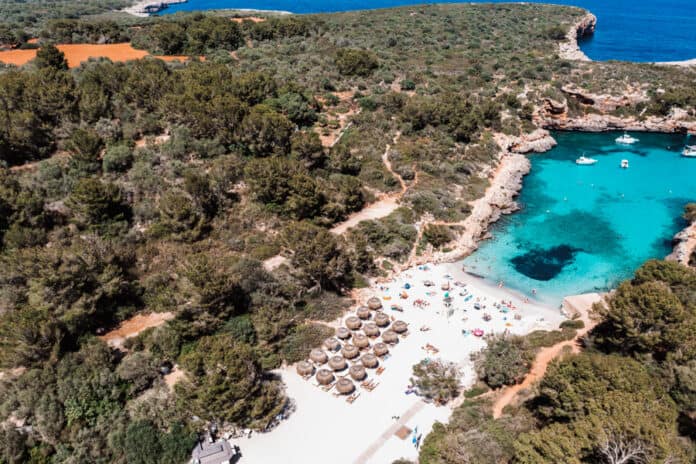 When you are on this part of the island of Mallorca there are a lot of different calas or cove beaches that you can visit. Of all the available options, Cala Sa Nau is uniquely special in what it offers. While it is a little bit trickier to access than some of the others, I think it is worth figuring it out.
The drive to this beach can be a little confusing, but once you get there it is easy to access. The beach features a wide stretch of sand, cliffs you can jump off of, refreshment stands, and even access to a super fun hike that will take you to another cala.
Quick Facts about Cala Sa Nau
Other Names: Playa Sa Nau
Known For: Beautiful cove beach, proximity to Cala Mitjana
Facilities: Showers, restrooms, a restaurant and bar
Lifeguards: Yes
Parking: Large lot and some street parking
Cost: Free
Other: Starting point for the hike to Cala Mitjana
Getting There
Cala Sa Nau is located just north of the Cala D'or resort area on the eastern side of the island of Mallorca.
If you are coming from the airport, the drive will take you about 1 hour.
If you are coming from the Cala D'or resort area the drive only takes about 15 minutes.
The tricky part in accessing this beach is that you will need to drive down some thin winding roads to access. At times this road gets so narrow that only one car is wide enough to drive down it, so if someone is coming from the opposite direction one of you will have to pull off.
Even though I was following my GPS, I passed signs that said the road was closed to everyone except locals. While I kept going past the Residents Only sign I soon discovered I could have taken a road that wound around instead. If you want to avoid the residents only roads then take the routing that goes further inland and then back out to the coast.
Parking
Shockingly there is a relatively large parking lot at the top of the steps that lead down into the cala. While the lot is made of dirt, we had no problem finding a spot even at a busy time. If the lot is full, there is a little bit of street parking ahead and after the lot entrance.
Once There
The vibe of this cala seems to be very family friendly. There were a good amount of kids there, which I think was due to there being lifeguards and it not requiring a long hike.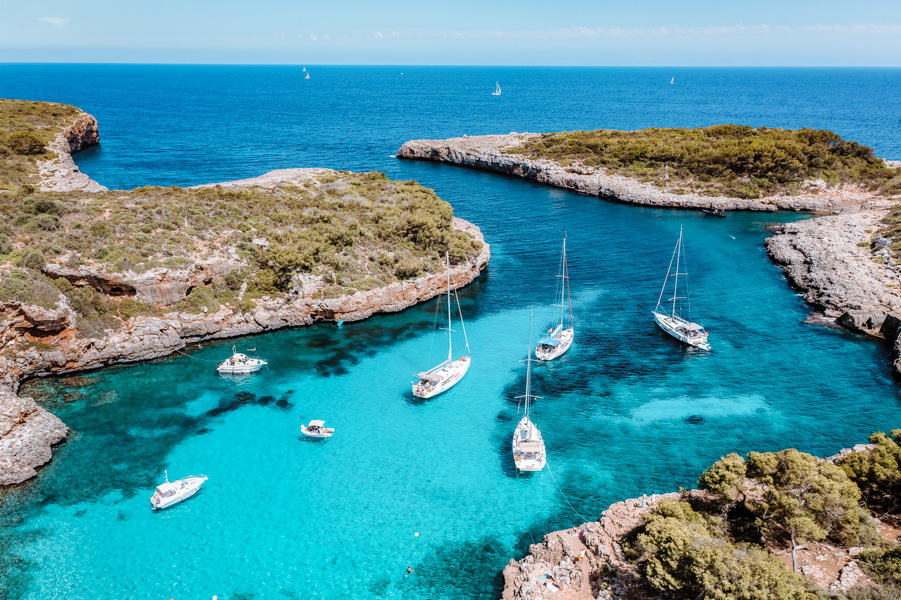 Cliff Jumping
Like a lot of calas there are rocky cliffs lining each side. This cala is one where the cliffs were steep enough and the water deep enough that there are a few different places where you can dive off and into the water if you like.
Crowds
Like all calas you should expect there to be a good amount of people in season, but this one didn't seem to have as many people as the 5 urban calas of Cala D'or. One of the times we went was at 6 pm thinking it would be cleared out, but it was still full of crowds of people lounging on the beach, ordering drinks from the bar, or swimming in its perfect waters.
What Else To Do In The Area
The parking lot is also the starting point for the hike to Cala Mijana. Technically there are two ways you can access Cala Mitjana, but starting here is the much better option. I LOVED this hike; while Cala Mitjana is smaller, it being harder to access means that you will likely encounter very few people there.
You can also see the 5 Cala D'or cove beaches in the area. They are only about 15 minutes away.
Conclusion
Cala Sa Nau is an all around great cala for a visit. Given that it has a ton of facilities and different things you can do, I highly recommend it as one worth spending a whole day at!