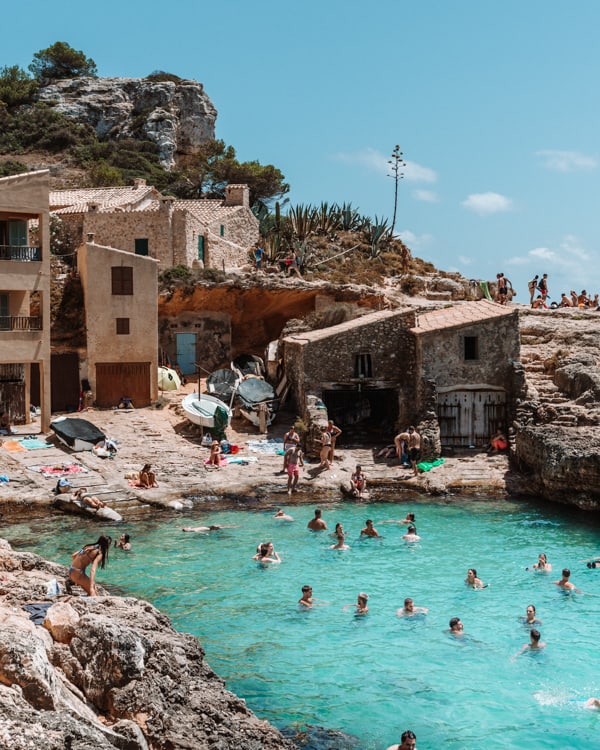 Cala S'Almunia or Cala Almonia (same great beach)
Want a two for one special? Cala S'Almunia is the forgotten neighbor of Cala des Moro.
Cala Des Moro is Instagram famous for having an especially striking combination of turquoise waters and rugged cliffs. The beautiful look is continued just next door at Cala S'Almunia!
Read about why you should visit Cala Des Moro here.
Unlike a lot of other beaches in Mallorca, this and Cala Des Moro are much less family friendly. The beach has a vibe that feels like a spring break party.
We saw lots of university age people dancing to loud music, sharing a few drinks, and loudly having a good time. For those looking to join that type of party this might be a perfect fit.
I also think more families tend to stay away because the beach doesn't have a lot of facilities and requires a 15 minute walk to access it. If that doesn't scare you off you will not be disappointed when you get there. There is still a ton this beach offers.
Quick Facts
Other Names: Cala S'Almonia, Cala Almonia, Cala Des Moro (next door but same parking)
Known For:
Facilities: None, only porta potties at the parking lot 15 min away
Lifeguards: No
Parking: Lot is a 15 min walk away (fills up quickly)
Cost: free, but limited spaces
Other: gorgeous rock features and mild cliff jumping
Youtube: Check out my YouTube clips of this beach here.
Confusing Names: Cala Salmonia vs Cala Salmunia
First off, it is worth clarifying that you will see the beach spelled both ways Cala Salmonia and Cala Salmunia. Regardless of which spelling is used, people are generally referring to the same beach.
Cala Almonia As Well
I've even seen the beach name spelled as Cala Almonia with no S. Once again, know that all of these names are referring to the same great beach.
Check out the most popular tours in Mallorca
Location
This beach is about a 45 minute drive from the main part of the island (Palma).
The biggest nearby resort area is Cala D'or that is about a 25 minute drive. It is located on the southeast part of the island.
Getting here without a car would be quite difficult, so we recommend renting one if you would like to visit.
Parking
There is a free parking lot, but make sure you arrive before the peak part of the day as we saw the lot fill up and cars begin to wait for people to leave.
It was a Saturday afternoon in July when we saw the lot fill up, i.e. probably one of the busiest times of the year, but beware that you might not be able to get a spot if you don't show up early enough, or you may have to wait for someone else to leave.
Required Hike
Once you get a parking spot the difficulties aren't over. You have to trek through a residential area to get to the beach.
The walk is under a mile, but still takes about 15 minutes.
You will begin on the same path as Cala Des Moro, but they will turn left off of the residential street before you arrive at Cala S'Almunia. To get to S'Almunia you simply continue down the residential street until it ends.
At the end of the street you will come to a steep set of stairs. Seriously, these steps are quite long and quite steep. We literally stopped to catch our breath when we were leaving.
If you do want to drop people off at the steps and then turn around to park you can, though the street has signs that mark it as for residents only.
There is also a trail that connects Cala Des Moro to Cala S'Almunia. It only takes 5 minutes to walk between the two beaches.
Facilities
There are no showers and no bathrooms at the beach. If you are looking for a bathroom your best bet is the porta potties that are directly next to the parking lot.
One thing that was offered at the beach was a small concession stand where you could get cheap beers. The availability of cheap alcohol likely helps contribute to the party vibe of this cove beach.
What to Expect Once There
Even though there are some drawbacks, this beach is still awesome. To help you plan best though you should know what the pros and cons are ahead of time.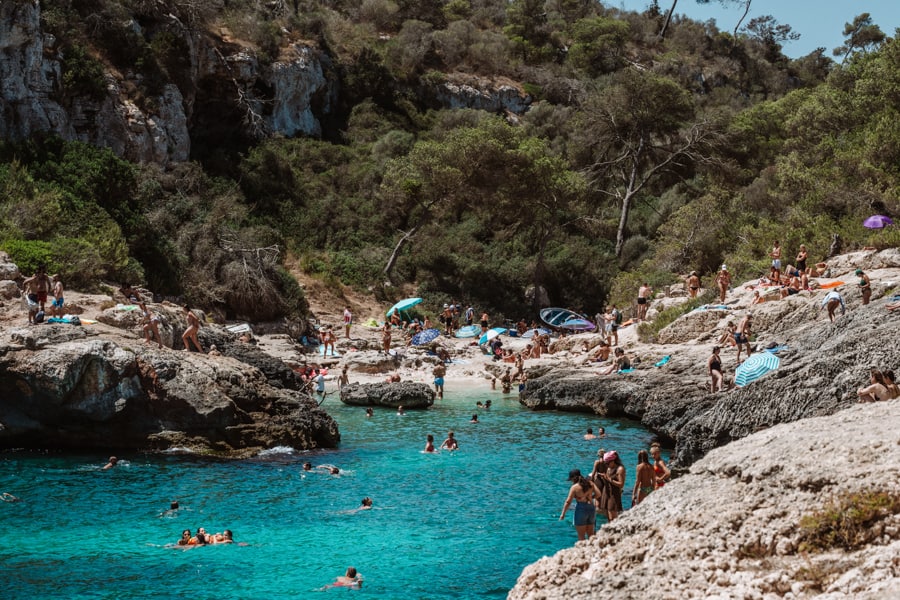 Pros
Looks Better In Person -It's gorgeous, and somehow looks even better in person. There are gorgeous rock features including rock arches,that make it obvious why so many Instagrammers love this beach.
Two Awesome Beaches at one stop – Cala Des Moro is also worth your time.
Cheap Beers at concession stands
Mild Cliff Jumping – for those looking for some fun without being at too extreme a height.
You will see that a con is that this beach only has a small stretch of sand, but a pro is that there are more shaded areas. Flat rocks around trees to temporarily escape the heat if you like.
Cons
The actual sand at Cala S'Almunia is really limited. It is quite small, which is why most people stretch out along the rock cliffs that line the sides of this cove.
The hike is through a pretty boring residential area. While on this hike the sun feels extremely powerful. Thankfully, gorgeous waters await at the beach.
The parking lot can fill up, so make sure you arrive early or be willing to wait for others to leave.
Super steep steps down into the beach
The facilities are very limited, with less than ideal bathrooms only being available at the parking lot.
Conclusion
If you are looking for a spot where you can relax on a gorgeous beach with a younger more party oriented vibe, then these two beaches should be included on your next trip!
What to Bring
Reef-safe sunscreen or a rashguard: The sun here can be very strong. Make sure to wear a reef safe sunscreen or a rashguard. I wear the one from Skims and I love not having to worry about getting burned when I am out in the sun ALL DAY. Free people also has some amazing rash guards you can shop here.
Backpack or waterbottle sling – This is my favorite travel backpack. It holds all my camera gear but it is probably more than most of you need. If you don't want to bring a full backpack this waterbottle sling is my absolute favorite. It fits a waterbottle, iphone 13 pro max, plus some extra space for bars or snacks or your wallet.
I always hike with these That's it bars from Amazon. OMG, they are sooo good and only have a few minimal ingredients.