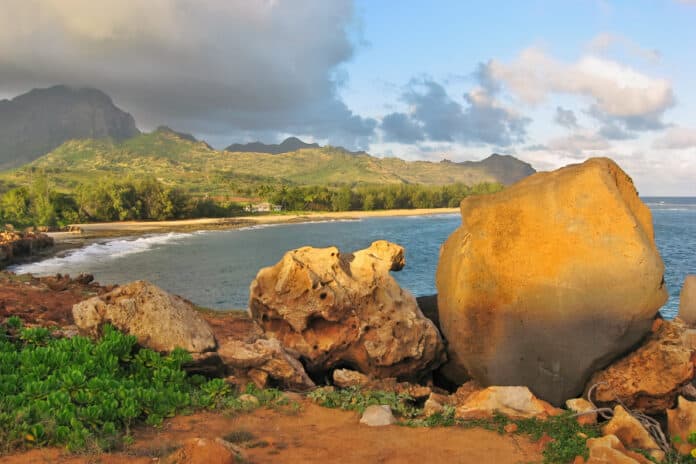 Want to be able to enjoy a remote beach on the southeastern part of Kauai?
How about one that is directly next to some amazing caves that are also worth exploring. That is exactly what you can get at Gillin's Beach.
The waves here, like a lot of beaches on the east side of Kauai can be pretty intense. Often times it's not even safe to swim in the water unless the conditions are good or you are ina protected cove. For this reason, a lot of other visitors tend to avoid this beach.
The most common types of visitors you see will be tours of people on horseback. If you are looking for an AWESOME horseback tour along the shores of Kauai, you must consider one that covers Gillin's Beach.
Gillin's Beach Quick Facts:
One Beach – Multiple Names, all the same beach in Kawailoa Bay
Gillins Beach is referred to by a few different names; technically the official name is Mahaulepu Beach. Though it isn't its name or even an official nickname, it sometimes gets called Makauwahi Beach after the Makauwahi Caves that are directly next door.
Regardless of the name, this beach is in Kawailoa Bay and at the very end of the Mahaulepu Heritage Trail, which also can contribute to the confusion.
The name Gillins beach comes from a historical resident that built his house along the shores of this beach.
---
Top ways to experience nearby attractions
---
Gillin's Beach Parking
The dirt road to the caves had plenty of opportunities to park along the side as well as a small lot at the end. I always get a little nervous taking a rental car off of a paved road, but this one was very tame.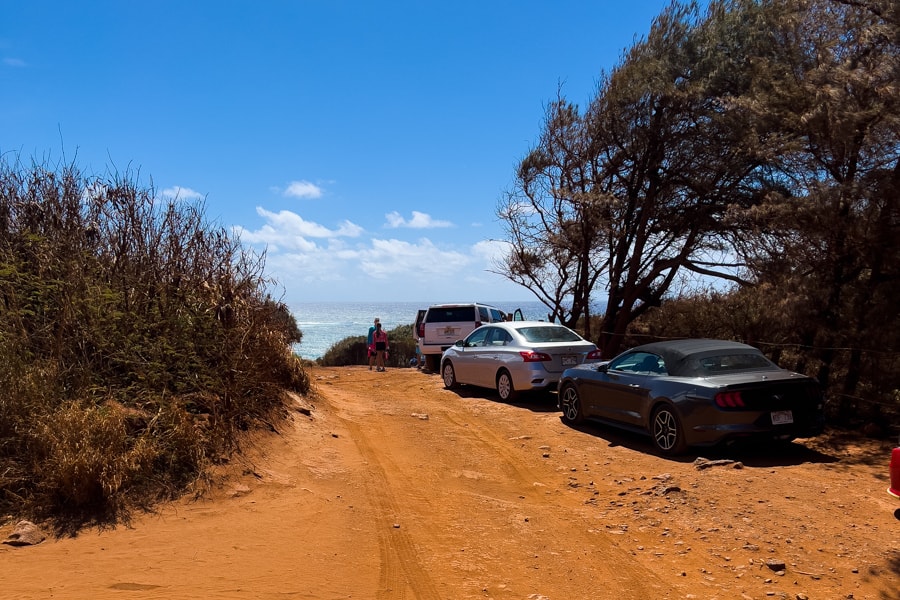 How to get to Gillin's Beach
There are three main ways to access this beach.
First, you can drive there directly and park in a parking lot at the beach, but it requires you to drive down a road that is probably not rental car friendly and is not always opened to the public.
Supposedly the gates are closed because the direct dirt road crossed private property.
I would suggest you only attempt this way if you have a 4×4.
Second, you can hike in from Shipwreck Beach on the Mahaulepu Heritage Trail. I loved this trail, but it will require a decent amount of effort to finish it. You can read about it here.
The third and most common way to access the beach is by driving down the dirt road that serves as the unofficial parking lot for the Makauwahi Caves.
If you are coming this way, just put the caves into your GPS and follow the paved road until it turns into a smooth dirt road. This will lead you in from the east side.
From there you will have to do a quick hike down to the beach, but you should be able to finish it in about 5 minutes.
The path is clearly marked, just know the you will go straight past the caves rather than turning left into them.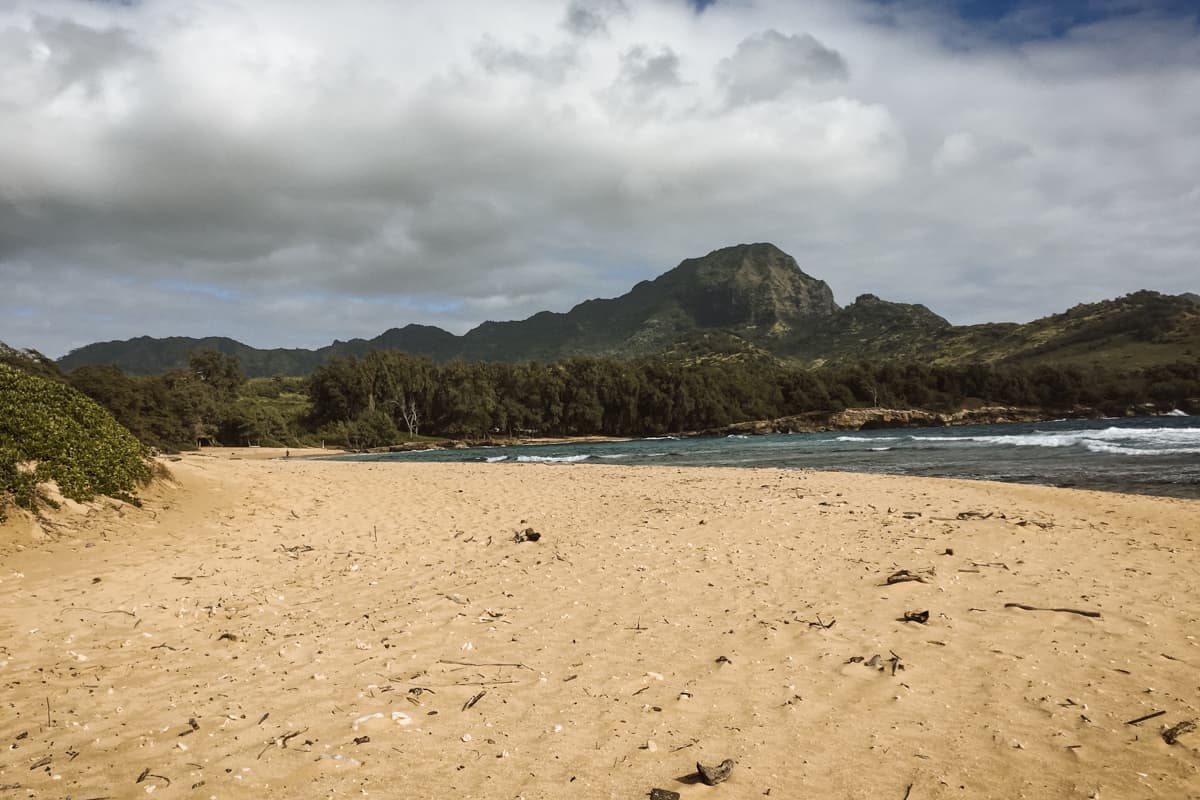 What to Expect Once There
Directly at the head of the beach you will see people coming out of the Makauwahi Caves. These caves are free and fun to quickly explore. You can read more about them here.
If you want to have more space to yourself all you have to do is walk a little bit away from the parking lot. When we did this we were alone on the beach, except for when a guided horseback tour came by.
Horseback Tours
If you are looking for the idyllic horseback ride, you should considering booking a tour that will walk you along the beach.
Some of my favorites are listed below.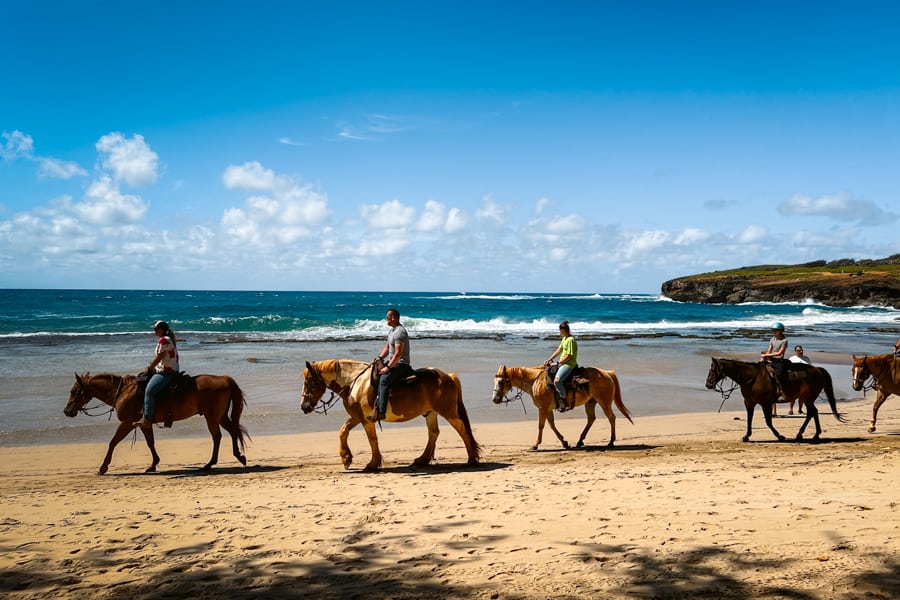 Wildlife
While I didn't see any while on this beach, it is famous for being a resting spot for monk seals and a nesting spot for sea turtles.
Aggressive Waves
The waves on this beach keep a lot of visitors away. Often times they make it unsafe to swim in, but there was a small cove protected from the waves that had water so still kids could swim in it.
Conditions vary and change quickly, so proceed at your own risk as there is no lifeguard on duty.
Conclusion
If you don't mind the lack of facilities and potentially not being able to swim due to scary waves, you can still fully enjoy Gillins Beach!
Planning a trip to Kauai? Check out all our Kauai blog posts below.
My husband and I have been to Kauai many times and have written up more blog posts to help you plan your trip. These are my most popular blog posts and Kauai travel guides to help you plan your trip.
Kauai Beaches
Kauai Hiking Guides
Read about all the hikes we have done in Kauai here.
Read all other posts on Kauai here.