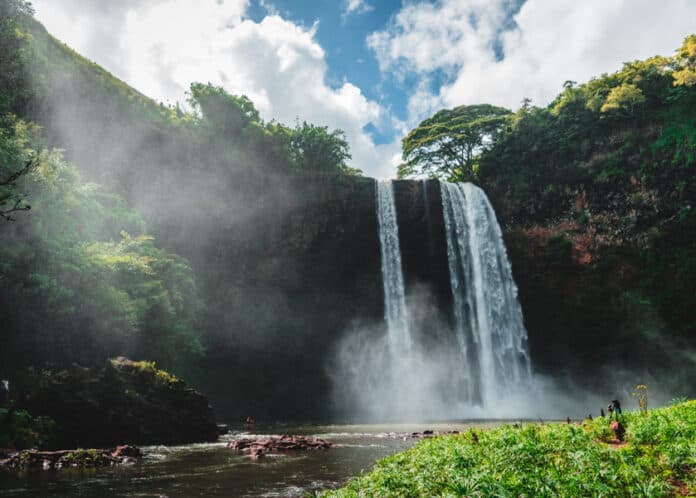 Wailua Falls Hike – Best Waterfall Hike on Kauai!
You need to do the Wailua Falls Hike! This double waterfall that often makes a rainbow spray is the perfect representation of Kauai, the Garden Isle.
Wailua Falls is one of the most popular spots on Kauai but most people just view the falls from the lookout which is located right next to the parking lot. I highly recommend doing the hike.
Hopefully this post will help you get all the information you need to get started. If you have any questions, leave them in the comments!
If you are interested theres a pretty cool tour that includes visiting this waterfall as well as a tour of the south & east side of Kauai check it out here: South & East Kauai – History Legends & Waterfalls
You can also fly over this region on an epic Kauai Helicopter ride. You can get more details here.
Wailua Falls Quick Facts:
Distance: .3 miles down and .3 miles back (barely even a hike I know)
Elevation Change: Straight up and down (about 200 feet)
Difficulty: It's over quick, but you must be sure footed and able to climb up and down the slippery rocks
Cost: Free
Crowds: Quite popular though there is plenty of space to spread out
Parking: small lot, plenty of street parking available if you are willing to walk a bit
What to bring: Hiking boots or hiking sandals (don't recommend this hike in flip flops) I recommend wearing sandals that have straps, like these Teva sandals.
Note: Technically this hike is closed, but the state knows tons of people still hike it and doesn't enforce, but proceed knowing the risk
Wailua Falls Hike Location
Wailua Falls are located near the Lihue area of Kauai. The main airport is in the Lihue area; this means that you are virtually guaranteed to be passing the falls at one time or another.
The drive from the airport is only about 15 minutes.
We stayed in this hotel in Lihue, located only 15 minutes from Wailua Falls! It only cost us $140 a night! It's no Ritz Carlton but it was clean, cheap, and the perfect location with tons of shops and restaurants nearby. We stay here every time we come to Kauai because they always have the best deals. Book the Tip Top Hotel here. It's also above one of the most popular local restaurants and bakeries.
How to Get to Wailua Falls
The best way to get to Wailua Falls is to rent a car and drive there. Check current pricing here. It is one of the few waterfalls in Kauai where you can see it right from the road.
Wailua Falls Parking
There is a small parking lot, as well as a few expanded shoulders off the side of the road. Most people just street park ahead of or after the falls and walk.
The site is pretty remote so there is lots of side of the road parking so you don't need to worry that you'll have to hike that far. Also, even if you want to wait for a close spot, lots of people just go to the overlook, snap a picture or two, and then get back in their cars.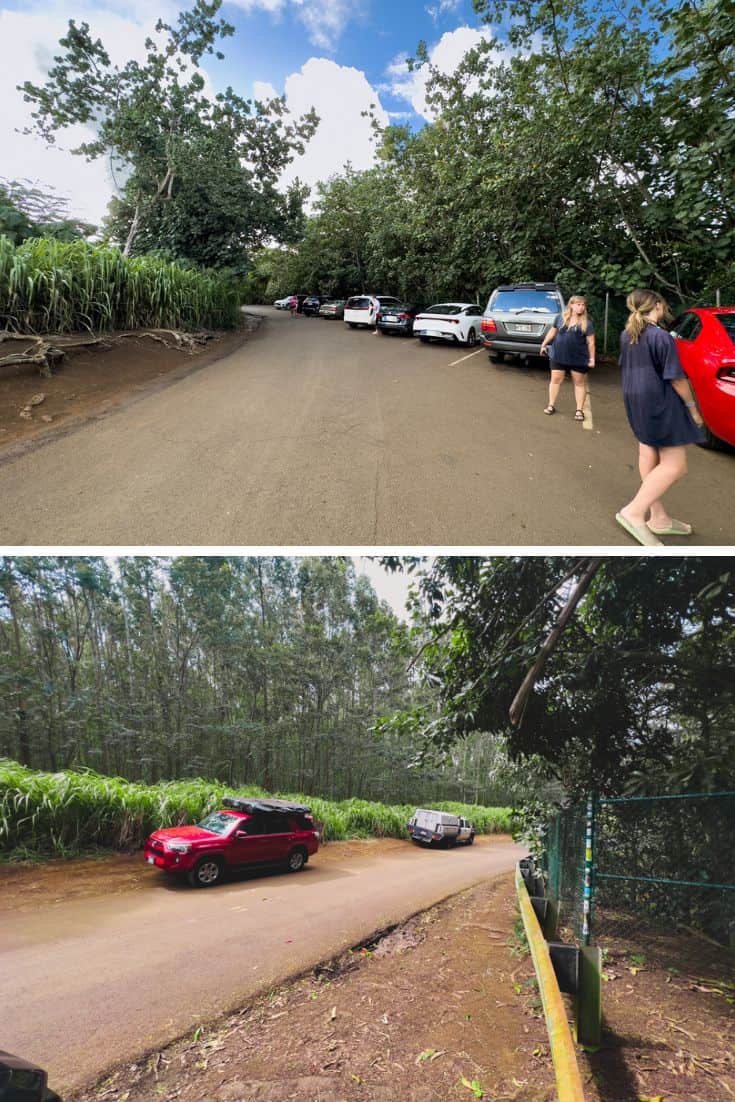 Wailua Falls Lookout
When you first pull in the falls will be off to your right. You can hear the roar as you get close. The Wailua Falls lookout has you looking down on the falls, and full disclosure the view isn't that good. (See photo below)
The majority of the people visit the lookout and leave. I highly, highly recommend continuing onto the trail.
Can you see Wailua Falls without hiking?
Yes, but the view is not very good from the road. There are really only two ways you can see the falls in all its glory.
See it from a helicopter (which actually is available via tour here).
Hike down.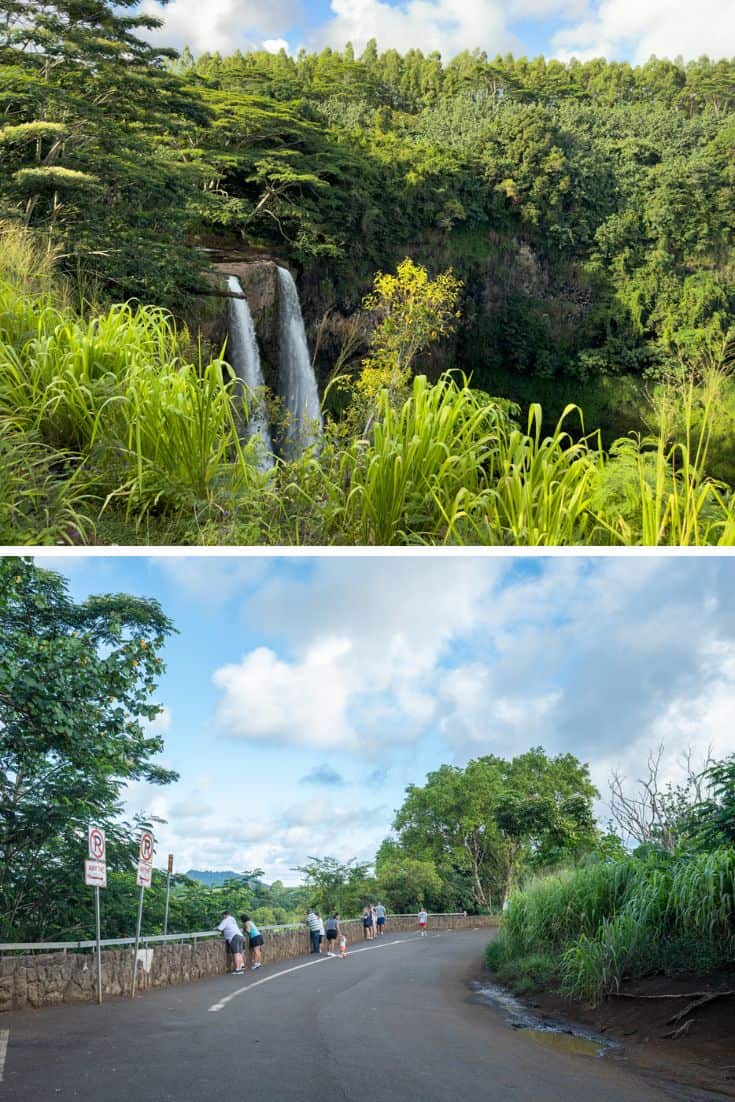 What to Expect on the Wailua Falls Hike
Distance: .3 miles down and .3 miles back (barely even a hike I know)
Time: 10-15 one way
Elevation Change: Straight down on the way there, straight up on the way back.
Difficulty: Not hard. It's over quick but you must be sure footed and able to climb up and down the slippery rocks.
First off, when you see the falls they look even more impressive in person. They were so much bigger than I initially thought. The scale is pretty unreal.
Wailua Falls is an incredible 173 ft in height (52.7 meters).
Once at the falls you can continue hiking to the back of the falls, you can swim, take pics, relax, etc. If you want to have the falls all to yourself you will have to go really early in the morning or wait until just before sunset. We were the only ones left down at the falls around 6:00-6:30pm. It was so cool to have the entire place to ourselves.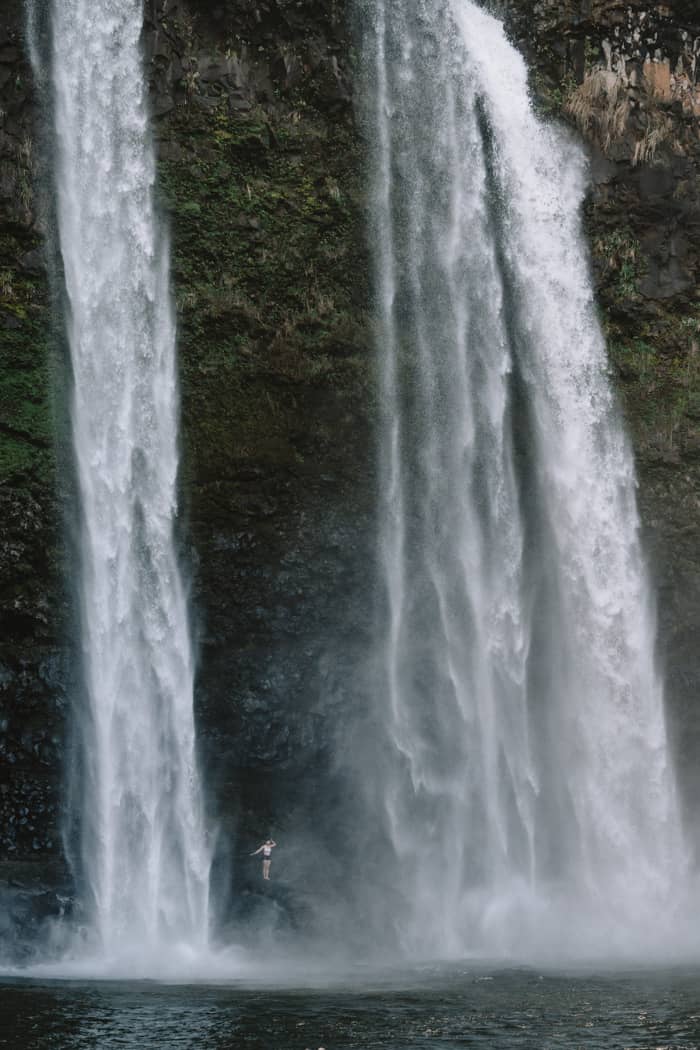 Wailua Falls Trailhead
If you are willing to take the risk and do the Wailua Falls trail, you simply walk around the chain link fence lining the overlook. You will see a well-worn footpath just next to the end of the fence, where many others have already gone. (see photos below)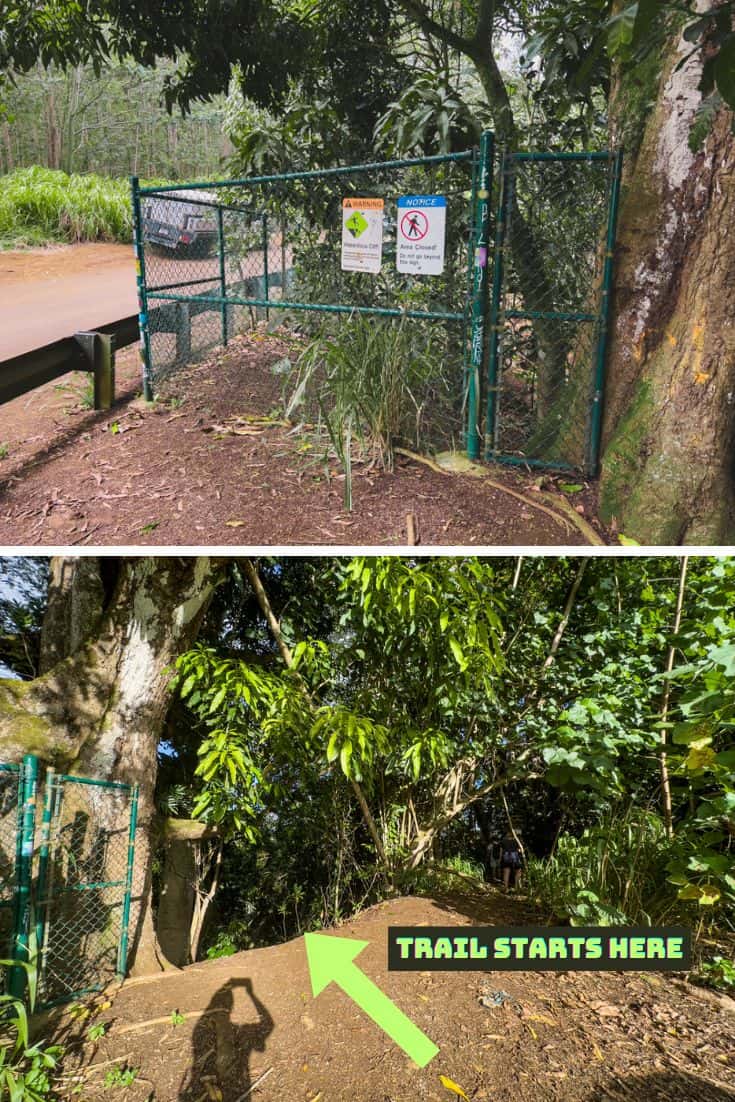 The Trail Down
The trail down is only .3 miles long, but it is really steep and at times gets really muddy. The trail is so steep that at times ropes are tied between trees that you will want to hold on to. These ropes were incredibly helpful as the trail is quite steep and slippery when wet.
I do not recommend this hike in flip flops. I also think it would be too difficult to do with a toddler. Maybe if the kid could be strapped to your back?? But it's up to you.
I recommend wearing sandals that have straps, like these Teva sandals. They are perfect for hikes like this!
We saw no children on the trail or falls either time we went.
If it has just rained (which in Kauai is basically all the time) there will be a few areas where it is super muddy so leave the Air Jordans at home.
I've done it in flip flops, but it's a lot easier with some sturdier shoes. Especially if the ground is wet at all. The trail becomes like a slip and slide, literally.
One of the girls we were with tried the hike in flip flops and she actually took them off and did the hike down barefoot because the flip flops were just way too unsturdy.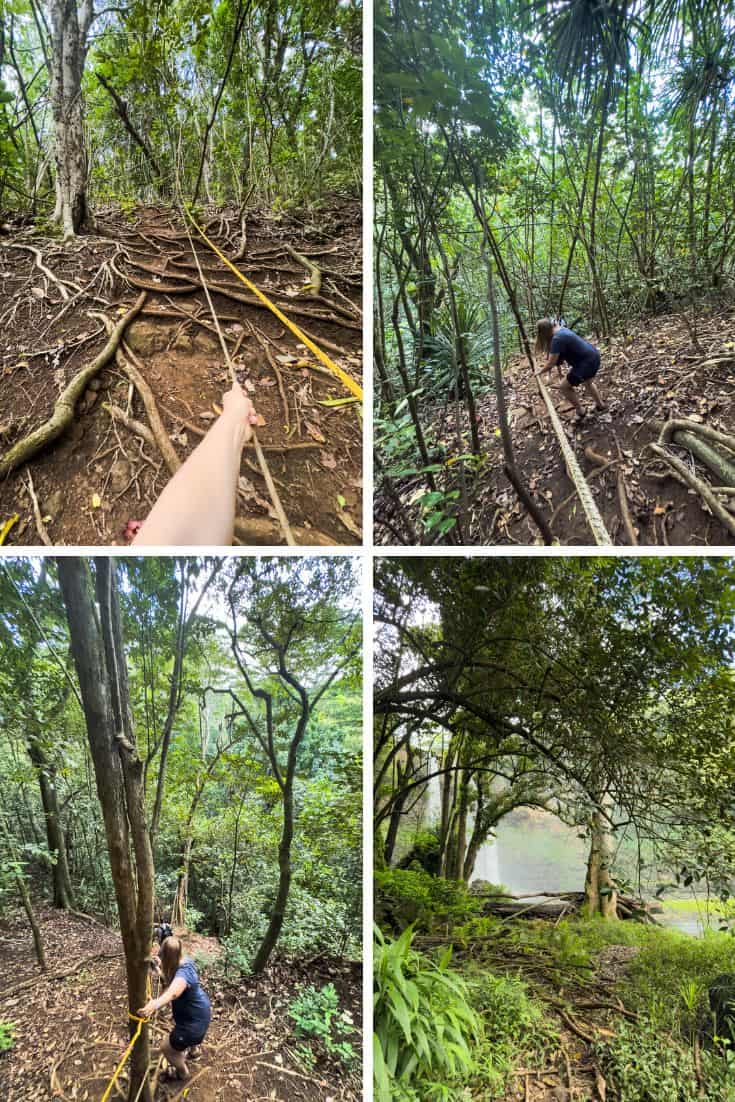 Wailua Falls Swimming – Can you swim in Wailua Falls?
Yes! You can swim in Wailua Falls.
Once you are at the bottom remember that you can spread out to take better advantage of the Wailua Falls Swimming!
Most people tend to crowd at the opening where the trail comes down, but there are a number of different places you can access the pool to go swimming.
When you do get in know that the rocks are going to be slippery (really slippery) so move slowly.
Also, the current out of the pool and down the river is a little stronger than you would expect, so take caution if you have kids with you (I saw a boy starting to get swept away).
There is a path that goes directly behind the falls. It makes for a super unique view, but know that you will get wet!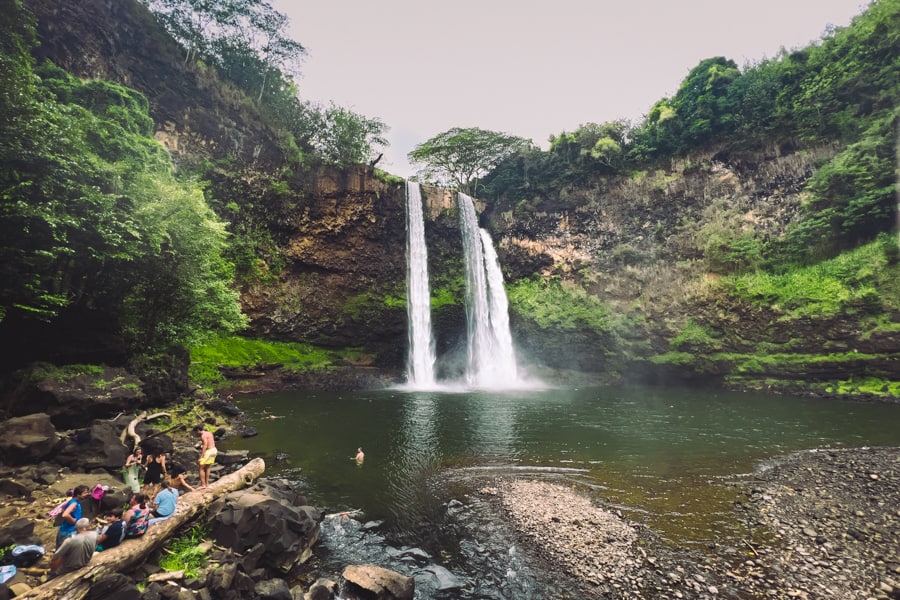 Hiking behind Wailua Falls
This was my favorite part of the entire hike. It is extremely slippery the entire way because everything is soaked (including you) getting behind the waterfall so you really need to be careful. I slipped on a wet log and luckily didn't get hurt but it wouldn't be hard at all to injure yourself here. So be careful!
Don't get too close to the waterfall from behind or the front. If you slip and fall from the back you will most likely never make it back up to the surface.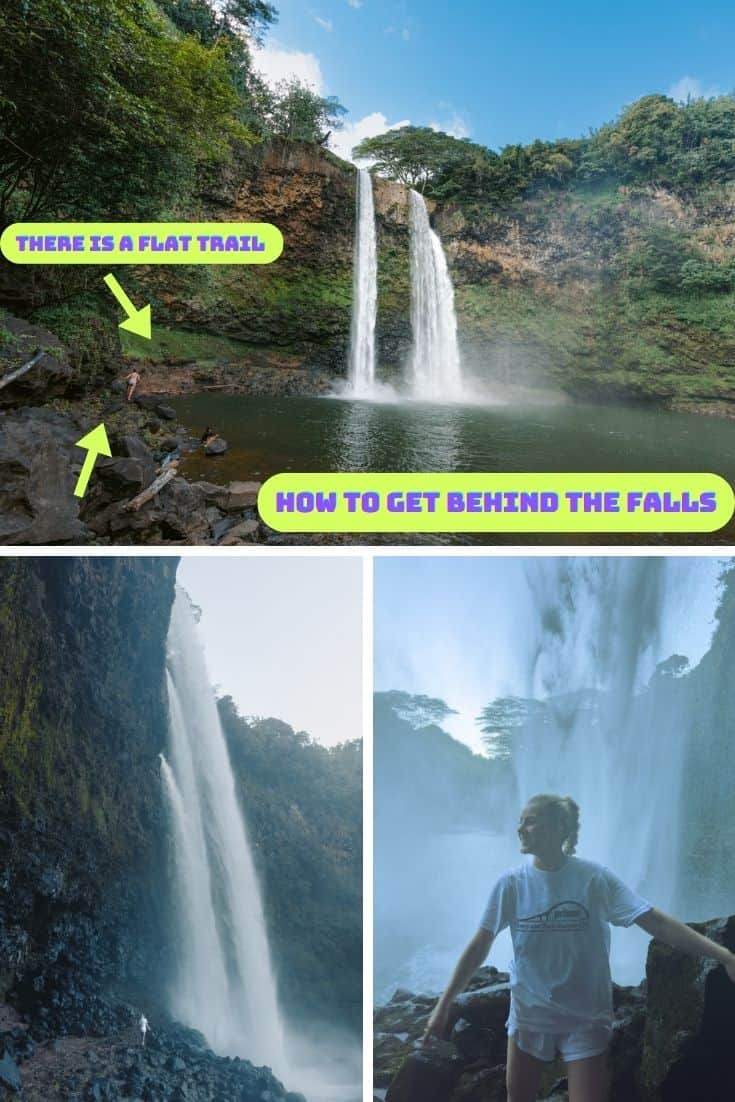 Is the Wailua Falls hike illegal?
Technically, you are only supposed to view the falls from above and you aren't supposed to hike down, swim, or even hike behind the falls.
Supposedly the state closed down the hike due to liability issues, but they know tons of people do it and don't enforce the closure.
While I'm normally a rule follower, I'm so glad I didn't follow as swimming underneath this double waterfall was truly the best of the Kauai waterfall hikes. In fact, I've visited these falls three different times.
Will You Get in Trouble for Doing the Hike?
Being the compulsive rule follower that I am, it pained me to do this hike. One of the times I was down there I met a local state parks employee. I asked him if the state ever enforces the trail's closure or gives people tickets.
He said that he is well aware of the things the state of Hawaii punishes people for but hiking Wailua Falls is not one of them. He said the state doesn't want to get blamed for someone spraining an ankle on the way down.
While you will have to make a decision on whether you want to take the risk or not, I would feel comfortable doing it again and again.
Side note: Notice that this hike and experiencing the falls is cool enough that even locals will do it again and again.
Other Things to do in Lihue:
Conclusion: Is the Wailua Falls hike worth it?
1000% yes. This might just be my favorite hike I have ever done. The payoff is extremely high for such a short hike. It's hard to explain how cool this hike truly is. Pictures don't do it justice.
Planning a trip to Kauai? Read everything we know about Kauai here:
My husband and I have been to Kauai many, many times and have written up more guides to help you plan your trip. These are my most popular blog posts and Kauai travel guides to help you plan your trip.
Kauai Beaches
Best Beaches for Snorkeling on Kauai
Best Cliff Jumping in Kauai
More awesome beaches
Kauai Hiking Guides
Read about all the hikes we have done in Kauai here.
Read all other posts on Kauai here.