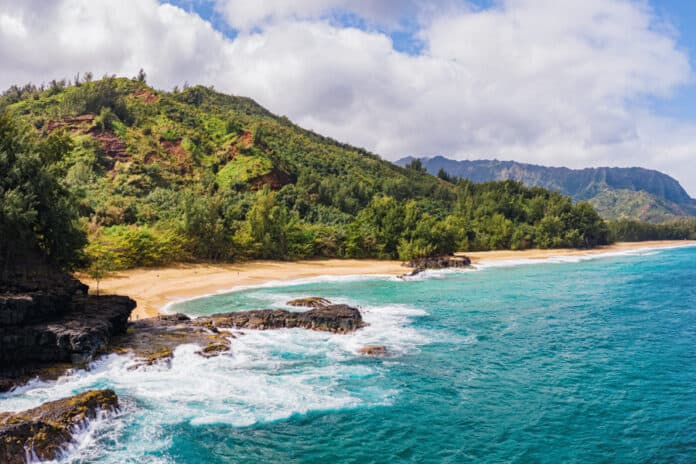 There are a lot of phenomenal beaches lining the shore of Hawaii's island of Kuai. Because there are so many other more famous beaches, Lumahai is ultimately underrated.
There likely are a couple of reasons why this beach doesn't get as much attention as others, and it's not because it isn't as stunningly beautiful.
First off, the beach likely suffers from the fact that it frequently has intense currents that will pull swimmers away from the shore. Yes, I know that's scary! Usually the currents aren't as intense in the summer, which will allow you to safely swim here.
Another reason that Lumahai Beach might be underrated is that until recently it was closed. A number of Kauai beaches experienced abnormal flooding and had to be closed while they were revitalized. Thankfully, Lumahai Beach is back open and ready to be fully enjoyed again.
There are still aWhen you visit Lumahai Beach you will first see how incredibly wide the sand lining the shore is. Wide bars of sand help make beaches feel.
Lumaha'i Beach Quick Facts:
Location of Lumaha'i and Kalahala Beach
Lumahai Beach is located on the north shore of Kauai. It is immediately next door to Kahalahala Beach. Sometimes these two beaches get lumped together as there really isn't much of a break between them.
It is also in the area of the Hanalei resort area as well as the famous Haena State Park.
Haena State Park is famous for Kee Beach and being the launching point for the famous Kalalau Trail.
This area of the island takes about one hour to drive to if you are coming from the airport since you have to wind around the coast at times traffic can back up going through the small towns. At the worst times of day the drive could take you as much as two hours.
Lumaha'i Beach map
What To Expect at Lumaha'i Beach
This amazing beach has its unique elements that make it not suitable for everyone.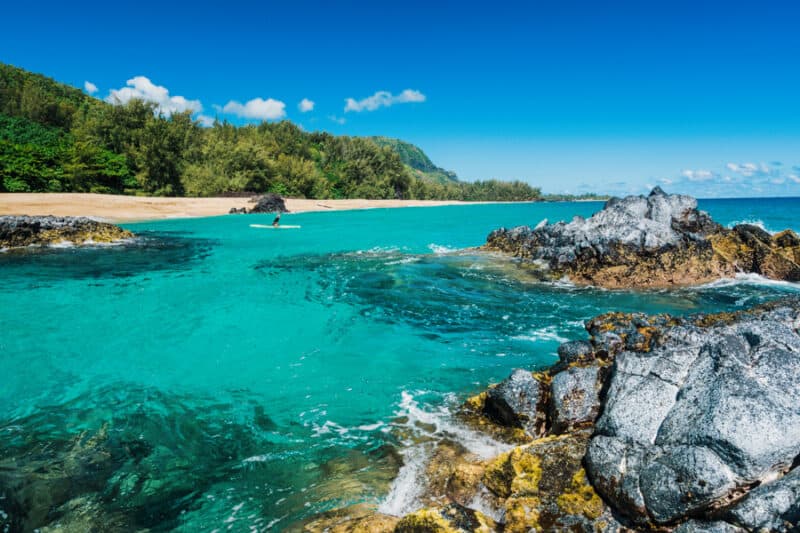 Lumahai Beach surfer in Kauai, Hawaii
Dangerous cliff jump on Lumahai Beach, island of Kauai.
Widest Sand Beach
Lumahai Beach has the widest bar of sand of all the Kaui beaches I've seen (and I've been to most of the Kauai beaches).
I literally got tired walking across the sand trying to access the water. In some places it is close to 100 yards of sand.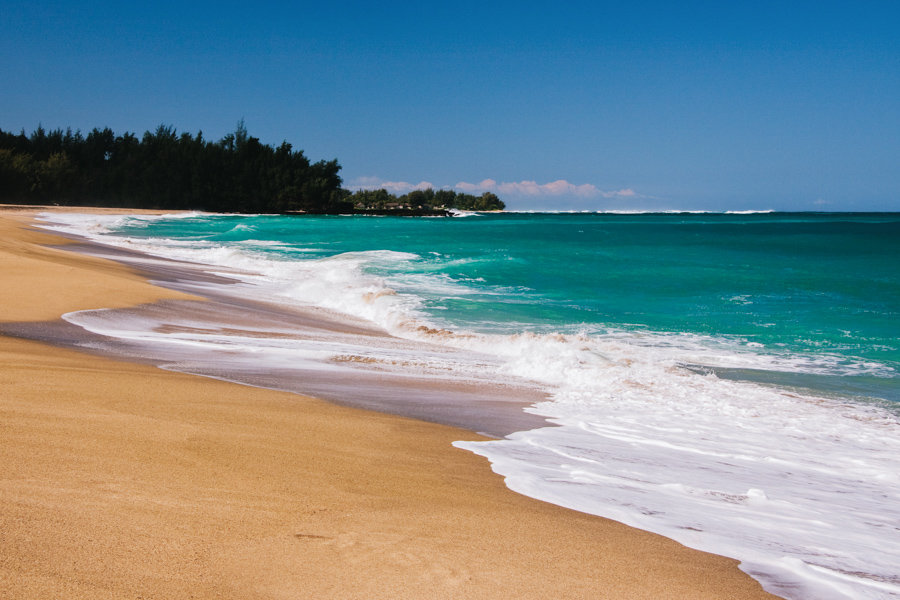 Lumahai Beach Waves and Intense Currents
While I love this beach you MUST be aware of the scary waves and currents. The currents are famous for pulling people away from the shore.
It is much calmer in the summer, but it still something to be aware of.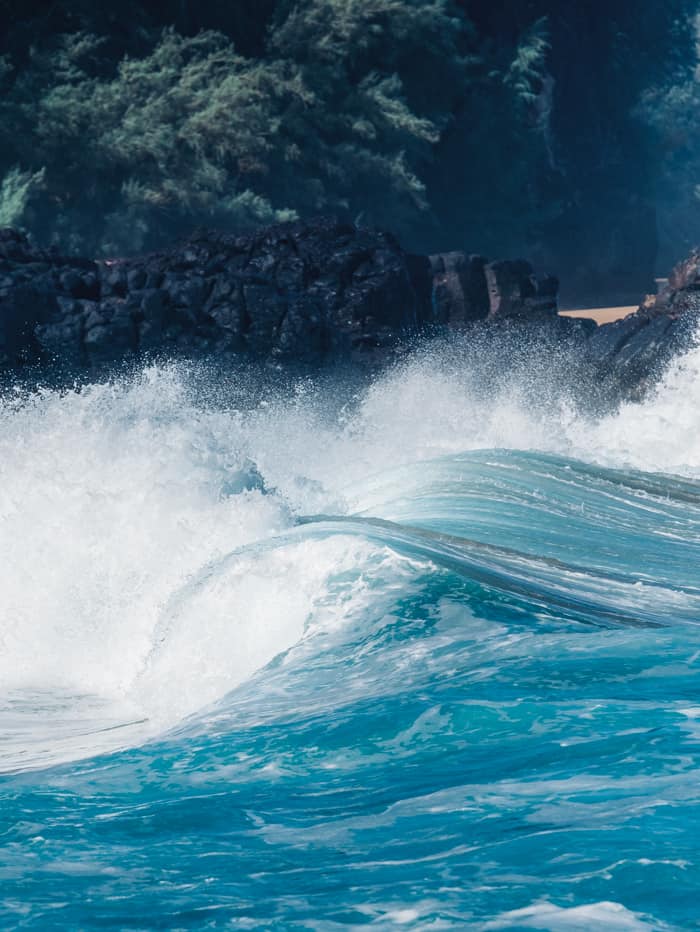 Lumahai Beach Parking
Unlike a lot of other Kauai Beaches parking at Lumahai beach is easy and free! There are plenty of pull offs where you can park directly in front of the beach. I had no problem finding an open spot even at the busiest times.
Some people with 4x4s will pull up into the trees/dirt to be even closer to the sand.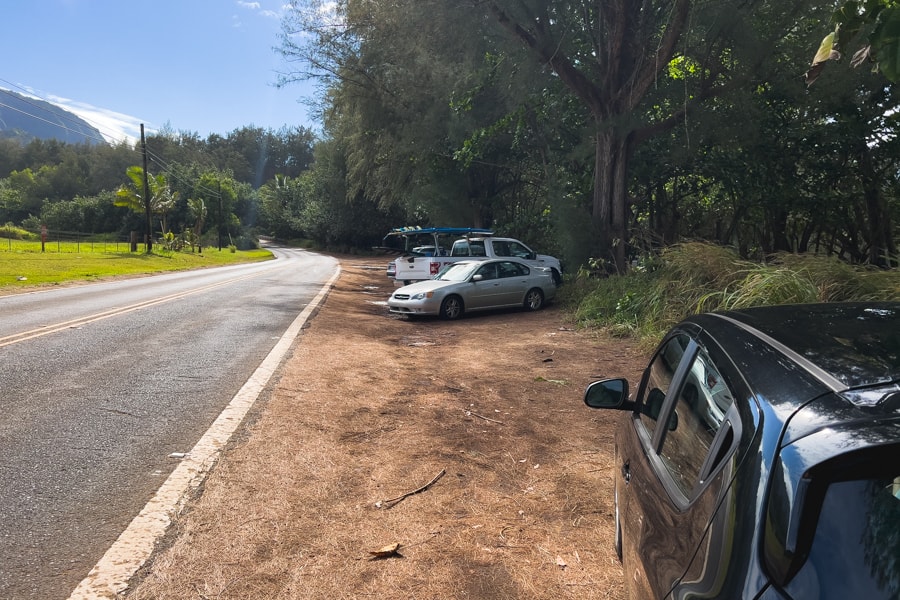 Crowds
The rough waters and lack of facilities keep the crowds away. If you are okay with these things, being able to have a ton of sand to yourself is a huge perk!
Conclusion
Recent flooding and intense currents keep this beach from being more famous. Maybe that is an advantage if you are looking to avoid the worst crowds and don't need to get all the way into the water. Lumahai Beach just might be the answer!
Planning a trip to Kauai? Check out all our Kauai blog posts below.
My husband and I have been to Kauai many times and have written up more blog posts to help you plan your trip. These are my most popular blog posts and Kauai travel guides to help you plan your trip.
Kauai Beaches
Kauai Hiking Guides
Read about all the hikes we have done in Kauai here.
Read all other posts on Kauai here.