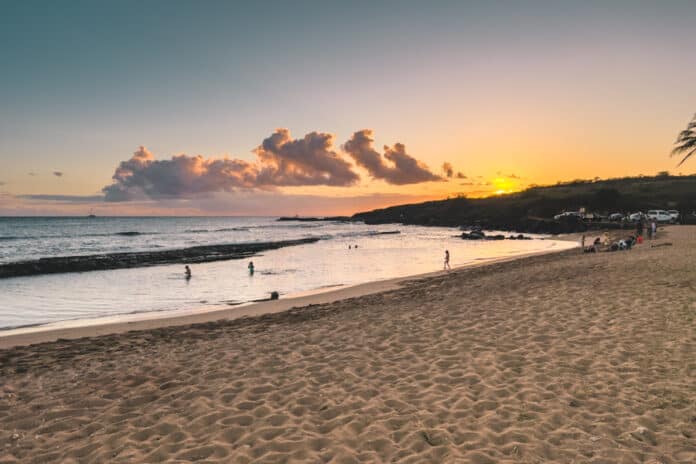 Salt Pond Beach Park
The island of Kauai has so many beaches that are pretty to look at, but generally have waves that are far too aggressive for people to be able to comfortably swim. It also sucks that most of them don't include any facilities. Salt Pond Beach fixes those problems and still offers a ton more.
Aside from offering gorgeous sand, perfect sunset views, and a perfect site for swimming, this beach is also open for campers looking to stay in Kauai as cheaply as possible.
The Salt Pond Bay is relatively close to the more famous Poipu Beach and offers a similar experience, but it does it without massive amounts of crowds. It also offers the benefit of being in Hanapepe town.
Quick Facts: Salt Pond Beach Park
Other Names: Hanapepe Beach (Hanapepe is the town this beach is in), Airport Beach (sometimes called)
Known For: snorkeling, kid swimming friendly, camp sites
Facilities: showers, restrooms, playground, camp sites
Lifeguards: yes
Parking: large lot
Cost: free
Other: think Poipu Beach but without the crowds
Namesake Of Salt Pond Beach
When driving in and next to the salt pond beach park you will see some salt ponds where traditional Hawaiian salt is still being made/harvested. I'm not sure what the proper terminology is, so if someone knows please tell me in the comments.
Location of Salt Pond Beach Park Kauai
This beach is located on the south west coast of the island of Kauai. It is about a 30 minute drive from the main Kauai airport, or about 20 minutes from Poipu Beach.
If you are coming back from Kokee State park and looking for a great beach to watch the sunset at, this is the first quality beach that I know of that you will run into as you head back to the more populated parts of the island.
Unfortunately, there are few beaches on the south west side of Kauai aren't super pretty. They appear to have more dirt than sand and more homeless people than actual sunbathers.
Airport Beach Kauai Clarification
This beach is located directly next to an airport, but not the main airport. It is only a small local landing strip, but regardless this beach sometimes called airport Beach Kauai.
Technically I think the airport part of the beach is a different beach, but you access the "Airport Beach" portion by walking a few minutes down to the left from the main parking lot. Go here for great snorkeling!
Why This Beach is Great
There are so many reasons that this beach is great. It is 100% underrated.
A Reef Protects Against Strong Waves
A strong reef protects the bay and allows for swimmers of all levels to enjoy. The waves a lot of Kauai beaches are too intense for me to feel comfortable swimming in.
Perfect Cove For Kids To Swim In
There is even a double protected cove of shallow water that is perfect for the kiddos to swim in!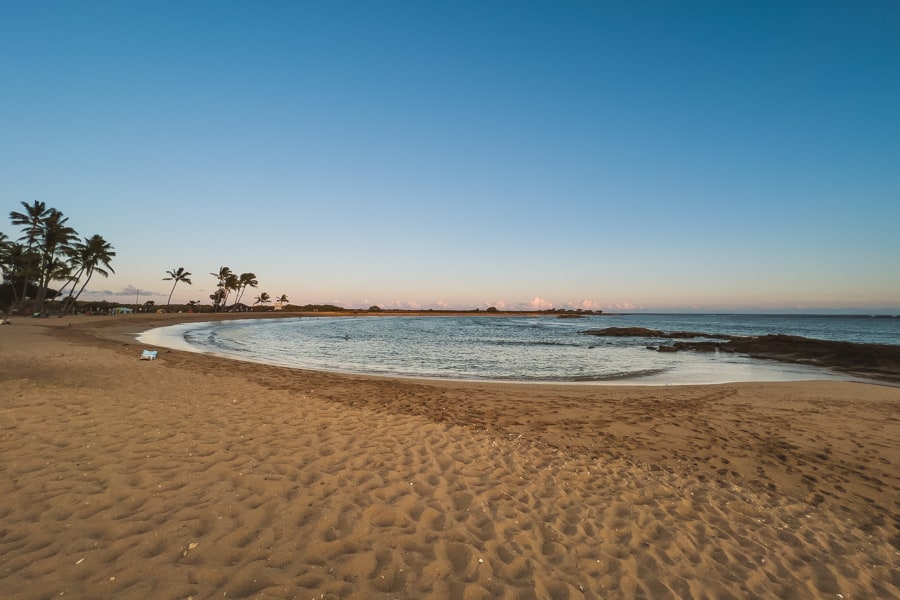 Generally Avoids The Rain
Even on rainy days the geographic location of this beach typically avoids rain. If you are looking for a beach that's still getting sun on a rainy day, make sure you check out the Salt Pond Bay.
Salt Pond Beach Park Camping
This beach offers incredibly cheap camp sites, especially when you compare to the prices of hotels. You need to get a permit from the county, but if you are looking to camp, this place is perfect for it!
Con to camping here – One con of camping here is the noise. Salt Pond Beach is known for attracting lots of families and kids. As you can imagine, if you are trying to sleep, it can get quite noisy. I recommend earplugs. I use these ones off amazon and they work amazing.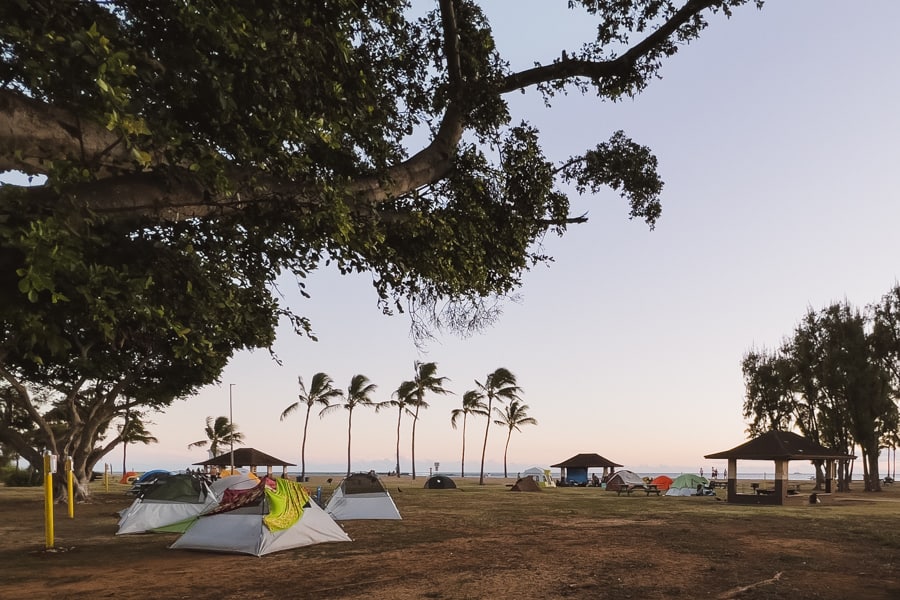 Sunsets
The position of the beach allows you to face out towards the sunset. It is beautiful. I got to take one in after coming back from a grueling hike in Kokee State Park. It was the perfect way to end the day.
Parking
There is a large lot that doesn't seem to fill up even at the busiest times. This beach being a little ways away from the main resort areas helps.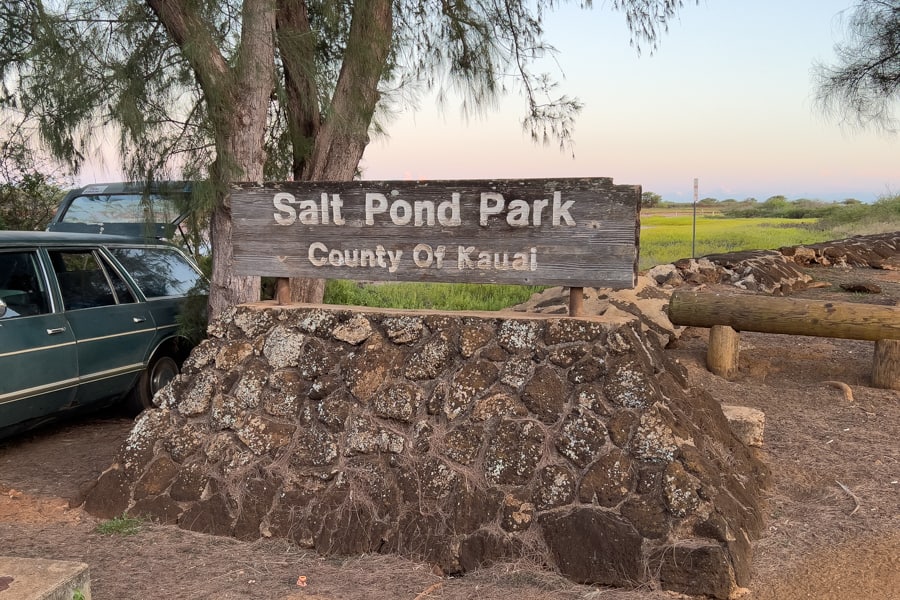 Crowds
While this beach doesn't get as crowded as some of the others likely due to it not being in a busy resort area, don't expect to have it to yourself. It is a perfect spot for a family to hang out, and from what I saw it is also a perfect spot for the locals of Hanapepe town to hang out in as well.
That being said, it offers a lot of the same perks of Poipu Beach which is only 20 minutes away, but is not NEARLY AS CROWDED.
The vibe of this beach is a lot more relaxed than some of the others. We saw local families hanging out, grilling, and singing and dancing under some of the picnic pavilions.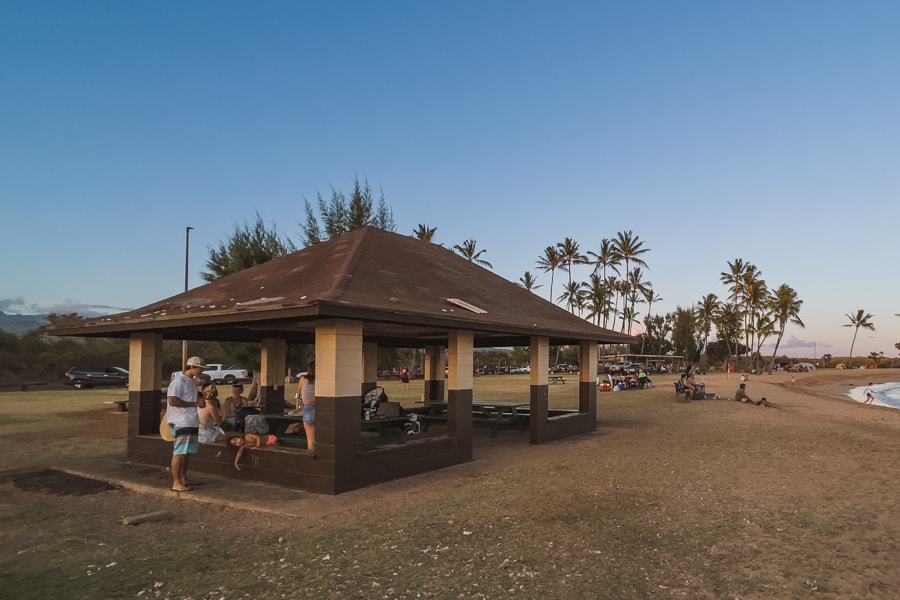 Conclusion
Salt Pond Beach is an all around awesome beach. It is worth the quick drive out of the way!
Planning a trip to Kauai? Read everything we know about Kauai here:
My husband and I have been to Kauai many, many times and have written up more guides to help you plan your trip. These are my most popular blog posts and Kauai travel guides to help you plan your trip.
Kauai Beaches
Best Beaches for Snorkeling on Kauai
Best Cliff Jumping in Kauai
More awesome beaches
Kauai Hiking Guides
Read about all the hikes we have done in Kauai here.
Read all other posts on Kauai here.