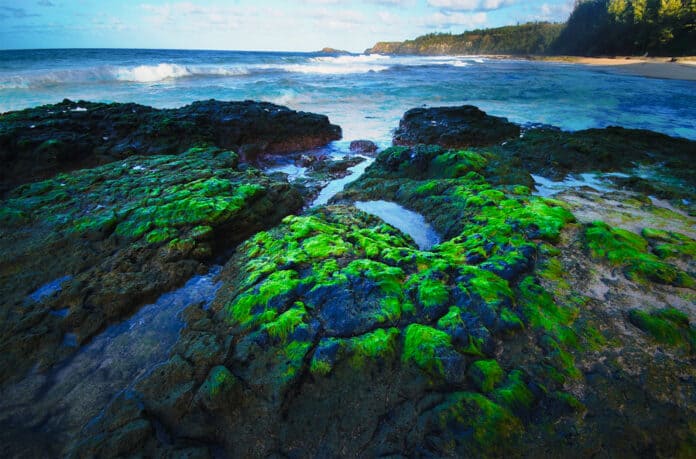 Kauai's Secret Beach (Gorgeous secluded beach!)
This beach is awesome! Seriously.
Kauapea Beach is better known by its nickname, Secret Beach. I don't know why it got this name, but I do have a few guesses.
The nickname Secret Beach might be because accessing this beach requires a drive down a dirt road and then a .3 mile hike through the jungle.
It could also be due to the beach being much less crowded than others, and big enough that you feel like you have completely escaped into your own secret spot.
Or finally, the nickname could be due to the far end of the beach being an unofficial nude beach Kauai has.
Regardless, this is a great beach to visit if you want to avoid crowds but still be able to enjoy a large beach with wide stretches of sand.
Be careful though since outside of summer the water conditions can be intense and too much for weak swimmers.
Secret Beach Quick Facts
Sand: The golden fine sand is really wide and it goes for over ½ of a mile.
Water: Turquoise blue
Swimming conditions: Waves often intense!
Known For: wide sand, exclusive feel, nude beach on one end
Facilities: literally none! Not even a trash can.
Lifeguards: none
Parking: dirt gravel lot with plenty of spaces, or could park along side of road
Cost: free
Other Names: Secret Beach, Secrets, Kauapea Beach, Kauai Nude Beach
Other:
Location of Kauapea Beach
Kauapea Beach is located on the northern coast of Kauai on the east side. This sits close to but not in the Princeville resort area.
It is about a 15 minute drive to get to Princeville. If you are coming from the airport it is about a 45 minute drive.
Secret Beach Kauai Map
How to get to Kauapea Beach
Getting to this beach requires a little bit more work than others.
Don't Type Kauapea Beach Into Your GPS
If you type Kauapea Beach into your GPS it won't take you to the public beach access spot.
Instead, it will take you to a private residence that has access to the beach, but is gated off and not open for you to access. Type Secret Beach Road into your GPS instead.
Dirt Road Drive Required
Secret Beach Road is not paved, but it is packed with dirt instead. I worried about driving my rental car on it as some contracts don't allow you to drive off of paved roads, but it ended up not being a big deal as the road was perfectly flat. You drive down the road for less than a mile.
Parking
There is dirt parking lot with plenty of spots. Don't get worried if you see it full since the beach is large enough for everyone to spread out on, and even if the lot is full you can park along the road just outside of the lot.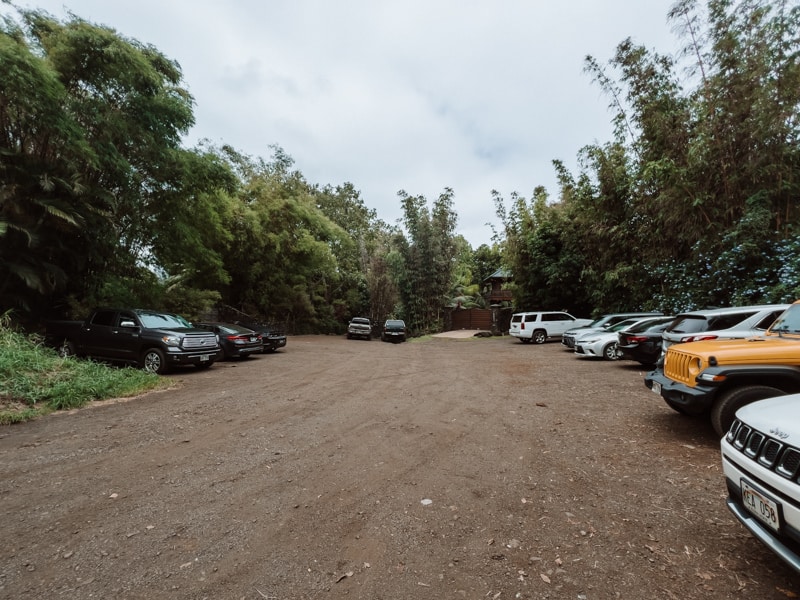 Secret Beach Kauai Trail (.3 mi)
The trail that leads to the beach is only .3 miles long. It is a bit of a steep decline though, so don't plan on running down it.
I did it in flip flops no problem, but if it has just rained don't be surprised if it's pretty muddy along the way.
Trail, only .3 miles long – bit of a steep decline, and beach is wide and long, so could walk a lot further along the beach
Bit of a steep descent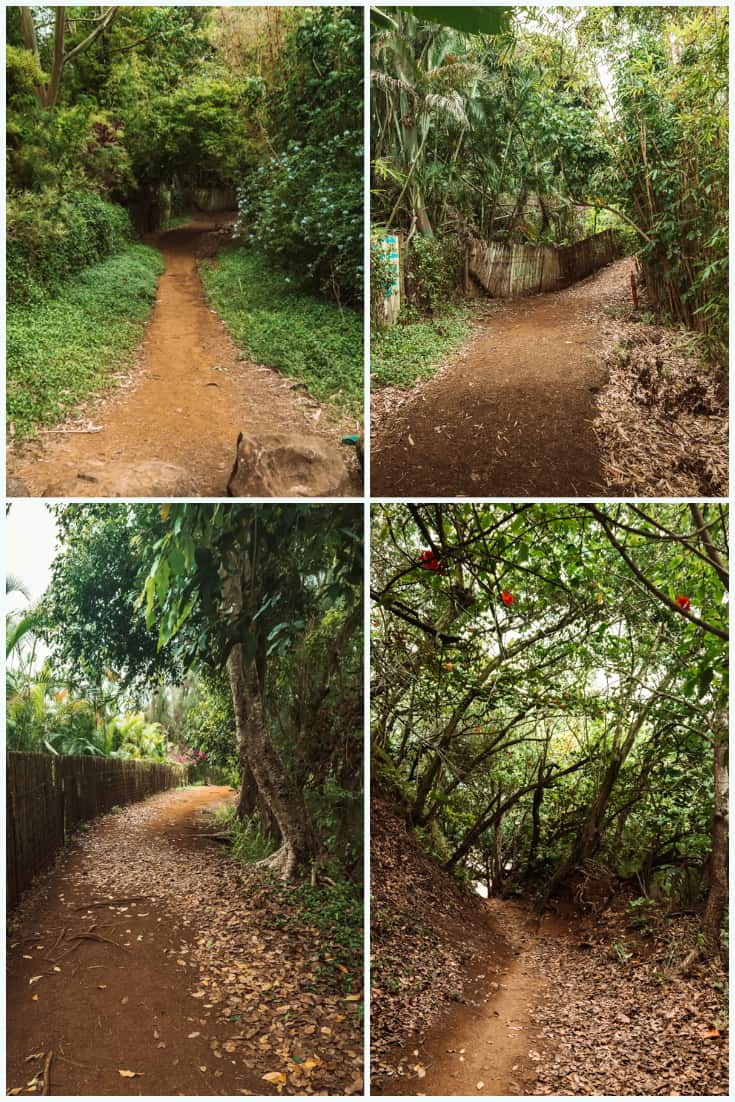 What to Expect at Secret Beach
You know this beach is going to be awesome when there is a large tree swing at the very bottom of the trail as it widens out onto the beach.
There are no facilities here. No bathrooms, no garbage cans, etc. Just nature.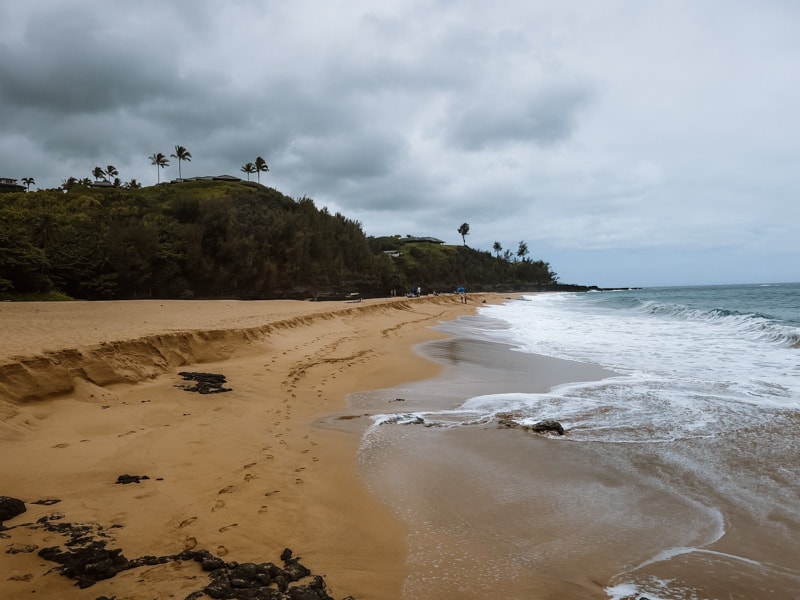 Much Bigger Than Expected
This beach was MUCH bigger than I expected. The sand is really wide and it goes for over ½ of a mile.
Even though there were a number of cars in the parking lot, when we settled onto the beach we weren't within shouting distance of anyone else.
Secret Beach Tide Pools
Waves Can Be Dicey But There is A Small Lagoon
Unfortunately at times the waves can be a little intense. This may mean that you shouldn't swim if you aren't strong in the water.
If you have kids or are afraid of the waves, there is generally a small lagoon full of water that you can swim in.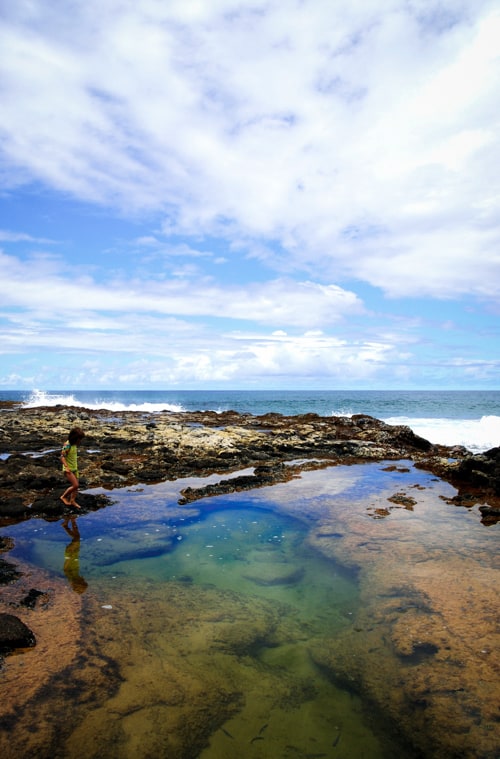 Kilauea Lighthouse Views
The famous Kilauea Lighthouse can be seen on its promontory from this beach. It offers a striking backdrop.
"Unofficial" Nude Beach in Kauai
Kaupea Beach is an "unofficial" nude beach Kauai offers. While nudity is officially outlawed in Hawaii, it is very rarely enforced on Secret Beach Kauai.
Evidently the Kaui nude scene takes place at the far end of Secret Beach (opposite the trail access point). To access, continue off of the path and all the way to the opposite end of the beach walking another ½ mile.
The beach is so big that if you don't want to see or be part of the Kauai nude scene you don't have to. We didn't journey all the way down the beach to find out.
Final Thoughts on Secret Beach
This beach is a MUST see!
There are a lot of different reasons to visit the Kauai Secret Beach. Whether you want to avoid the crowds on a large wide sand beach, be a part of the Kauai nude scene, or simply catch views of the Kilauea Point lighthouse you can't go wrong at Kauapea Beach.
Things to do near Kauapea Beach
Lumahai Beach – another lesser known beach in Kauai
Wyllie Beach
Planning a trip to Kauai? Check out all our Kauai blog posts below.
My husband and I have been to Kauai many times and have written up more blog posts to help you plan your trip. These are my most popular blog posts and Kauai travel guides to help you plan your trip.
Kauai Beaches
Kauai Hiking Guides
Read about all the hikes we have done in Kauai here.
Read all other posts on Kauai here.