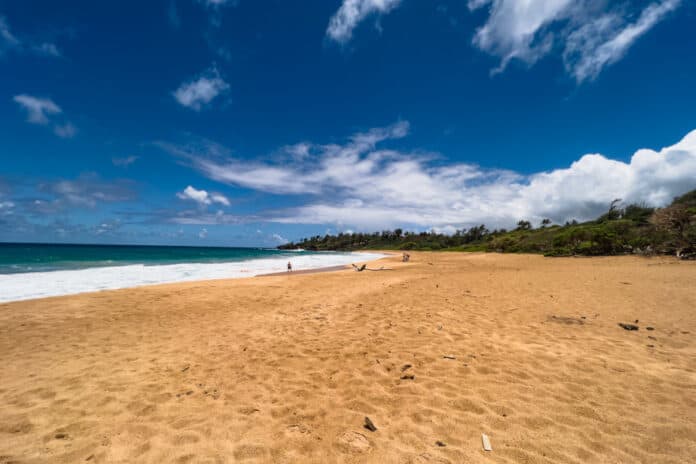 I don't know why, but I find the name Donkey Beach to be hilarious. The first thing that comes to mind when I hear donkey beach though is NOT what I actually discovered when I actually made it to the gorgeous sands of this super underrated beach.
The name comes from donkeys that used to haul sugar from nearby fields and not something more random.
The actual name for this beach is Paliku Beach, but more commonly it is called Donkey Beach.
You will even find it listed that way in your GPS. This gorgeous beach is usually almost empty, which is likely due to it requiring a .4 mile walk from the parking lot and the usually aggressive waves that make swimming unsafe.
Previously this was known as a nude beach, but if you are looking for the Kauai nude beach scene this isn't it. If instead you are looking for a picturesque beach to relax and enjoy the waves on, then this could be it.
Donkey Beach Quick Facts:
Other Names: Paliku Beach
Known For: Low crowds, intimate feel, and intense waves
Facilities: Restrooms in parking lot
Lifeguards: No
Parking: Free, though you have to hike .4 miles from the lot to the beach
Cost: Free
Other: no longer a nudist beach/not great for swimming, need to do a cool .4 mile hike to get there
Donkey Beach Location
Donkey Beach Kauai is on the east side of the island. It takes about 20 minutes to drive here from the airport, and it is just outside of the Kapaa resort area.
Donkey Beach Parking
Large parking lot. It was practically empty when we were there.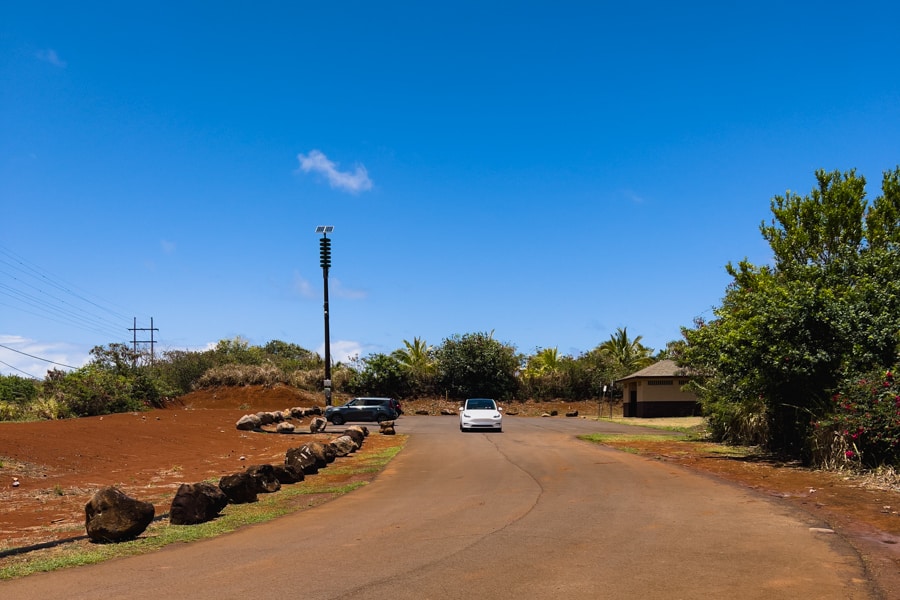 Getting There
If you type Donkey Beach into your GPS you won't actually get directed to the necessary parking lot. Instead it will take you to a gate community.
To access the public parking lot drive further north about a quarter of a mile. You will see a public parking lot and restrooms immediately to the side.
Park in this lot and follow the trail down to the beach.
The trail is about .4 miles long and takes you through a pretty cool looking tree canopied walkway.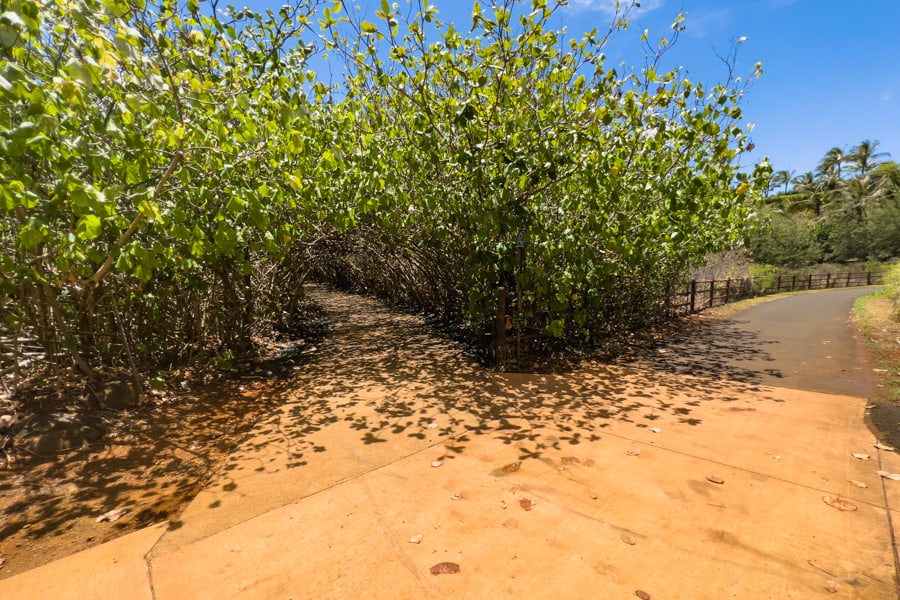 Almost No Crowds
I've been to this beach twice, and one time I had it completely to myself and the other time there was a couple that played nice when I arrived, but I know they were upset to no longer have the beach to themselves.
In fact, I saw more of the famous stray Kauai chickens strolling around the beach than I did people.
NOT a Nude Beach
Historically this was known as a nude beach, but as the area developed they began enforcing the law more and more.
Now it is not known as a nude beach at all, and the local property owners that have views of the beach would likely discourage that type of behavior.
Strong Waves And Currents
Very often the waves will be too intense for you to swim at this beach. We splashed along the shore and dove and dodged the waves a bit which was fun, but I wouldn't have felt comfortable going all the way in on the two times I visited.
Is Donkey Beach worth visiting?
Absolutely! Like a lot of beaches on the east side of Kauai the frequent danger around swimming makes it less popular.
I loved escaping the crowds to this gorgeous beach even if I could only play in the waves in the shallow water.
I'm willing to sacrifice getting all the way in for the ability to have some sun and solitude!
Planning a trip to Kauai? Read everything we know about Kauai here:
My husband and I have been to Kauai many, many times and have written up more guides to help you plan your trip. These are my most popular blog posts and Kauai travel guides to help you plan your trip.
Kauai Beaches
Best Beaches for Snorkeling on Kauai
Best Cliff Jumping in Kauai
More awesome beaches
Kauai Hiking Guides
Read about all the hikes we have done in Kauai here.
Read all other posts on Kauai here.