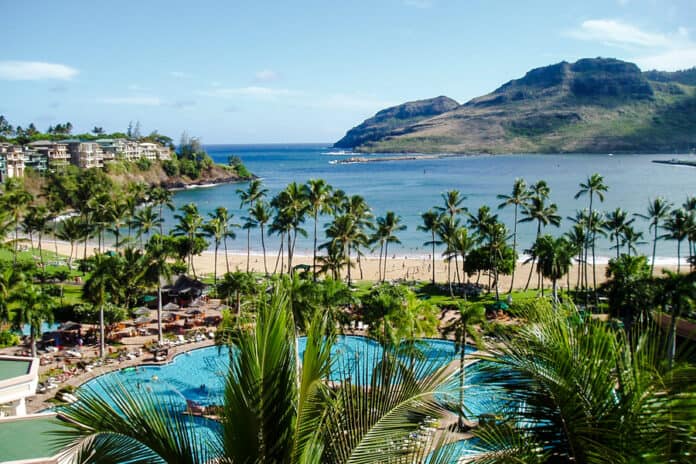 So many beaches on the east side of Kauai have consistent waves that are too intense to swim in. At other beaches the combination of mercilessly pounding waves and strong hidden currents have unfortunately caused drownings.
Kalapaki Beach alleviates those concerns while still providing an great all-around beach experience. It's orientation goes east to west and a protective cove shelters the shore from intense waves. This allows it to be a perfect spot for beginning surf lessons, and not surprisingly vendors line the shore.
Also, Kalapaki Beach is one of the few beaches on Kauai that is actually located "in a city." With Kalapaki Beach being in Lihue, it allows you to lounge on the beach and then stroll off the beach and immediately into a lineup of quality restaurants and shops.
Kalapaki Beach Quick Facts:
Kalapaki Beach Location
This beach is located in the heart of Lihue. It is also right next to the airport.
If you are looking to relax ahead of a flight or desperate after landing to dive into the first quality beach, then the location of Kalapaki Beach is perfect.
Parking
There are a few lots that you can park in. There are a few public parking spots at the Marriott Hotel, or directly across the channel there is a dirt lot and a walking bridge to cross on to the beach. I went on a Friday and didn't have any problem finding a spot.
Even if those lots were full, there were a number of other public parking lots around the city that we could have parked in.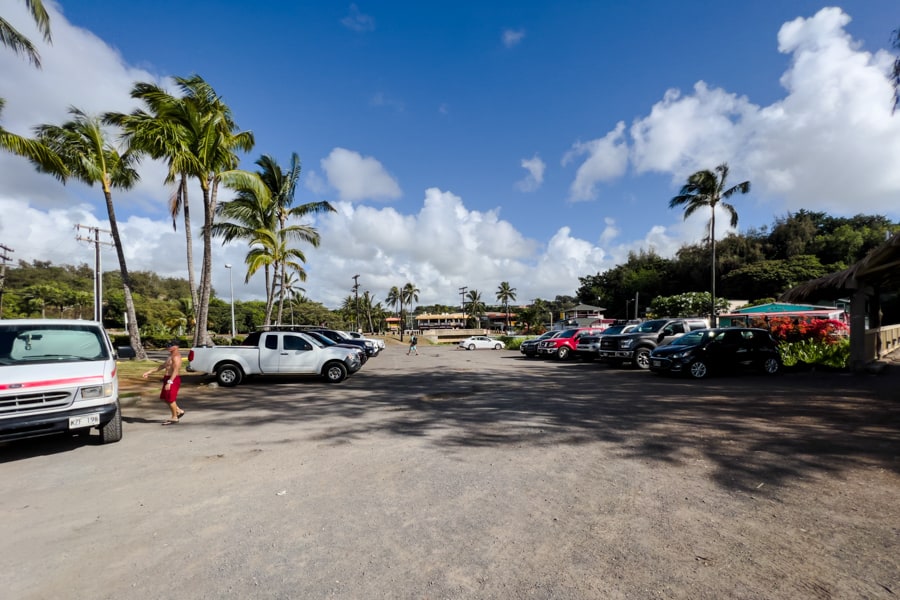 What to Expect Once There
This beach has a very different feel than a lot of other Kauai Beaches.
City Feel
Most Kauai beaches have a really remote island feel. While I love the feeling of escape, it is nice to be directly in Lihue in case you want to walk to some of the stores, or venture into a restaurant for lunch.
Lihue is the part of Kauai that has the most shopping, i.e. it is where you will find the Target, Costco, Taco Bell, along with all of the local hot spots.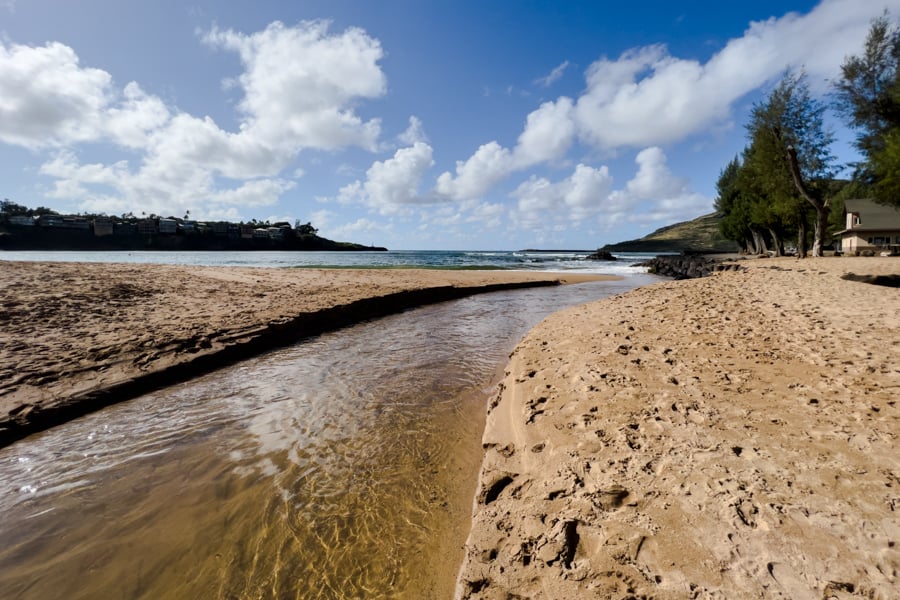 Gentle Waves For Surf Lessons
There are a number of vendors and plenty of students learning to surf. The wave conditions are perfect to learn to surf. While I didn't take lessons here I considered it because the instructors and conditions made it look easy.
I watched the students practice on the wide grass lawn and then venture into the water. It worked so well that I even saw little kids able to stand on their surfboards in short order.
If surfing isn't for you, there were also a number of boogie boarders and even a few stand up paddle boarders.
Proximity To Cruise Ports
This beach is also close to the cruise port. While it didn't feel crowded with cruise traffic, it is something that I would want to be aware of.
Final Thoughts: Should you visit Kalapaki Beach?
I loved Kalapaki Beach, though it isn't the prettiest of all the Kauai! I didn't think that there would a beach with this much to offer in the middle of the "city heart" of Kauai.
Planning a trip to Kauai? Read everything we know about Kauai here:
My husband and I have been to Kauai many, many times and have written up more guides to help you plan your trip. These are my most popular blog posts and Kauai travel guides to help you plan your trip.
Kauai Beaches
Best Beaches for Snorkeling on Kauai
Best Cliff Jumping in Kauai
More awesome beaches
Kauai Hiking Guides
Read about all the hikes we have done in Kauai here.
Read all other posts on Kauai here.