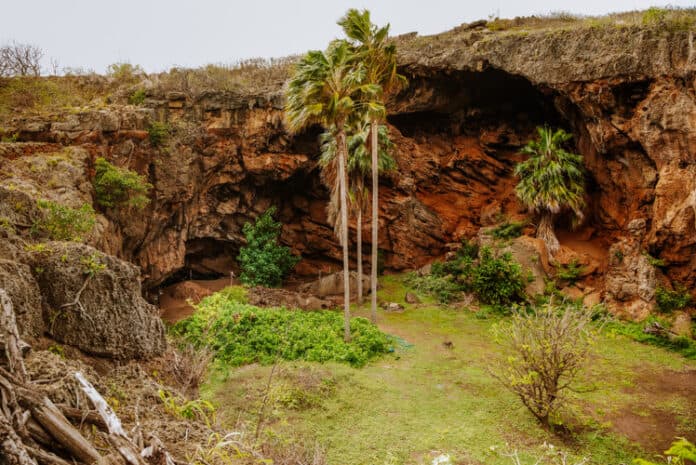 The Makauwahi Caves in Kauai are the largest and only limestone cave found on the Hawaiian Islands (the rest are all lava tubes).
Somehow this Makauwahi caves in Kauai largely remains a secret when pointing out the top Hawaii attractions.
This shocks me because not only is the cave extremely cool to explore, it is also incredibliy rich in archeological and geological value. They have found remains of more than 20 different now extinct species in this cave!
Not only are these caves on Kauai great to explore, but it is relatively easy to access as it in near the Poipu resort area on the island of Kauai.
Key Facts of the Makauwahi Cave Trail & Reserve
Getting There
One way to access this cave is to complete the Mahaulepu Heritage Trail hike that begins at Shipwreck Beach.
It is about 2 miles, but isn't difficult or super muddy like so many of Hawaii's best hikes. This hike follows the gorgeous coast line providing exquisite views all the way up to the cave.
You can also get there by driving beyond Shipwreck Beach on Poipu Road. The road turns into dirt, BUT it is fairly packed down where I felt comfortable driving my rental car on it. Follow this until you are about .25 miles from the cave and walk the rest of the way.
The last stretch of road is quite bumpy, so I parked on the side of the road a little further back and walked the last hundred yards.
From there you will find signs and a well marked trail.
I highly recommend taking the Mahaulepu Heritage Trail, you can read more about that and the starting point of Shipwreck Beach here.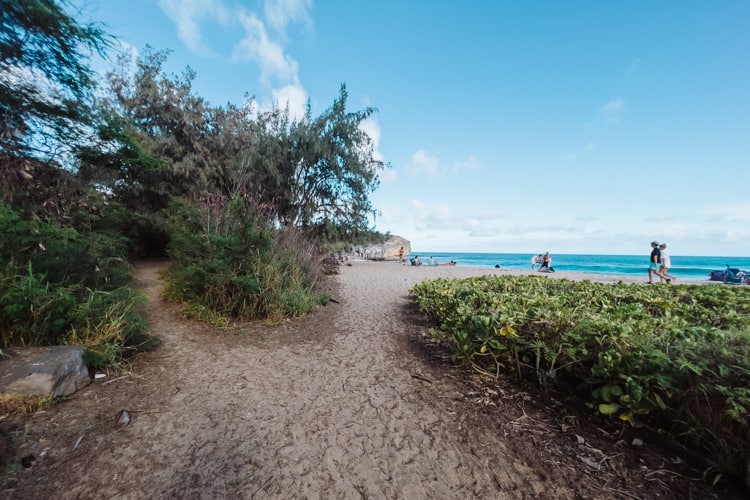 Finding The Makauwahi Kauai Caves
Some people get discouraged because there isn't a huge opening to the caves. There are in fact two main caves, with one being blocked off other than a view in from the entrance, and other other being the one that you want to explore.
The problem with exploration of the second cave is that the access sinkhole is difficult to find and requires a quick crawl or squat walk.
It only goes for a few feet though and then it opens up into the wide cave to your delight! More on that below.
Makauwahi Cave Entrance
The small entrance to th Makauwahi Cave is small and requires an uncomfortable squat and waddle walk to get in.
Be prepared to literally crawl on hands and knees through the cave's only entrance, which is a hole in the rock about 2'x2′.
Once you are in the cave, it is very spacious, with a huge open-air area where the ceiling caved in to create the sinkhole.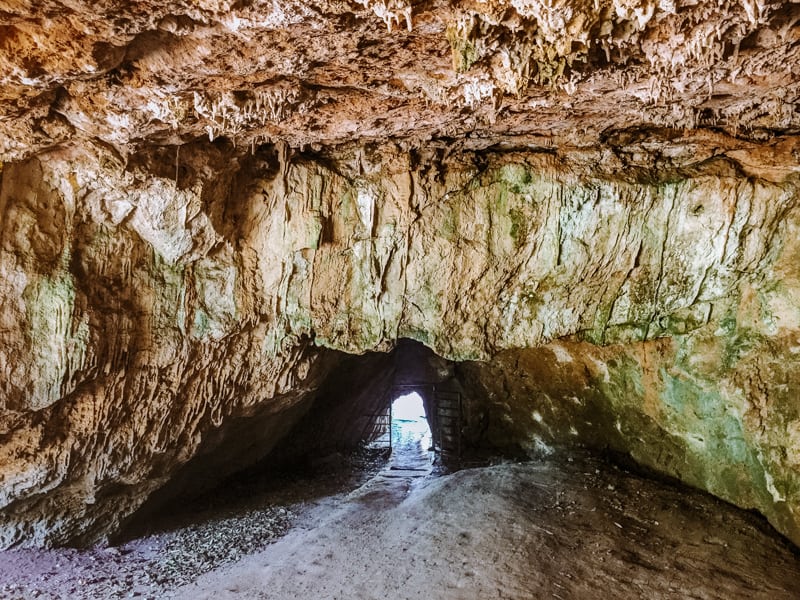 Makauwahi Cave Trail
Distance is 0.5-mile out-and-back trail near Koloa, Kauai. Takes about 12 minutes to complete.
To find the access point make sure you follow the Makauwahi Cave trail as it does lead directly there.
There are a number of people who don't follow the trail directly to the access point because they don't think anything is there.
The trail will take you to tortoises, amazing beaches and caves (read more about Gillins Beach).
Cave Tour
For those that don't want to hike, are worried about finding the actual site, or aren't comfortable taking their rental car down a dirt road there are a number of cave tours available.
XXXXXXXXXXXXX
Largest Cave Complex in Hawaii
Not only is this cave complex the richest fossil site in Hawaii, it is also the largest limestone cave complex in Hawaii.
The whole parcel is over 17 acres, though full disclosure the caves you explore are much less than that.
Makauwahi Meaning
I'm not sure how it relates to the name of the cave, but in Hawaiian Makauwahi means "smoke eye." This cave was previously used as a gravesite for ancient Hawaiians, so maybe there is some association?
The caves Kauai offers are a great addition to your Hawaiian vacation!
Other Kauai Cave tours
Waikapalae wet cave – Cave used in Pirates of Caribbean near Ke'e beach.
Get to know this 0.5-mile out-and-back trail near Koloa, Kauai. Generally considered an easy route, it takes an average of 12 min to complete. This is a popular trail for hiking, but you can still enjoy some solitude during quieter times of day. The trail is open year-round and is beautiful to visit anytime.
Napali coast cave – LUCKY LADY – Deluxe Na Pali Morning Snorkel Tour – takes you to the napoli coast cave – RAFT ADVENTURE – Na Pali 1/2 Day Snorkel
Honopu Beach and arch
Planning a trip to Kauai? Read everything we know about Kauai here:
My husband and I have been to Kauai many, many times and have written up more guides to help you plan your trip. These are my most popular blog posts and Kauai travel guides to help you plan your trip.
Kauai Beaches
Best Beaches for Snorkeling on Kauai
Best Cliff Jumping in Kauai
More awesome beaches
Kauai Hiking Guides
Read about all the hikes we have done in Kauai here.
Read all other posts on Kauai here.