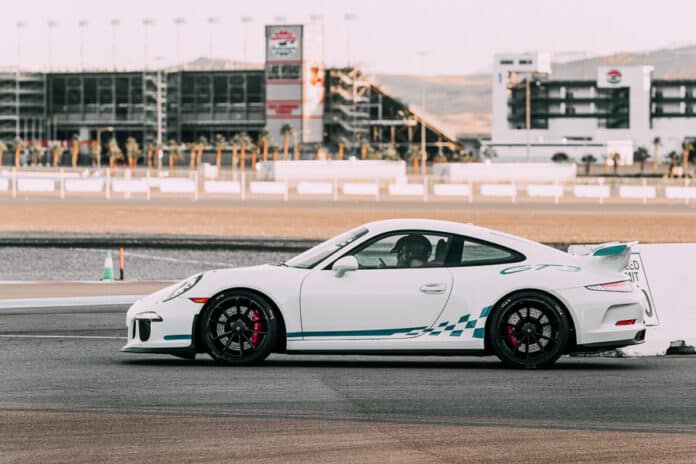 Have you ever wondered what it is like to actually race around in a Ferrari? Lamborghini? Porsche? At some point everyone wants to know what driving around in these cars is actually like. Unfortunately, most of us will never have the experience because those cars literally cost more than a lot of houses….
EXCEPT….
This is no longer the case. You can race exotic cars in Las Vegas at Exotics Racing! Not only can you now drive one, but you can race exotic cars in Las Vegas around a track!
Actually Race an Exotic Car Las Vegas Style
There are actually a few exotic car rental Las Vegas places, but they don't let you actually drive the supercar around a racetrack at more than 100 MPH.
To drive supercars Las Vegas style you simply need to go to Exotics Racing. They have a full collection of Las Vegas exotic cars for you to choose from and race around in.
Even if you aren't super into cars, who doesn't want to blast around a track at more than 100 mph?
If you are afraid then perhaps you could offer the experience at the ultimate Father's Day or Anniversary gift. So many people don't realize that the experience of actually driving supercars Las Vegas style is now possible for everyone.
Make a reservation immediately: Two Hour Exotic Car Driving Experience Package in Las Vegas
Actually Drive Supercars Las Vegas Style
What to Expect Once There
Once you arrive you will first check in. You need to provide your driver's license, but international drivers licenses are accepted.
Next, you will choose which one of their Las Vegas exotic cars you actually want to drive. There are a ton of different options, but prices vary based on availability and the rarity.
Thankfully, you will next go through a safety briefing before you are off to the races yourself.
A really cool part of this safety briefing is that an instructor will take you out on the track in a Porsche for some test laps.
Not only is it fun enough to race around a real racetrack in a Porsche, but you will be taught how to maintain safety as well as how to take the correct racing lines. This helps you get a feel for when you are soon to be driving yourself.
Once you are given the go ahead, you and an instructor will switch places and the driving is now up to you. You are allowed to go up to 130 MPH!
Yes,130 MPH that is basically double of any existing speed limit in the supercar of your dreams. The car you will be driving can actually reach those speeds as well!
Don't worry, you will also have plenty of time to pose for pictures!
Package Cost for Las Vegas Exotics Cars
Packages start at $199 per person, but you should expect to pay about $500-$700 per person. They charge more based on how many laps you want to do, with most packages including either 5 or 10 laps.
Considering just how expensive these cars actually are and that they let you actually drive them to their potential, the pricing makes sense. I can imagine a significant portion of our fees go to cover their insurance as well!
Location of Exotics Racing
The racetrack is actually pretty close to the Las Vegas Strip. This means that you shouldn't have a hard time getting there, even if you don't have your own rental car and want to take an Uber. Unfortunately, the tour does not include pickup and dropoff from your hotel.
The actual address is 14200 S Las Vegas Blvd, Henderson, NV 89044, or you can type Speed Vegas Motorsports Park into your GPS. The drive from the Las Vegas Strip is straight south and takes about 20 minutes.
Other Info
Don't worry, you will have ample opportunity to get the perfect shot for Instagram.
Your friends and family can go to watch you drive the car, but they will not be able to be in the car with you. When you drive, it will be you and the instructor only.
Some people don't like that you have to wear a helmet while driving, but given the circumstances I think it makes a lot of sense.
You need to wear closed toed shoes and bring your drivers' license. International drivers' licenses are accepted.
You must be 18 years of age or older to be able to participate.
BOOK HERE NOW to reserve a spot. Another perk is that you can can cancel up to 24 hours ahead of time. Times go fast, so make sure you have a reservation for the time you want to go.
What type of car would you choose?
More posts on Las Vegas:
I lived in Las Vegas for almost 10 years and loved it there! Here are a few of our most popular Las Vegas posts that will help you plan your trip.