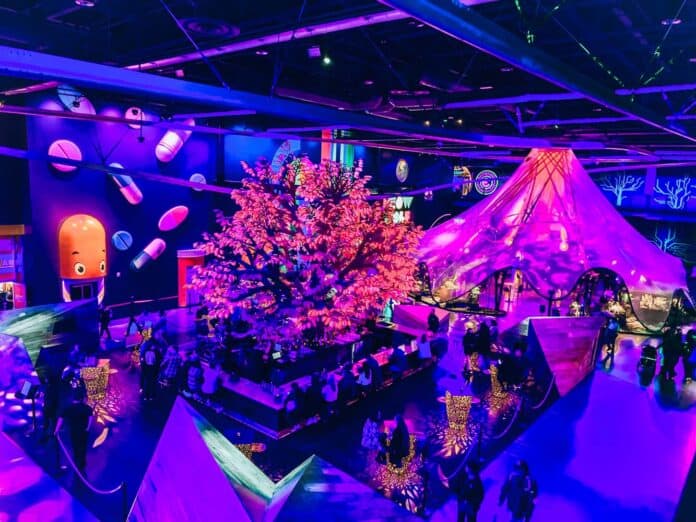 Dude, WTF is Area 15 Las Vegas? and why do you keep hearing that you need to go immediately? First off, Area 15 Las Vegas is not Area 51, though the supposed alien site is close to Las Vegas as well. Maybe you've seen the gigantic warehouse with Las Vegas AREA 15 branding on it while driving up the Strip. Unfortunately, seeing the building won't do much to describe what's inside.
So why do you want to go to a gigantic warehouse right off the strip?
If you go to the Area 15 Vegas website ​​you may feel just as confused as before, but fear not because after going a couple of times I can finally explain.
The best way to describe it is a 200,000 SF warehouse with various art exhibits. Generally the exhibits have a futuristic rave and optical illusion vibe. There are also exhilarating attractions like zip lines, bars/restaurants, and gift shops.
That description may make you think that it is solely for the artsy, raver, or thrill seeker (I'm none of those) but trust me, it's not. The complex is so big and diverse that it truly has something for everyone.
You can't do all the attractions and Area 15 Vegas exhibits on one trip, so make sure you plan ahead to figure out what most appeals to you.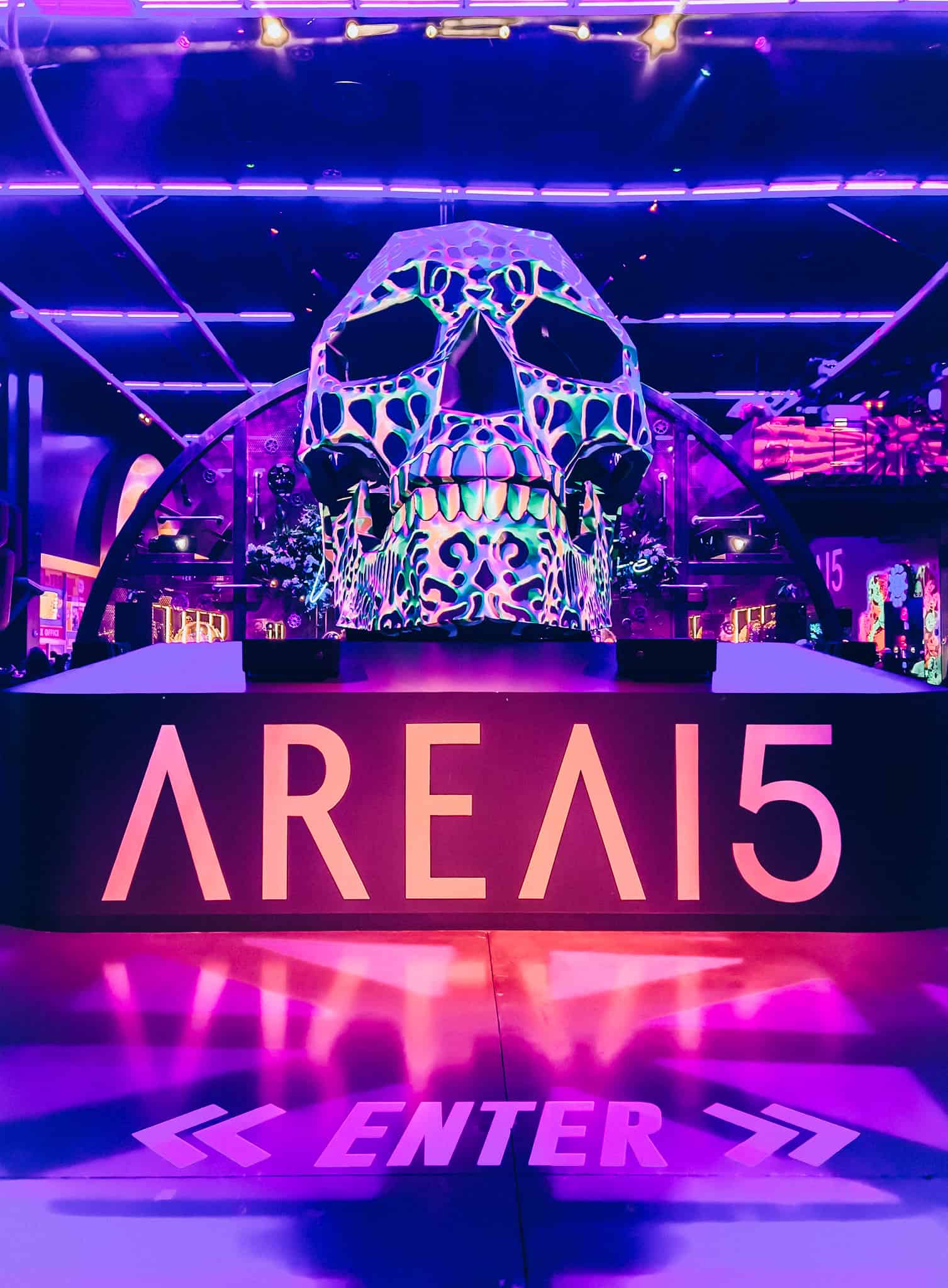 Remember, the offerings really do vary wildly. I.e. there is a virtual reality simulation that will let you experience what it is actually like to be a bird, you can shop in a snarky grocery store with secret portals into different dimensions, or you can attend an enticing and racy show.
Don't let the rave night-club vibe or racy show offerings scare your kids away. If you want, Area 15 Las Vegas can be 100% family friendly.
Intrigued and still slightly confused? Read on to figure out why you have to see all that Area 15 Las Vegas offers!
SAVE MONEY INSIDE AREA 15 – BUY AN ALL-INCLUSIVE PASS!
Don't skip this section like I normally do.
Most all-inclusive passes suck! They don't actually include things you would want to do, or you need to visit 10,000 attractions in a short amount of time to make it worth their while. The Go City Las Vegas Pass is different; it is a huge cost savings and includes things you actually want to do!
Seriously – if you want to see a Cirque du Soleil show alone the pass basically pays for itself.
Some of the other big ticket items included are a ride on the High Roller, LINQ Zipline, and Illuminarium at Area 15.
Some of the things that I think are coolest are the LINQ Zipline, the High Roller, SkyPod at the Strat, Area15 Illuminarium, and the New York New York Big Apple roller coaster.
There are 35 different things you can choose from.
They include other show tickets, museums, bar crawls, as well as things like go-cart racing and escape rooms. If you don't want to see a Cirque show you can switch out those tickets for a Strip Helicopter tour instead.
This deal literally can't be beat if you are looking to do more than just gamble while in Vegas. There is a day time limit though so to get your money's worth you have to keep moving, though there isn't a more affordable way to cover so much ground in Vegas.
Examples of What's Inside Area 15 Vegas
So the exhibits are always changing, but there are a number that are advertised as being "permanent". Some of the most popular "anchor tenants" as well as some of the ones I like best are highlighted below.
Remember to check out their website since there are always new attractions coming and going.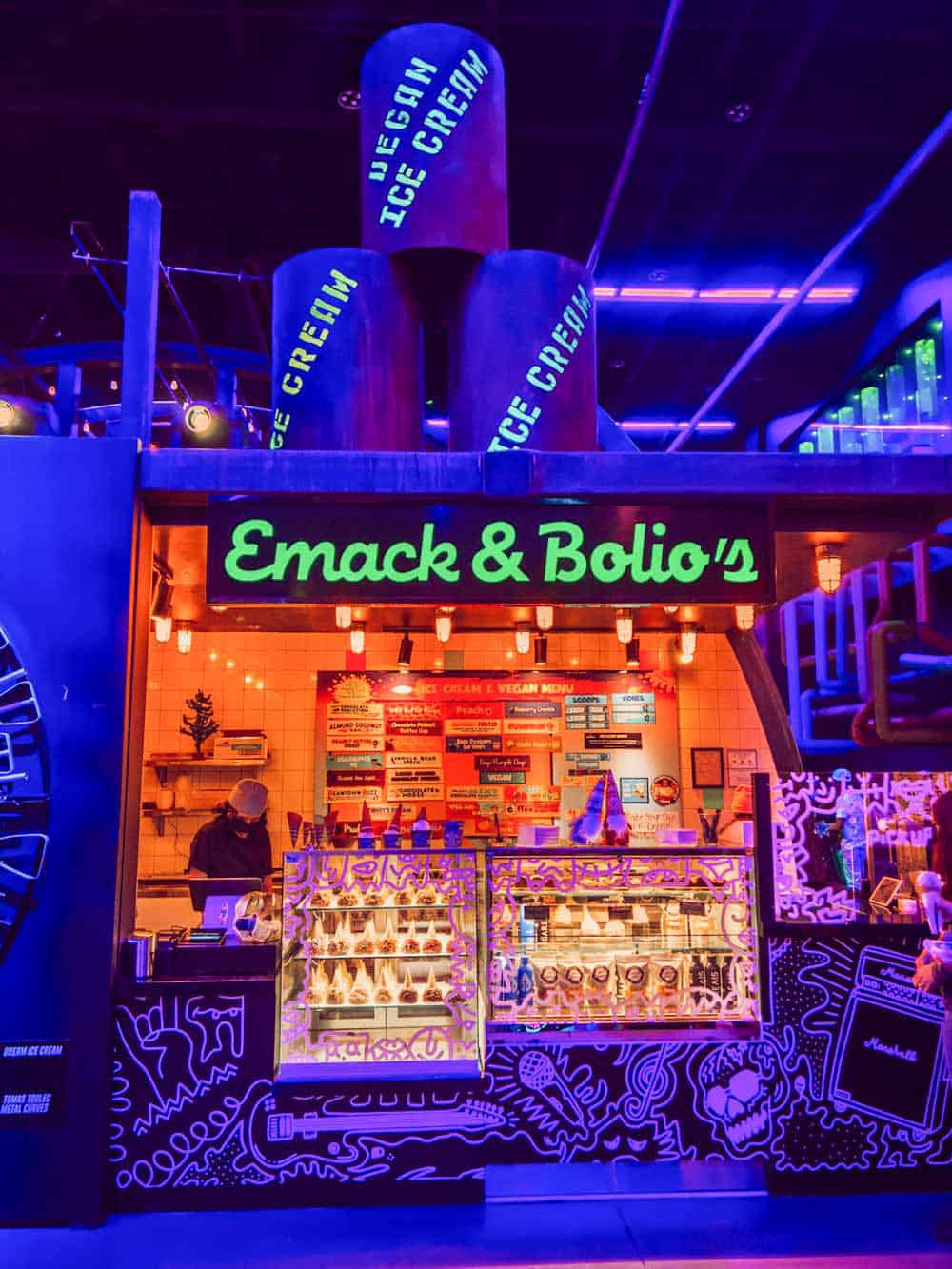 Illuminarium Immersive Experience
This is an art exhibit that goes so far beyond a normal art exhibit. It even works for those who aren't artsy and generally would have no interest whatsoever in visiting a gallery.
Aside from stunning visual displays, the exhibits incorporate moving floor, sounds, and even exotic smells. They literally make the experience as immersive as possible.
Currently, there are displays/experiences where you can visit outer space with a "real" moonwalk, or go on a wild African safari.
You should plan on spending at least an hour there; make sure to book your tickets to the Illuminarium Immersive Experience ahead of time since they do sell out.
Also, if there are multiple shows and attractions you want to see while in Vegas I recommend buying the Go City Las Vegas Pass instead of paying for each ticket individually.
Note: Tickets to the Illuminarium Immersive Experience are included in The Go City Las Vegas Pass. If you plan on seeing multiple shows & attractions in Vegas I recommend checking out the details here.
Birdly
Want to feel what it is like to be a bird? This virtual reality display gives you that exact sensation. You get strapped into a set of wings with a virtual reality headset on your face and then take off into the skies (virtually). This one is exhilarating, but I wouldn't call it a thrill ride. It is suitable for children.
It is also one of the cheaper attractions at only $13.50 per person or $10.25 per children. $12.00
Axe Throwing Las Vegas: Dueling Axes
Got some anger to get out at someone? Would hurling axes at a target help alleviate that tension? At Dueling Axes Las Vegas you can do exactly that.
To understand Dueling Axes Las Vegas, aka Axe Throwing Las Vegas you need to think of a bowling alley. You can book with a group of up to 6 people, but instead of bowling, your group is throwing axes at a target. And yes, just like bowling you can sip on a beer between your turns.
The manly men aren't the only ones that can succeed at hurling axes into a target as it takes some unique skill. If you want to be able to hustle your friends or just think it would be a fun skill to develop, I recommend you book this instructional axe throwing lesson ahead of time when in Vegas. It's shockingly cheap and fun!
Omega Mart (by Meow Wolf)
Okay, so I had no idea who or what Meow Wolf was before seeing this exhibit. Evidently I was out of the loop for not knowing. For those of you that are completely un-initiated like me, Meow Wolf is a famous group of artists that create incredibly unique displays.
There is probably a better art term, but I would describe their work as futuristic and trippy, but fun. Also, the group was partially funded by George R.R. Martin, the author of the novels that became the Game of Thrones series.
Make sure to book your tickets to Meow Wolf ahead of time since they do sell out. This is one of the most popular exhibits at AREA 15!
What to expect in Area 15 Las Vegas Omega Mart
So what's actually inside? Think of the Area 15 Las Vegas Omega Mart as a creative and snarky grocery store with "portals" to "other dimensions"? Sounds intriguing right? I
f you want to get a better idea there are videos on YouTube of people going through, though I recommend you leave some things to discover until you are there.
The products in the grocery story are uniquely named and tell a story that you work to discover as you explore the exhibit. Watch the shelves carefully as the often feature secret entrances into "other dimensions", or displays that feature a trippy futuristic theme.
I'm serious when I say to explore carefully as there are a number of people that miss certain parts of the exhibit by not exploring closely enough.
Omega Mart – Meow Wolf Tickets Las Vegas
I'm sure my description is not doing it justice, but trust me that it is a lot of fun. Warning, it is EXTREMELY popular so purchase tickets early here and don't waste time standing in line. Use the time saved to explore the rest of AREA 15 like we did.
Also, make sure you plan enough time to explore as most people spend at least a couple of hours here.
As its gotten more and more popular the ticket prices have gone up. Currently they are $55 per person, but tickets are already sold out for the next couple of months.
Get your Meow Wolf Tickets here.
Van Gogh Exhibit Las Vegas
This is probably not how Vincent Van Gogh envisioned his art being appreciated, but nonetheless, here we are. The immersive Van Gogh exhibit Las Vegas offers is a one of a kind experience. With virtual reality, you literally get taken into (yes inside) his work.
You don't have to be a post-impressionist aficionado to enjoy this exhibit though. The art immersive Van Gogh exhibit Las Vegas includes at Area 15 is not quite as trippy as some of the other attractions. It is a more chill 35 minute art show/presentation.
Cost: Van Gogh Las Vegas costs $35 for adults and $19 for kids. Even though it doesn't sell out as far ahead as other attractions, you still will struggle to get tickets the day you want to go.
Lost Spirits – A Las Vegas Distillery
So I'm not a drinker, but I can still 100% see the appeal of the Lost Spirits Distillery at Area 15 Las Vegas. The best way to describe this Las Vegas distillery is to imagine Willy Wonka selling booze instead of chocolate. Your $55 admission ticket may seem expensive, but it includes four drinks, an immersive exhibit, as well as a show from what I can best describe as old school circus acts.
The Lost distillery advertises themselves by saying, "the Las Vegas experience focuses on 19th century English drink and takes you to the seedy streets of Victorian literature." While that is somewhat lost on me, I describe it as the environment perfect for steampunk design.
Haley's Comet Zip Line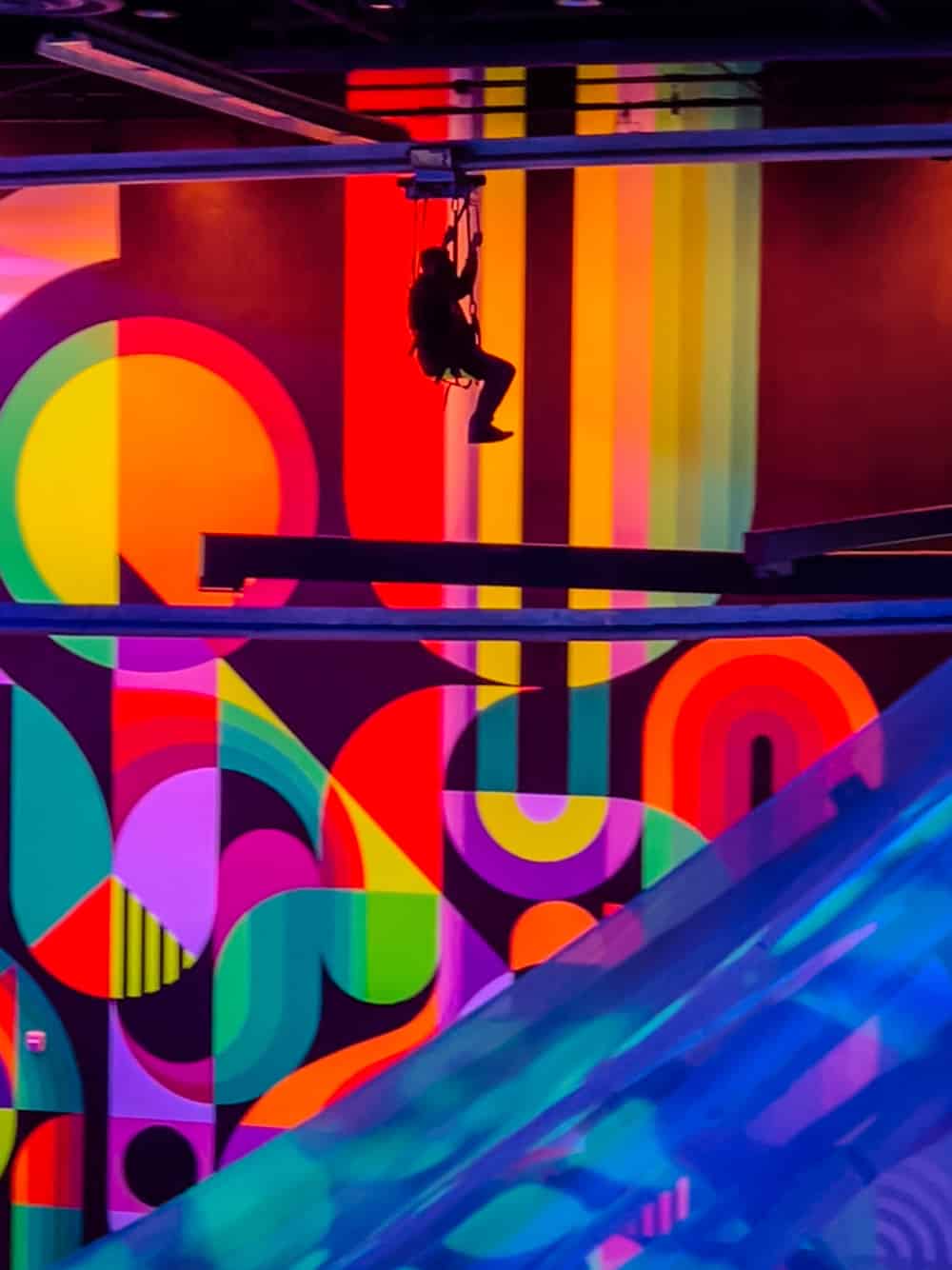 This ride is a mix of hang gliding and zip lining, though not quite as intense as either usually is. Read into this that it is kid friendly for bigger kids (54 inches and 80 pounds), so long as they and you aren't afraid of heights. This ride flies you over the entirety of the Area 15 warehouse while strapped into a hang glider/zip line harness.
You get to zoom zooming over the neon lights and other attractions, and dual tracks allow you to race along with a friend. It costs $18 for adults and $12 for kids.
Emporium Bar Area 15
Think of the Emporium Bar as more of an arcade/bar hybrid rather than your traditional bar. There is no cover charge to get in, and there are plenty of games to keep you occupied.
The last time I was there the games created an incredibly friendly vibe where people were actively mingling and meeting other groups.
Shopping
Area 15 has so many cool shops. Even if you don't buy anything they are still so fun to walk around. The retails stores feel like exhibits.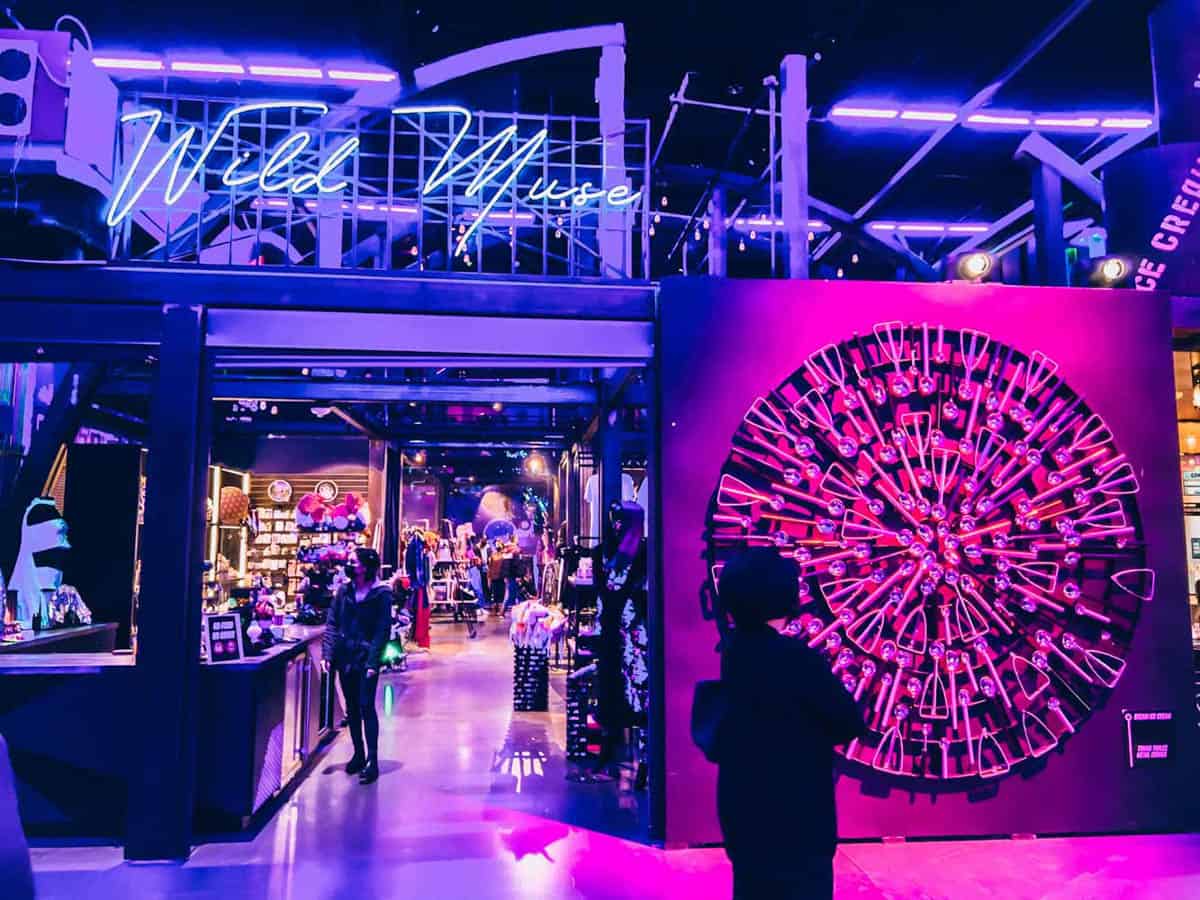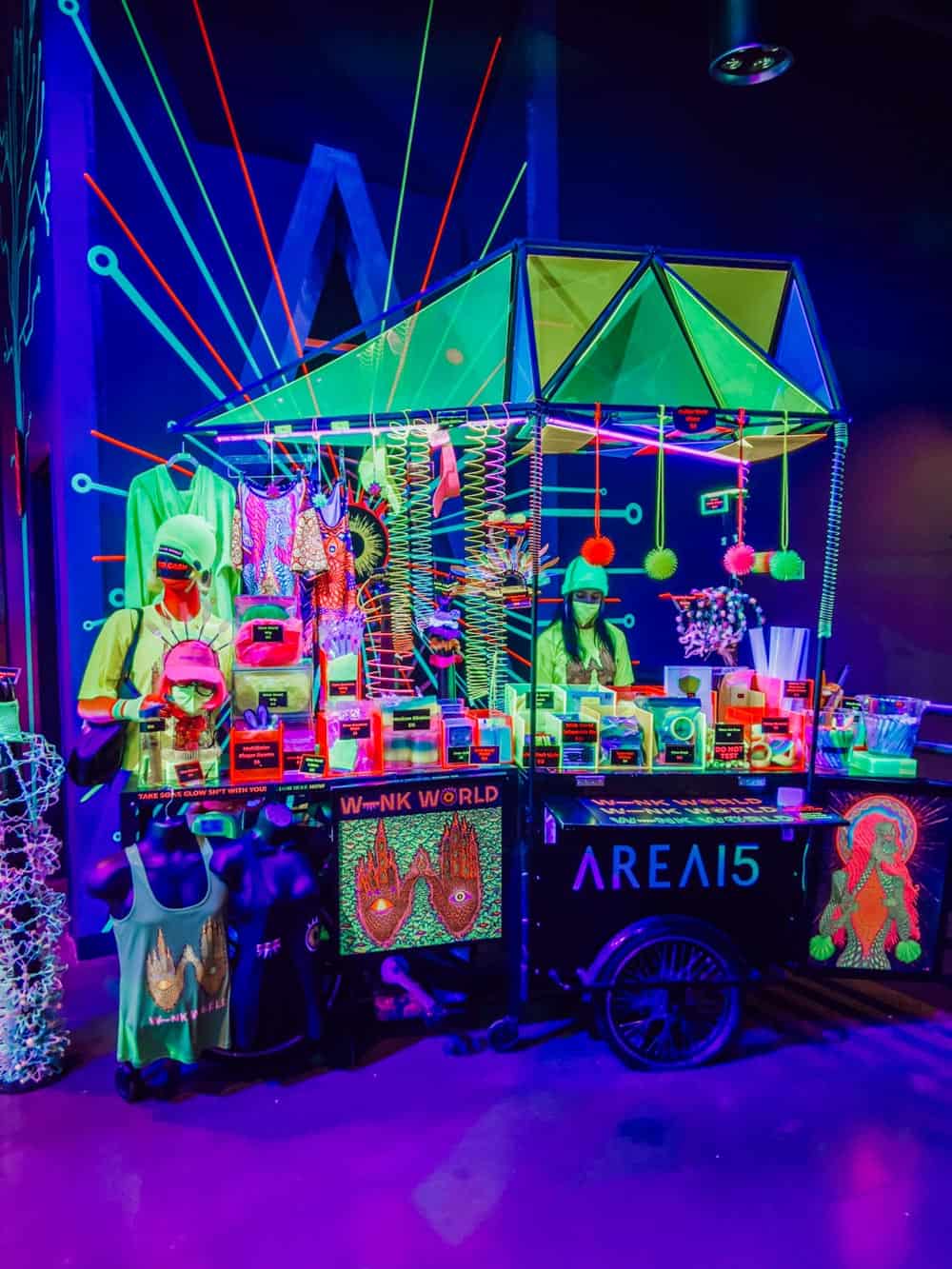 Restaurants and Bars
Grab a drink under Oddwood's Maple Tree Bar and 5,000 led twinkling lights. This was one of my favorite parts of Area 15. The tree was just stunning.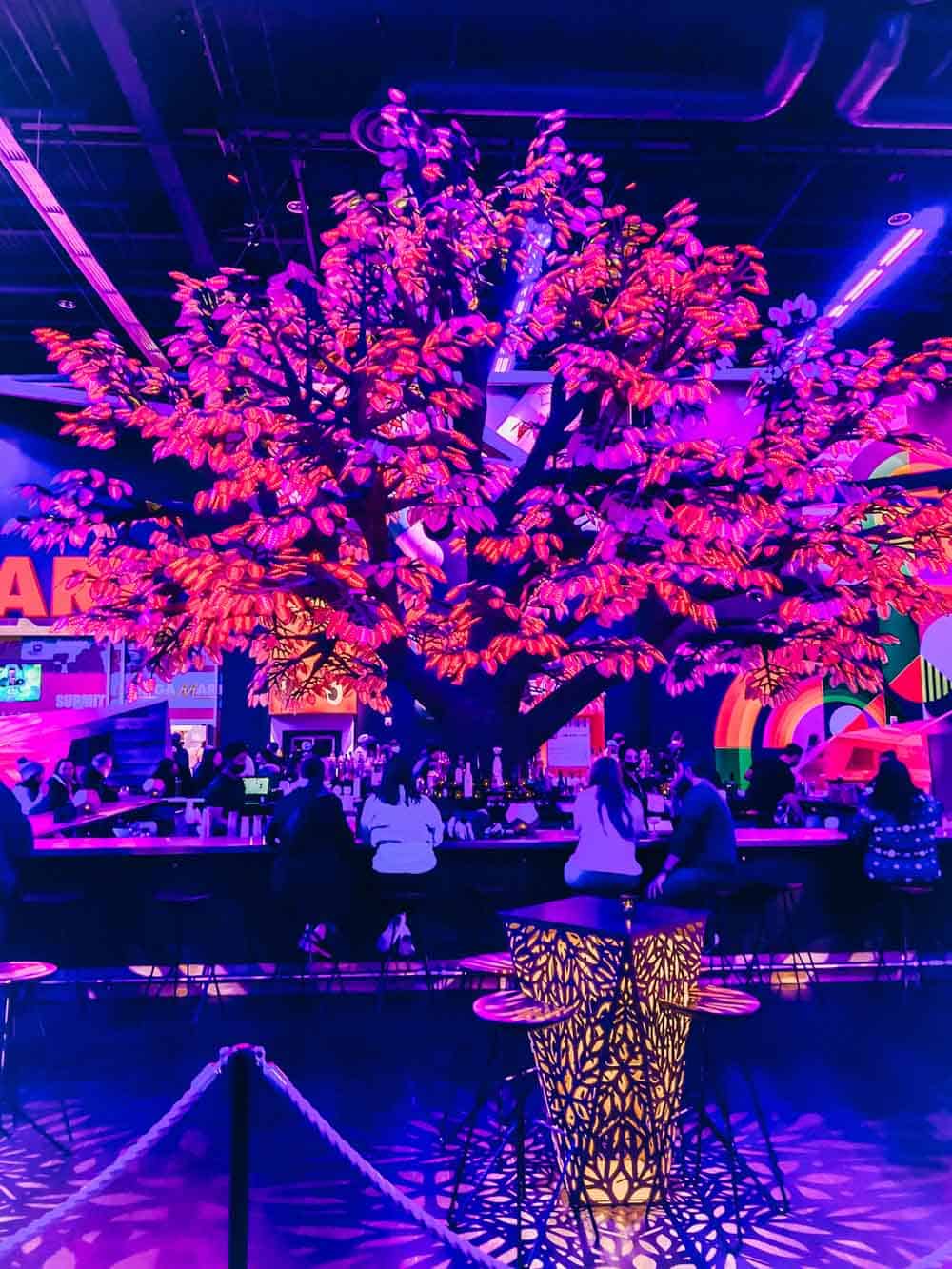 Where is Area 15 Las Vegas?
Area 15 Las Vegas is located just off the Strip on the west side of I-15. The actual address is 3215 South Rancho Dr, Las Vegas, NV.
From most of the Strip hotels it will only take about 10-15 minutes to get there.
On-site parking can get a little crazy, but Uber and Lyft drop off right in front and aren't too expensive. This is an especially appealing idea if you plan on having a few drinks.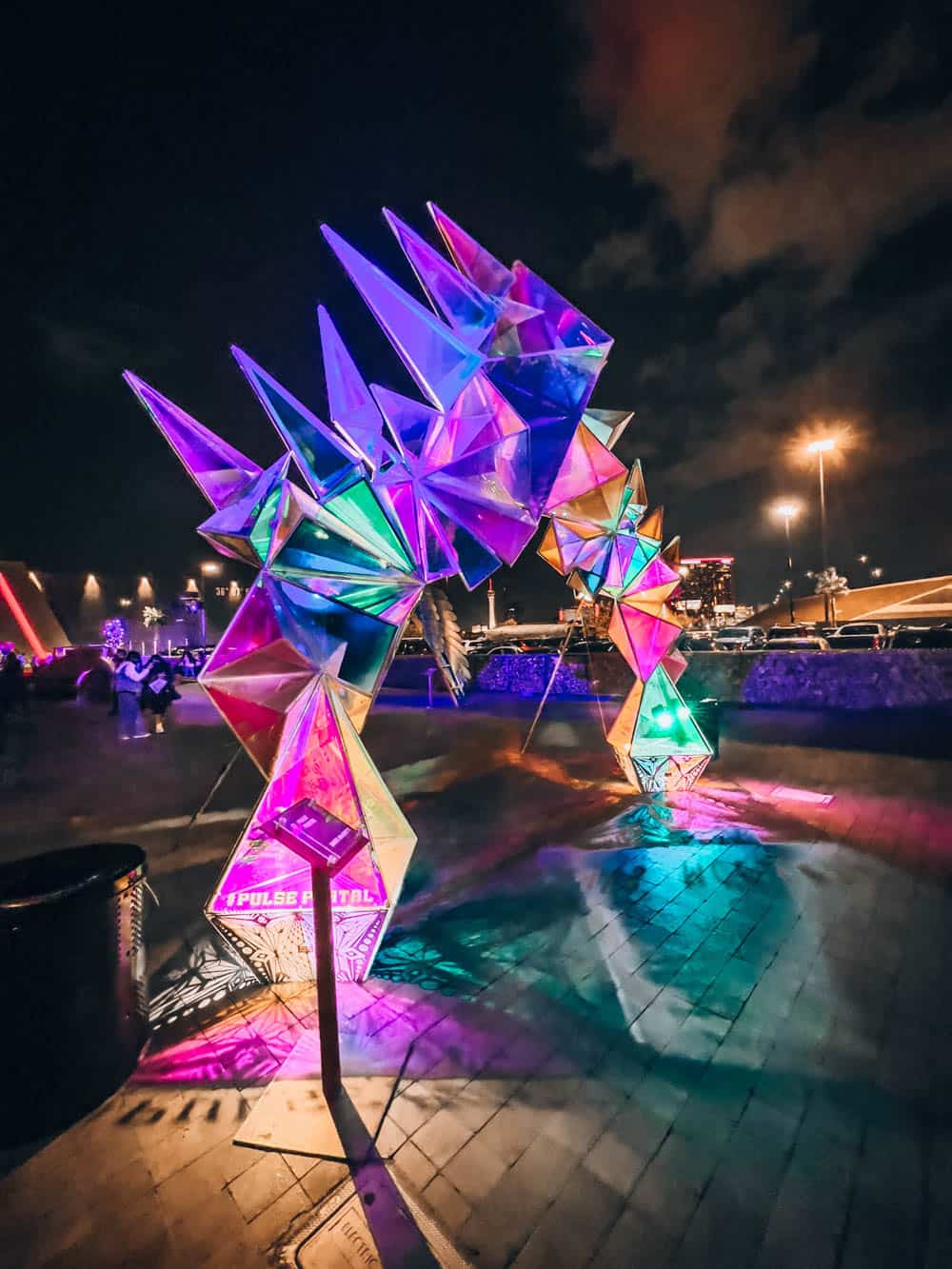 Area 15 Las Vegas Tickets
You can reserve your Area 15 Las Vegas tickets for free by booking here.
Even though admission is generally free, it does require a reservation to get tickets. There are certain times (late nights on weekends) that require a $10 cover charge to even enter the complex.
If you don't have a reservation they will let you make one at the door, so long as they are not at capacity. Unfortunately people can get turned away due to its popularity and capacity restrictions.
How much does it cost to get into Area 15 Vegas?
It's FREE to get into Area 15 Vegas (with a caveat). Even though the Area 15 Las Vegas cost is zero to get into the complex, most of the exhibits require an entrance fee. That being said, there are a number of free exhibits as well as free bars and restaurants for you to hang out in.
The first time I went I didn't have any individual exhibit tickets, but I was able to enjoy the free exhibits and get a flavor of what a lot of them were like from the outside.
Is Area 15 Family Friendly?
Yes, Area 15 can be family friendly! But it also can pretty definitively be NOT family friendly. The good news is that if you take the kiddos you won't accidentally end up in a risque exhibit without purposefully booking it.
The displays that are not family friendly are usually pretty obvious in their advertising, for example, "Rated Red: Raw, Racy, Reimagined" is pretty obviously something that would be too explicit for kids, and that's without even reading about it on the website.
Also, if you did try to take kids into one of those attractions you are likely going to get turned away at the door.
Pro-Tips: Know before you go to Area 15
Book your tickets ahead of time! The complex is only growing in popularity. It is getting harder and harder to get into the most popular exhibits so be sure to make your reservations now.
DSLR or other cameras with interchangeable lenses are not allowed in. You are allowed to take pictures, but hope that your iPhone is good enough to capture the event.
There will be loud music and neon lights. If these give you a headache, this might not be the attraction for you.
The parking lot fills up and good drinks flow freely! If you are going at a peak time and plan to drink, you may want to take an Uber or Lyft, especially since it's not located far from the main Strip.
If there is an attraction that interest you it is better to go sooner rather than later as the exhibits are constantly changing. Some of the attractions in this post may have already switched out, but I keep them included to illustrate what you can expect while there.
So, what do you think of Area 15 Vegas?
More posts on Las Vegas:
I lived in Las Vegas for almost 10 years and loved it there! Here are a few of our most popular Las Vegas posts that will help you plan your trip.