Wondering how to do Las Vegas on a budget? This guide will tell you everything you need to know.
At some time or another, everyone wants a Vegas vacation. All of the gambling, shows, shopping, top sporting matches, and general ubiquitous partying really does make it an adult playground.
You'll find that Vegas doesn't have to be a playground just for the gamblers or partiers. In fact, it's not just a playground for adults!
There's something for everyone in Vegas.
How to do Las Vegas On A Budget
This oasis in the desert can be super expensive regardless of whether or not you're gambling. With careful planning, though, you can still have a high quality vacation at a fraction of the price. Vegas doesn't have to be the expensive vacation that movies and celebrities make it out to be; it can actually be a budget destination.
We've lived in Las Vegas for 10 years now! 10 years in, and we still enjoy Vegas. Even though we don't do the typical Vegas attractions on The Strip very often, we've done them enough to gain tips on how to save a ton. That means we've got tips from a local (us) on how to save big bucks so you can enjoy, too.
Also, before coming to Vegas, you should know about the biggest drawbacks and how to avoid these annoyances. Read all the bad things about Las Vegas.
Let's get to the good stuff…
The 10 Best Budget Las Vegas Tips
Is a budget Las Vegas trip worth it? Yes! Absolutely. There are so many free and cheap things to do in Las Vegas, and if you time your trip right (more on that below) you can get great deals on hotels and shows.
To help your Vegas budget you need to know the following.
1. BUY AN ALL-INCLUSIVE PASS!
Don't skip this section like I normally do. This pass will save you money.
Most all-inclusive passes suck! They don't actually include things you would want to do, or you need to visit 10,000 attractions in a short amount of time to make it worth their while. The Go City Las Vegas Pass is different; it is a huge cost savings and includes things you actually want to do!
Seriously – if you want to see a Cirque du Soleil show alone the pass basically pays for itself.
Some of the other big ticket items included are a ride on the High Roller, LINQ Zipline, and Illuminarium at Area 15.
Some of the things that I think are coolest are the LINQ Zipline, the High Roller, SkyPod at the Strat, Area15 Illuminarium, and the New York New York Big Apple roller coaster.
There are 35 different things you can choose from.
They include other show tickets, museums, bar crawls, as well as things like go-cart racing and escape rooms. If you don't want to see a Cirque show you can switch out those tickets for a Strip Helicopter tour instead.
This deal literally can't be beat if you are looking to do more than just gamble while in Vegas. There is a day time limit though so to get your money's worth you have to keep moving, though there isn't a more affordable way to cover so much ground in Vegas.
2. Best Time to Visit Vegas – Go On An Off-Season (not as intuitive as you think)
Knowing the best time to visit Vegas is truly the most important. If you go at a time that is less popular, it'll save you loads of money on flights, hotels, show tickets, and so much more. Don't go at a super busy time; it's just not worth it.
When is the Best Time to Visit Vegas?
It seems intuitive to pick an off-season, but the busy times here are not the same busy times you would expect elsewhere. In general, midweek is a huge cost savings. If you can go Monday through Friday, skipping the weekend, most of the shows and attractions are all open, but again, at a fraction of the cost.
Before you book your stay, check out what's already scheduled in town, and avoid conventions, most holidays, and big sporting events. Unless, that is, those happen to be your big draws for the city!
The same hotel room on the weekend of a big convention or boxing match will book for $400 versus a few days later when the prices will fall to $50 – literally the same rooms.
The events that draw people here are different than expected. For example, the first couple of weeks in December are usually dead in other destinations from the downtime between Thanksgiving and Christmas, but in Vegas, a huge rodeo at during those weeks drives prices way up.
Vegas has 150k hotel rooms, i.e. a lot. It's easy for people to fill them at New Years, or during the Consumer Electronics Show, but at other times companies offer huge discounts to get people into their properties.
They're willing to lose money on the room, so you gamble, shop, and go see their shows. You've got to take advantage of this by targeting those less popular times.
3. Book Cheap Vegas Flights
Airlines run deals to Vegas all the time. That means you can get cheap flights! Read our post on how to book a cheap flight.
Book your flight in the middle of the week – If you are able to go in the middle of the week you will be able to get cheaper flights.
Try to avoid flying home on Sunday as it is the busiest and most expensive day to fly out of Vegas as everyone is returning home from their Vegas vacation.
4. Know a Local to get discounted show tickets
When I want to see a show, but I can't find cheap tickets online, try to see if there is a local's discount. The Las Vegas local's discount is a thing!
Lots of shows offer discounts to locals, sometimes as much as 50%. Even the extremely popular and pricey (but worth it) Cirque du Soleil shows offer a local discount. I've picked up tickets many times for friends coming into town. If you know a local, see if you can capitalize on that friendship!
Sometimes the discount isn't as much as 50%, but it's always worth checking.
5. Sign up for Casino Rewards/Players Club Cards
Even if you don't plan on gambling, it's worth it to sign up for the members card/players card at each property. A lot of the casinos have the same ownership group, so you don't have to sign up at literally each one, but it's worth it to check.
I'm not a gambler, like, at all. I still signed up! Why? Because you get tons of free stuff. You can get free room upgrades, free rooms, free food, free drinks. Most of the cards give you something free after reaching a certain spending threshold, but a lot give you at least free meal coupons, etc. simply for signing up.
Vegas casino properties and shows know there is a lot of competition. If the price of one place is too high, you could simply choose to go to another. Because of this, they will compete to keep you in their properties, restaurants, and shows, etc. The best way to do this is to offer a great rewards program and have you sign up.
If you end up not like the rewards program/card, you can unsubscribe from the emails once your home. These are the emails that offer super discounted rooms for your next Vegas trip, though!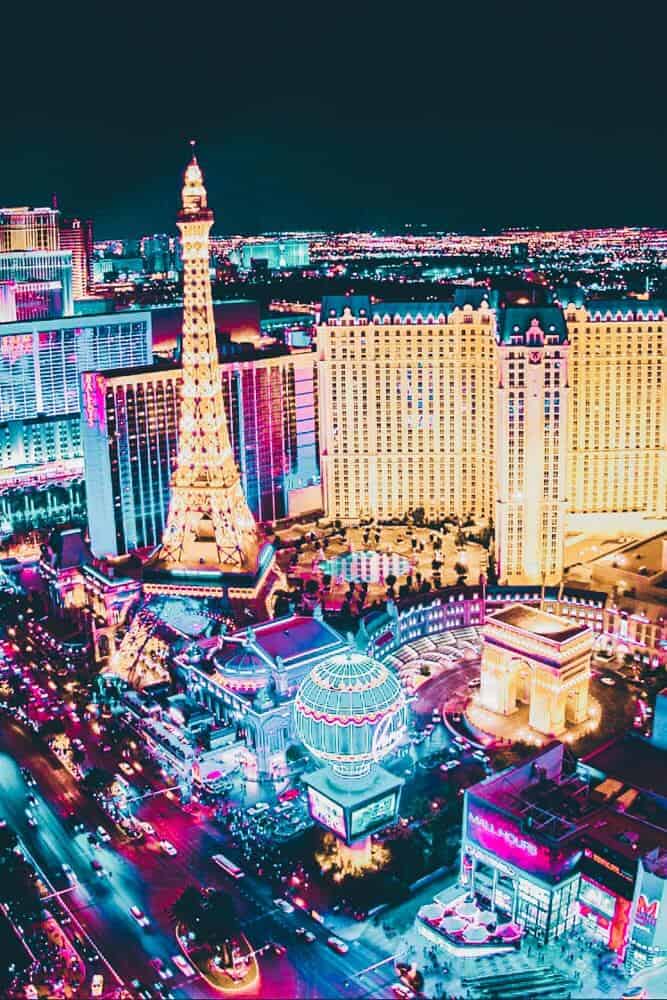 6. Buy Your Drinks From 7-Eleven, etc.
Want some juice in the morning? Want a midnight snack? You don't have to order them from room service. Room service adds up quickly and is an unnecessary expense. It gets tiring to spend so much on drinks, and gambling for hours just to keep the free drinks coming is a bit counterproductive.
Instead of typical room service, get your drinks and snacks delivered to your hotel room from a third party. There are many food delivery services out there now! Services like DoorDash and UberEats offer a wide variety of restaurants. DoorDash even delivers 7-Eleven. Amazon delivers a grocery delivery service, as well. These delivery services can also help you get better equipped for the rest of your trip.
7. Learn Your Table Games Ahead of Time
For some reason, people like to pretend that they all know the rules of every game in Vegas. Lots of them are more complicated than you think, and you can save a good amount of money simply by learning how to play properly.
Before arriving to the casinos, Google some basic help. There are endless gambling guides on YouTube that provide detailed explanations of how the games work and how to make the experience more fun.
Doing your table game research can also help you decide which ones you actually want to play; then you can sip your free drinks visiting with people if you like!
8. Tip and Ask for Upgrades
It seems simple, but tipping can pay off. Tip the concierge and ask if they have ideas for optimizing your trip. When checking into your room, hand the hotel staff a $10 with your credit card, and ask if they have any complimentary upgrades with their rooms available. Asking never hurts!
You can also research hotel rooms with extra resort fees. Sites like Kayak shows these fees.
9. Stay in a Cheap Hotel
If you know what to look for Vegas provides the opportunity to book a cheap hotel while not sacrificing on quality or location.
Best Budget Hotels in Vegas
Golden Nugget – The Golden Nugget is located off of Fremont Street, or what many people now call Old Vegas. Though it opened in 1946, the property doesn't feel close to 70 years old. Recently it received a complete renovation, and now the rooms feel brand new, and are beautiful.
Stereotypically Fremont Street is not as expensive as The Strip (read more here), so The Golden Nugget can be booked at an extremely affordable rate, while still having access to immediate entertainment on Fremont Street.
I have literally booked this hotel for friends at a rate of $25 per night, though in high season and on weekends it is more expensive.
My favorite feature of this hotel (other than the price) is the waterslide that goes straight through a shark tank. Seriously, a water slide that goes within inches of huge sharks!
The Luxor Hotel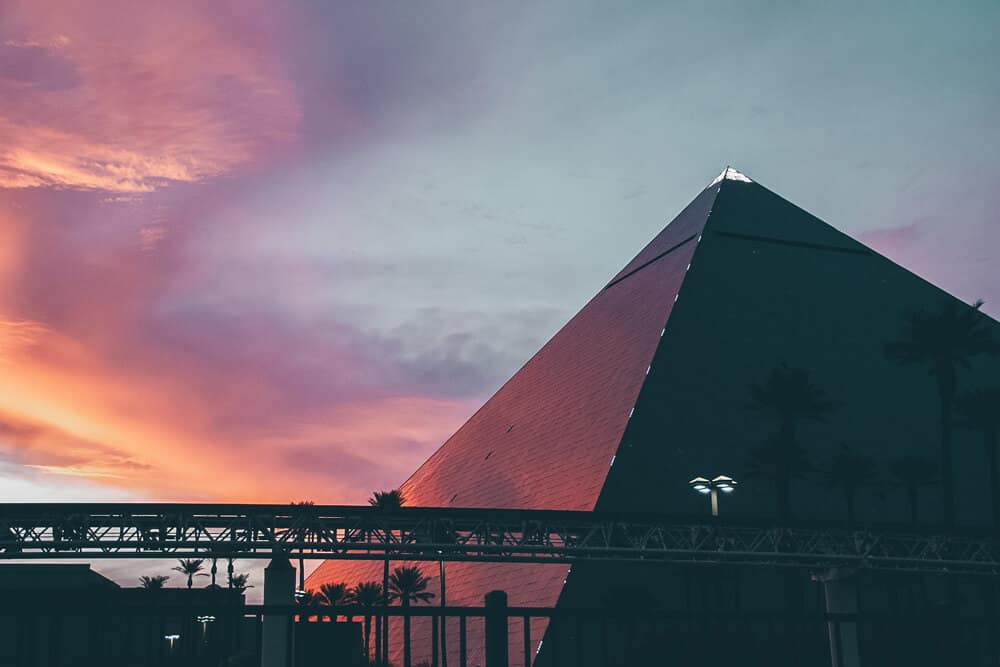 Luxor – What can be more novel and fun than staying in a gigantic pyramid with a beam of light on top that can be seen from space? This unique property follows its Egyptian theme throughout, with replicas of the Sphinx, obelisks, and other Egyptian statues. CHECK PRICES HERE
Even with the fun theme, this hotel is still incredibly nice. The rooms pay homage to Luxor, Egypt, but with modern amenities and luxurious features.
One thing I couldn't get use to was the diagonal walls of your room in the pyramid, and diagonal elevators that take you up and down the inside of the pyramid. top
The Luxor Sky Beam on top of the pyramid is the strongest beam of light in the world, and can be seen from a long ways away (even as you are flying in). Unfortunately, in 2008 the number of lamps used in the Sky Beam was cut in half; it is still bright, but not nearly as powerful as it was before 2008.
Also, be sure to check out two of my favorite exhibits (Titanic and Bodies) that are located within the Luxor.
10. Take Advantage of the Free Shows in Las Vegas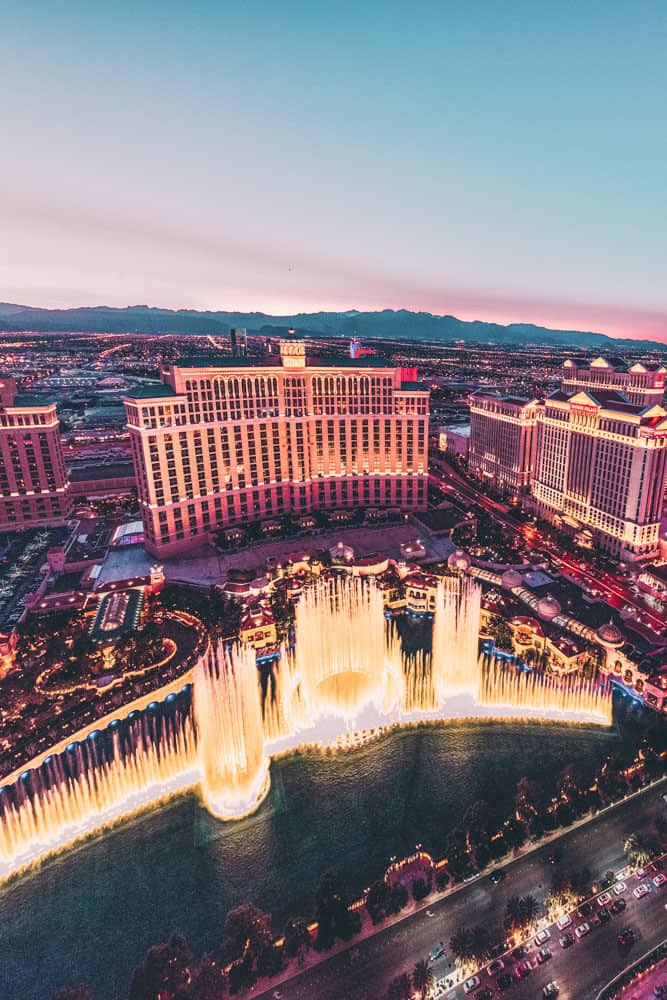 The Fountains of Bellagio are one of my favorite free shows in Vegas. The Volcano at the Mirage Hotel is another great one.
11. Cheap Vegas Activities on Fremont Street
Cheap things to do in Vegas are everywhere. One of my favorite things to do is to walk down Fremont Street in Old Vegas and watch the street performers. Even though it is old, it is not run down or left behind.
Fremont Street runs straight through most of the big classic casinos, and is a perfect spot to get a drink from an outdoor bar, see some of the most unique street performers in the world, experience free live music.
Let us know if you try out our Vegas Budget tips and how they work out. We hope you come to love our hometown!
If you're thinking about going, you should read our other Vegas posts. First, read our post on the top things you must do as a Vegas first-timer here, and then check out 14 unique things to do here.
More posts on Las Vegas:
I lived in Las Vegas for almost 10 years and loved it there! Here are a few of our most popular Las Vegas posts that will help you plan your trip.