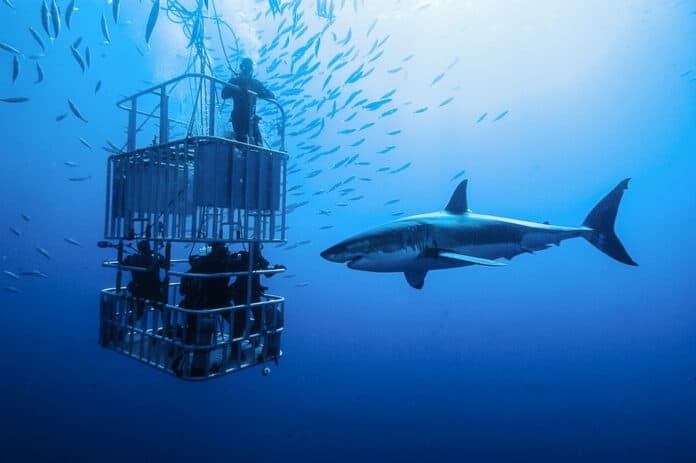 Shark Cage Diving on Hawaii = Best experience of your life
I had no idea you could actually go shark cage diving in Hawaii! I thought to be able to swim with sharks you had to be a full-time marine biologist or some sort of National Geographic photographer. When I found out this wasn't the case it BLEW MY MIND!
The shark diving Oahu offers is available for everyone!
Yes, you have the opportunity to swim with ENORMOUS sharks. Make sure you book a tour to go shark cage diving Hawaii style on your next vacation.
The available tours are safe, exhilarating, and thankfully not even that expensive.
It is incredibly rare to be able to find the type of shark cage diving Oahu offers.
The unique geography and climate make it one of the few places on earth where you experience this rush. I'm terrified yet fascinated by enormous sharks. I've watched Shark Week on the Discovery Channel for years, but figured an up close and personal experience would never happen for me.
Book the best cage shark diving Honolulu offers here.
Types of Shark Tours Oahu Offers
Two main types of shark tours Oahu offers. Basically, you can choose to go on a free swim and snorkel or get submerged in a cage. Both have their pros and cons, but my recommendation is to go with the cage option!
Shark Cage Diving Oahu
With the cage swimming they will safely drop you right in the thick of the sharks' neighborhood. You have the ability to get up close and personal without having to worry about losing an arm, though it'll be difficult to actually accept that.
Most of the shark cage diving Oahu tours are advertised as 2 hour dives, but you will only get to spend about 20 minutes in the cage. Don't worry though as almost everyone says that 20 minutes is enough. Thankfully, the guides know where to put the cage in for maximum shark exposure.
I highly recommend booking this Incredible 2-Hour Shark Dive on the North Shore as it is one of the cheaper options with an extremely high success rate of seeing tons of sharks.
Just read the reviews, they speak for themselves! Also, don't worry if you chicken out ahead of time as they offer free cancellation up to 24 hours in advance. Check them out here.
Open Swim Shark Diving Oahu
The shark diving Oahu offers doesn't have to be in a cage. There are a number of open swim trips where you will meet a boat on shore and then ride out to a shark spot.
You will then have time to freely swim/snorkel in open water. You are very likely to see sharks, though it likely won't be as close as you can get in a cage, and thankfully they typically will keep you away from some of the more aggressive species of sharks.
These tours usually last about two hours, but end up giving you about 40 minutes of free swim time. I'm not the strongest swimmer so having to chase down sharks to get a better view isn't as appealing to me. I would prefer them to come to me (while safely housed in a protective cage). That being said, there is a special kind of rush people talk about after swimming with them in open waters.
This is one the highest rated tours where you swim with the sharks in open water.
They provide snorkel gear and a guide to educate you on the best ways to spot sharks as well as keep yourself safe. I do like that they also keep the group size small. Book your tour here.
What to expect: Shark Diving Hawaii
Most of the best shark diving Hawaii tours leave from Haleiwa Boat Harbor on the North Shore of Oahu. If you are staying in Waikiki or Honolulu, this means that you are very likely going to need your own car. If you don't want to, some of the tours offer hotel pickup and drop off .
Generally you will get on a boat and sail out into open waters, typically near a reef. If you get seasick you may want to prepare since the waves can get pretty aggressive on the ride out.
Shark Cage Diving prices
Generally most of the shark diving tour prices will be between $100 and $150 dollars. Considering what a life changing opportunity swimming with sharks is, I feel like that's relatively affordable.
Types of Sharks you'll see
There are about 40 different species of sharks found around Hawaii. Some of them are small while others are huge. The local guides are experts at knowing where to find them, and in preparing you to be able to safely observe them.
Most of the tours offer a brief educational briefing ahead of time letting you know what you will see. The most common types of sharks you will see while shark diving Hawaii style are…
Galapagos Sharks
These fearsome creatures are often about 10 feet long and 430 pounds. These sharks are mean enough to sometimes eat their own species!
Sandbar Sharks
These brownish/bronze sharks can grow up to about 8 feet. They are known for not attacking people, though off the coast of my home state of Maryland a 12 year old girl was recently bitten by one. Thankfully she survived.
Gray Reef Sharks
This common species only grows to about 6 feet long, but is known for being very aggressive and even preying on other species of sharks.
Scalloped Hammerhead Sharks
I find hammerhead sharks terrifying, yet they are my absolute favorite! There is something so unique and amazing about that hammer shaped head. The scalloped hammerhead shark female grows to be about 8 feet long.
Shark Cage Oahu Confession
Full disclosure, I haven't YET gone on one of the shark tours in Hawaii. I've been to Hawaii multiple times but ultimately chickened out.
Even though shark attacks are extremely rare worldwide I can't help but remain petrified of being in a shark cage Oahu offers. I've now read enough reviews and watched enough YouTube videos to take the plunge on my next trip to Hawaii this March.
Have any of you gone shark diving North Shore Oahu style? one of these tours? How scary was it?
Thank you so much for reading about about the shark diving Oahu. If you enjoyed this post make sure to share it with your friends! Hover over any of the images to share them to Pinterest.
Planning a trip to Oahu? Read more of our Oahu blog posts below!
My husband and I have been to Oahu many times and have written up more blog posts to help you plan your trip. These are my most popular blog posts and Hawaii travel guides to help you plan your trip.
Best Things to do in Oahu
Oahu Beaches
Best Cliff Jumping in Oahu
Best Snorkeling in Oahu
More Hawaii Blog posts: