Dragon's Teeth Maui – What you need to know before going
Somehow the combination of flowing lava, crashing waves, and a strong wind created an incredibly unique geographic feature that looks exactly like gigantic dragon teeth.
These "teeth" are framed by a gorgeous Maui cliff line and crashing waves. As soon as I saw pictures, I knew that I wanted to hike out to see them in person.
The problem is that there is a lot of conflicting information that ultimately makes them harder to find; some information says that you aren't even allowed to go there (you are). Thankfully, I figured it all out and summed it up for you here.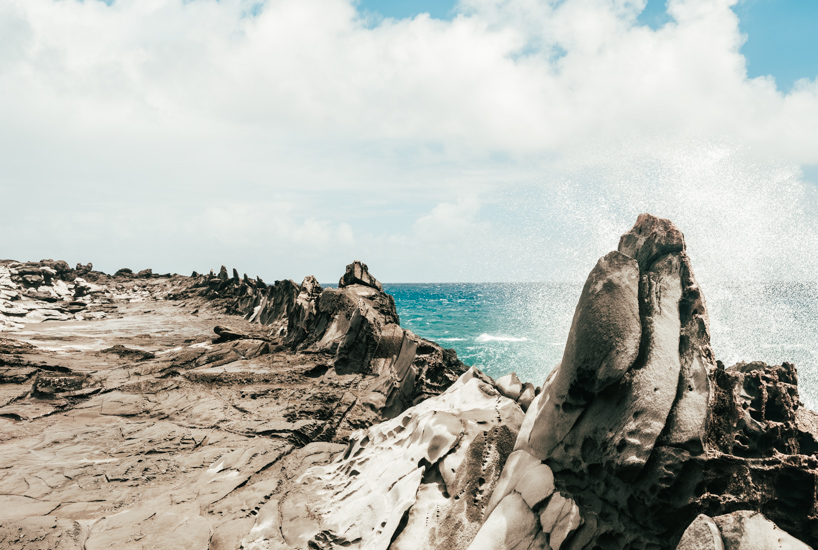 Dragons Teeth Maui Quick Facts:
What I Wish I Would Have Known Ahead of Time
First off, knowing some basic terms in the area will help immensely.
Kapalua Resort Area/Neighborhood
Kapalua is a resort area in north Maui. Within the Kapalua area there is a resort named the Kapalua Resort that features a fancy golf course that hugs the cliff line.
The dragon's teeth are in the Kapalua resort area.
Kapalua Coastal Trail
The Kapalua Coastal Trail is a 2.5 mile trail that largely follows the north Maui coast line. The Dragons Teeth Trail is basically a smaller part of the larger Kapalua Coastal Trail.
Kapalua Labyrinth
This prayer labyrinth is located immediately next to the dragon teeth.
Makaluapuna Point
The promontory at the north end of Maui that is home to the Kapalua Labyrinth and the Dragon's Teeth. It is also part of the Kapalua Coastal Trail. From here you can see back to Fleming Beach as well as Ironwoods Beach.
Visitors are Welcome
You might read or feel like you aren't supposed to go to the Dragon Teeth.
At places I'd seen visitors aren't welcome here but was confusing because this is an area in the middle of a resort. When I got there, saw signs direction public visitors.
The trail goes by a burial ground, which is what you should not access. Be respectful of the ancient Hawaiians laid to rest.
AllTrails says that this is private property and visitors aren't welcome.
The open parking lots and signs providing directions to visitors indicate otherwise.
This is NOT the Dragon's Tooth Trail
You are going to visit the Dragon's Teeth Trail. The Dragon's Tooth Trail is in Virginia.
The Trail Goes Immediately Next to A Golf Course
Once again you may feel like you aren't welcome as the trail goes immediately next to a golf course. I worried that I was in the wrong spot and inappropriately interrupting someone's golf game.
You are welcome to walk back and forth along the trail, just don't go outside of the markers and into the golf course or Hawaiian burial ground.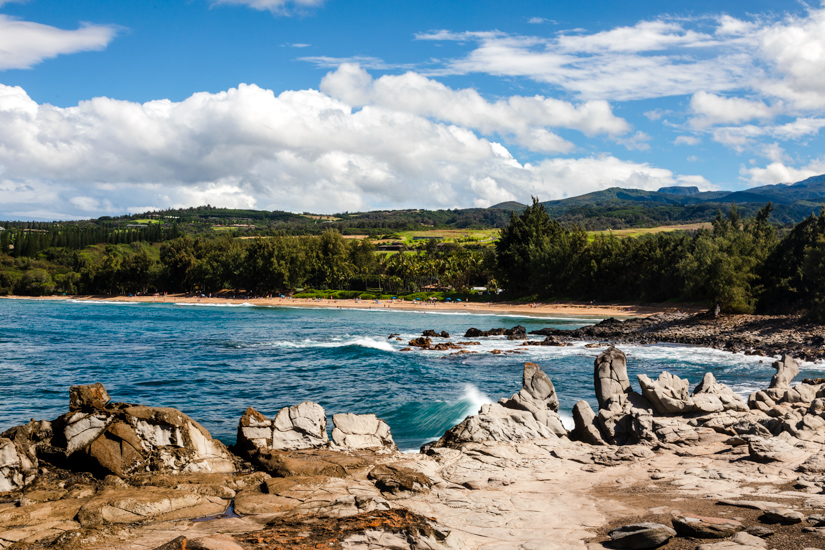 Dragon's Tooth Hike Parking
To find the parking lots you need to drive into the Kapalua Resort. You may feel like you aren't welcome there, but there are public parking spots set aside for the trail.
Each resort in Hawaii must set aside a certain number of spots for non-guests to have beach access. This is because there are officially no private beaches in all of Hawaii.
There are two small lots that offered enough parking that didn't require me to wait either time I went.
If all the spots are full I recommend waiting a couple minutes since people are likely to return shortly due to it being such a short trail.
How to get to Dragon's Teeth in Maui
The best way to get here is to rent a car. If you don't have a car rental you can rent a moped for the day, or take an Uber/Lyft. Uber/Lyft will be your most expensive option depending on where you are staying.
If you decide to explore the island by moped you can rent one here for up to two weeks at a time!
What To Expect once there
Not only can you expect to discover the super unique dragon teeth geographic feature, but you will also have stunning views off of the Maui cliffs.
Kapalua Labyrinth
The teeth are located immediately next to the Kapalua Labyrinth.
Whale Watching
This promontory is a great spot to see whales out in the ocean. While I didn't see any while there, it's often described as a perfect location to spot them.
Head here for more of my favorite whale watching tours on Maui.
What to Pack for Maui
Planning a trip to Maui? Here are our best MAUI BLOG POSTS:
My husband and I have been to Maui a couple times and have written up more blog posts to help you plan your trip. These are my most popular blog posts and Hawaii travel guides to help you plan your trip. I hope it helps!
Maui general trip planning
Maui Beaches
Maui Hikes & Lookouts
Maui Waterfalls
Everything else