Read this When Deciding Where to stay in Maui
Ready to plan your Hawaiian vacation? You absolutely cannot go wrong with a vacation in Maui. Whether you are looking to book an all-inclusive or are an adventurer looking to hike up the side of a mountain Maui has options for you.
The island is bigger than you would expect, and not surprisingly has options for every budget. Okay full disclosure, not every budget has options in Maui as the cheap hostels/AirBnbs are severely limited or all out banned.
Read on to get a general idea of what you can expect in each area to help you decide which hotel is best.
General Recommendations
Rent A Car
First off, I recommend renting a car. While there is a bus system that can get you to a lot of the island it runs rather infrequently, and it can cost you a lot of time waiting for pickups.
The only type of traveler I think that doesn't need to get a car is a person that wants to stay at an all-inclusive and never leave the property.
If you are looking to cycle between the hotel bar, pool, and the beach, there are options for you and you probably don't need a vehicle.
Nothing is Cheap, but Generally Nothing is Terrible Quality
Nothing in Maui is cheap. I've had last minute plan changes that necessitated booking a couple of the absolute cheapest hotels in Maui and I was not disappointed.
Generally, the cheapest hotel is still going to run you at least $200 a night, but you don't need to worry about it being a bed bug or cock roach infested hole. Doubtful? Go and check the reviews of the cheapest hotels on the island yourself and see that they aren't bad. Evidently there is some type of quality control that keeps the scary hotels out of circulation.
Know the Shape and Drive Times of Maui
The shape of Maui is kind of hard to describe. It kind of looks like an 8 that is tipped over to the left.
The main airport is situation right in the middle of the 8 so you might think that it would be a quick jump to all parts of the island, which is unfortunately not the case.
Even though it is a relatively small island, there are areas that are over an hour and a half drive away (without traffic). Also, there are areas that don't even have roads connecting them causing you to have to circle backwards around half of the island to connect.
Read on to know the key benefits and drawbacks of booking in various areas of the island.
Where to stay in Maui
Airport – Kahului Area
This is the north central part of the island of Maui, or the middle of our tipped over 8 example. This side of the island doesn't have as many hotels.
The few hotels that are here are ones that would probably be better suited for a business traveler.
The north side of the island typically gets cloudier and more wind. This makes it not quite as ideal for lounging on the beach. What this area does offer is the best shopping on the island. If you want to go to Walmart, Costco, or Target, they are all located here.
It is also the location of the port where cruise ships come in.
We stayed in this area and loved it! The cheapest hotel in Maui (literally) was located in this area.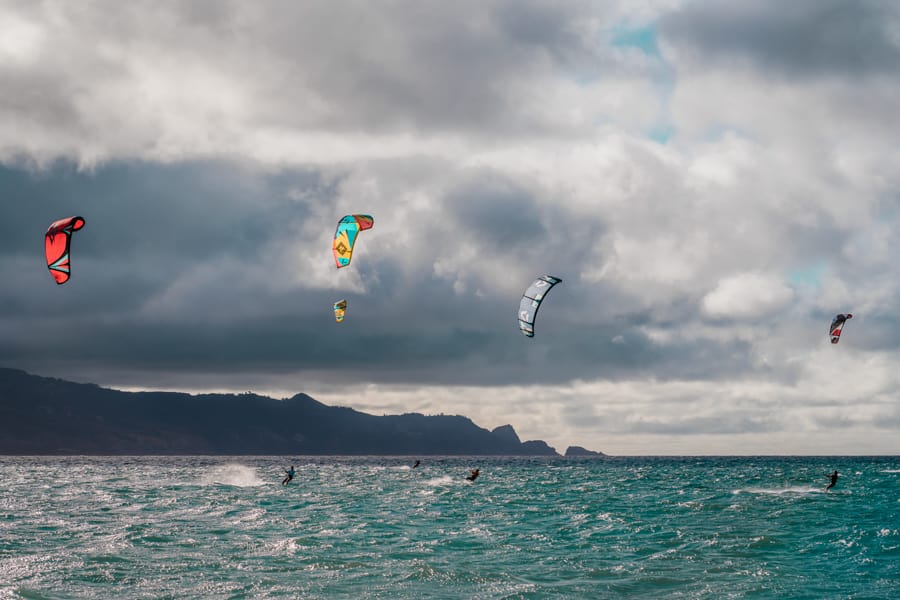 Kahului Area Attractions
While this area doesn't have as many attractions as some of the others, there are still things worth noting in the area. If you want to do the forever popular Road to Hana it begins just up the road from the Airport/Kahului area.
My favorite spot in the area is Kanaha Beach Park or "Airport Beach." This beach is immediately next to the airport and is a wind surfers paradise. Yes it's windy, but if you are into wind surfing or want to watch others in this extreme sport this beach is perfect.
Where to stay in Hana
This world-famous drive is slow going because there are so many different waterfalls, viewpoints, and hikes along the way. The drive is truly amazing, but if you book one of the hotels at the end of the Hana Highway you have to prepare for a pretty arduous drive.
There will be hundreds of slow turns, junctions where the road goes down to one lane, and almost a guarantee of traffic along the route. If you aren't planning on continually stopping at the awesome attractions along the way or staying in Hana for an extended period of time you probably want to steer clear of staying there.
Area Attractions
My favorite Hana attractions are the Rainbow Eucalyptus Trees, black sand beaches, and the Twin Falls Hike.
Kihei Area
Located along the south central to southeast coast of Maui is the small-town area of Kihei. This area provides a small-town Hawaii feel as it doesn't feature the high-rise resorts. The dinky town provides the island city vibe like Lahaina, just smaller.
There is still a lot of action in this area, it just feels a lot more casual than a lot of the fancier resort areas. It borders the high-end golf resort area of Wailea, but Kihei itself is a laid-back beach vibe where you can walk to the beaches and then along the road encountering lots of restaurants and shops.
If you are looking for nightlife, you aren't going to find it in Kihei. It barely stays open through dinner time.
It is generally a little bit cheaper than the fancier resort areas, but I wouldn't call it a budget area. There are a lot of owner-occupied condos in the area.
Kihei Area Attractions
The fancy Wailea Resort is next door and if you continue south a little bit more you can get to one of my favorite parts of the island, the Makena area which is famous for the best snorkeling and a couiple great hikes.
Lahaina
Lahaina is the biggest downtown area developed around tourists. This is where the most shops are. If you want to buy a designer $200 bikini, this is where you can do it.
No where on Maui is known for nightlife, but the best you will find is in the Lahaina area. There are a couple of clubs and a few late-night bars in the area. During the day you will see tons of people strolling around the downtown area.
A lot of tours leave from the Lahaina harbor, so even if you don't stay in this popular area, you are likely to end up visiting anyway.
It is just south of the super famous and fancy Kaanapali Resort area.
Kaanapali
Even though you could realistically say this about the entire island, I believe the Kaanapali area is the most high-end on the island. The accompanying beaches are gorgeous which is probably why there are so many high-end resort hotels lining the shore.
It's on the west side of the island about a one-hour drive from the airport. You will NOT have these beaches to yourself, but the sand is long and wide enough that you will not feel like you are on top of tons of other tourists.
You could stay in this area and not have your own car and still be able to explore a decent amount, walk around to a number of different restaurants and shops, or enjoy an all-inclusive experience.
Not surprisingly, this is one of the more expensive places to book on the island. It is also next to the Kapaula resort area which is also an extra nice area.
Kaanapali Area Attractions
Aside from the famous Kaanapali Beach I love the Black Rock Cliff Jumping, Dragon's Teeth Hike that's an offshoot from the Kapalua Coastal Trail.
Conclusion
Maui is a destination where you can't go wrong. There really isn't an area to avoid so long as the region fits your style of trip. There isn't an area that's unsafe or completely devoid of fun attractions.
Planning a trip to Maui? Here are our best MAUI BLOG POSTS:
My husband and I have been to Maui a couple times and have written up more blog posts to help you plan your trip. These are my most popular blog posts and Hawaii travel guides to help you plan your trip. I hope it helps!
Maui general trip planning
Maui Beaches
Maui Hikes & Lookouts
Maui Waterfalls
Everything else