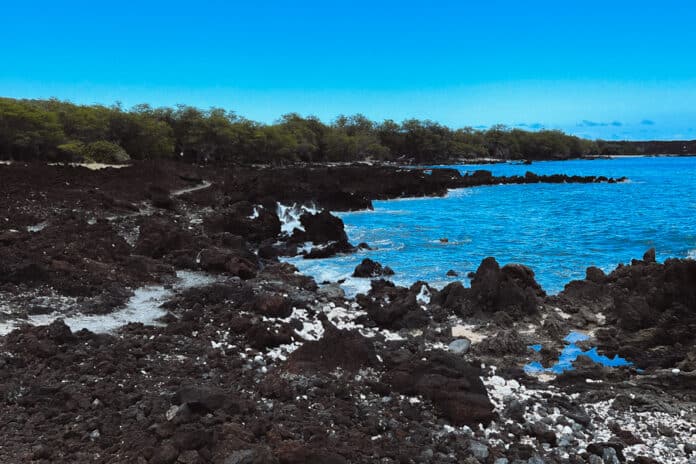 La Perouse Beach is located on Maui's south shore in the Ahihi Kinau Natural Area Reserve, and has an extremely rocky shoreline.
The bay features several small coves that lie between rocky points. These are often covered with tidal pools. Some of the coves have small sandy beaches, but most of them have coral-rubble beaches.
It's also the spot where the first European stepped onto Maui. He wrote that the natives here were the most hospitable he had encountered in his travels.
Where to stay in Maui
Before booking a hotel on Maui there are a few things you need to know.
The hotels in Maui are ALL very expensive. You will have a difficult time finding a hotel for under $200 a night.
You have to book in advance. Like, far in advance. The hotels and rental cars book up super fast so make sure to plan ahead.
Best Option* Hyatt Regency Maui Resort & Spa – We love this hotel! The location is perfect and only a 2 minute walk to the beach. There are 2 amazing pools at the property and so many amenities. The only downside is it is super expensive.
Best budget option* (if there is such a thing in Maui) – Hakuna Matata Maui Hostel
Four Seasons Resort in Wailea – This is one of the more expensive resorts on Maui, but it's also one of the most fantastic. If you can swing it financially, highly recommend giving this place a shot. The hotel overlooks Wailea Beach and has 3 swimming pools and 3 restaurants on-site. If you are looking for the ultimate service, food, and pampering, then you should stay here. Check current pricing here.
Hotel Wailea – This hotel is fairly small, with under a hundred guest rooms. This, and the fact that it is far away from the road and any other noise pollution, makes it the perfect place to stay in peace and quiet.
Hyatt Regency Maui Resort & Spa – Another amazing hotel and resort you are guaranteed to love.
La Perouse Beach Quick Tips
Water color: Turquoise blue
Sand quality: Hardly any sand, manly lava rocks crumbled on the beach
Swimming conditions:
Other names: La Perouse Bay
Best for: Hiking and snorkeling by boat tour
Known for: Isolated, untamed feel. Lava rocks and rich cultural history in the area
Facilities: 2 portable toilets in the parking lot
Lifeguard: none
Cost: Free
Parking:
What to bring: Hiking boots (these are my favorite), water, hat
Other: Do it in shoes, very sharp lava rocks. No cell service.
Where is La Perouse Bay located?
Located on the southwestern tip of Maui, right past Makena. Right next to Makena Cove, just past mile marker 6.5 look Mauka (mountain side) and you can see where the lava spewed forth from Kalua'o Lapa cinder cone.
La Perouse Bay Map
How to get to La Perouse Bay
La Perouse is the end of the road, literally, in south Maui. It is located at mile marker 7 at the very end of Makena Alanui Road.
From Kihei take Piilani Hwy south to Wailea. Turn right on Wailea Iki road and bear left on to Wailea Alanui Road which turns into Makena Alanui.
Look carefully around you as you drive between mile markers 5.5 and 7.
On either side, you should see fields of a'a littering the landscape – lava rocks and blow hole.
Parking
To park you will have to drive end of road feels like driveway barely paved — last stretch for parking. Don't advise taking the car – park outside.
The parking lot at Ahihi Bay also marks the beginning of the Hoapili Trail (Kings Trail).
Tip: When parking at La Perouse Bay, lock your vehicle and hide all valuables.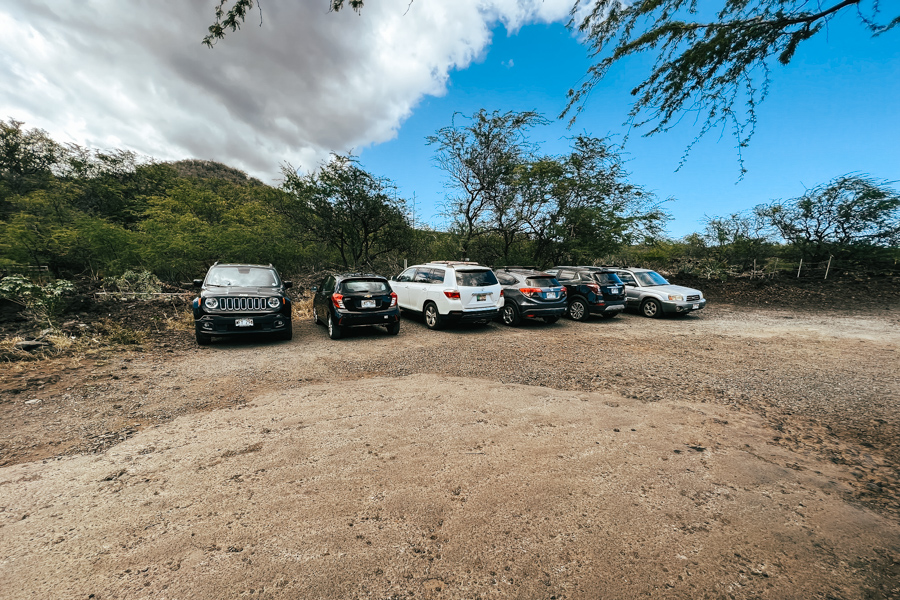 2 porta potties located at the parking lot.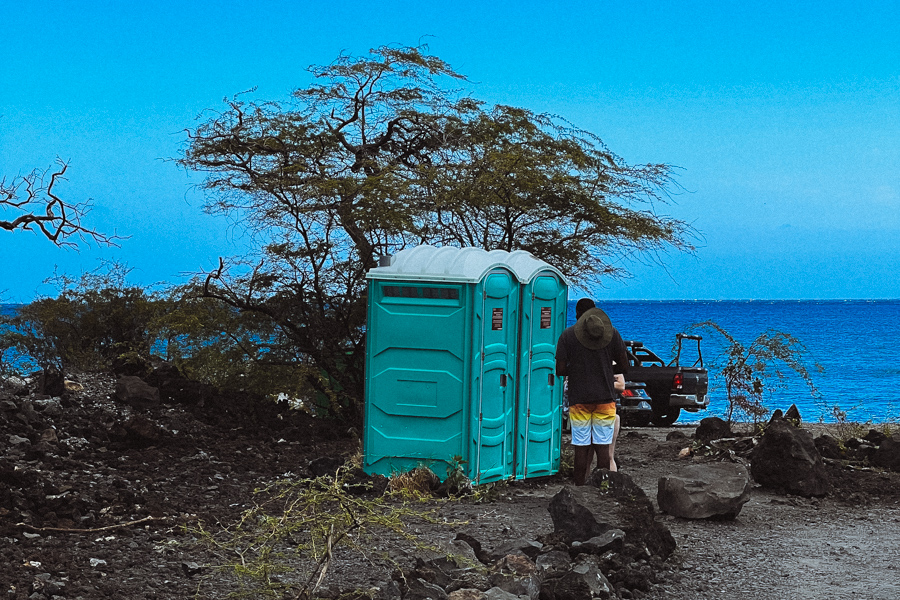 What you can Expect at La Perouse Beach
Some of the best snorkeling in Maui
Watch surfers and paddle boarders navigate the waves
Blowholes in the area
Big waves crash against lava rocks
Very, very hot part of the island. The lava rocks adsorb the sun's heat making it hotter here than other parts of Maui. Wear proper clothing to and shoes! Flip flops won't cut it here. The rocks are extremely unforgiving.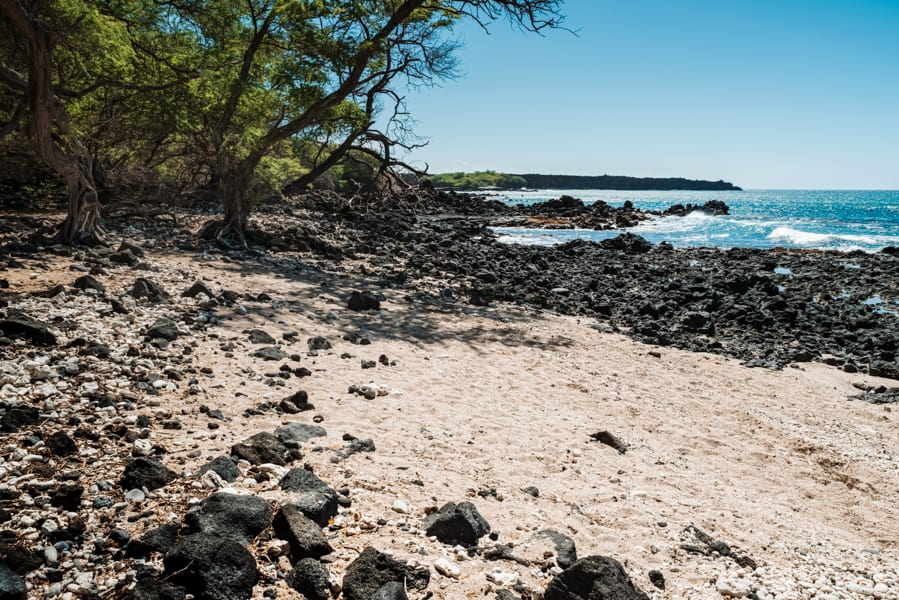 Swimming Conditions
The swimming conditions vary depending on the weather. Make sure to check before you go if you plan on swimming and snorkeling.
Best La Perouse Bay Activities
La Perouse Bay Snorkeling
Some of the best snorkeling on Maui is here. Home to so many endemic species of tropical fish, plants and marine mammals such as green sea turtles and spinner dolphins.
The best way to snorkel at La Perouse Bay is with a boat tour. The rocky lava covered shoreline makes for a tough scramble in and out of the water so definitely consider a small boat tour.
I highly recommend the Molokini Crater and South Maui Coast tour. They will take you to La Perouse bay to search for dolphins!
Check out this page for more details.
During the winter, you can also encounter humpback whales by boat in the area.
The sun is relentless out here so be sure to protect yourself, and the reef, by using only reef safe sunscreen!
I also recommend wearing a long sleeve swimsuit or top like these ones from Skims. (I have 3 of them and wear them all the time! So nice to have that extra sun protection.)
Free people also has some amazing rash guards that are great for snorkeling.
Make sure to check conditions before going, as it can get quite windy in this area causing bigger than ideal waves.
Snorkeling and scuba diving. The rocky lava strewn shoreline makes for a tough scramble in and out of the water so consider a small boat tour.
Hoapili Trail (King's Highway trail) – This out of the way trail is NOT what you would expect when hiking in Hawaii. It takes you to a completely different side of Maui that most people never experience.
The stereotypical Hawaiian hike involves you trekking through a lush rainforest to a mountain waterfall. The Hoapili Trail leads you through fields of craggy lava rocks along the Maui shoreline.
This unique trail leads through the lava, evidence of Maui's most recent volcanic activity.
It's seriously shocking to see so little vegetation on this hike. At times the barren rock feels like it was lava that just dried and hardened yesterday!
The ocean waves crashing into the lava rock fields create some really impressive geographic features. You will see amazing tide pools, blow holes, and miniature beaches along the way.
Distance: 6 miles out and back, BUT still enjoyable if you only go out ½ mile out and back
Difficulty: Easy, the elevation Gain is less than 100 ft
Read the full blog post with photos on the Hoapili Trail here.
BLOW HOLES AND OCEAN SPRAY
The waves crashing into lava rocks create some unique delights. I love discovering random blow holes and cooling off with the ocean spray resulting from these waves crashing into the rocks.
Beaches in La Perouse Bay
Kanaio Beach
Kanaio beach is located at the end of Hoapili Trail in Maui, Hawaii. This small beach is an awesome escape after trekking through the bright bright sun.
The beach is decently nice, but the real perk of it is that you can expect to have very few people with you there.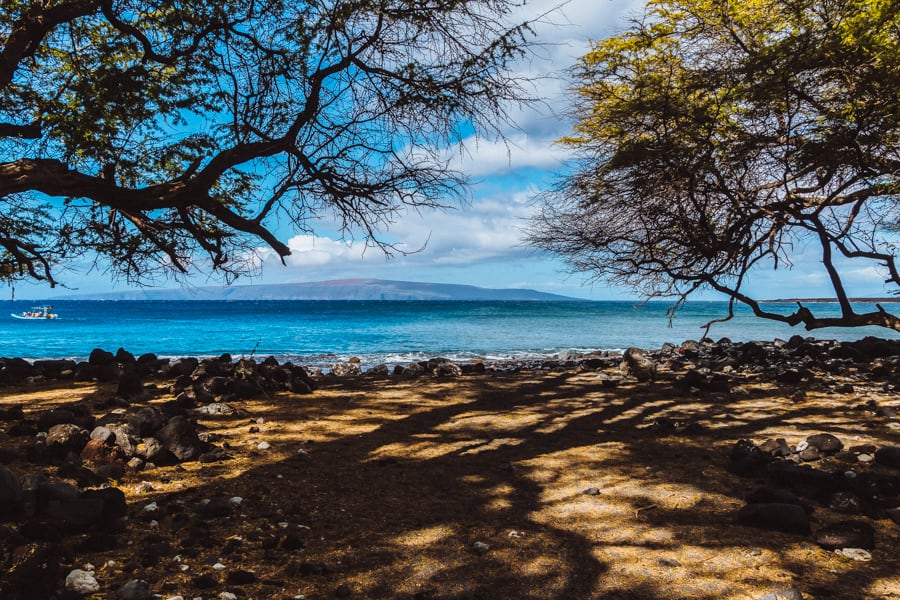 Keawanaku Beach
Remote beach located in La Preouse Bay only reachable by lava field trail.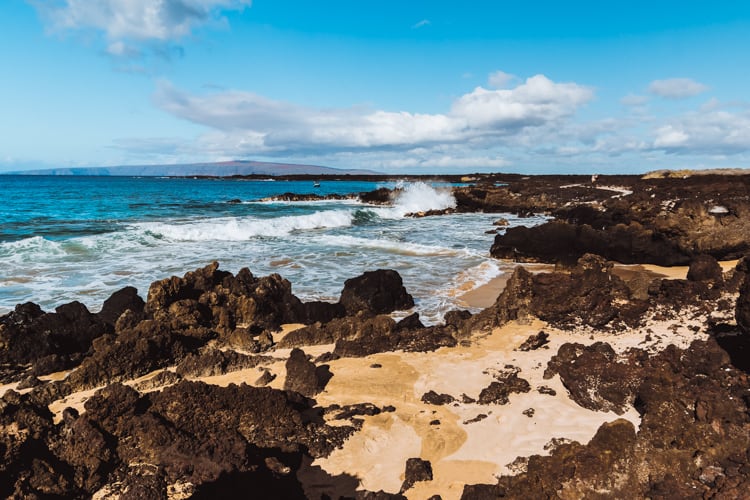 What to pack
Wear a hat, reef-friendly sunscreen. Closed toe shoes are a must if you plan to walk around.
But if you're plans include the Hoapili trail, wear hiking boots! Bring extra drinking water because it's hot and super dry here!
I have worn my Columbia waterproof hiking boots for over a year now and I love them. They are comfortable, affordable, and cute! They sell out often but I recommend checking Nordstrom & DSW to try and find your size in stock.
Conclusion: Is La Perouse Bay worth visiting?
Yes! This area of Maui is so unique and not crowded at all! Highly recommend making a visit.
Things to do near La Perouse Bay
Kanaio Beach
What to Pack for Maui
Planning a trip to Maui? Here are our best MAUI BLOG POSTS:
My husband and I have been to Maui a couple times and have written up more blog posts to help you plan your trip. These are my most popular blog posts and Hawaii travel guides to help you plan your trip. I hope it helps!
Maui general trip planning
Maui Beaches
Maui Hikes & Lookouts
Maui Waterfalls
Everything else