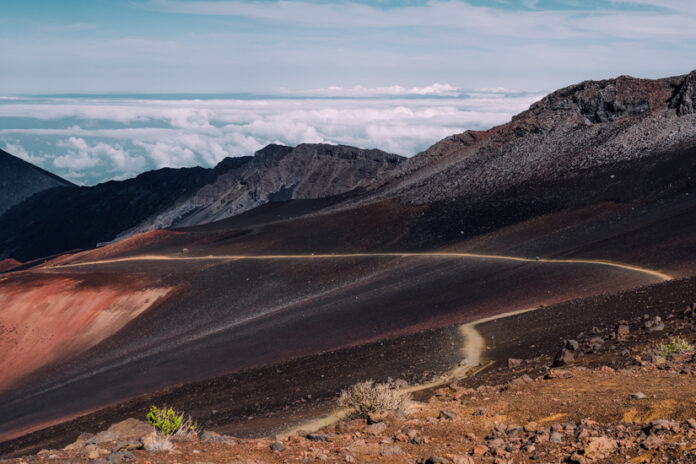 The Sliding Sands Trail (also known as Keonehe'ehe'e Trail) is one of the most unique hikes on Earth!
In fact, when doing this Haleakala Crater hike it doesn't even feel like you are on Earth. It feels like you are hiking across red sands on the surface of Mars.
This Maui hike is located at the top of the Haleakala Crater. When I say the top, I mean 10,000 feet up. This means that you are literally looking down on the clouds as you hike around the volcanic mountaintop.
While Maui is generally a lush green paradise, this hike is quite the aberration. There is almost no vegetation whatsoever, only the beautiful colored sands left from previous volcanic eruptions.
The Haleakala Sliding Sands Trail is the perfect addition to your Hawaiian escape.
Sliding Sands Trail Details
Distance – 11 miles out and back 5.5 each way (though most people only go in a mile or two and turn around)
Duration – 6.5 hours average to complete
Difficulty – Difficult (if you do the entire hike)
Elevation gain – straight down then back out just under 3,000 feet
Cost: Park admission is $30 per vehicle
Open from – 7am to 7pm
Challenges – The way back up is ALL UP HILL (Not to be dramatic, but the trek up almost killed me)
What to Bring – Hiking boots, hat, sunscreen, water
Other Requirements – permit only necessary to access the park between 3:00 am and 7:00 (sunrise)
What to bring on Haleakala Hikes:
Sun protection (hat, sunglasses, sunblock)
Small backpack – I love this one from Beis.
Cold/wet weather clothing (raingear, pants, jacket, poncho)
Food (no food for sale in the park)
Water bottles (drinking water available at all visitor centers)
Sturdy shoes (hiking boots or athletic shoes). I LOVE and highly recommend these hiking boots. They are cute and so comfortable.
Location: Haleakala National Park
Haleakala National Park is the one and only national park on Maui (the other parks are state parks).
When hiking the Haleakala Crater the trailhead is at the very top on the center of the island of Maui. While it would likely only be a few miles from your hotel if you could fly it, the drive zigzags up a 10,000-foot mountain.
The drive ultimately takes about an hour and a half if coming from most of the resort areas.
From the top, you will have near 360 degree views around the island.
Where to park?
Make sure to park at the main Visitor Center near the summit (there are two Visitor's Centers, you want the one further up the mountain). So long as you aren't attempting to park before sunrise or sunset, non-issue. It gets crowded during those times.
Haleakala Sunset
The Haleakala sunrise requires a permit, but the Haleakala sunset does not. The hardest part about being able to enjoy the Haleakala sunset is getting a parking spot near the top as the limited number of spaces fill up quickly!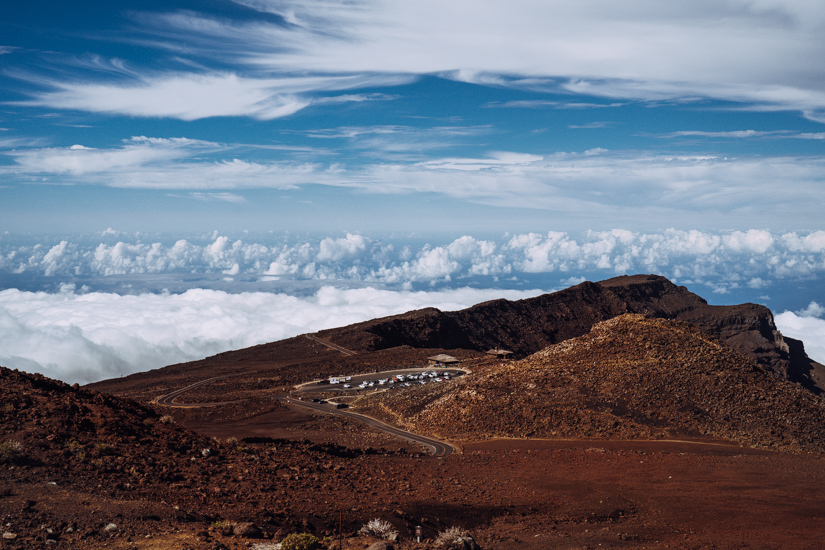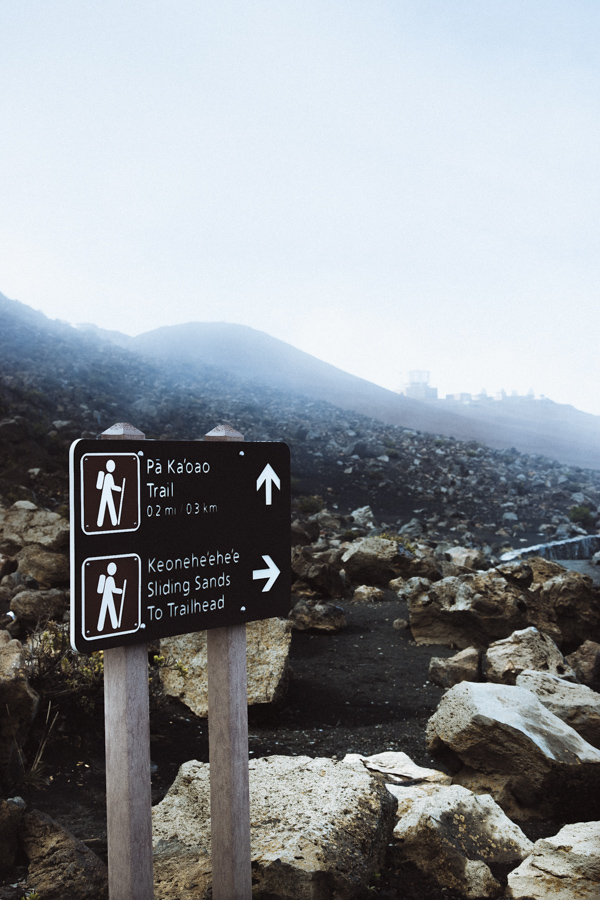 What To Expect When Hiking Haleakala Crater
This trail is so different that almost all other trails in Hawaii. In fact, it is easily the best of Haleakala hikes.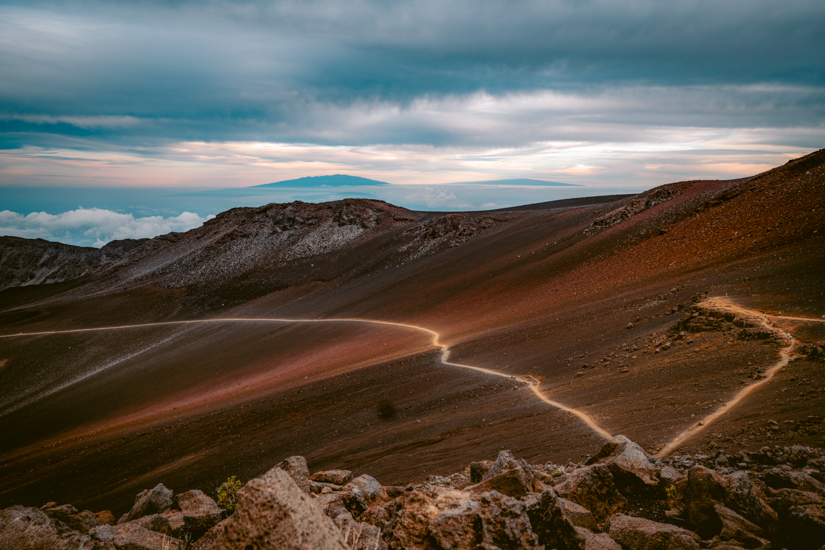 Haleakala Temperature
The Haleakala temperature can vary dramatically! During the day the sun will beat down on you and make you sweat.
That being said, when the sun sets at the top of the Haleakala Crater hike you can expect the temperature to be 30 degrees Fahrenheit cooler than it was at the bottom of the mountain.
Basically, when hiking Haleakala crater prepare for both extremes!
Rare Silverswords Plants
You will see some metallic looking plants, which is probably why they were named silverswords. They are a rare and endangered plant that you will encounter when Haleakala National Park hiking. Soon after blooming the plant dies, so make sure to stop if you see one in bloom. Read more about the Silverswords here.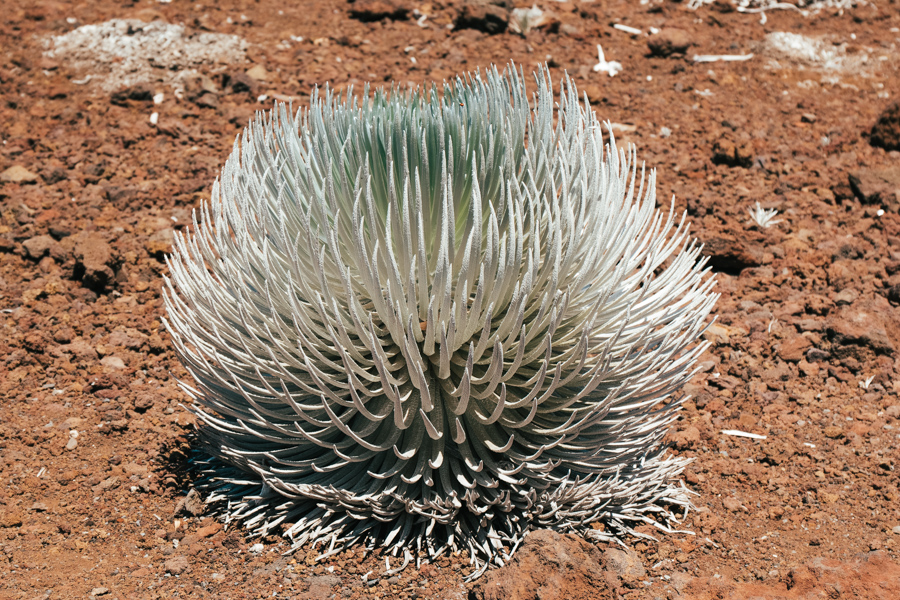 Warning signs to stay on the trail
They are pretty much everywhere.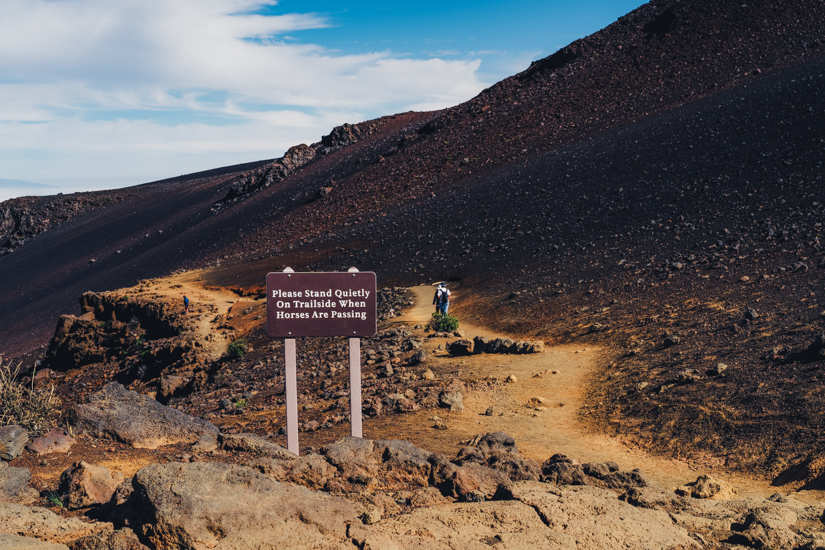 Haleakala Tours
There are a number of Haleakala Tours available for those that don't want to explore alone, or drive themselves up the crazy mountain zigzags.
The most popular is the sunrise tour (they can take care of the permitting headaches for you). If you don't want to wake up at 3 am to get there in time, there are plenty of others. You can go there for a sunset tour, or even a bike tour down the mountain.
You can even make reservations to camp at a cabin at the bottom of the Sliding Sands Trail.
Learn more about what Haleakala Tours are available here.
How long does it take to hike Sliding Sands Trail?
If you hike the full 11 miles you can expect it to take 6.5 hours. We opted to only do the first half of the hike and it did not disappoint.
You do not have to do the entire 11 miles to enjoy this hike.
Below I will show you everything you will see in the first mile, second mile and so on to help you better decide how much of the hike you want to commit to.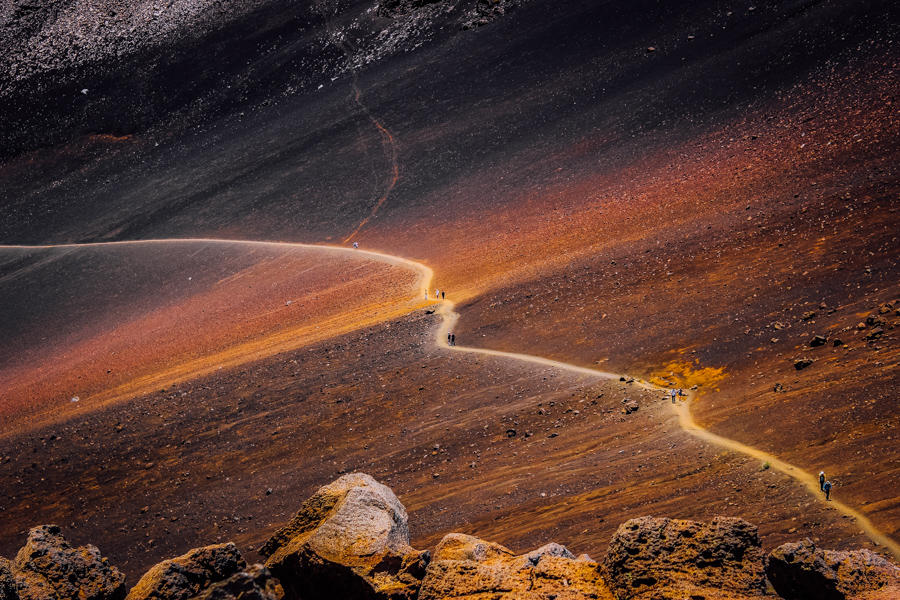 Sliding Sands Trail – Mile 1
Here are the views from the first mile out.
The first mile of the hike was definitely more crowded than the second mile. Even though I say it was more crowded, there still were not very many people on the trail.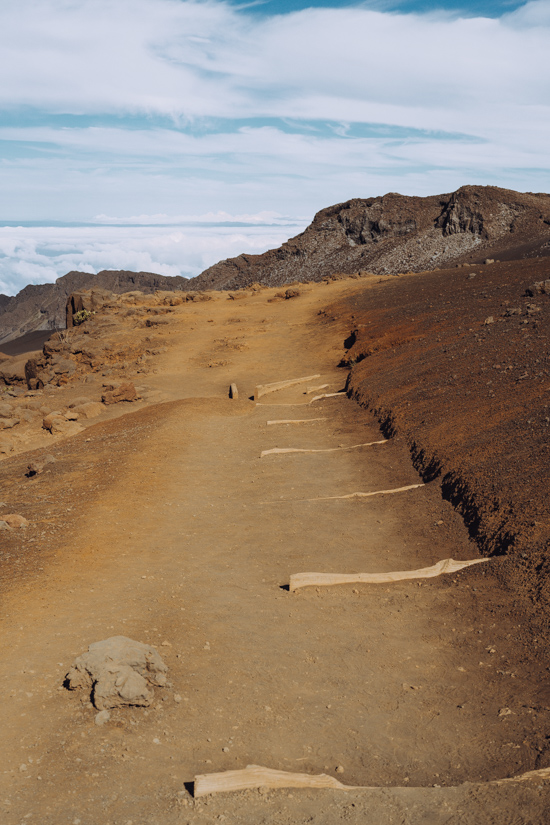 Sliding Sands Trail – Mile 2
On the second mile of the trail we hardly saw anyone. Here are the views you are missing out on if you skip the second mile.
Negatives of Haleakala National Park Hiking
I love this trail and highly recommend it for anyone, but there are a couple things that are less than ideal about Haleakala National Park hiking.
Temperature changes get intense
It can sometimes get windy
Long Drive
If you want to hike a Maui volcano this is your chance!
Planning a trip to Maui? Here are our best MAUI BLOG POSTS:
My husband and I have been to Maui a couple times and have written up more blog posts to help you plan your trip. These are my most popular blog posts and Hawaii travel guides to help you plan your trip. I hope it helps!
Maui general trip planning
Maui Beaches
Maui Hikes & Lookouts
Maui Waterfalls
Everything else