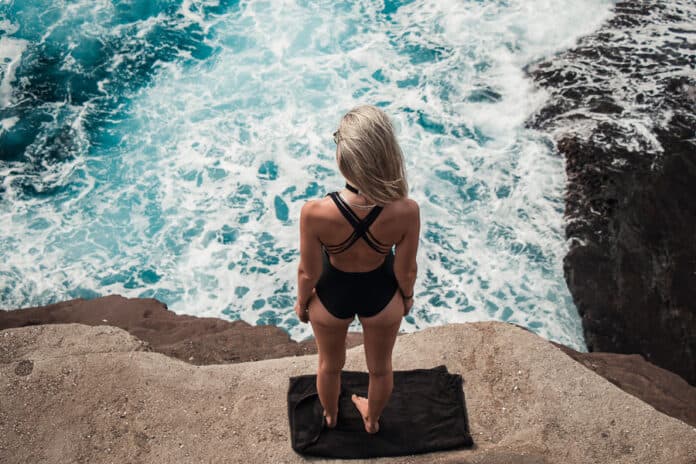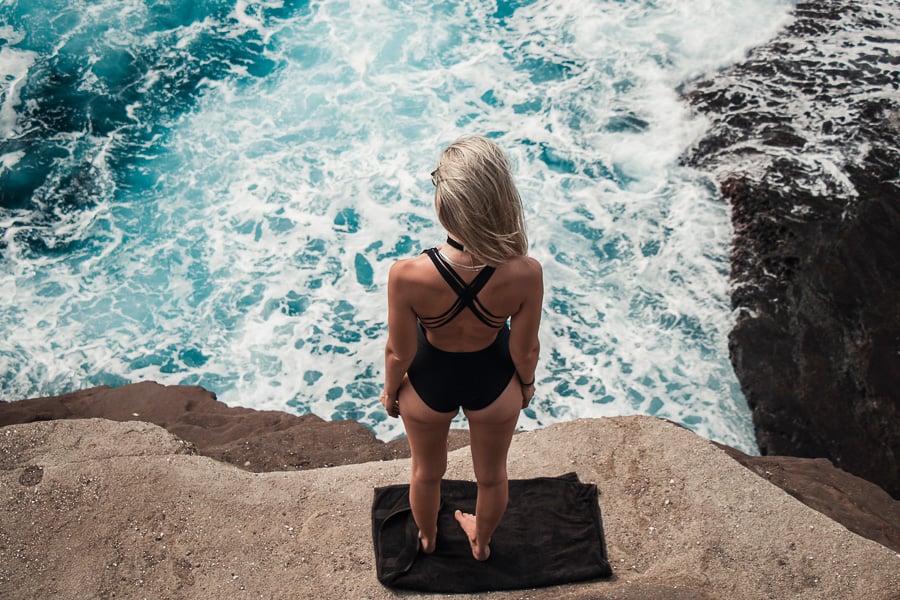 I can't believe the Spitting Caves aren't more popular with visitors to Oahu! They are not a very known place and not included in guided tours.
Maybe it's the name that conjures up negative images of getting spit on, but that's not anything you need to worry about.
What you will actually find at the Spitting Caves Oahu offers are amazing rock cliffs, pounding waves, and spectacular views.
The name Spitting Cave likely comes from the way that the waves crash against the rocks.
The force of the crash and cliff caves cause an ocean mist to spray high into the air. It can even be felt all the way up on the cliffs.
While here, you might see a few fearless cliff divers jumping into the water far below.
The cliff jumping Oahu offers can often seem dangerous, but appears to be especially true at the Spitting Cave.
Spitting Cave of Portlock
Some people call the area the Spitting Cave of Portlock. I never figured out where the alternative name comes from, but know that people refer to the area by either name.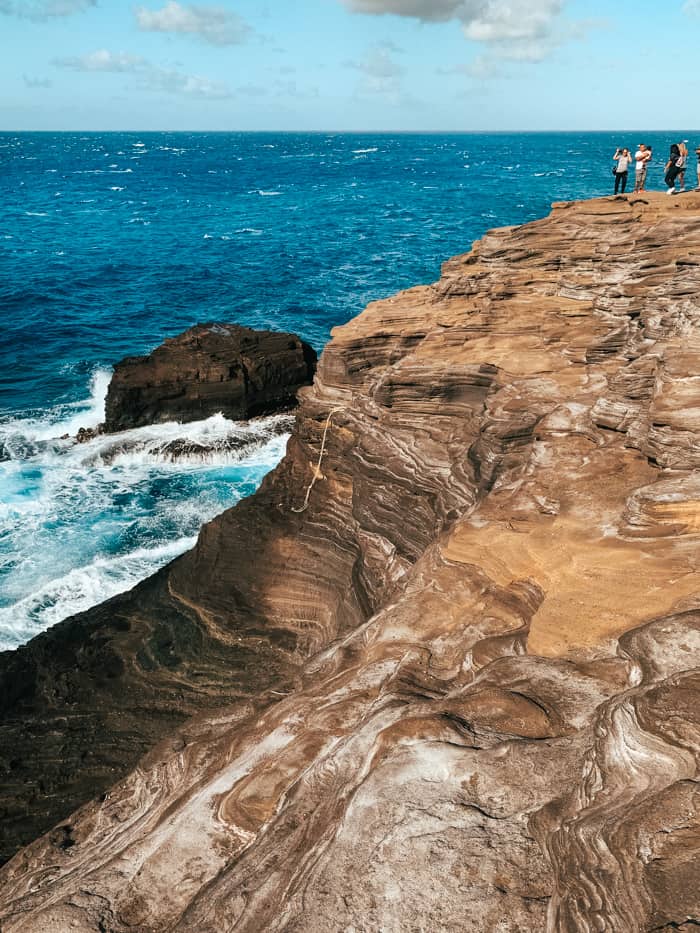 What to Do at the Spitting Caves in Oahu
There are a number of unique things you can enjoy at the Spitting Cave in Oahu
Get "Spit" On
The wavy rocks and crashing waves create a unique phenomenon of water spraying into the air. While you have to be careful that it can make the rocks slippery, it is exciting to get close enough to feel the ocean spray of the Spitting Caves!
Whale Watching
While I didn't see any whales myself, this is supposedly a great place to observe them as you can see out across miles and miles of ocean. I've seen pictures that capture these giant majestic creatures.
Head here for more of my favorite whale watching tours on Oahu.
Spitting Caves Cliff Jumping Oahu
I'm generally up for the thrill of the cliff diving Oahu offers, but I personally could never jump here. You are jumping into rough water pounding against the rocks and you jump about 70 feet!! No thank you.
Many people say that this is a great spot, but what I observed were waters that were too rough for me to feel like I could safely get out of the water. I worried I would get slammed against the rocks.
Cliff jumping here is not for the faint of heart. It is about 70 feet high, and you land in rough waters.
When considering cliff jumping at the Spitting Caves I wasn't only worried about getting tossed by the waves, but also that I couldn't see how deep the water actually was.
Supposedly, there are times where the waves calm down and you can safely see where to dive. You can see that previous adventure junkies set up a ladder to help them get out of the water and back to the top of the cliff.
One other thing to be aware of is that even if the waters are calm, the climb out could still be daunting. Lava rocks are especially sharp so you may want to wear water shoes to protect your feet.
If you are looking for something that is a little bit less intense you could try the nearby China Walls, or journey across the island to Waimea or Laie Point Cliff Jumps.
Spitting Cave Cliff Jump Height
The cliffs here are supposedly up to 70 feet high.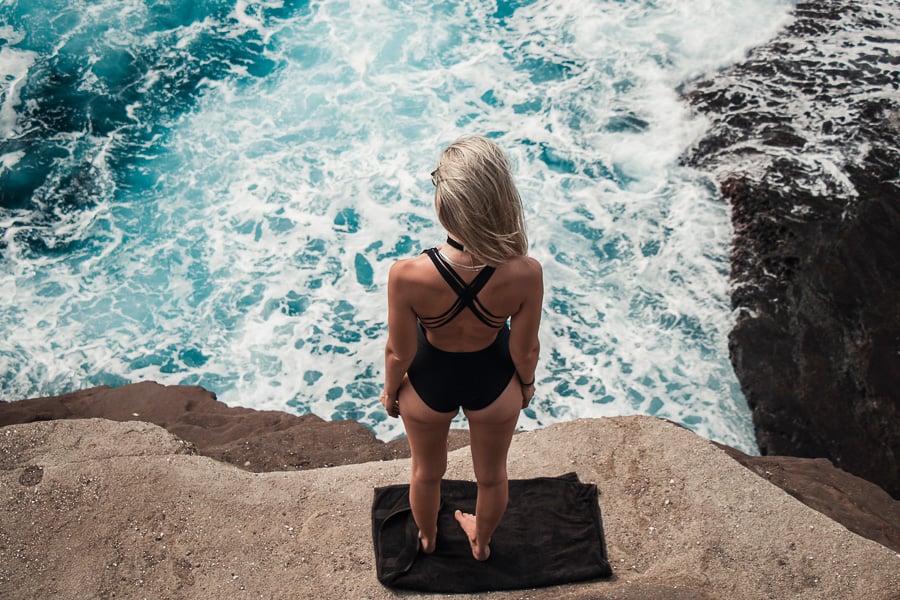 Check out the places below for more of the best cliff jumping spots on Oahu:
Take in a Sunset
Given that this spot isn't as popular as many others on the island, you are much more likely to be able to take in a sunset with a lot fewer people around. I find the rhythmic crash of the waves to be relaxing.
When standing on the cliff you are naturally facing west, the direction the sun sets in. From this angle you can take in the open Pacific Ocean as well as the city of Honolulu. The balance really is amazing.
Spitting Cave Location
Another reason I'm so shocked that the Spitting Cave isn't more popular is that it is really conveniently located. It is only about a 20 minute drive from Waikiki. It is located pretty close to other really popular attractions like Hanauma Bay or the Koko Head Hike on the east side of Oahu.
The exact location is a bit of a maze to get to, but if you type it into your GPS it will pop up and lead you directly there. Since it is in the middle of a residential area, make sure to be respectful of the community.
A similar spot that is directly next door is China Walls. The cliffs are a lot smaller, which entices many people to go fishing there. Also, on a calm water day I would feel much more comfortably cliff diving at China Walls than at the Spitting Cave.
How to get to the Spitting Caves
The best way to get here is to rent a car. If you don't have a car rental you can rent a moped for the day, or take an Uber/Lyft. Uber/Lyft will be your most expensive option depending on where you are staying.
If you decide to explore the island by moped you can rent one here for up to two weeks at a time!
Parking for the Spitting Cave Oahu
There is no set parking lot for the Spitting Cave. The entrance is actually in the middle of a neighborhood of million dollar homes.
You can park along the street, but be sure to follow the Hawaiian laws that prohibit you from parking too close to a driveway, stop sign, or fire hydrant.
There is plenty of street parking available, you can see what it looks like in the picture.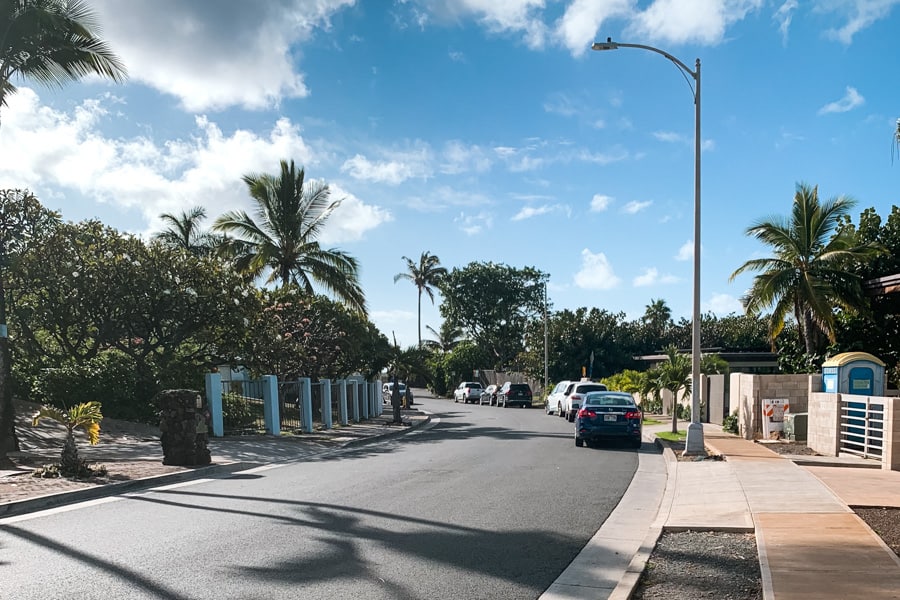 Hike Down to the Cliffs
If you aren't looking closely you can miss the path down to the cliffs. Fences and trees almost obscure the entrance. It looks like you are heading to a back alley, but the trail soon drops down to the cliffs. The final steps down are a little intense (see pictures). When I was there one girl elected to sit on her butt and slide down instead.
Don't miss all that the Spitting Caves on your next trip to Oahu. Even if you aren't looking for the cliff diving Oahu offers, there are still plenty of amazing reasons to visit.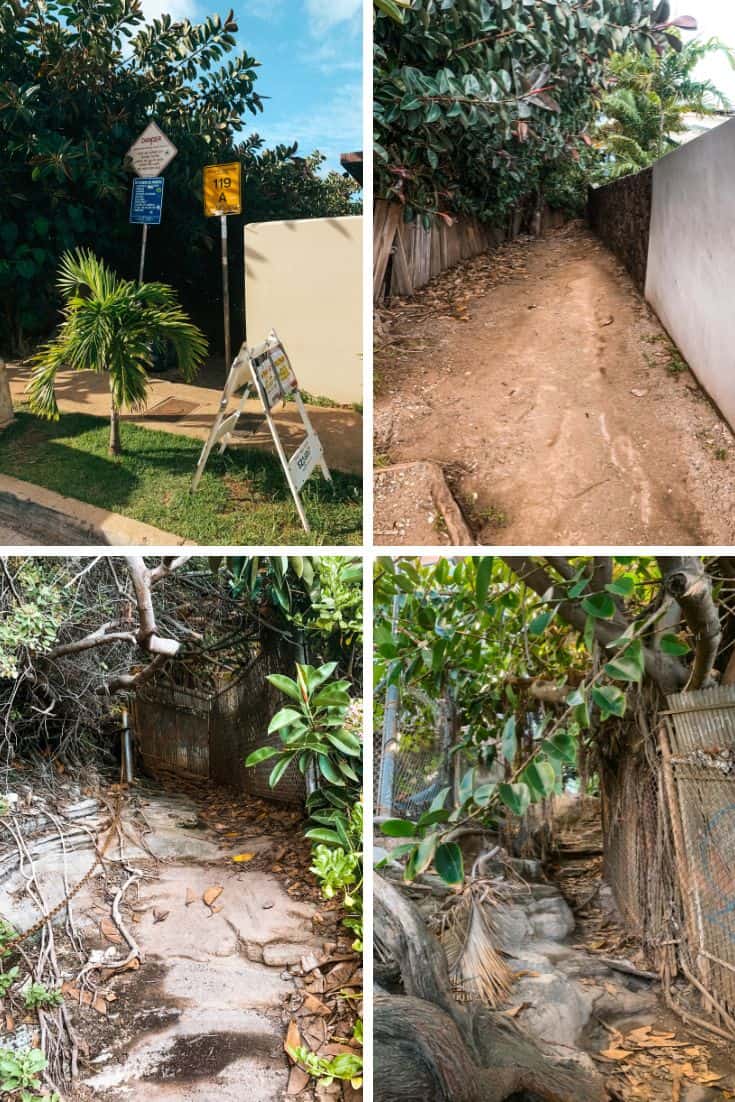 Planning a trip to Oahu? Read more of our Oahu blog posts below!
My husband and I have been to Oahu many times and have written up more blog posts to help you plan your trip. These are my most popular blog posts and Hawaii travel guides to help you plan your trip.
Best Things to do in Oahu
Oahu Beaches
Best Cliff Jumping in Oahu
Best Snorkeling in Oahu
More Hawaii Blog posts: