The China Walls Oahu offers are quite different from the Great Wall of China. While the Great Wall may have inspired the naming of this site, this gorgeous ocean cliff isn't a manmade structure designed to keep out invaders. The China Walls Honolulu offers are a natural cliff with perfect views of downtown Honolulu and the Pacific Ocean.
This clifftop is a perfect spot to hang out, have a picnic, watch the sunset, fish, or even cliff jump. The intensity of the waves varies dramatically, so you will obviously want to adjust your activities accordingly.
I've heard it described as a party spot, but when I was there I only saw a couple of other visitors as well as a few people fishing.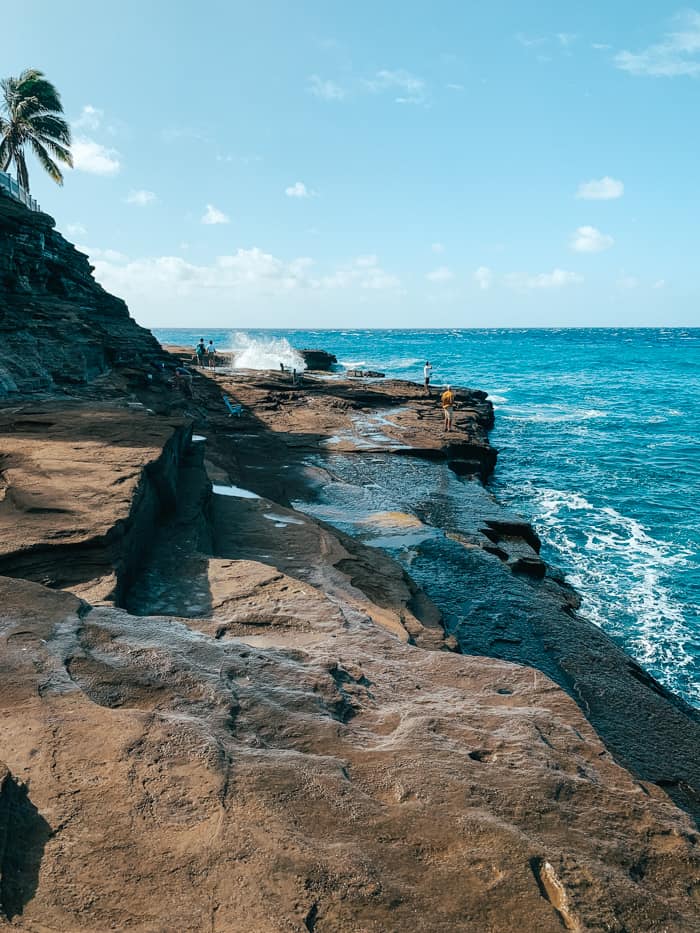 What to do at China Walls Hawaii
China Walls Hawaii is a perfect location for a variety of activities. This ocean cliff works perfectly depending on the time of day as well as the season of the year.
Fishing Oahu
While I'm not a fisherman, I saw a number of professional looking guys fishing in Honolulu at China Walls. I can only assume this is a good spot given its location looking out to the open ocean.
Cliff Jumping Oahu
While the cliff is only about 10-15 feet high, many people looking for a little bit of a rush jump off of these cliffs. When I was there the waves were too intense for me to consider jumping in. I did see where they placed a rope along the cliff to help swimmers and divers climb out of the water.
Have a Picnic or Sun Tan
Even though there isn't any sand, the top of the rocks is flat enough that you could lay out a picnic and enjoy the waves and sea breeze. For someone like me that enjoys taking in the sun's rays but doesn't love being sandy, laying out on the cliff top was an amazing alternative.
China Walls Honolulu Location
The China Walls Honolulu offers are conveniently located near, but not too close to Waikiki. I say too close because its location gets you away from the crowds of people, but won't require you to be on the road for hours. It only takes about 25 minutes to drive here from the busiest parts of Waikiki. It is basically located on the south east corner of the island of Oahu.
You can also include stops at a number of other top attractions on the eastern part of the island of Oahu. There are very similar but bigger cliffs directly next door named the Spitting Caves. Hanauma Bay and the Koko Head Trail are also very close.
China Walls Parking
Like the next door Spitting Caves there isn't a set parking lot, but instead street parking amongst the million dollar Hawaii homes.
I had no problem finding a nearby spot on the street, but as I've previously mentioned you need to be careful to not park too close to driveways, stop signs, and fire hydrants. The parking police in Hawaii mean business!
Access Through Koko Kai Beach Park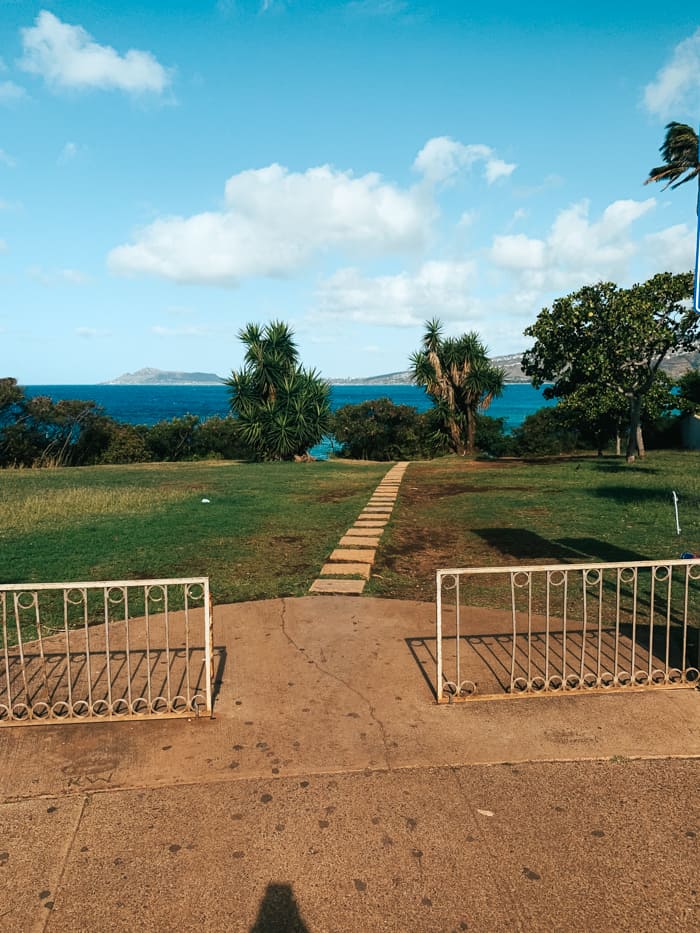 To get to the cliffs all you have to do is walk through the mini Koko Kai Beach Park. You can see that it really is quite easy to navigate once you type it into your GPS.