Lanikai beach (also known as Kaʻōhao Beach) consistently ranks as one of the best beaches on earth! It is no surprise that it ranks so high once you see how gorgeous it is. Pictures show its striking beauty, but somehow it looks even better in person.
The turquoise water is framed perfectly by the ½ mile of sand and the lush green backdrop. The Lanikai Mokes (or mini islands) sit just off shore and make the scene even more picturesque.
Lanikai Beach Quick Facts:
Where: Lanakai, Oahu, Hawaii
Amenities: None
Parking: Basically non-existent. Read more below.
Available Tours: Kayak to the Mokes with this Lanakai snorkeling tour, it's just 0.75 miles off the coast of Lanikai.
What makes Lanikai Beach so special?
This beach has calm water and white sand! Lanakai beach also has some of the bluest water on Oahu. There are also so many awesome snorkeling and kayaking tours available I highly recommend that will allow you to kayak to the Mokes and snorkel in the best spots in the area.
Where is Lanikai Beach Located?
It is located in Lanikai on the east side of Oahu, Hawaii. It is about a 40 minute drive from Waikiki.
Lanikai is the next beach to the south of Kailua Beach on the east side of the island.
Reasons Why Lanikai Beach Hawaii is Not My Favorite Hawaiian Beach
Once again, I love this beach but want you to know what you need to prepare for before visiting Lanikai Beach Hawaii.
Lanikai Beach Parking Nightmares
Technically, there is no Lanikai Beach parking. All beaches in Hawaii are public, but this doesn't mean that there is a state owned parking lot near all of the beaches. Lanikai is one where this is definitely the case – i.e. there is no parking lot.
Because there is no parking lot, all visitors have to get lucky to find nearby street parking. What this means is that you can expect to circle the area for a long time and when you do find a spot your parallel parking skills will likely be tested. Lots of people give up the search and end up with loooong walks.
Don't want to deal with the hassle of renting a car on Oahu? I recommend renting out a Hawaiian Style Moped for the Day! (Much easier to find parking.)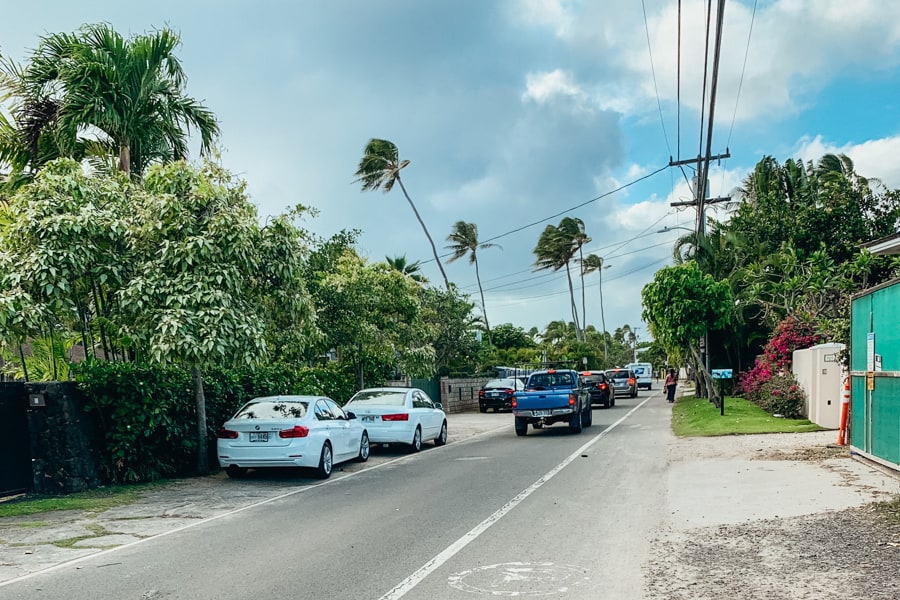 Parking Tickets Galore: Know Local Law
The neighborhood surrounding Lanikai Beach Oahu is made up of high end homes. This neighborhood features a few spots that you can parallel park in, but when visiting Hawaii you need to be aware of specific parking regulations.
You cannot park within 4 feet of a driveway, 10 feet from a fire hydrant, and 30 feet from a stop sign. If you do, you will get a ticket and the fine is supposedly over $200.
How to get to the beach without having to deal with parking
The nearby Kailua Bay launches so many kayak tours that will take you to Lanikai Beach without having to fight through the Lanikai crowds and parking nightmares.
My favorite part is that you will get to explore the Lanikai Mokes and accompanying caves! Book your tour here.
No Restrooms, Showers, or Lifeguards at Lanikai Beach Park
Once you finally do make it to the Lanikai Beach Park you should know that there are no restrooms, showers, or lifeguards.
This always makes me nervous because when you gotta go, you gotta go!
Is Lanikai Beach Snorkeling any good?
While the clear blue waters of Hawaii allow for quality snorkeling just about anywhere, Lanikai Beach snorkeling is generally not known as a great spot.
There are some reefs and wildlife, but generally the conditions are easier and wildlife more abundant at other sites than the Lanikai snorkeling.
Tips for snorkeling at Lanikai Beach
Go early – The wind can be calmer in the mornings helping with visibility.
Bring your own gear – there are no rentals once there.
Best Snorkel Spots
The best area to snorkel is closest to the public beach accesses on Mokulua Drive at the intersections with Mokumanu Drive, and Kaiolena Drive. Another snorkeling Lanikai Beach area with less dense reef can be accessed from the intersections of Haokea Drive and Kuailima Drive.
Lanikai Kayaking Tours to the Mokes
The Lanikai Mokes are mini islands off shore of the beach.
These little islands add such a unique look that I never get tired of. It really makes the islands seem like a verdant paradise.
The nearby Kailua Bay launches so many epic kayak tours that will take you to Lanikai Beach without having to fight through the Lanikai crowds and parking nightmares. My favorite part is that you will get to explore the Lanikai Mokes and accompanying caves! Book your tour here.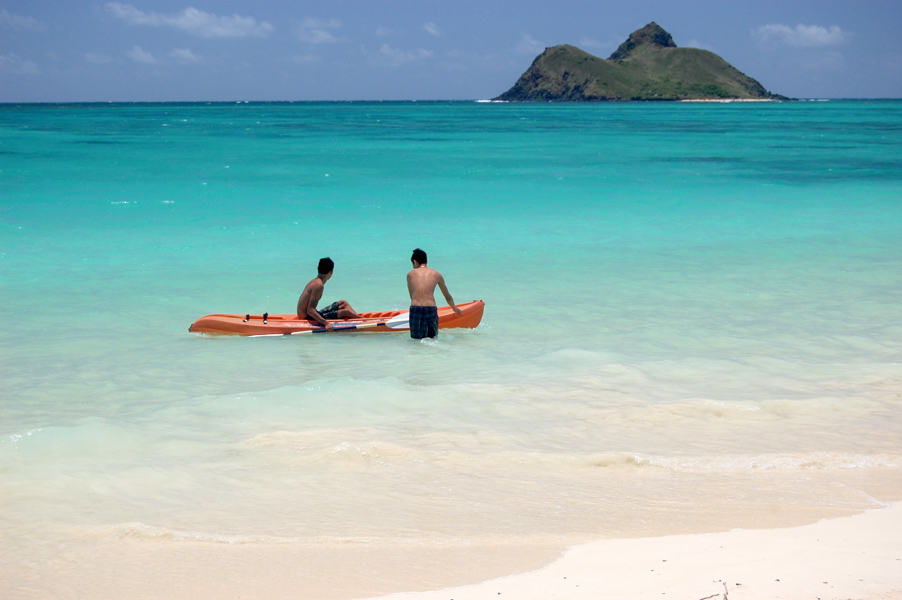 Lanikai Beach Weather
It's Hawaii, the weather is almost always perfect across all of the islands. If I had to find something to be picky about it would be that due to this beach being on the windy side of the island it can get a little bit cold as the sun sets.
That being said, don't actually think cold-cold, just that you might not want to stand around in your bikini right after getting out of the water as the sun starts to set and the wind is blowing.
Crowds
You will not have this beach to yourself. Before going in person I'd seen countless Instagram posts of beautiful people posing on this beautiful beach. When I was there in person, I saw that process continuing time and time again.
Locals Want Visitors Out
Even though there are thousands of visitors crawling all over the Hawaiian islands the locals are generally so welcoming. Recently, there have been proposals to ban short term rentals like AirBnBs in the Lanikai areas.
The locals hope this area won't be constantly overrun by tourists, and that the tourists will stay in other areas designated for tourists.
I hate feeling like I'm intruding, and given all the local houses I had to walk by to get to the beach I got a little bit of the feeling.
Reasons I Still Love Lanikai Beach Oahu
I told you that I really do love this beach. Even with all of the negatives listed above, it doesn't diminish its allure and the fact that I would visit again in an instant if I could.
A couple of super unique things that make it worth fighting through some of the drawbacks are…
Check out more of the most popular tours on Oahu below!
It's Paradise
I know I sound like a stick in the mud pointing out all of the negatives about this gorgeous beach. It really does deliver the perfect island paradise vibe, so if you want to experience it for yourself do not let me dissuade you, just plan ahead to make the experience even better.
Lanikai Beach Map
What to Bring to the Beach
Travel towel – So much easier to pack these quick dry microfiber travel towels than go without or be forced to buy one once there. We always travel with at least two of them.
Dry Bag – There are some lessons you just don't want to learn the hard way. Ruining your phone, camera, or other valuables at the beach is a very expensive lesson to learn. This dry bag is amazing and works for any and all water activities.
Reef-safe sunscreen – The sun here can be very strong. Make sure to wear a reef safe sunscreen or a rashguard.
Rash guard or long sleeve swim top – I wear the one from Skims and I love not having to worry about getting burned when I am out in the sun ALL DAY. Free people also has some amazing rash guards you can shop here.
Backpack or waterbottle sling – I am obsessed with my Beis travel backpack. I never travel without it. It is seriously the perfect size. Not too big, not too small. If you don't want to bring a full backpack this waterbottle sling is my absolute favorite. It fits a waterbottle, iPhone 14 pro max, plus some extra space for bars or snacks or your wallet.
Packable snacks – I always travel with these That's it bars from Amazon. OMG, they are sooo good and only have a few minimal ingredients.
Things to do nearby:
Kailua Beach Park – only a 5 minute drive away
Lanikai Pillbox Hike – Very popular to do the hike and Lanikai beach in the same day.
Kalama Beach Park – 8 minute drive from Lanikai (2 miles)
Conclusion: Is Lanikai Beach Worth Visiting?
This beach truly is exquisite and if you end up there you will absolutely enjoy it, BUT given the choice I would recommend visiting another Hawaiian Beach.
I'm not saying I didn't love my time there (I did), but there are some drawbacks to at least be aware of.
Planning a trip to Oahu? Read more of our Oahu blog posts below!
My husband and I have been to Oahu many times and have written up more blog posts to help you plan your trip. These are my most popular blog posts and Hawaii travel guides to help you plan your trip.
Best Things to do in Oahu
Oahu Beaches
Best Cliff Jumping in Oahu
Best Snorkeling in Oahu
More Hawaii Blog posts: