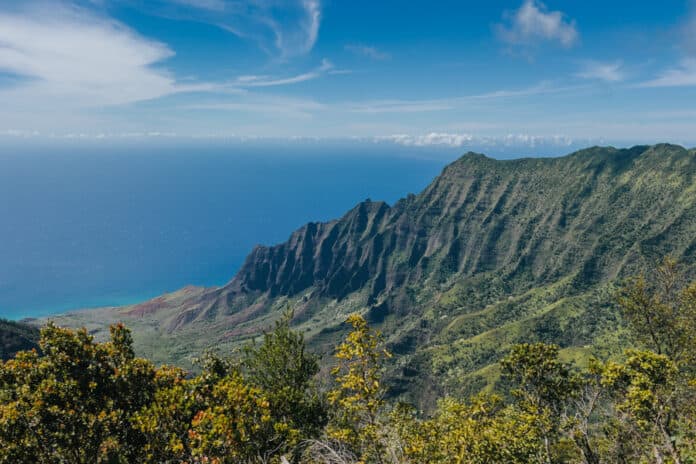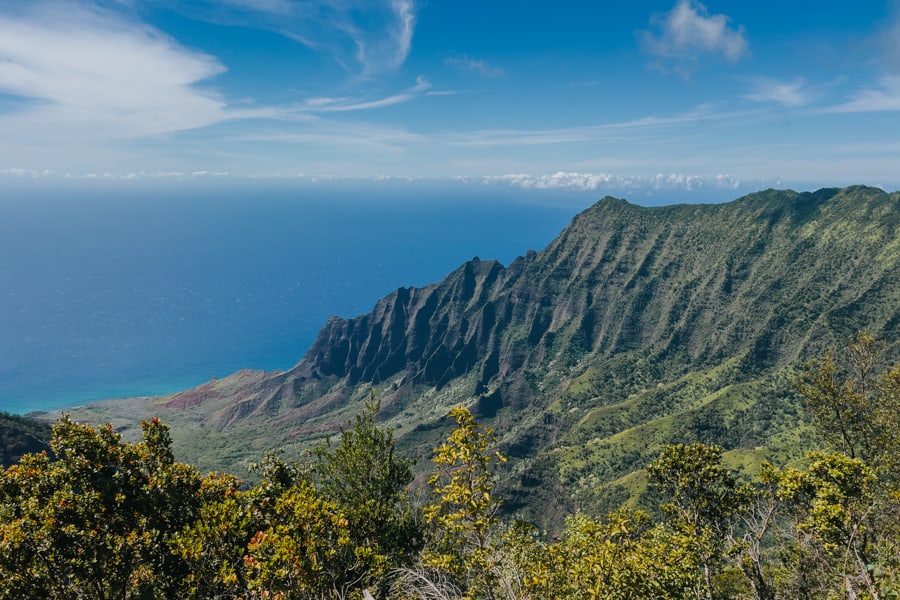 Pihea Trail (Easy hike on Kauai with great payoff!)
Want to take in views of the famous Napali Coast but not have an insanely difficult hike? Let's be honest, most of the Napali hikes are intense!
If you want an easy one with the high payoff of exquisite Napali views, then this is your hike!
The Pihea Vista Trail gives you these views while being a whole lot safer than most of the others (full disclosure, there are still some pretty steep ledges).
Even if you don't want to go the whole 1.6 miles down to enjoy the views. They are off to your left basically the entire time!
Quick Details
Pihea Trail Location
The Pihea Vista trail is at the top of Kokee State Park in Kauai. It begins at the Pu'u O Kila Lookout.
It is on the exact opposite side of the island as the main airport, and the drive between the two takes about an hour and a half.
The only time this location is a bit of a pain is if you are staying in the Princeville resort area. To access, you would have to drive all the way around the island the long way, which would likely take you about 2 and ½ hours.
Facilities
There are no restrooms at the trailhead (Pu'u O Kila lookout). If you do need a restroom, you can go back down the road a bit to the Kalalau Lookout.
Parking
There is a paved lot with kiosks where you are supposed to pay your parking and your park entrance fee. A lot of people just come for the lookout and leave, so even if the lot is full you likely will not have to wait for long for a spot to open up.
What to Expect
Unlike a lot of Hawaii trails, this one is super wide. Seriously, you could park a bus sideways across lots of it. If you've hiked a lot of Hawaii trails then you know that this is really foreign.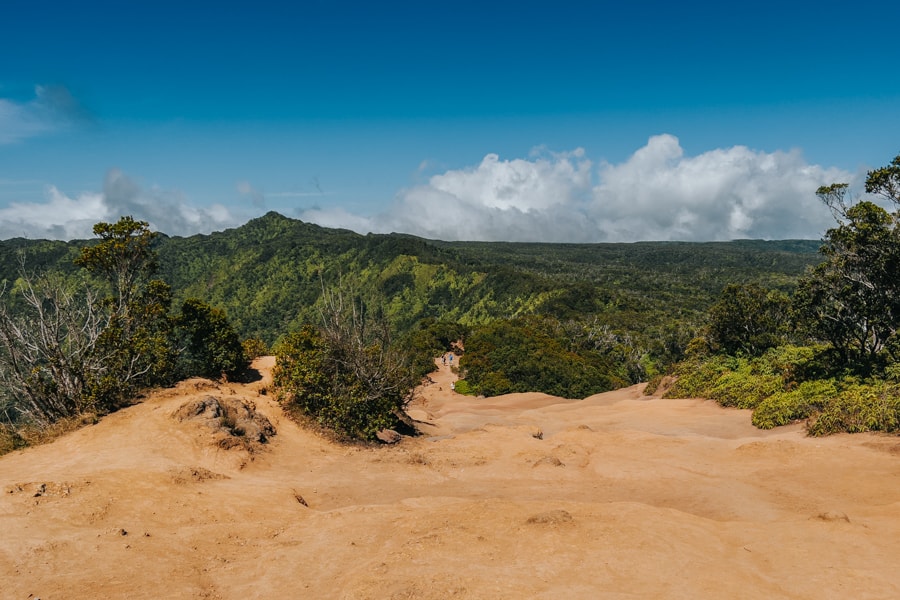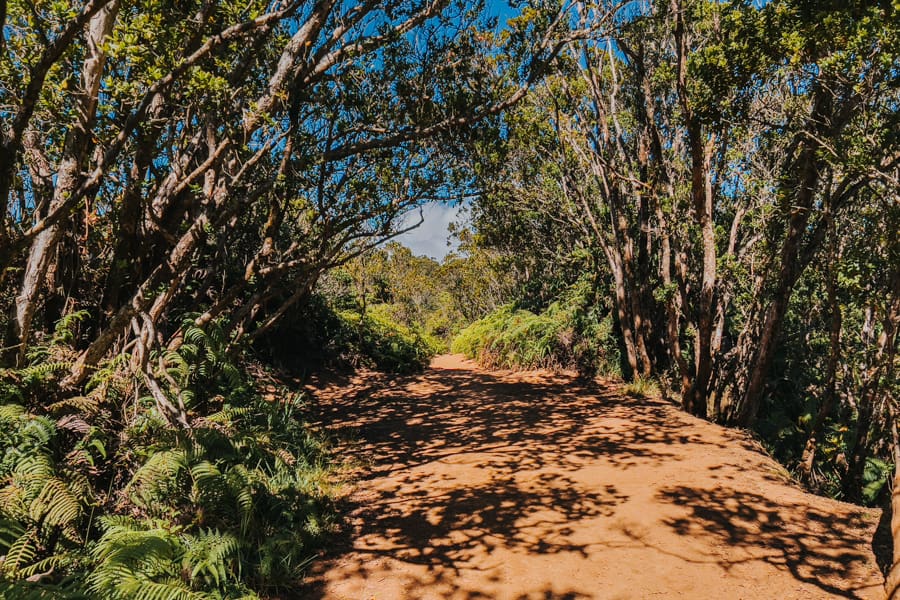 Easy, but Some Steps Could Get Dicey
Even though the trail is generally pretty wide there are some spots that have some tricky steps, and if it has just rained there are spots that can be a bit muddy.
Hike Along a Cliff Line
Almost the entire hike is along the top of a cliff. If you look out to your left you are staring down into a valley and along the Napali Coast. The views are beautiful almost the entire way.
Even if you don't want to go the entire way you don't have to. The payoffs are almost immediate and basically continuous for the entire hike.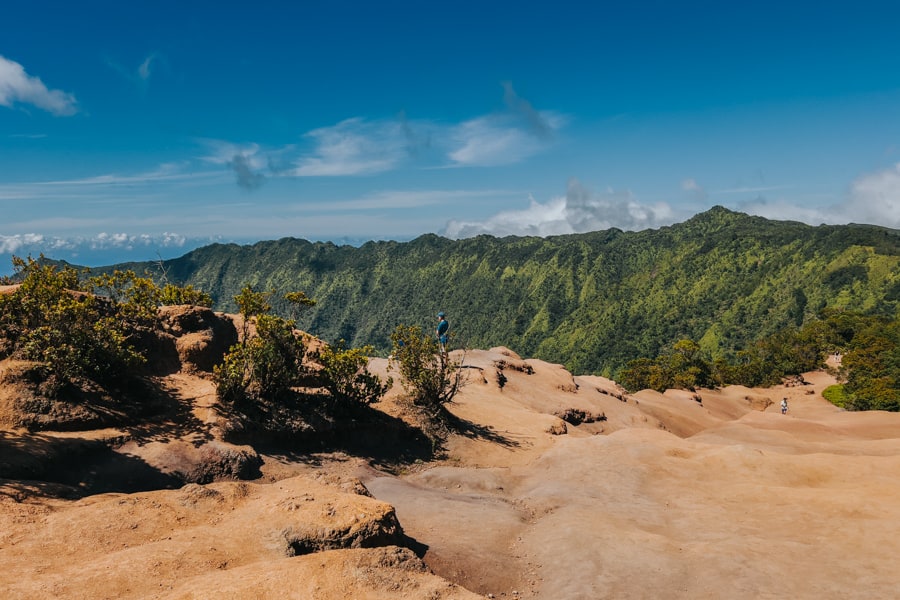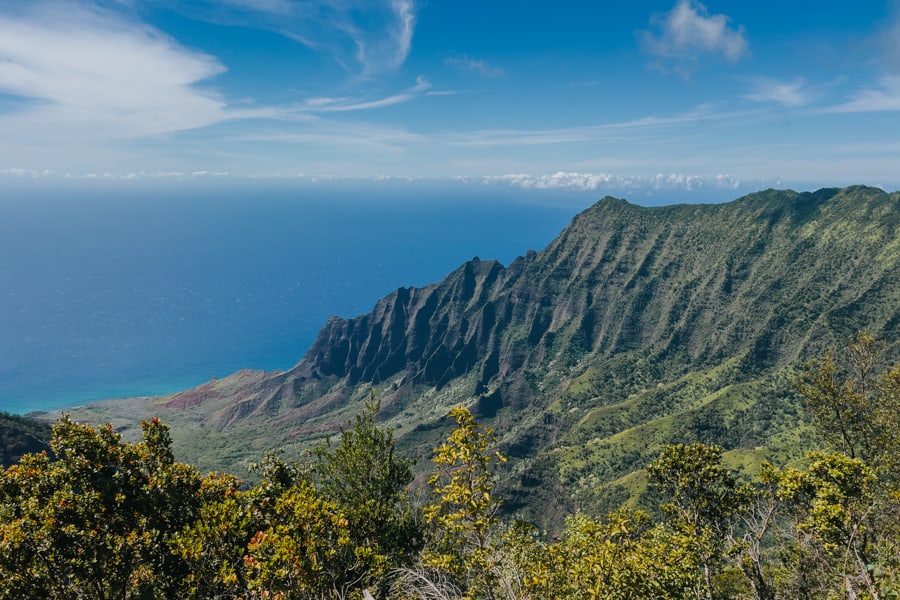 Pihea to Alakai Swamp Trail
For those that are particularly enterprising, they can hike much further.
If you want to make a full day of it you can continue on this trail for 7.8 miles and make it all the way to the Alakai Swamp Trail.
A Hawaiian swamp is pretty cool, and if you do make it all the way there you get to enjoy the experience by taking the hike along a boardwalk through the swamp as well.
The difference between this hike and the swamp you might expect in Florida is that there aren't going to be any alligators!
Planning a trip to Kauai? Read everything we know about Kauai here:
My husband and I have been to Kauai many, many times and have written up more guides to help you plan your trip. These are my most popular blog posts and Kauai travel guides to help you plan your trip.
Kauai Beaches
Best Beaches for Snorkeling on Kauai
Best Cliff Jumping in Kauai
More awesome beaches
Kauai Hiking Guides
Read about all the hikes we have done in Kauai here.
Read all other posts on Kauai here.