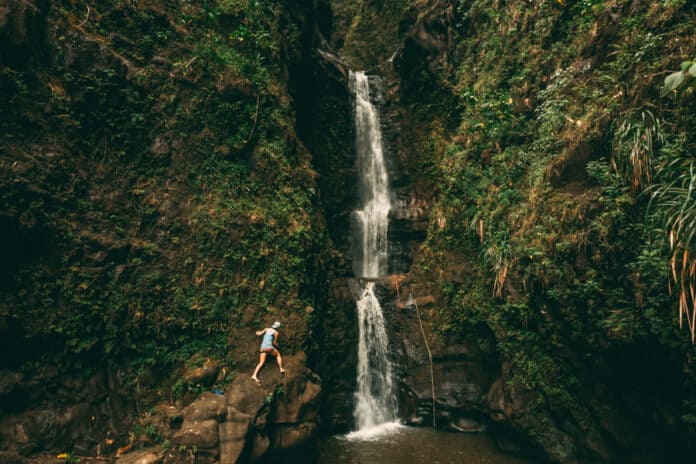 Makaleha Trail – Everything you need to know before going
In our household the Makaleha Falls hike is divisive.
I absolutely loved the hike and swimming at the falls while my husband hated it! I found it to be an awesome adventure and him a nightmare.
This four mile (yes four mile – other places falsely report it as less) has some unique challenges. I think those challenges make the hike amazing and fun, but those same challenges made my husband want to turn around and go back to the hotel.
The Makaleha trail is loosely marked and you will be slogging through mud and repeatedly crossing streams up to at least your knees.
I loved having to take time to navigate to make sure we didn't veer off into a secluded rainforest. My husband prefers wide trails that you can jog on.
You cannot jog on this trail as you will be climbing over rocks, shimmying under tree branches, and stopping to make sure you are heading in the right direction.
Makaleha Falls Hike
Quick Facts about Makaleha Trail
Location
The trailhead is located about 25 minutes from the Kauai airport on the east side of the island. We rented a car and drove there.
There are no tours that will take you to this hike so if you want to go you will have to either rent a car or moped.
To get there, you drive to the Kapaa town area and then straight inland and up.
What to bring/wear hiking:
Hiking Boots – Make sure you have a good pair of hiking boots. These are the hiking boots I highly recommend. They are cute, comfortable and waterproof. The only downside is they sellout quick. I recommend trying Nordstrom and DSW to get the best chance to find your size in stock. You could get away with tennis shoes but they will be destroyed from the mud.
Skims Outdoor Collection – I am pretty much obsessed with all things skims and their hiking collection is no exception. I love wearing the outdoor t-shirt with the matching leggings or bike shorts and sports bra. Trust me, it's a vibe.
Hat – I may be biased but IMO Urban Outfitters has the best hats! Check out their new in stock here.
Makaleha Falls Hike Parking Situation
There is a mini lot, but even if it is full you can park along the street.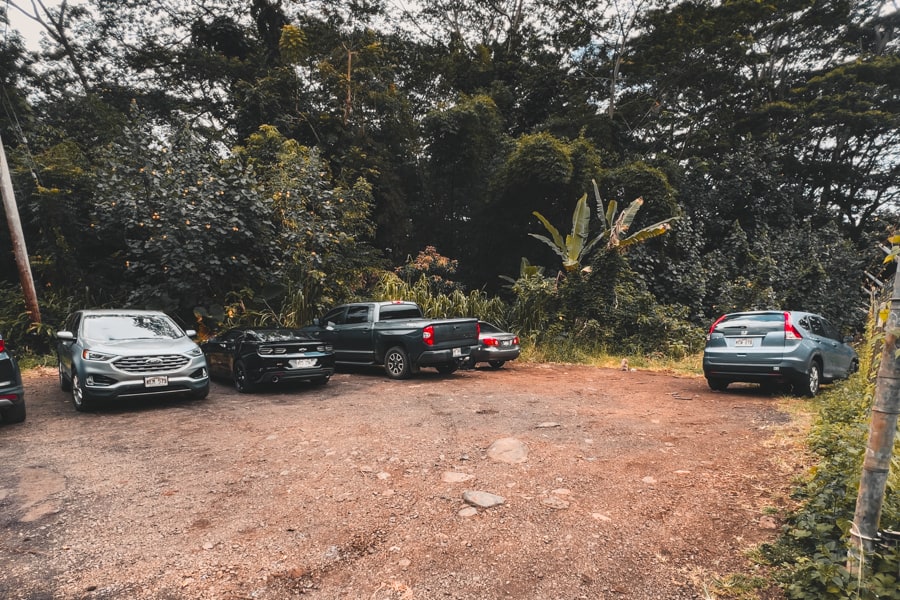 What to Expect on the Makaleha Falls Hike
Okay, make sure you read this part closely as you need to understand what you are getting yourself into.
The Trail is Poorly Marked
Even if you go slow you will not be able to follow the trail. At times you will feel like you are the first person ever to explore this rainforest. While I think that is part of the adventure, you need to be prepared to handle it.
I know a lot of people give up and turn around because it is too hard to follow.
Here are a few tips to help get you to the falls.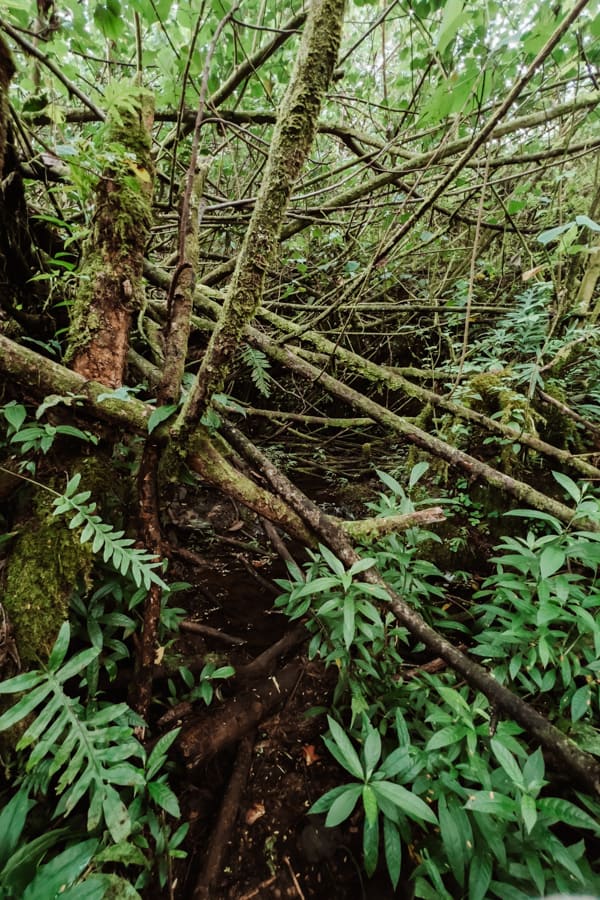 You Will Get Muddy and Wet
No doubt about it, you will get muddy and wet. Do not wear your nice shoes and don't wear flip flops. Even if it hasn't rained recently you still can't avoid the mud and water.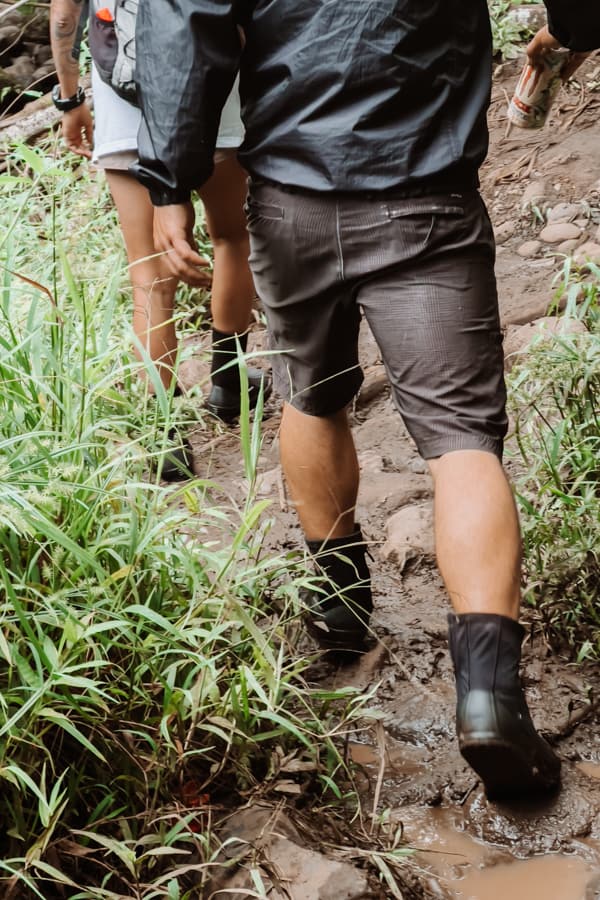 Follow the Creek (generally)
The creek flows down from the falls so you can generally follow it. The trail will force you to cross it a number of times, though it isn't always easy to know when you need to cross it.
My advice is that when you are supposed to cross you will be able to tell, meaning that you will see a wide well worn path.
If you aren't seeing a wide path coming across the stream then it probably isn't time for you to cross.
Know There is a Trail Amidst the Makaleha Mountains
The best piece of advice I could give is to know that there is a trail the whole time.
You will lose track of it and feel like you need to blaze your own, but don't! When you are lost go back and look for where you went wrong rather than trying to push on.
The forest is too thick and gets too steep to do this. Trust me.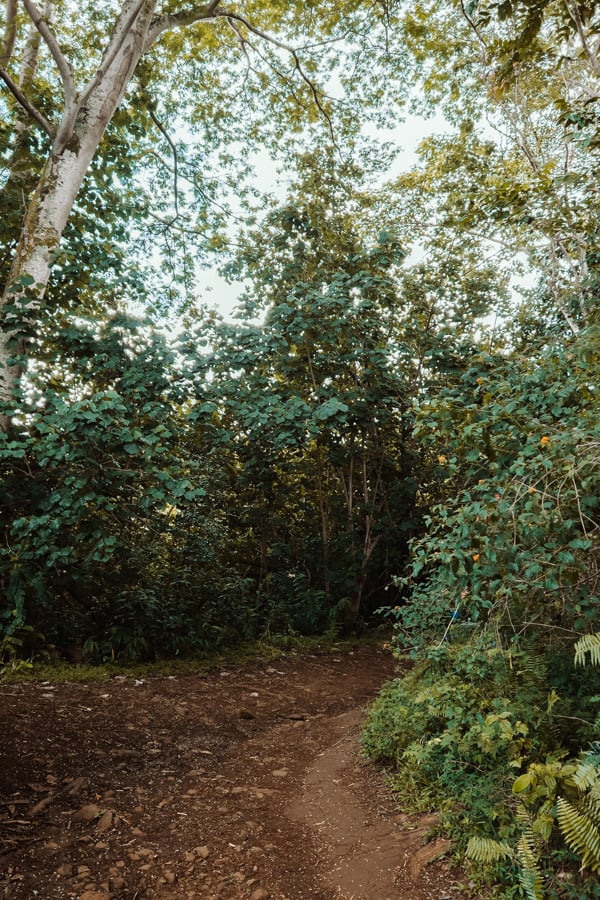 Stream Crossings Are the Most Difficult
Knowing when to cross the streams is the most difficult part. At times you may cross thinking the trail will pick up on the other side only to end up staring up an insurmountable Makaleha mountain wall.
At other times you may not cross and soon end up in impenetrable trees and bushes. The best advice I can give is when you think you might have to cross that you slow down and look closely at the opposite shore.
The places where you should actually cross typically have wide paths on the opposite shore rather than smaller one.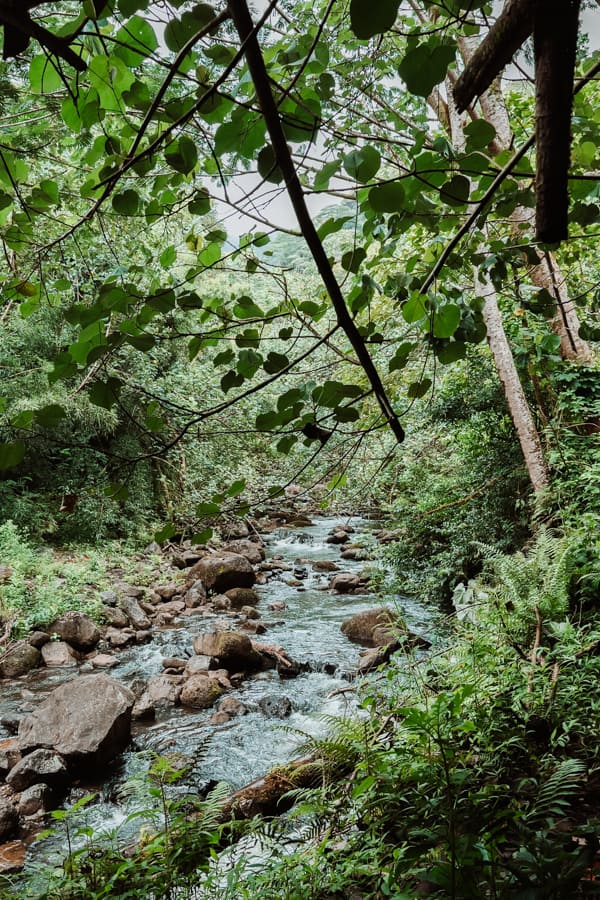 When the Stream Forks ( IMPORTANT! This is where most people get lost)
The trickiest part of the trail where I saw the most people get lost is when the stream forks into two large branches for the second time about ⅓ of a mile from the end.
When you get to this part the trail ultimately heads up the middle, between the two forks.
Makaleha Falls is Worth It!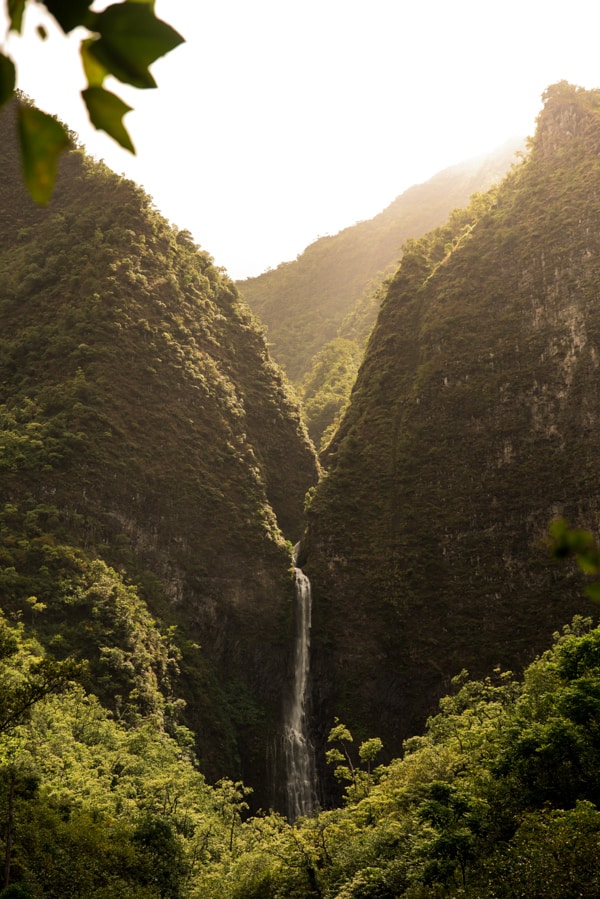 When you actually get to the canyon with Makaleha Falls you will know that it was worth it.
If you want to swim the water pools up enough for you to be able to take a dip, just don't expect to be doing your Olympic pool lengths.
I loved the cool water after sweating through the trees and bushes. Also, it is MUCH easier to navigate down the trail. It only took a third of the time to get back compared to the amount of time it took to get up.
Planning a trip to Kauai? Read everything we know about Kauai here:
My husband and I have been to Kauai many, many times and have written up more guides to help you plan your trip. These are my most popular blog posts and Kauai travel guides to help you plan your trip.
Kauai Beaches
Best Beaches for Snorkeling on Kauai
Best Cliff Jumping in Kauai
More awesome beaches
Kauai Hiking Guides
Read about all the hikes we have done in Kauai here.
Read all other posts on Kauai here.