Waimano Falls Trail: Everything you need to know
The Waimano Falls Trail is one of the most popular hikes on Oahu.
There are a few reasons for it's popularity:
The trail is somewhat challenging, but not too intense.
It takes you to one of the best waterfalls in Oahu that you can swim in.
There is a rope tied across the falls that you can swing on.
The trail is open year round and is beautiful to visit anytime.
Dogs are welcome, but must be on a leash.
If that is what you are looking for, then you have to check out the Waimano Falls trail.
This hike really is amazing, BUT there is a pretty significant catch that MIGHT change things for you.
Read on to make sure you are prepared before starting the Waimano Loop Trail.
There's an awesome tour that includes visiting this waterfall as well as a full-island tour around Oahu. You can check it out here: Waimea Waterfall & Circle Island Adventure Tour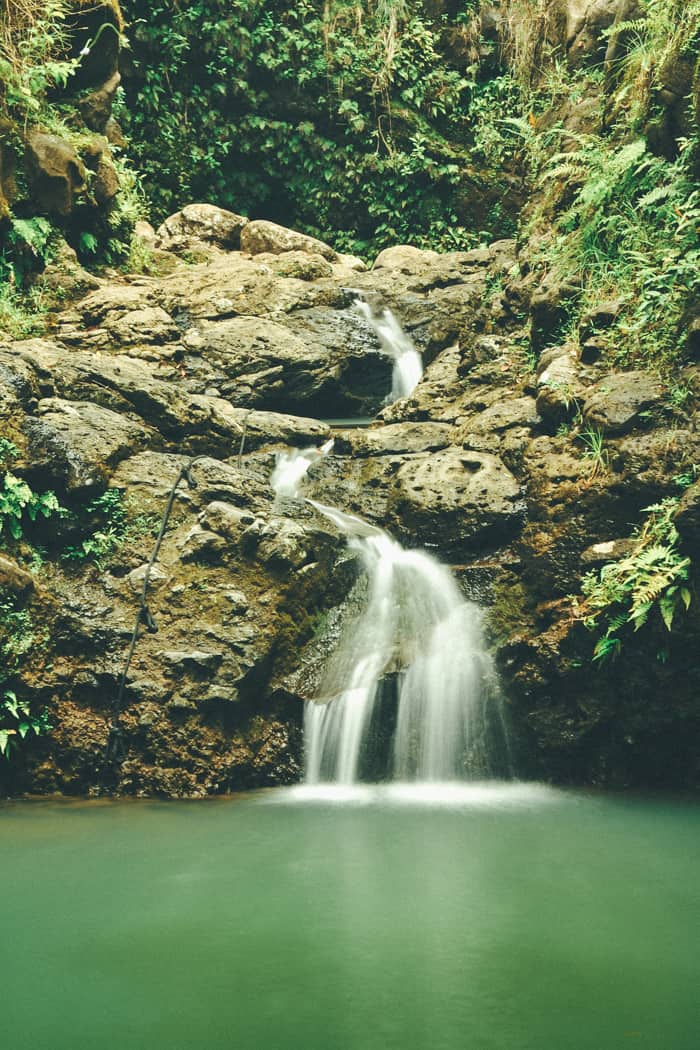 Waimano Falls Trail Details
Distance: 2.9 mile out-and-back
Duration: 1.3 hrs
Elevation gain: 810 ft
The Actual Waterfall and Waimano Pools
The pool that you can swim in is a little ways down from the waterfall. There are two different tires to the waterfall.
My favorite is the ropes tied across the falls that you can swing on.
I love a hike with a payoff! There is nothing better to reward yourself with than a refreshing swim after a grueling hike.
This area generally gets a lot of rain, which keeps the water clean since it is constantly flowing through the area.
Make sure you pack appropriate shoes.
I have worn my Columbia waterproof hiking boots for over a year now and I love them. They are comfortable, affordable, and cute! They sell out often but I recommend checking Nordstrom & DSW to try and find your size in stock.
Length of The Waimano Falls Hike
The Waimano Falls hike is 2.9 miles out and back. Like lots of trails in the Hawaiian islands it isn't marked out incredibly well. This means that if you aren't watching closely you could end up taking a wrong turn and increasing the duration of your hike.
There are ribbons tied to a few trees and arrows spray painted in a couple locations, but they are easy to miss. I inadvertently added an extra half hour onto my hike by missing some of the markers.
Waimano Falls Trail Difficulty
Even though under 1.5 miles each direction might not seem like an especially long hike, it is more difficult than you would expect.
The trail involves a moderate amount of elevation decline and then gain on the way back, which obviously makes the trail harder.
Waimano trails is consistently rated a moderately difficult hike, which to me generally means that you should plan on being able to jog all the way down and back.
Some areas of the trail are so steep that ropes have been tied to trees to help pull your way up. You don't need to think that you will be scaling a mountain, but be prepared to have to use some upper body strength!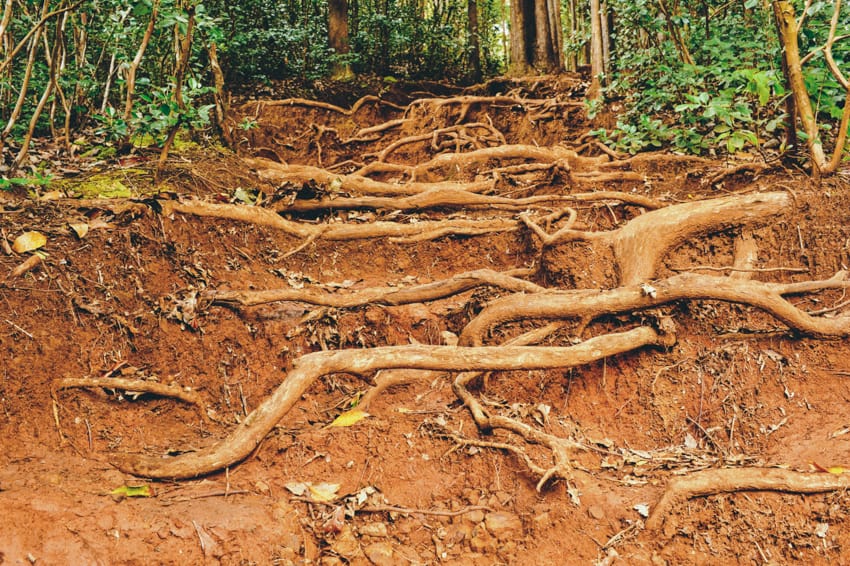 Warning – Waimano Trail can get super muddy
The Waimano trails can get really muddy, especially if it has recently rained. It is basically impossible to not have to step in it, so make sure you don't wear sandals or your nicest shoes. I hike in Columbia waterproof hiking boots and those have kept my ankles safe on trails like this one. They are very stylish and very comfortable.
Beware of the roots. They can also easily trip people up.
The mud does come with a payoff though as the increased rain helps make Waimano Falls one of the best waterfalls in Oahu.
Waimano Falls Trail Location
This hike is in the center of Oahu. Without traffic it is only about 25 minutes from Honolulu.
Its location makes it easy to access, but can also attract a lot of people.
If you are trying to drive through Honolulu during rush hour, you can probably expect to add another 20 minutes due to traffic.
The Waimano Pools trail head is located at the very end of Komo Mai Drive.
Note: the Waimano Falls hike is different than the Waimano Ridge Trail!
Parking for the Waimano Loop Trail
Like many of the top hikes in Oahu there isn't a lot of parking. At the end of Komo Mai Drive you can find a decent amount of street parking, but generally it will help to arrive early.
Don't want to deal with the hassle of renting a car on Oahu? I recommend renting out a Hawaiian Style Moped for the Day! (Much easier to find parking.)
Manana Ridge Trail
This trail is also known as the Waimano Pools or the Manana Ridge Trail.
Type any of those names into your GPS and it will take you to the trail.
Do NOT type in Waimano Ridge Trail. That is a completely different trailhead that will take you a 16 mile hike instead!
The Waimano Falls Trail CATCH
What you have to know before beginning this hike is that the falls and pool aren't always there!
If it hasn't rained enough recently, they will dry up and you will ultimately be hiking to a puddle!
The first time I went on this hike there was nothing to actually swim in!
The hike was still enjoyable, but it was a huge letdown to not actually be able to see the falls and swim in the accompanying pool.
To be better prepared the second time I went to do this hike, I checked the most recent Google Reviews to make sure there was actually a waterfall and pool to swim in.
Conclusion: One of the Best Hikes in Oahu!
So long as the waterfall and pools are actually there, I rank this one of the top hikes in Oahu. It is challenging but not too intense.
I think it leads to one of the best Oahu waterfalls, and I love that there is usually a pool that is safe to swim in.
Planning a trip to Oahu? Read more of our Oahu blog posts below!
My husband and I have been to Oahu many times and have written up more blog posts to help you plan your trip. These are my most popular blog posts and Hawaii travel guides to help you plan your trip.
Best Things to do in Oahu
Oahu Beaches
Best Cliff Jumping in Oahu
Best Snorkeling in Oahu
More Hawaii Blog posts: