Puu Poa Beach
Puu Poa Beach tends to be a beach of the super rich. The super rich tend to be the most common visitors to this beach because it sits directly behind some of the most expensive resorts on the island of Kauai and is a little bit difficult to access if you aren't a guest at one of these hotels.
All Hawaiian beaches must give the general public access, but Puu Poa shows that they don't have to make the process easy, and the difficulty is exacerbated by a river cutting out to the ocean along one side of the beach.
If you get lucky to get one of the few parking spots or are willing to hike, then you can enjoy this gorgeous reef protected beach.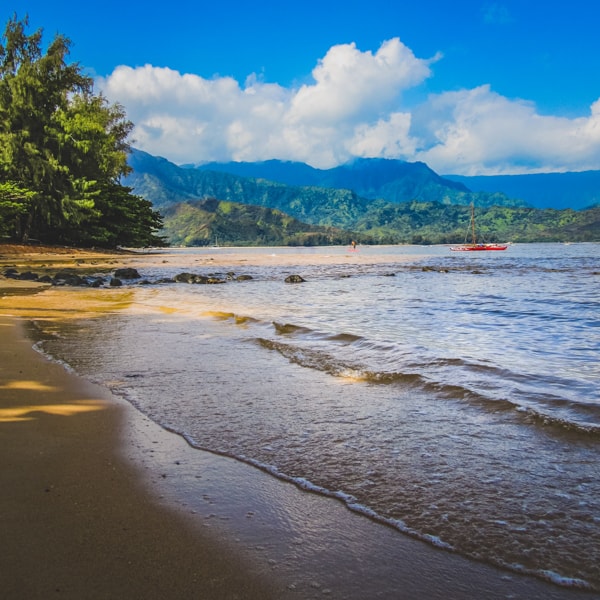 Puu Poa Beach Quick Facts:
Puu Poa Beach Location
Puu Poa Kauai is on the north side of the island in the Princeville Resort area. This resort is knowing for being home to some of the fanciest Kauai hotels.
If you are driving here from the main airport, it will take you about an hour.
Getting there is difficult
Getting to this beach is a little bit tricky. You can park at Hideaways beach and take the steps down to the beach, BUT there are so few public parking spots here that it is next to impossible to actually access this beach this way.
If you want to hike, including a trek across a shore that might require you to wade through waves to dodge mangroves (depending on the tides) you can park at the end of Hanalei Plantation Road.
You will see that the road is actually closed off, but there is a small lot ahead of the closure. The hike took about 20 minutes and required me to wade through water to dodge mangroves.
---
Top ways to experience nearby attractions
---
Crowds
Given the difficulty in access, a benefit is that this beach is almost never too crowded, though the proximity for hotel guests means that there will almost always be someone on it.
What to Expect Once There
If you do make it to this beach, there are extra perks to reward your effort.
Snorkeling and Padle Boarding
On the actual beach you will find gorgeous sands and tranquil waters. The waters are especially nice due to an offshore reef blocking the large waves.
A lot of Kauai beaches are beautiful to look at, but are dangerous to swim at due to intense waves.
Amazing Sunsets
Due to the beach facing due west, it makes it an ideal spot to watch the sun set behind the ocean.
Gorgeous Mountain Views
The idyllic beach views are enhanced by lush green mountains framing the backdrop.
No Facilities
The actual beach has no public facilities. This is likely due to hotel guests being able to access their hotel for these facilities.
Conclusion: Is Puu Poa Beach worth visiting?
Puu Poa Beach is gorgeous, BUT I don't think it is worth the hassle since there are substantially similarly beaches immediately next door that don't require the difficulty of access.
Hanalei Beach Park and Black Pot Beach are just across the river and offer all of the same perks, but without the difficulty of access.
If you are a hotel guest in the Princeville Resort area though, there is no reason why you won't love Puu Poa Beach.
Things to do nearby:
Hanalei Beach Pier – amazing for sunsets
Sea Lodge Beach
Planning a trip to Kauai? Read everything we know about Kauai here:
My husband and I have been to Kauai many, many times and have written up more guides to help you plan your trip. These are my most popular blog posts and Kauai travel guides to help you plan your trip.
Kauai Beaches
Best Beaches for Snorkeling on Kauai
Best Cliff Jumping in Kauai
More awesome beaches
Kauai Hiking Guides
Read about all the hikes we have done in Kauai here.
Read all other posts on Kauai here.