Trying to figure out where to book your stay in Maui? Not sure if the Napili area is a good place to be? This area doesn't have the fancy five-star resorts that you will find nearby, but that doesn't mean the beaches aren't just as nice as the beaches that those nearby resorts are built on.
Napili Beach is kind of hard to access if you aren't staying in the area as there is a limited amount of parking and it is a little bit tricky to find the public access, but that doesn't mean you should shy away from staying here in any way. The beach is gorgeous! You will find the same golden soft sand and clear blue waters.
Like a lot of Maui beaches the water conditions can change rapidly from an amazing surf spot to a smooth snorkel spot. Be ready for both conditions when you visit this beach. Given it's difficult to access, I don't recommend it to people not staying in the area, but once again, it's not because this beach isn't great, it's just that parking is difficult and there are other nearby beach with substantially similar features.
Napili Bay Beach Info:
Where is Napili Bay located?
Napili Bay is located in the Napili town area (shocker I know). This area is on the northwest side of Maui. If you are coming from the airport it will take you about an hour to get here.
How to get to Napili Bay
There are two ways to drive here. You can go up the east side of the island and around the northern tip, or you can cross the island and come up the west side. I recommend doing both of those drives.
The drive up the east side and around the northern tip is windy and a little bit longer, but it will take you on a "mini road to Hana" journey where you can stop at a few other really unique spots. One of my favorites in the area is the Nakalele Blowhole. Once again, this probably only adds about 15 minutes to your drive, but is worth it for the variety.
If you come across the island and then up the west side of the island you will pass a whole lot more development. Come this way if you want to see the fancy resorts, pass a lot of the popular shopping. One of the more famous resort areas you will pass is the Kaanapali Resort area.
You will also pass the Lahaina area that was devastated in the Maui fires of 2023. It is still so incredibly sad that the Hawaiian people had to deal with and are still attempting to recover from this tragedy.
Parking
There are a few areas marked for free public parking, but they are mixed in with areas that look like condo parking lots so make sure you inspect closely. Once you follow your GPS to the beach you will see a small pathway that is open to the public that you can walk down to the beach on.
What you can Expect at Napili Beach
Like a lot of areas in Maui this beach is gorgeous. You will find the world-famous golden sand and clear blue waters. The sand is wide and fairly long so even with other people on the shore you are very likely to have a lot more space that you would at other beaches.
The lack of high rise resorts and lack of parking generally keeps this beach less crowded than other alternatives. It tends to attract a good amount of families looking to enjoy their day. You will also find a decent amount of permanent residents that live in the area enjoying this beach.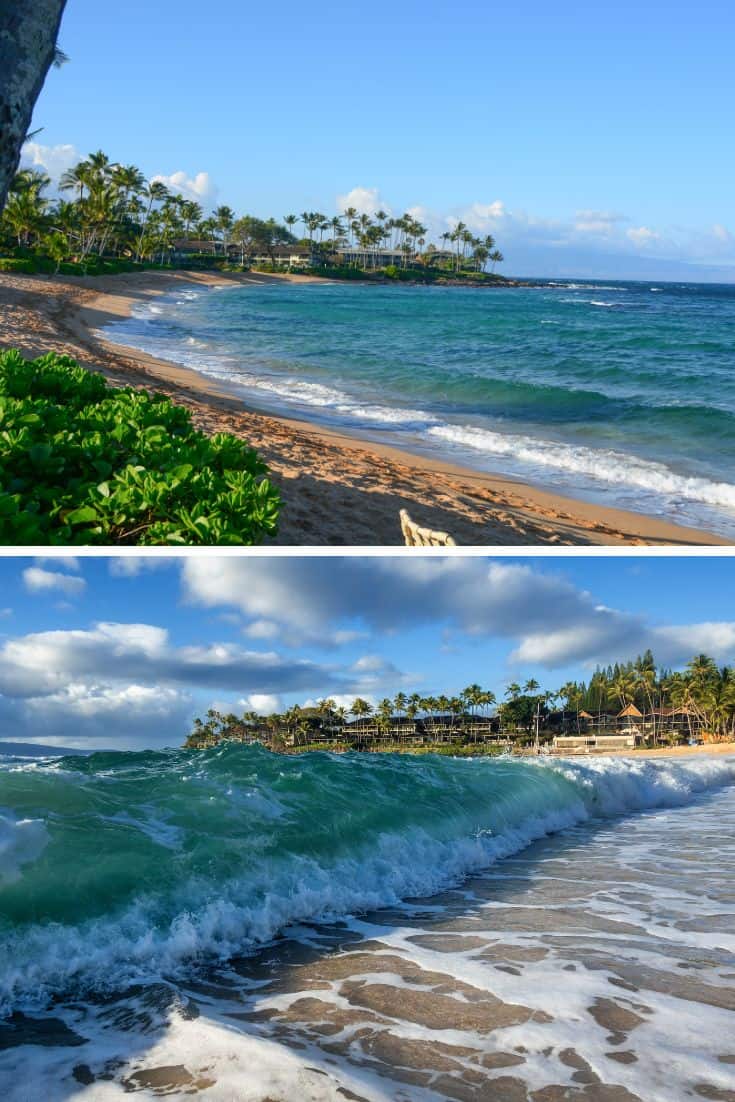 Swimming Conditions
Like a lot of beaches on Maui the swimming conditions can vary dramatically. GENERALLY, but not always, the water is clear and great for the kiddos to swim and splash around in. There is a reef that protects it from the strongest waves, though at times it isn't enough.
There is no lifeguard on duty though so swim at your own risk (like a lot of beaches in Maui).
Napili Bay Snorkeling
There will also be a decent amount of colorful fish in the water and a little ways off shore there is a reef that you can snorkel around. Generally the bottom is sandy and comfortable on the feet!
Don't get too comfortable though because at times the waters can get pretty aggressive. This means that there will be waves and fairly strong currents that you won't want to mess with! It happens less here than at other beaches, but don't be too shocked if you see it.
Facilities/Amenities/Activities
There are restrooms, showers that we used, but after the fact we read that they belong to one of the condo associations and are not open to the public (sorry). There are a few stores and restaurants in the area. While they aren't directly on the shore they are within walking distance so if you do score one of the parking spots you don't have to give it up to go have lunch!
Conclusion: Is Napili Bay Beach Worth Visiting?
While this is an amazing beach I don't really recommend it if you aren't staying in the area. That isn't because the beach isn't great, there are just other beaches that are easier to access that offer a substantially similar experience. If you are looking to rent or buy a condo or stay at one of the resorts in the area though the beach is still AWESOME and you won't be disappointed.
Where to stay in Maui
Before booking a hotel on Maui there are a few things you need to know.
The hotels in Maui are ALL very expensive. You will have a difficult time finding a hotel for under $200 a night.
You have to book in advance. Like, far in advance. The hotels and rental cars book up super fast so make sure to plan ahead.
Best Option* Hyatt Regency Maui Resort & Spa – We love this hotel! The location is perfect and only a 2 minute walk to the beach. There are 2 amazing pools at the property and so many amenities. The only downside is it is super expensive.
Best budget option* (if there is such a thing in Maui) – Hakuna Matata Maui Hostel
Four Seasons Resort in Wailea – This is one of the more expensive resorts on Maui, but it's also one of the most fantastic. If you can swing it financially, highly recommend giving this place a shot. The hotel overlooks Wailea Beach and has 3 swimming pools and 3 restaurants on-site. If you are looking for the ultimate service, food, and pampering, then you should stay here. Check current pricing here.
Hotel Wailea – This hotel is fairly small, with under a hundred guest rooms. This, and the fact that it is far away from the road and any other noise pollution, makes it the perfect place to stay in peace and quiet.
Hyatt Regency Maui Resort & Spa – Another amazing hotel and resort you are guaranteed to love.
Planning a trip to Maui? Here are our best MAUI BLOG POSTS:
My husband and I have been to Maui a couple times and have written up more blog posts to help you plan your trip. These are my most popular blog posts and Hawaii travel guides to help you plan your trip. I hope it helps!
Maui general trip planning
Maui Beaches
Maui Hikes & Lookouts
Maui Waterfalls
Everything else