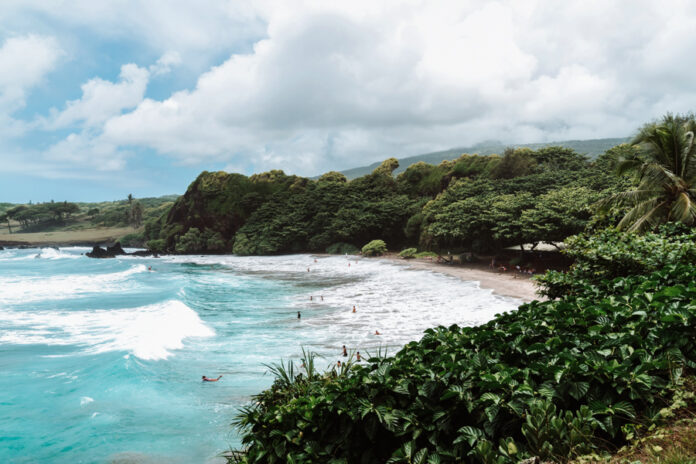 Willing to make the trek along the south east side of Maui? This world famous drive is often call the "Road to Hana", with Hana being the small village at the end of a winding road that drives by some of the most amazing waterfalls and hikes in all of the Hawaiian islands.
Even though the drive takes a significant amount of time, has tons of twists, turns, and narrow bridge crossings it is so worth it. I even say that as someone that easily gets carsick! As if the drive to Hana wasn't enough of a payoff in itself, there are a few truly epic beaches at the end of the road (yes the road literally ends).
Hamoa Beach doesn't get as much notoriety as some of the other beaches around the village of Hana. This intimate cove beach is absolutely gorgeous, and isn't nearly as developed and crowded as so many other beaches on the island of Maui.
Read also: 20 Best Beaches in West Maui
Hamoa Beach Info:
Where is Hamoa Beach located?
Hamoa Beach is basically at the end of the road to Hana. It is actually even further than the actual village of Hana.
With no traffic it will take you about 2 hours and 15 minutes to drive here from the main Maui airport, but during the day, you can expect this to take longer.
This beach is located on the south east side of the island of Maui. There is NOT a lot of development here, so you likely won't be staying in the area unless you are one of the lucky few.
Hamoa Beach Map
How to get to Hamoa Beach
Basically the only way to get here is to complete the entire road to Hana drive. You will need a rental car and at least 2 hours. During the peak times the traffic can really back up going over the one way bridges. If you leave late in the morning you should plan closer to three hours. Also, it's a lot harder to drive straight through since there are so many amazing waterfalls, hikes, and rainbow trees that you will want to divert your attention for.
Hamoa Beach Parking
When you finally get there don't expect a gigantic parking lot. You will need to park along the side of the road, but compared to other beaches the parking here is much easier.
The walk to the beach from the side of the road isn't bad, just know that you are going to have to descent down a fairly steep (but short) path. The path down to the beach is a set of rickety stairs or a service road, but don't try to drive on it since it's not car friendly, and is actually blocked off.
There are a few areas in the area that are marked as parking prohibited, so make sure you take note and don't park illegally.
What you can Expect at Hamoa Beach
Once you make the effort to actually get here you will not be disappointed. While you are not likely to have the beach to yourself, you will not be on the beach with tons of others like you are with so many other beaches in Maui. The beach itself is about 1000 feet long so there is plenty of room to spread out.
It is moon shaped and flanked by rock cliffs on either side. This gives it a really intimate feel. The shore isn't protected by rocking outcroppings or a peninsula, so the waves can come in pretty strong. This has made it a good surf spot, but like a lot of places in Hawaii the conditions can change rapidly.
You may see calm waters and think it is the perfect beach for your kids to swim at. If this is the case, just know that it can change quickly.
You will see umbrellas and lounge chairs on the beach, but these are generally for the resort guests that line the shore. A huge benefit of this beach though is that there are lots of different places where you can relax in the shade.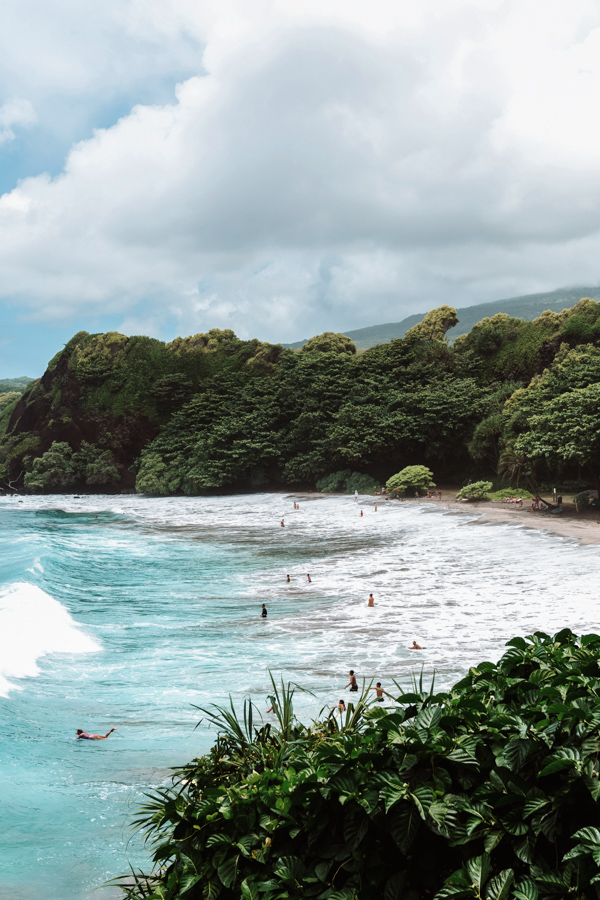 Swimming Conditions
As previously mentioned, there are often waves that are pretty aggressive. Aside from playing in the surf it can be difficult to actually swim at, though the conditions really do vary. At times the waters will be calm and perfect for snorkeling. You will see lots of colorful fish.
Facilities/Amenities/Activities
There are actually a decent amount of amenities in the area. There are restrooms, showers, and foot baths. There are also periodically food trucks in the area that you can enjoy a great lunch at!
The lounge chairs and umbrellas are not typically for rent though as they belong to the resort guests exclusively .
Conclusion: Is Hamoa Beach worth visiting?
This beach is an amazing stop after making the full drive to Hana. I love the road to Hana for so many reasons. If you are tired after completing at least the two hour drive then plan on diverting to this gorgeous beach.
Read Next: 10 Best Road to Hana Stops in Maui
Planning a trip to Maui? Here are our best MAUI BLOG POSTS:
My husband and I have been to Maui a couple times and have written up more blog posts to help you plan your trip. These are my most popular blog posts and Hawaii travel guides to help you plan your trip. I hope it helps!
Maui general trip planning
Maui Beaches
Maui Hikes & Lookouts
Maui Waterfalls
Everything else