Honopu Ridge Trail
Interested in a trail that will provide you with amazing views of the Napali Coast?
How about a trail that will give you these views yet somehow have very few people on it and not require a permit.
My favorite trail in Kokee State Park is the Kalepa Ridge Trail which gives you nonstop views while hiking across a ridgeline.
The only downfall of the Kalepa Ridge Trail is that it is somewhat popular and you will likely run into some other people. Read more on that trail here.
If you want similar views BUT with hardly anyone on it, then you should do the Honopu Ridge Trail instead.
The only tradeoffs are that the trail is a bit longer and you have to fight through the shrubs to get to the views.
Quick Facts on the Honopu Ridge Trail
Location
The Honopu Ridge Trail is located in Kokee State Park on the west side of Kauai.
It is about an hour and 15 minute drive from the airport so make sure you plan a lot of stops in the area.
In the park the trail is located just south of the Kalalau Lookout. The best way to get to the trailhead is to rent a car. Make sure you book in advance as the car rentals on Kauai can run out. Reserve a car here.
Honopu Ridge Trailhead
Make sure you don't miss the trailhead and parking. It is just a tiny spot off the side of the road, really easy to miss if you don't know what you are looking for.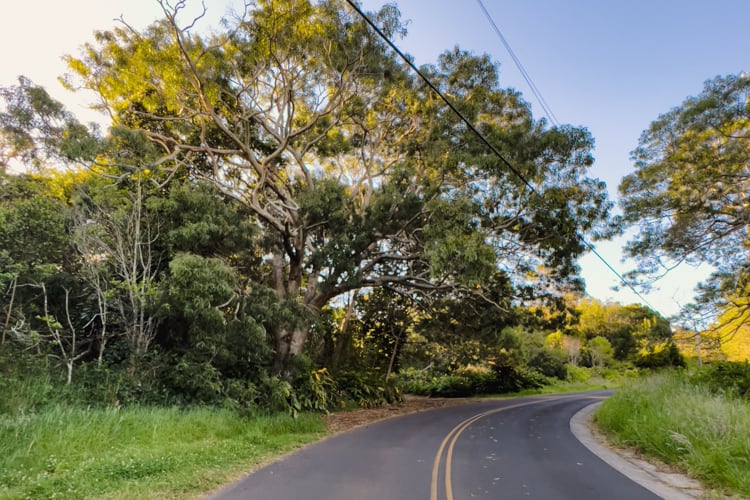 What To Expect On the Trail
The two best parts of this trail are the epic views and the solidarity you are likely to encounter. I did the hike on a Friday afternoon and literally didn't run into another person.
There was one other car parked at the entrance, but I didn't ever pass whoever they were.
Views Not Until Near the End
Unlike the Kalepa Ridge Trail the views of the Napali Coast are not immediate. You have to get near the end to have the amazing payoff.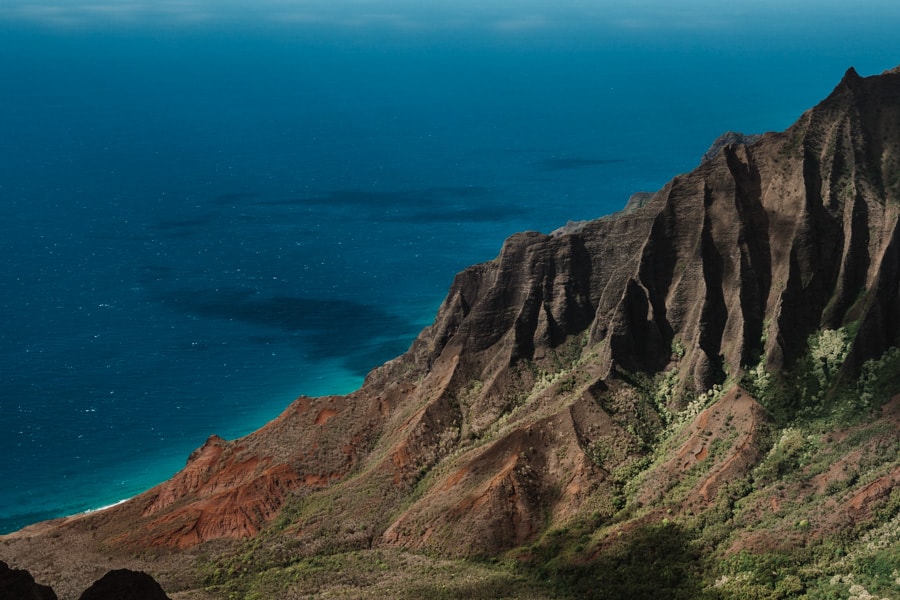 Trail Difficult to Follow
Like lots of trails in Hawaii this trail can be difficult to follow at times. You will see ribbons tied to trees indicating which way you need to go. This trail isn't the most difficult to follow, but you need to make sure you keep your eyes open so you don't make a wrong turn.
Follow the pink and orange flags.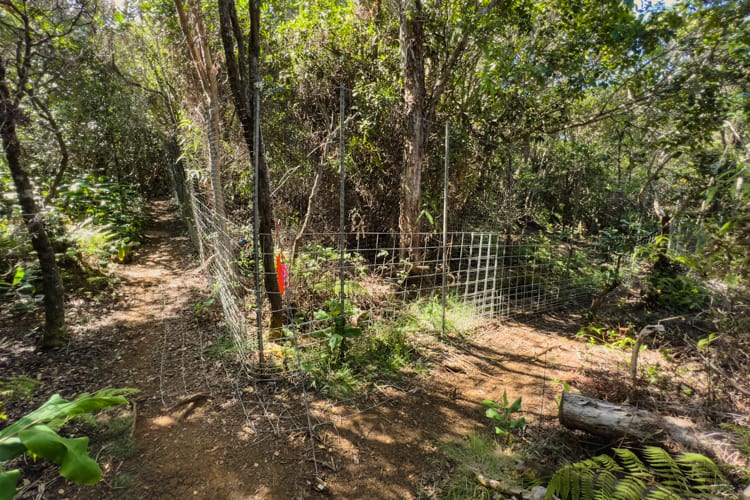 Bushes/Shrubs Growing Over A lot of the Trail
At about ½ mile in thick brushes and shrubs start growing over the trail. You will want to be wearing pants so that you don't get cut up pushing through.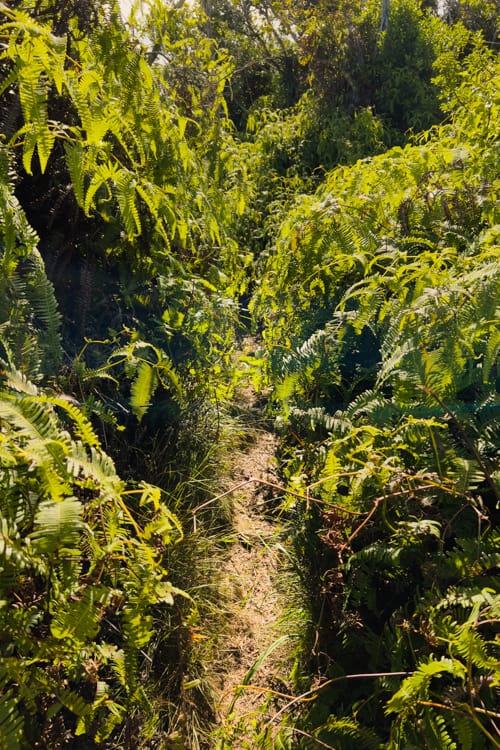 Warning – Honopu Trail Head Not Marked
You need to keep your GPS handy as the Honopu Trail Head is not marked.
There isn't even an official parking lot, just a dirt shoulder where you will see that other cars park.
I've done this trail twice and both times I had no problem at all getting one of the space immediately next to the trail head.
Honopu Trail Parking
As previously mentioned there is no official parking lot. There is plenty of space along the side of the road though for you to safely pull off and park.
This also means that you shouldn't expect other facilities like restrooms and water fountains.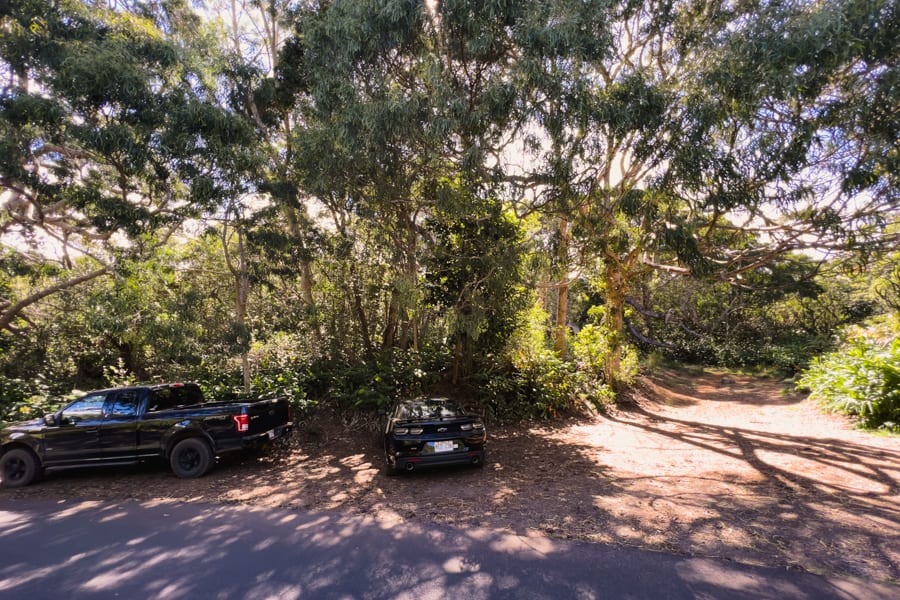 Conclusion
I love any hike that provides views of the Napali Coast and the Honopu Trail delivers!
There are trails that are easier to access and provide more consistent views, but if you are looking to get away from the crowds while still having a sweet payoff, then maybe the Honopu Ridge Trail is for you.
Planning a trip to Kauai? Read everything we know about Kauai here:
My husband and I have been to Kauai many, many times and have written up more guides to help you plan your trip. These are my most popular blog posts and Kauai travel guides to help you plan your trip.
Kauai Beaches
Best Beaches for Snorkeling on Kauai
Best Cliff Jumping in Kauai
More awesome beaches
Kauai Hiking Guides
Read about all the hikes we have done in Kauai here.
Read all other posts on Kauai here.