Looking for easy hikes Oahu offers? Want one that is easily accessible from the main tourist areas but not completely overrun? How about one that is actually one of the kid friendly hikes on Oahu (i.e. the exact opposite of the Koko Crater Trail)? You can have all of the above at Kapena Falls!
While the waterfall is definitely not the biggest or most grand of all the available options, the location and accessibility make this an easy choice. I went to this waterfall on a Saturday in March and somehow had the entire trail and then waterfall to myself. It wasn't until I was leaving that I saw other hikers.
It's always hard to find things to do on Oahu with kids, but this .3 mile out and back trail is perfect. It doesn't require you to scale gigantic rocks, utilize a compass to navigate, or even pay for parking. If you are looking for kid friendly hikes on Oahu, you have to consider Kapena Falls.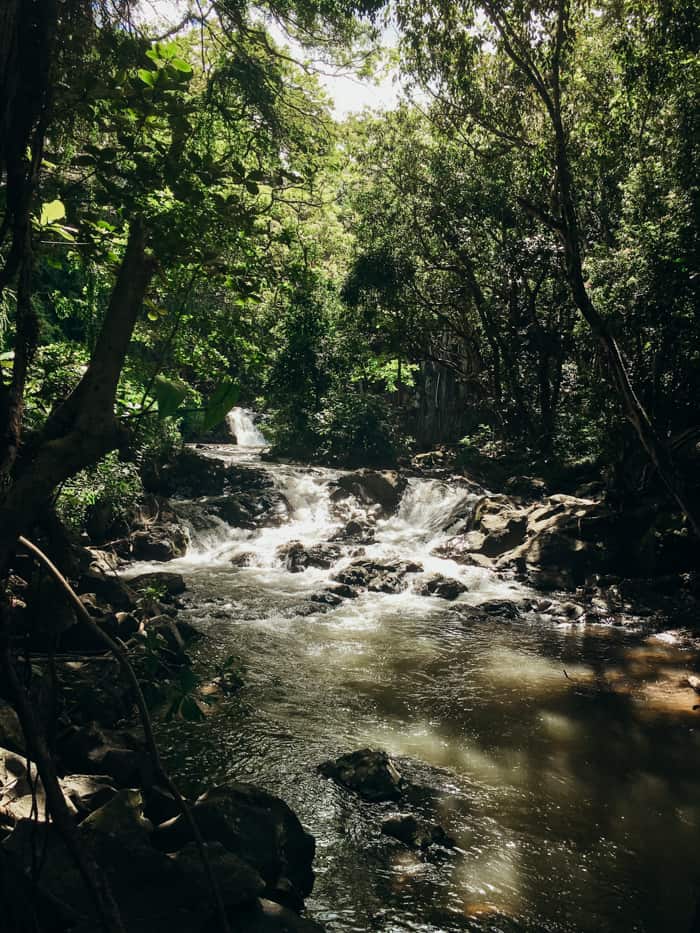 Kapena Falls Trail, Hike and Falls
The trail is .3 miles out and back, or realistically less than 5 minutes each direction. The path is clearly marked and takes you on a leisurely stroll that only has a gradual increase up to the falls.
Some people say the Kapena Falls are 35 feet tall, but I think that is an exaggeration. They probably only descend 15 feet, but that doesn't mean that they aren't still really enjoyable.
If you are interested in swimming there is probably enough water for a quick dip, but don't expect to be doing laps back and forth. The shallow water for splashing around helps make this a good thing to do on Oahu with kids. The water was clean when I was there, though I have heard that if it has just rained the water can get really murky.
I've seen reports that the area is covered in trash left over from partiers in the area. Thankfully, I didn't see this when I was there. Evidently the reports were overblown or someone has made an effort to clean the area up.
Only with all of the amazing spots of Hawaii would a place as pretty as this get completely overshadowed. Once again don't expect to be blown away, but it still is a pretty and peaceful retreat.
Kapena Falls Directions
Kapena Falls is only 10 minutes from Honolulu, and 15 minutes from Waikiki Beach. While the Oahu traffic can be brutal, it still won't add too much time getting you to the trail head.
One thing that is a little bit odd is that you access the trail head by driving through a cemetery. You can see exactly what I mean if you type Nu'uanu Memorial Park and Mortuary into Google. To get to the start of the trail, drive through the cemetery to a parking lot at the back side. You can see pictures of what the parking lot looks like.
This was my first stop when coming from the airport. We diverted for a quick break from airports and morning traffic.
Kapena Falls Positives
This hike is quick, easily accessible, and very family friendly. I was shocked that there weren't crowds. I loved that parking was free and easy as well.
A Great Family Hike in Oahu
Once again, if you are looking for one of the kid friendly hikes Oahu offers that won't completely tire everyone out, risk them getting lost, and still provide a fun payoff I recommend Kapena Falls.
The short hike and waterfall that isn't powerful enough to churn them away helps qualify this as one of the perfectly kid friendly hikes on Oahu.
Kapena Falls Negatives
It can't all be perfect. There are a few negatives of this hike to be aware of before you decide to go. Given that it is so close to the city and a nearby highway, you will still be able to hear the sounds of traffic when you are at the falls.
I think the reports of litter in the area were overblown, but if it is a common party spot the area could get trashed again.
The falls just aren't very big. While this can be a positive if you are looking for the most kid friendly hikes on Oahu, there really are some pretty big waterfalls fairly close. I loved visiting nearby Lulumahu and Likeke Falls, but each of those came with hikes that were much more difficult.
Some of the signage was also a little confusing. I worried since there were no trespassing signs immediately next to what looked like a trail entrance sign. Undeterred, I went onto the trail. When I got back, groundskeepers from the cemetery said hello warmly, so I felt like it was okay to be there after all.
Conclusion
This is one of the easy hikes on Oahu with a quick payoff. It isn't the best at all, but if you are crunched for time and looking for one of the easy hiking trails Oahu offers with a waterfall at the end, you should definitely visit Kapena Falls.