I didn't make it to Waikoko Beach until my 4th trip to Kauai! What a mistake! Even though there are some challenges with this beach, it is still one of my all time favorites!
This beach likely isn't as well known because it gets overshadowed by its more popular neighboring beaches (Tunnels Beach, Haena Beach, and Ke'e Beach).
Parking is also extremely difficult and there are certain parts of this beach where currents can make it unsafe to swim.
Even with those difficulties, this beach offers a fantastic experience, similar to its more popular neighbors. A perk of this beach over the others is that if you do actually make it there you can expect fewer people.
Waikoko Beach Quick Info:
Where: north shore of Kauai island Hawaii, just beyond Hanalei Beach
Facilities/Amenities: none
Best for: snorkeling, lounging, and exploring the rocky outcroppings
Not So Good For: swimming on the entire beach
Cost: free
Parking: limited, only a few spots on the side of the road
Where is Waikoko located?
This beach is located on the north shore of Kauai, just beyond Hanalei town. The drive from the main action of Hanalei only takes about 5 minutes.
If you continue along the Kuhio Highway it is just 10 minutes further to Tunnels Beach or Haena State Park.
Where to Stay on The North Shore of Kauai
There are two main areas where you can stay on the north shore of Kauai. Those areas are Princeville and Hanalei.
Princeville Resort Area – Understanding the basics of each area will help you book. Princeville is a super well manicured master plan type of community more than a town. Check out all the hotels in Princeville here.
Think of it like a country club golf community that just so happens to be on a few beaches. It's beautiful, perfectly manicured and maintained, and especially attractive to retirees and people looking for high end condos. You can get more info here.
Hanalei Resort Area – The Hanalei town area is the more "happening" place. There area tons of bars, restaurants (and food trucks), and shops in the area. Check out all the hotels in Hanalei here.
Hanalei also borders one of the biggest and all around beaches on Kauai (Hanalei Beach), though the downside is that it isn't as quiet or master planned and not as quiet as Princeville.
I love both areas, but for my tastes I'm willing to sacrifice a little bit of super upscale feel of Princeville for the walkability access to everything in the Hanalei town area. You can get more info here.
How to get to Waikoko Beach
The drive from the airport will take you about 55 minutes to get here. It isn't a bad drive though as you wind along the coast for a lot of the way taking in Hawaiis gorgeous shorelines.
Once you park, you have to follow a wide trail down for about 100 yards. You will not be able to see the beach from your parking spot, but know that a gorgeous beach will soon open up in front of you.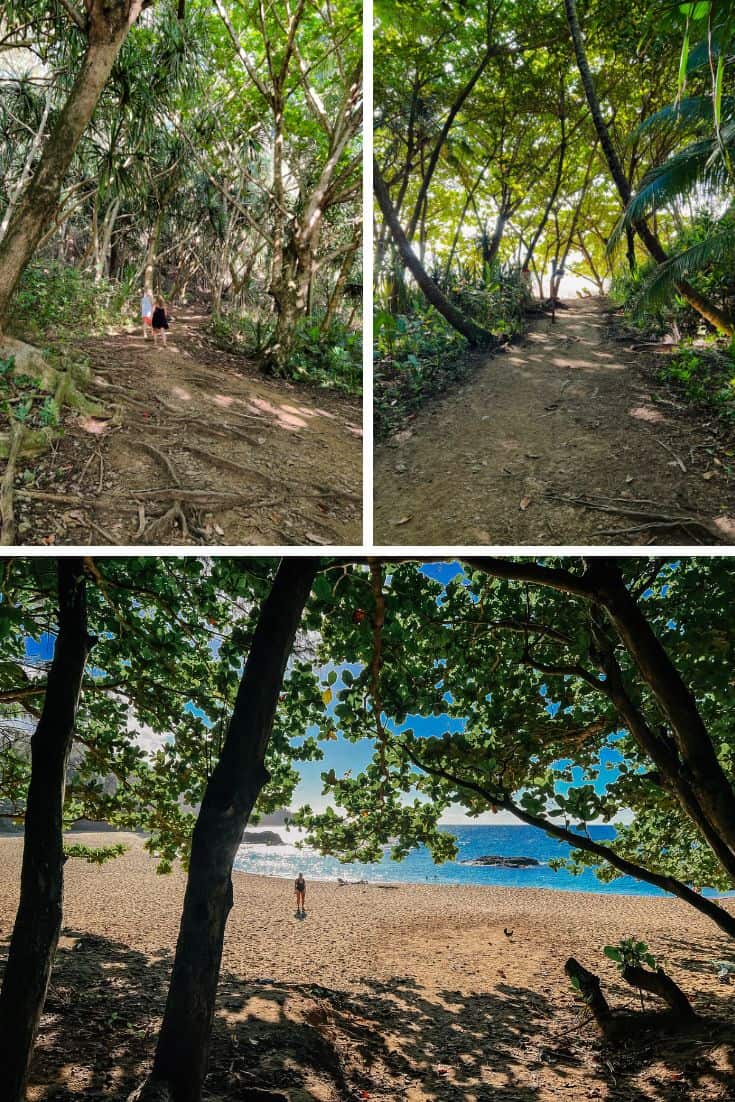 Waikoko Beach Parking
This is the trickiest part of this beach. There are only a few spots directly to the side of the road at the trailhead to this beach. There are three different pull-off mini lots, so be sure to check them all.
If you get lucky, you can squeeze into one and then only have to hike the 100 yards down to the shore.
If you can't get one of those spots you will have to park along the road further away and hike back up the hill to then hike back down to the beach.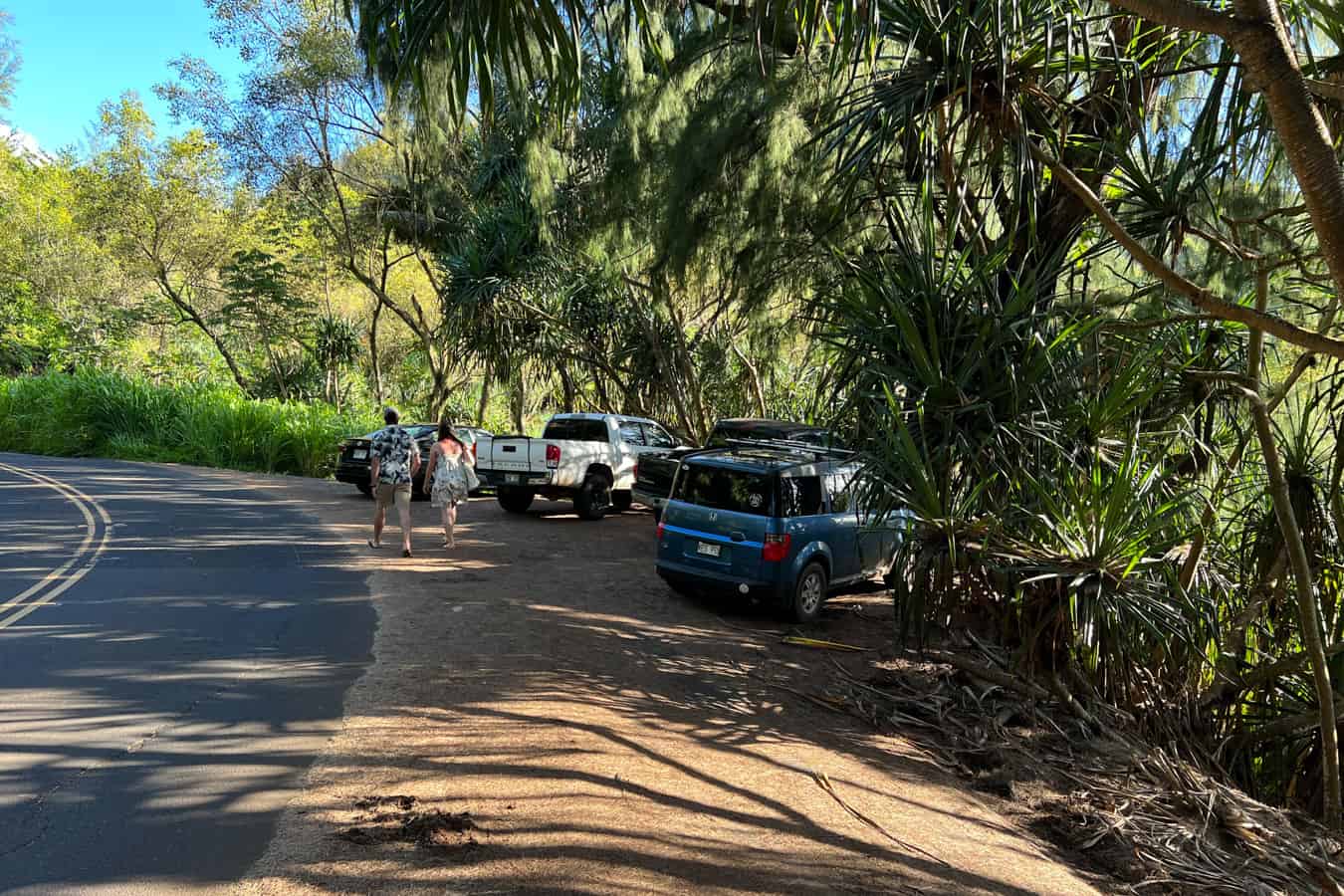 What you can Expect at Waikoko Beach
First off at the end of the trail you will see a gorgeous beach open up in front of you. The beach sits in a cove with a fairly wide stretch of sand.
One side of the beach is punctuated by rocky areas that you can climb on and walk around on. When on these rocks you will see all kinds of crabs and other sea creatures.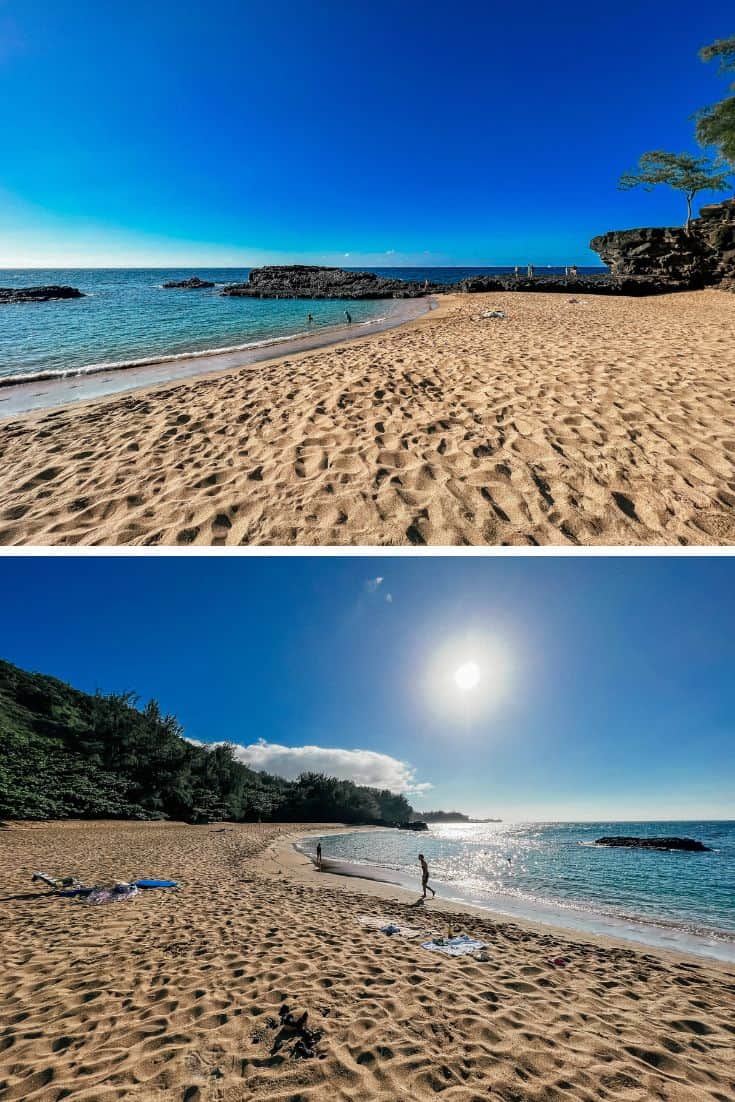 Waikoko Swimming Conditions
The answer is is that it depends. There are times where the waters are protected and calm, and times where the waves and currents are too strong and probably not something you should swim in.
A lot of Hawaii beaches are this way so use good judgment.
Waikoko Beach Snorkeling
The rocks create a mini cove along this beach that you can snorkel in. There are definitely fish to see in these waters, but it isn't an all around fantastic snorkel spot like the nearby Tunnels Beach is.
You will still enjoy snorkeling here, just don't expect the experience to be quite as expansive as one of the other super snorkel nearby beaches would be.
Facilities & Amenities
Unfortunately there are no amenities here. This means no lifeguards, showers, or restrooms.
Restaurants near the beach
Only 5 minutes away is the town of Hanalei that will have everything you could hope for, but know that it is one of the more expensive areas on the island of Kauai.
Conclusion:
I love this beach. Even though it doesn't offer quite as much as its more famous neighbor beaches, the experience is still amazing. If you get one of the easy access parking spots I highly recommend stopping by.
Planning a trip to Kauai? Read everything we know about Kauai here:
My husband and I have been to Kauai many, many times and have written up more guides to help you plan your trip. These are my most popular blog posts and Kauai travel guides to help you plan your trip.
Kauai Beaches
Best Beaches for Snorkeling on Kauai
Best Cliff Jumping in Kauai
More awesome beaches
Kauai Hiking Guides
Read about all the hikes we have done in Kauai here.
Read all other posts on Kauai here.